How to Make Instant Pot Bolognese
This delicious and hearty Instant Pot Bolognese cooks up in under an hour and has the complex flavors of a bolognese that has been simmering all day!  Say hello to your favorite new meat sauce!  As a bonus, learn the restaurant secret that makes all restaurant bolognese so velvety!

Bolognese has always been thought of as a lengthy process.  One that involves obnoxious splatters of tomato sauce and careful calibration of the heat to ensure it is perfectly simmering and not boiling over everywhere.  It is always worth it in the end of course.  All that simmering and melting of flavors always leads to a delicious velvety sauce…and a messier kitchen. (insert head slap emoticon here).

I know this because I have been cooking classic Italian bolognese for years this way…and the profanities that escape my mouth when I am cleaning my stove top and back splash represent the frustration of removing above mentioned tomato splatters.

It was precisely this that led me to create my Instant Pot bolognese.  This Instant Pot bolognese is the magical solution to the ordinarily tedious, messy but delicious bolognese that most Italian dreams are made of.

Really classic bolognese has an incredible depth of flavor that is impossible to attain unless it is simmered slowly for hours and the ingredients melt together into what is known as the classic Italian meat sauce.

Because of the popularity of a bolognese sauce, as private chefs we are asked to make it all the time.  And of course because we are always trying to knock out as many things as possible in a private chef session…we are looking for shortcuts that cut down on time and preparation but NEVER cut the flavor.

Enter the [easyazon_link identifier="B06Y1MP2PY" locale="US" tag=" ne0fc6-20″]Instant Pot[/easyazon_link].  I have had much luck with my trusty Instant Pot, creating lovely recipes that ordinarily take hours and instead I shrink them down to an hour or less.
Here are just a few of my very successful recipes that have allowed me to save time without sacrificing flavors!
When one of my clients asked me to recreate a favorite bolognese of hers from the popular restaurant group in Chicago, Rosebud, I was giddy with excitement.  Primarily because I worked there through college and remembered how absolutely delicious and velvety it was.

I researched the recipe for hours of course…because being the food nerd that I am…this is what I do, I research food until I am prepared to experiment and finally achieve the final perfect result.

I had known the basics of the sauce already of course…but I found a classic recipe that was simple enough yet had all the complexity in flavors that I was looking for.  No question… it was of course Marcella Hazan'srecipe.  The woman who had introduced America to what we know as Italian cooking.  When I combined elements of Marcella's recipe and the Instant Pot, I knew I had achieved the Instant Pot bolognese that Italian grandmothers would be proud of.
The Technique
The Mea

t: So the meat in this sauce is clearly very important because it is meat sauce.  Have I made bolognese with ground chicken or ground turkey?  Sure.  Have I made it with super lean beef?  Sure.  But I would prefer not to.  I use ground chuck, it is the one that says 80/20 on the packages in the store.  It has the right amount of fat which of course = flavor which in turn creates the perfect texture and flavor for our Instant Pot bolognese.  Seriously, just use the fatty stuff.  Fat is good for you anyhow 🙂 (More on that at the very bottom of the post)

Searing

:  The ground beef has to be seared before anything else is done.  This is done by adding in a few tablespoons of butter at the bottom of our Instant Pot that is set to searon high.  The fat will render out and the meat will start getting beautifully brown.  This adds depth and complexity to the sauce, because later we will pick up those lovely brown bits from the bottom of the pot by a technique called deglazing.
The Aromatics: As all great sauces, the other base of this Instant Pot Bolognese is aromatics.  The classic of course is mirepoix: onions, carrots and celery.  In addition to that, I add a helping hand of freshly peeled garlic that I mince on my trusty [easyazon_link identifier="B00004S7V8″ locale="US" tag=" ne0fc6-20″]microplane[/easyazon_link].  In an effort to save time I just throw it in to the [easyazon_link identifier="B0758JHZM3″ locale="US" tag=" ne0fc6-20″]Vitamix[/easyazon_link] or a [easyazon_link identifier="B0000645YM" locale="US" tag=" ne0fc6-20″]food processor[/easyazon_link] and let that do all the work for me!  I love that it just melts into the sauce this way and I do not have to do any work chopping!  These pureed ingredients are mixed into the meat that is already gloriously brown.  At this point I always lower Instant Pot sear function to medium.  I do NOT want the vegetables to caramelize.  I want them to sweat gently and delicately in the meat juices.

Deglazing

: This is the point I was referring to in the searing section.  This is the step where we pick up the itty bitty brown pieces from the bottom of the pan to ensure that there is maximum depth of flavor achieved.  We do this by using an acid, in this case a little bit of a full bodied red wine.  Any dry red wine is fine, in fact in a pinch it could even be a dry white wine if it is absolutely necessary.  But a nice bold full bodied red wine that you actually enjoy drinking, will be absolutely wonderful in this sauce.  As you pour the wine into the veggies and meat, start scraping up the bottom with a hard spatula or wooden spoon.  This will ensure that you pick up all the browned bits from the bottom.
Milk VS 

Cream

:   In Marcella Hazan's classic bolognese, this is the point where a bit of milk is added to the sauce to allow it to reduce.  This not only adds flavor and creaminess but also reduces the acidity of the sauce in the end.  I however do not use milk, but heavy cream.  Yes…HEAVY WHIPPING CREAM.  For me personally it is because I follow a low-carb lifestyle.  I will talk more about that below in case you are interested.  You can certainly use milk, or half and half if you would like.  But I will be taking my very lovely heavy cream 🙂  After the heavy cream or milk is added, let it simmer gently, stirring frequently, until it has bubbled away completely.
Nutmeg: It may sound strange…however nutmeg is a classic ingredient when combining dairy.  It helps bring out the flavor of the milk and it adds that special something something flavor to the background.  Remember nutmeg is SUPER strong and ideally it is best to grate the actual nutmeg.  The flavor is significantly better.
Tomato Product:I always use [easyazon_link identifier="B00UW9EFAK" locale="US" tag="ne0fc6-20″]San Marzano Tomatoes[/easyazon_link].  They have the least amount of acidity which makes this sauce taste that much purer.  If you cannot find these tomatoes, you can use any other pureed tomatoes that you like, just be sure to taste the sauce at the end, you may need to use some sugar or honey to sweeten it up at the end.
My Secret Ingredient:

 

When I worked at Rosebud back in my serving days, I would always watch the chefs cooking.  I tried to watch them and see their techniques and how I could recreate the restaurant's recipes in my own humble kitchen.  The one secret ingredient that was always used to finish off EVERY sauce…BUTTER.  Yes lovely, silky, butter.  It enriches the sauce but also mellows out the acidity.  Additionally it binds the sauce making it velvety and beautifully silky.  This is added in not to the actual sauce by the way, but when you are adding it to the pasta.
The Pasta Water:

  

 Want to know every Italian grandmother's secret to pasta sauce?  It's pasta water.  Yup.  I talk about this in many of my posts like my Fettucini Alfredo .  The remaining starches left over in the pasta water, emulsify the sauce making it the ultimate consistency.  Then when you add in the butter at the end of that it becomes magic.  So when warming up your pasta with the sauce:

Cook pasta according to box instructions to al dente.
Add sauce to a saute pan or pot.
Add a few tablespoons of butter into said pot or pan.
Once the pasta is al dente, strain and reserve about a cup of pasta water.  Or just use a [easyazon_image align="none" height="110″ identifier="B071D8R93Y" locale="US" src="https://images-na.ssl-images-amazon.com/images/I/41WgDpQXrLL._SL110_.jpg" tag="ne0fc6-20″ width="110″] to remove the pasta and throw straight into the pan with the sauce.  If using long pasta like fettuccini or linguini just use [easyazon_image align="none" height="75″ identifier="B00004OCK1″ locale="US" src="https://images-na.ssl-images-amazon.com/images/I/3103MCWGP4L._SL75_.jpg" tag="ne0fc6-20″ width="75″] to remove and add straight to the pan or pot.  Toss it together quickly until it comes to a boil and serve!
When I had finally made this Instant Pot bolognese for my client, she was in heaven.  My local Italian Butcher shop Forza Meats happens to have some truly incredible meat but they also have incredible Italian specialty items like fresh pasta.  While shopping for the ground meat for my Instant Pot bolognese, I also picked up some gorgeous fresh fettucini pasta.  After boiling the pasta, I tossed some into a pan along with the pasta water, a few spoonfuls of bolognese sauce and some butter.  The client tasted a few forkfuls and was overjoyed with the melt in your mouth flavors on this pasta.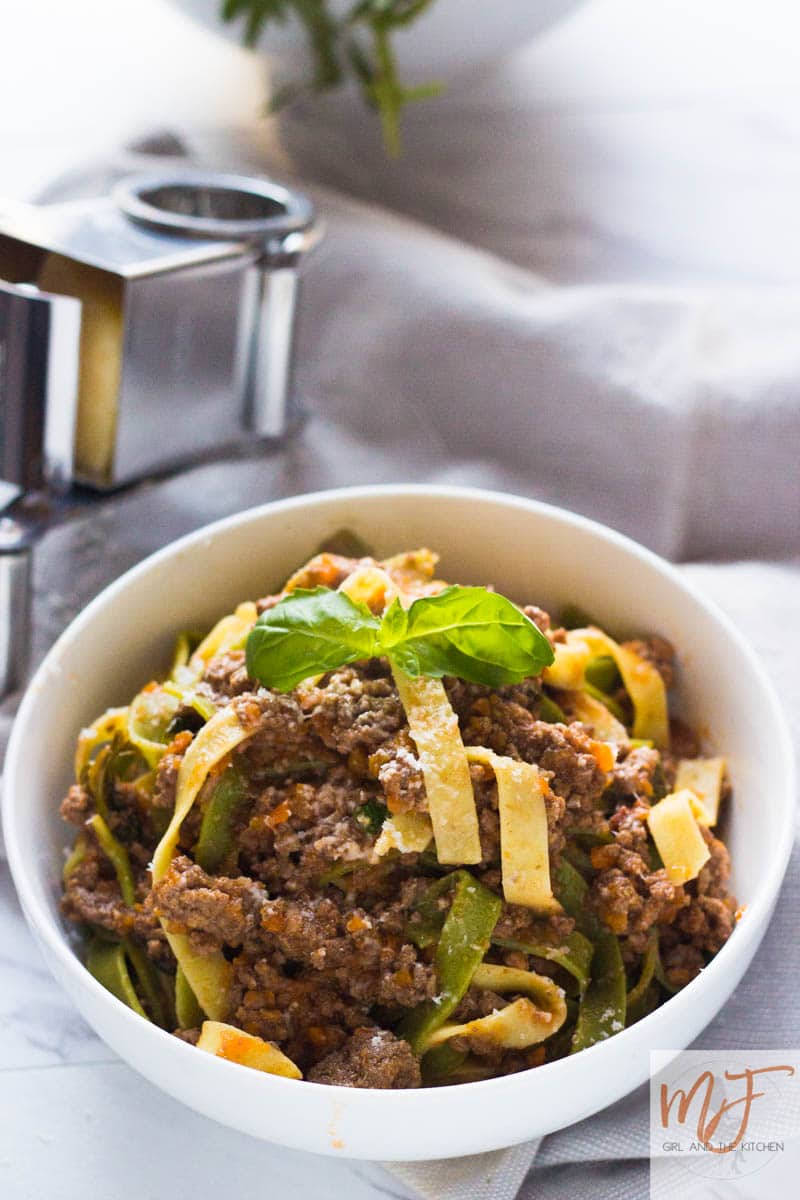 It was rich, creamy and tasted every bit like the incredible sauce she had remembered.  But most importantly I did not have to clean the stove from multiple tomato splatters and the sauce was ready in an hour.  And that my friends is one of the biggest reasons to get the [easyazon_image align="none" height="75″ identifier="B00FLYWNYQ" locale="US" src="https://images-na.ssl-images-amazon.com/images/I/41L%2Br0px7RL._SL75_.jpg" tag="ne0fc6-20″ width="75″]
My Low Carb Way of Life
Many have asked me about my eating style.  If you have not feel free to scroll on down to the recipe…but this may be interesting to many.
eses, unsweetened full fat yogurts Earlier this summer I stumbled upon a podcast from Vinnie Tortorich.  Because I am a total food nerd and love anything ahend everything that has to do with food, diets and eating habits, I listened to about 20 of his podcasts in a few days.  Vinnie, spoke to me and his words encouraged me to go full on with a low carb way of life.  I have been low carb naturally for the most part of my life but chose to indulge on the weekends or holidays.  Vinnie convinced me to give his way style of eating a try and for four months I have never looked back.  I thrive on this way of life and because I have enjoyed the benefits of this way of life, I have encouraged many of my clients to do the same.  So what do I eat?
Meat: I eat all meat, poultry and fish.  My favorite part of course is I eat the skin on my roasted chicken.  I also eat bacon, almost daily, either for breakfast, as a snack or in a salad.  It always makes everything a whole lotta delicious (check out my tutorial on how to cook bacon without all the splatters.)
Vegetables: I eat all vegetables except the highly starchy ones such as potatoes, sweet potatoes and most squashes.  I eat lots of salads because I can dress them in homemade full fat dressings.   Mostly I eat a lot of cauliflower, broccoli, brussels sprouts and any and all greens.  I also eat tomatoes and cucumbers oh and the almighty avocado is a frequent guest in my belly.
Dairy and Eggs:  I eat full fat dairy and eggs.  Whole eggs with the yolk and the whites.  And the best part of course it I get to cook my eggs on butter.  One of the best flavors in the world of course is buttery eggs.  My body handles dairy quite well so I eat full fat dairy.  My coffee has heavy creamy in it…I mean how much am I struggling?  I eat full fat cheeses, unsweetened full fat yogurts, sour cream, cream cheese and grass-fed butter.  I do NOT have milk because milk has a higher content of sugar that fat.
Fruits: I am a fruitaholic.  That was the toughest for me…but I eat low glycemic index fruit such as all berries, and on a very rare occasion apples and citrus.  And honestly I am super satisfied.
Nuts and Seeds:  I eat pumpkin seeds as a snack if I really want to.  Or I have a few macadamia nuts or some almonds.  I am not a huge nut freak so I truly only eat them when I am on the run and need some food.
Why do you ask?  Because I wanted to FEEL better.  Did I want to lose a few pounds, absolutely.  But in reality the real reason is because I just wanted to feel energized and not hungry all the time.
Currently, I eat 2x a day sometimes 3.  I am very rarely hungry and because I eat high fat I am satiated rather quickly and very rarely overeat.  My cravings have completely gone away.  I used to crave food like it was my last meal of the year.  Now I have my breakfast at 9am which is typically just coffee with heavy cream and I do not feel the need to eat until 1 or 2pm.  Considering I am always on the run with clients or meetings, this proves to be an incredible way of life for me because I am not thinking that I need to eat 5-6x a day.
So…what has happened to me since I started Vinnie's way of life?
I have lost some weight.  But I have a lost A WHOLE LOT MORE INCHES.  I went from a size 6 to a 2 or 4.  Now I can go to the gym and get back those muscles I lost over my last pregnancy.
My energy is through the roof.  I am up at about 7 every day and on the run until 11pm.  I have energy galore.
I have no hunger.  I have never had this happen to me in my life!  I am a chef!  I am around food ALL THE TIME!  And I can taste something as I need to when I am cooking and then move right along.  Before I had to KEEP EATING.  This is no longer the case.  For me this is crucial…why?  Because my problem has never been the quality of food…I have always eaten super clean…my problem has been the quantity.  I am a bottomless pit and can eat as much as my buff 6 foot 1 husband.  This is no longer the case.  I am not suffering, I simply eat as much as I feel I need and I am done.
My allergies have gotten better.  I am assuming it is because I have reduced the inflammation in my body because of excess sugar.
I have become a better chef: Having any sort of modifications done to food will always result in creativity.  I refuse to eat bland food and so do my clients.  So I have created seriously amazing recipes because I have given myself the freedom to explore all options of food and enjoy it!
I no longer feel the need to cheat: Basically I eat low carb all the time because I enjoy it! Because it makes me happy.  And because I feel great.  And I am satisfied and full.  I used to cheat every weekend but I rarely do anymore.  I may have a bite of cake or a forkful or mashed potatoes or pasta but then I enjoy my own meal.  Because I feel full and satisfied and not deprived I honestly never even miss those things.  And the best part is if I do want some…I have it and the next day go right back to eating the way I normally do.
That's it guys…that's my lifestyle.  I eat low-carb 98% of the time with plenty of whole fats and filling proteins and veggies.  And on occasion I have myself some other treats.  I feel great and I am pretty darn happy 🙂
If you want some more info please go check out Vinnie's Site and listen to his podcast…that's how I learned all about this awesomeness!
Print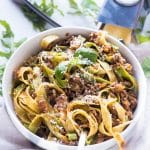 Instant Pot Bolognese
---
Total Time:

60 minutes

Yield:

8

servings

1

x
Description
This delicious and hearty Instant Pot Bolognese cooks up in under an hour and has the complex flavors of a bolognese that has been simmering all day! Say hello to your favorite new meat sauce! As a bonus, learn the restaurant secret that makes all restaurant bolognese so velvety!
---
1

pound ground chuck

1

onion (peeled and cut in half)

3

stalks celery

3

carrots (peeled)

5

cloves garlic (peeled)

1 cup

heavy cream or whole milk

1

28 oz can Sam Marzano crushed tomatoes

1 cup

dry red wine

1/8 tsp

nutmeg

4 tbsp

butter

1.5

lbs pasta (uncooked)
coarse salt
freshly ground black pepper
---
Instructions
Turn on the Instant Pot to the "sautee" function on high. Add the beef and season with course salt and pepper. After it begins to heat up, start breaking it up with a wooden spoon or my favorite a potato masher. You want to brown most of the meat, not all of it. This should take about 10-15 minutes. But it is worth it!
In the meantime, puree the onions, carrots, celery and garlic in a Vitamix or food processor.
Once the meat is browned (again just most of the meat, we do not need all of it browned), add in the vegetables and turn the "sautee" option down to medium. We do not want color on our vegetables. Season with salt and pepper and toss with the meat. Allow to sweat for 5-7 minutes.
Increase the "sautee" option to high and add in your wine. Make sure to scrub the bottom of the pot with a wooden spoon to ensure that you pick up all the brown bits from the bottom of the pot. This is your favor.
After the wine has gone down by 1/2, add in your milk or heavy cream and a few grates of nutmeg. Allow to reduce almost all the way.
Add in crushed tomatoes and toss everything to combine.
Place the lid of the Instant Pot on and turn to seal. Press the "cancel" function and change the function to "manual" or "pressure cook" on high for 30 minutes.
Boil water for pasta in a separate pot while the sauce cooks.
Once the sauce time timer is down, release the steam. Remove the lid and add in the 4 tablespoons of butter to the sauce.
Boil pasta, strain, ensuring to reserve 1 cup of the pasta water. Add pasta to the pot and toss with a little bit of the water until everything is beautifully coated.
Enjoy!
Notes
The nutritional facts are estimated values only.
Feel free to double this recipe and FREEZE it!  It freezes beautifully! 
Prep Time:

15 minutes

Cook Time:

45 minutes

Category:

Entree

Cuisine:

Italian