This super simple recipe for how to make Instant Pot short ribs will save your life!  Super tender short ribs with a delicious red wine and balsamic sauce will steal the show at any dinner table yet they are simple enough to make for a Monday dinner! 
When this whole Instant Pottrend came out I was less than thrilled.   I knew it was another "fad" that would melt into the Pinterest archives soon enough.
But.
It didn't.
And I hate to admit it…but I am glad it didn't.  Because I have spent 2 weeks experimenting with my new trusty Instant Pot and there are very few things that it has done for me that I was underwhelmed with.  Mostly everything I have made in this trusty gadget has come out tender and delicious.
My Red Wine Braised Brisket in the Instant Pot  was my very first experiment in there and it was what proved to be that this Instant Pot gadget was here to stay.   Just look at how tender they are and all done in an hour!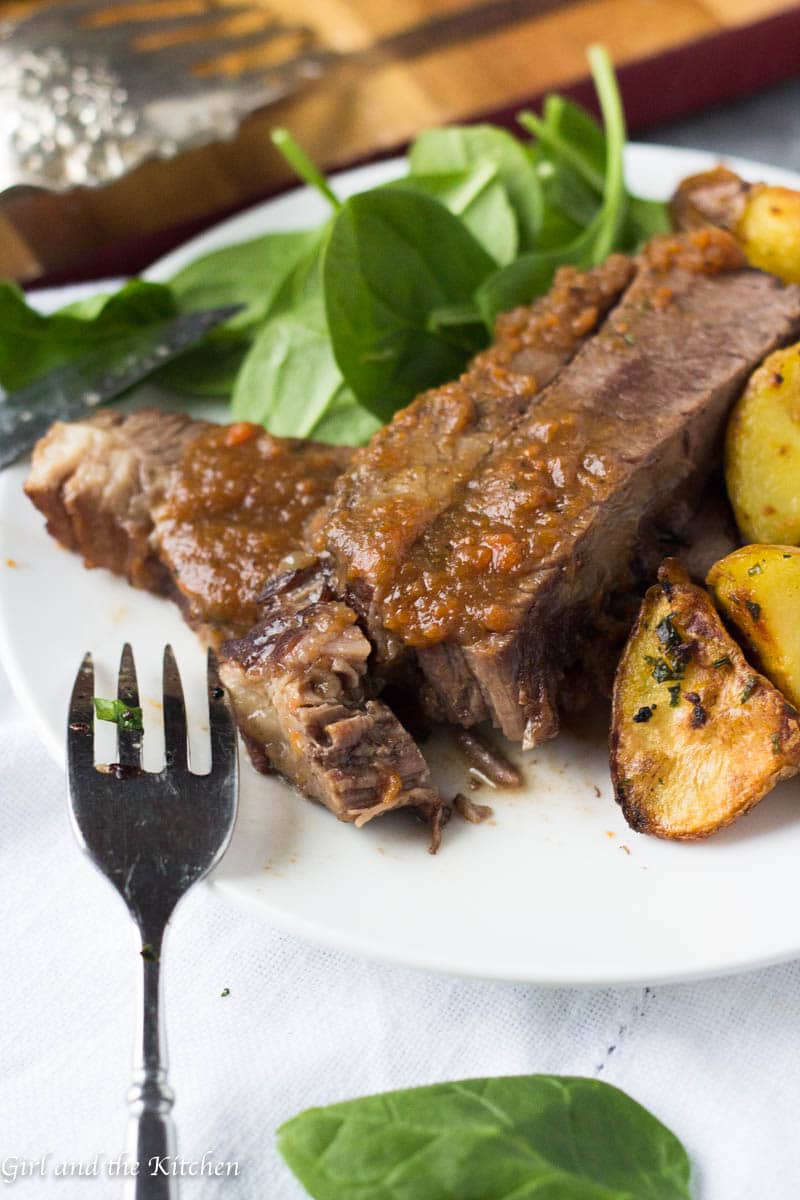 But I knew the ultimate test for me would be Instant Pot short ribs.  I have perfected short ribs.  And being a creature of habit… I find it difficult to steer away from recipes, ideas and people who I have already vetted.  But I fought and I fought hard and decided that should indeed try Instapot short ribs…at the very least so I can test it out for my loyal readers, they deserved to know the truth.
And the truth happened to be delicious.
What came out of the Instant Pot was nothing less than amazing.  I had learned how to make Instant Pot short ribs and indeed I was impressed.
Naturally I still used many of my techniques that make a beautifully flavored sauce, but even so, I could not argue with the fact that they were done so quickly and were so ridiculously tender.
THE TECHNIQUE
Searing the 

short ribs:

 As with any other roast or stew the first step is to sear the protein.  Despite what the popular belief is, searing protein is not done in order to seal in the juices.  Instead, it is done to create a flavor base on the bottom of the pot after searing.  THIS IS THE ONLY REASON to sear proteins.  This flavor base is absolutely critical to the flavor of soups, stews, roasts and sauces.

When searing make sure the pot is smoking hot.  In this case, we turn on the Instant Pot to the "Saute" option and add in our oil of choice (any oil is fine except butter) once the digital display shows "Hot" we add in our seasoned meat into the pot.
 When searing it is crucial not to overcrowd the pan.   Meaning each piece of meat should have its own spot in the pot.  Each side of the meat should be perfectly seared and this is done with just a tad of patience an time.  In my Instant Potit took about 7-8 minutes per side.  And I did it in 2 batches and the color on the bottom of the pot was beautiful.  And THAT was our flavor.

Adding in the Aromatics: The aromatics are another layer that is going to make this dish so incredibly savory and flavorful.  I used a super simple combination of fairly classic aromatics.  Shallots, garlic, onions, carrots, parsley and rosemary were all that went into the pot after the short ribs had finished searing.  While these aromatics may be simple they are just enough flavor to let the earthiness of the meat to shine through.
Deglazing: Deglazing is just simply using a liquid (preferably an acid) to bring up all those gorgeous browned bits from the bottom of the pot.  In this case I used a nice red wine.  The important part of deglazing is to scrub the bottom of the pot with a wooden spoon or a spatula to get  all those brown bits up and into your braising liquid.
Fast Natural Release: With pressure cooking (FYI…the Instant Pot is an electric pressure cooking) once the cooking time is over the pressure must come dow within the pot before the pot can be opened.  There are three types of pressure releases.  Fast release, Natural Release and Fast Natural Release.  For the sake of time we are going to talk only about the Fast Natural Release.  When cooking large pieces of meat, if you do a fast release then the meat will toughen up from the sudden and fast change of pressure.  Instead we do a fast natural release.  Meaning, we let the Instant Pot go into the "Keep Warm" setting.  After 15 minutes passes, carefully open the lid and remove the meat and get ready to enjoy!
The Saucy Glaze: Once I removed the meat and skimmed off the fat, I added in a few tablespoons of balsamic vinegar into the remaining liquid and turned the "Saute" option on in the Instant Pot. The balsamic has sugar in it and helps the sauce become a shiny glaze.  I simmered the sauce until it became a glaze consistency.  Then it was ready to spoon over the top of the uber tender short ribs.  This will take a tad longer.  I typically remove the sauce from the Instant Pot and place it in a large sautee pan so there is more surface area for the sauce to reduce.  This can take an extra 20 minutes but I promise it is well worth it!!! 

Notes

Another option to thicken the glaze is to add a slurry.  Take 2 tablespoons corn starch and 2 tablespoons water and mix in a bowl.  Once you remove the lid, bring the glaze up to a boil by pressing sautee.  Slowly pour in the slurry while mixing, stopping once you have reached the desired consistency.

 
This glaze guys…this glaze literally makes the meat shine.  As I stood and photographed this glorious piece of meat, I questioned if this had indeed happened…if I actually had figured out how to make Instant Pot short ribs…better yet make them incredibly tender and delicious.
The Instant Pot is not a magic tool you see.  It still requires a bit of work to get the flavor profile and the texture right.  But the Instant Pot helps the short ribs cook significantly faster than in the oven or the crockpot for that matter.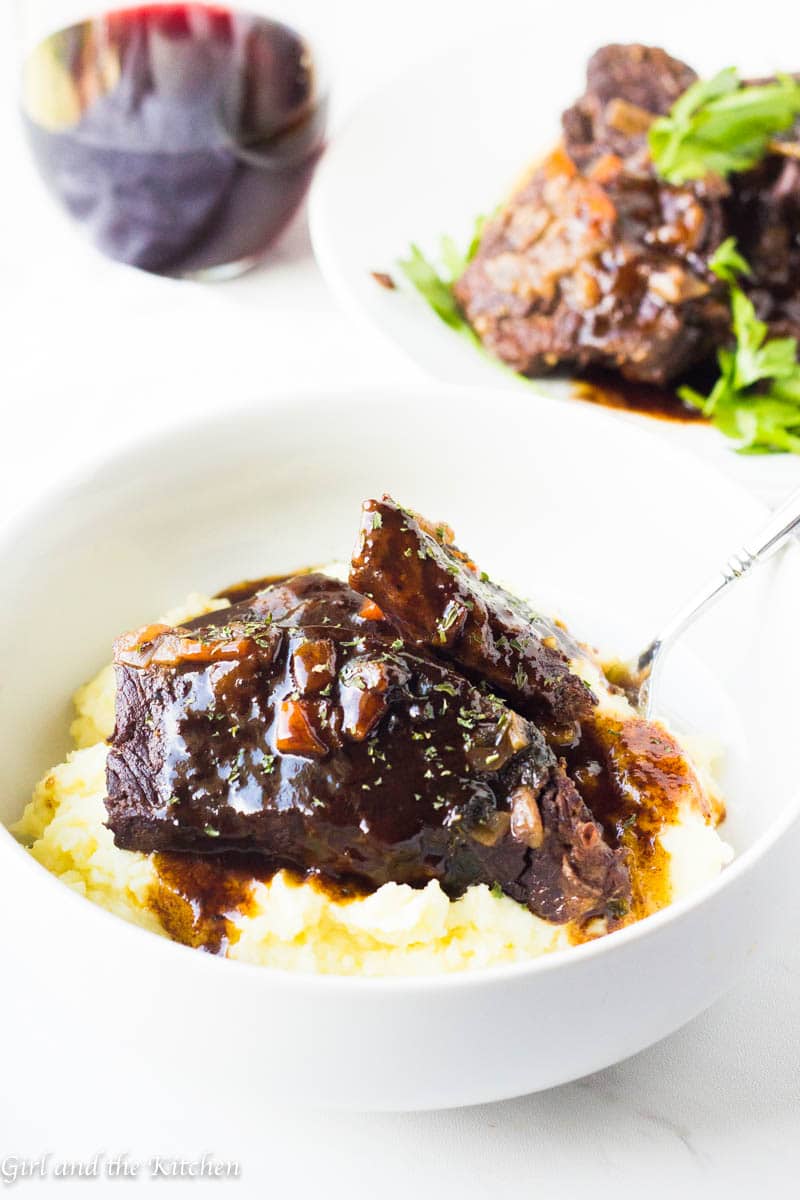 I served this deliciousness over my Creamy Mashed Potatoes  but you can serve them over creamy polenta or even plain buttered noodled.  Either way, these Instapot short ribs will be tender, delicious and unforgettable.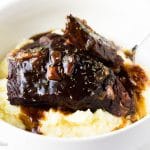 How to Make Instant Pot Short Ribs
This super simple recipe for how to make Instant Pot short ribs will save your life! Super tender short ribs with a delicious red wine and balsamic sauce will steal the show at any dinner table yet they are simple enough to make for a Monday dinner!
Print Recipe
Ingredients
4-5

pounds

boneless short ribs

1

large onion

2

shallots

2

large carrots

5

cloves

of garlic

1

sprig of rosemary

4-5

sprigs of parsley

2

cups

of good red wine

3

tbsp

balsamic vinegar

salt and pepper to taste
Instructions
Preheat the Instant Pot to the "Saute" option.

Season your short ribs really, really well with salt and pepper. I always use Kosher salt.


Place them in one layer in your pot and let them sear. Don't touch for abut 7-8 minutes.


In the mean time, dice up your onions, shallots and carrots.


After 7-8 minutes are up, flip the meat to the other side and let it go for another 5 minutes.

Once all the meat is nicely browned, remove it on a plate and turn the heat down to medium. Do this in two different parts if necessary ensuring never to over crown the pot.


Check your pot, if you have a lot of more oil than about 1 tbsp (accumulated from the meat) then pour it out.


Add your onions, shallots, garlic cloves and carrots to the pot and sweat for about 5-7 minutes until aromatic and soft. Toss them in all those glorious pan drippings. Season with salt and pepper.


Add in the red wine. Scrub the bottom as you do this. Pick up all those nice bits that have caramelized from the bottom.


Nestle the short ribs back in and add in one sprig of rosemary and the parsley sprigs.


Seal the Instant pot insuring that the venting switch is set on to the "Sealing" position. Press the "Stew" option and set the manual time to 35 minutes on high pressure. If you have bone in short ribs you will need to add 15 more minutes to the cooking time. But the results will still be perfect!

Once the timer beeps, allow the Instant pot to go into the "Keep Warm" function for 15 minutes. Carefully, switch the venting tab to the "Venting" position and only once all the steam has been released go ahead and carefully remove the lid of the pot.


Remove the meat, skim the sauce off with a spoon concentrating on only removing the fat. Add in the 3 tablespoons of balsamic vinegar, and turn back onto the "Saute" option. Allow to boil until it has reached a glossy and glaze consistency. (See Note)
Notes
Please note the nutritional information should only be used as a guideline.
If you want the sauce to be reduced faster, put it in a larger pan so more surface area is covered and therefore it reduces faster.  This will take about 15-20 minutes instead of the 30 it would take in the Instant pot.  If it is not quite thick enough, simply create a slurry with 2 tbsp of corn starch and 2 tbsp of water and carefully stream it into the liquid as it boils until desired consistency is achieved.
If you have bone in short ribs you will need to add 15 more minutes to the cooking time.  But the results will still be perfect! 
Nutrition
Don't have an Instant Pot and still want glorious short ribs?  Not to worry I got your covered with this fabulous oven and crockpot friendly Braised Short Ribs Recipe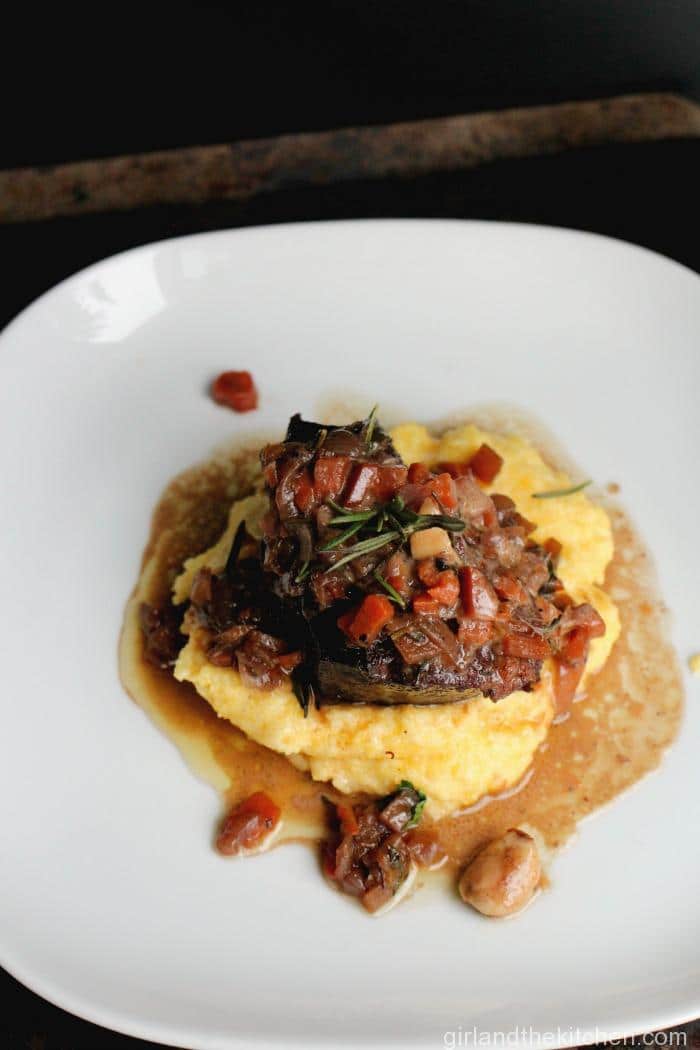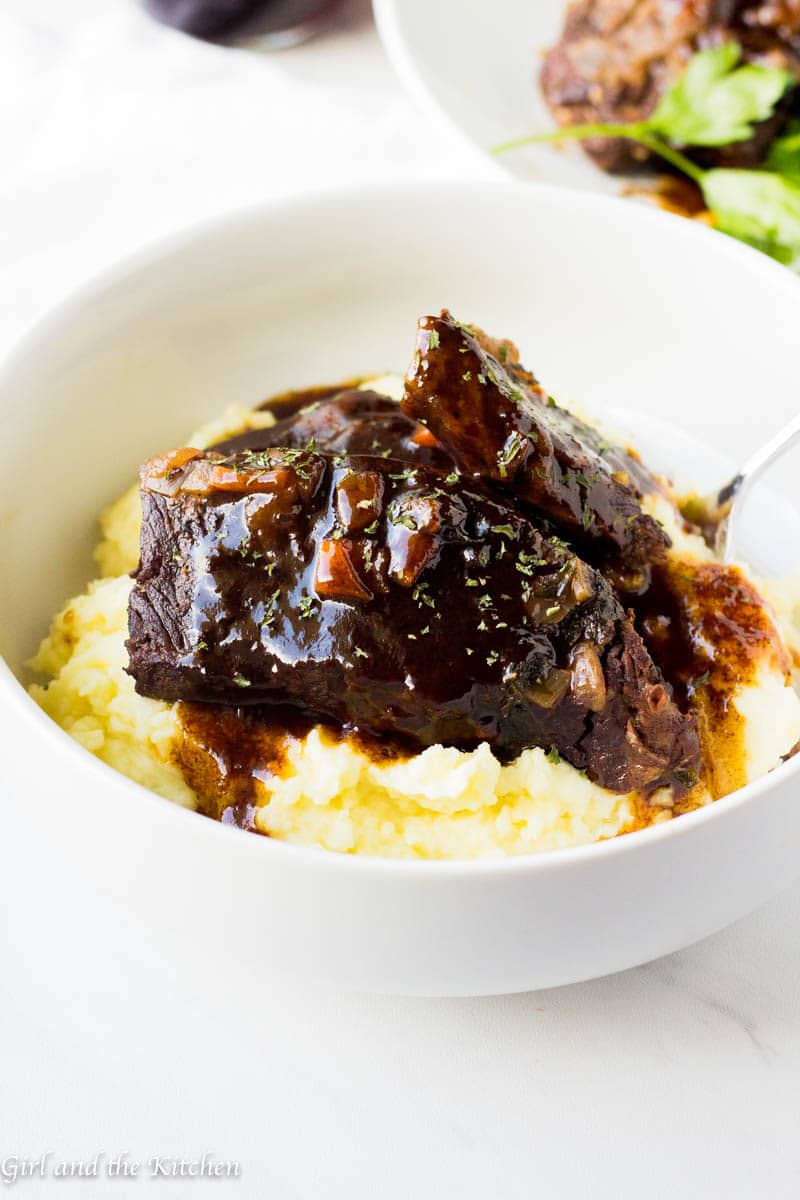 SaveSave
SaveSave
SaveSave