3 Ingredient Instant Pot Pot Roast
This ridiculously tender Instant Pot Pot Roast is made with only 3 ingredients but is loaded with flavor!  Tender meat is surrounded by a luxurious sauce! Perfect for a Sunday dinner but easy and fast enough for Monday nights!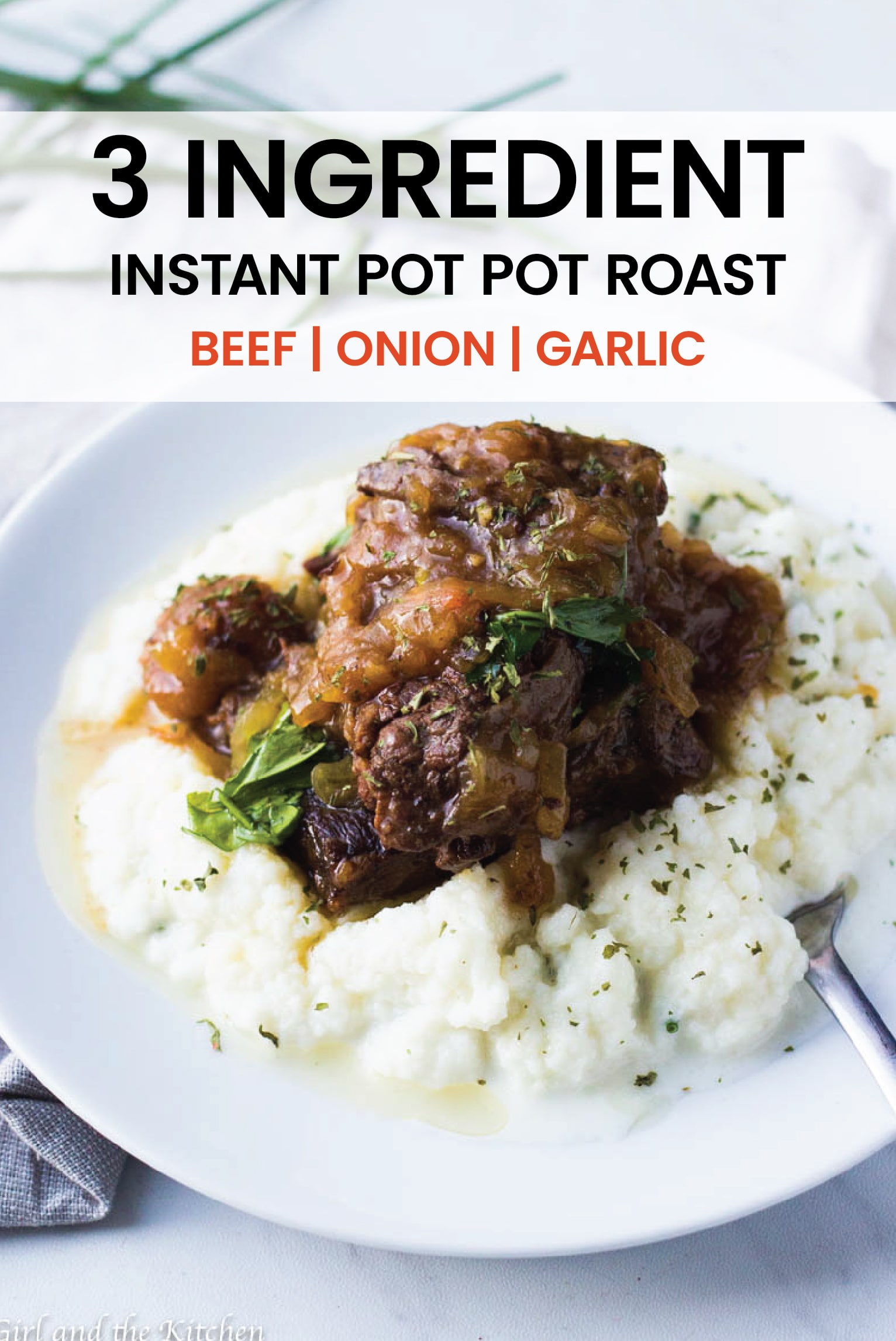 On occasion a dish surprises me.  This Instant Pot Pot Roast did just that.
Naturally, as so many of my recipes lately, this recipe was created out of necessity and a very sad looking fridge.
A few weeks ago, due to a sick munchkin and a sick mommy, I was quarantined to the house.  There was an awful polar tundra outside in Chicago and therefore my ordinary grocery delivery was backed up and unavailable until the very next morning…almost 24 hours later.
It was time for plan b.  If only there was a plan b.
I knew the munchkin and I would be fine for lunch because I had already made a batch of my mom's famous Jewish Chicken Soup.  But dinner, did not look promising.  My pantry was very sad and empty with the exception of some simple pantry staples of onions and potatoes.  And deep in the back of my fridge lay a large chuck pot roast cut that I had once had high hopes for…sadly now due to my creeping fever and mild case of delirium induced by said fever, my high hopes were deduced to the bare minimal.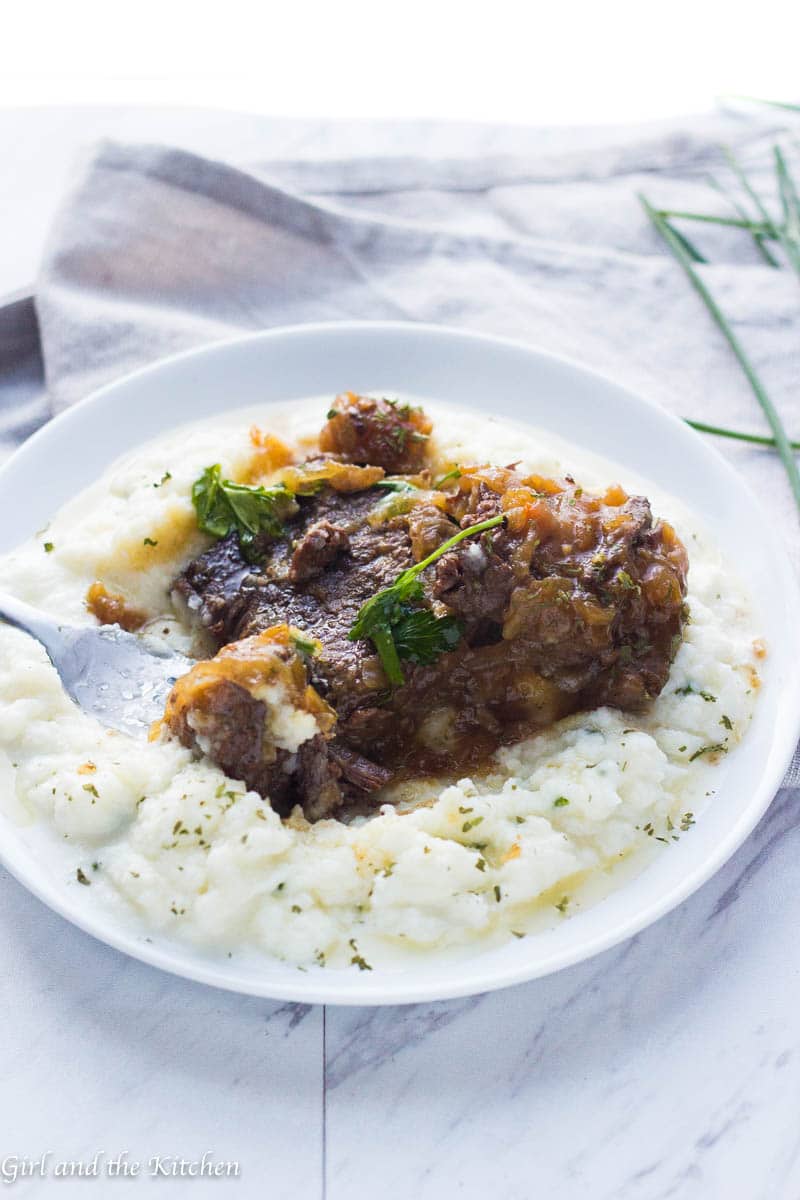 The bare minimal included the pot roast chuck, onions, garlic and my trusty [easyazon_link identifier="B06Y1MP2PY" locale="US" tag=" ne0fc6-20″]Instant Pot.[/easyazon_link].  I knew that despite what I decided to put into my Instant Pot, it would be safe if I decided to doze off to a fever induced slumber and hopefully I would at the very least have a fall apart roast that could always be utilized as a part of a slider.
The Technique
The Ingredients: My minimal ingredients proved to actually be a life saver.  The onions and garlic melt into an incredibly sweet sauce and compliment the meat perfectly.  Because garlic, onions and beef go together like…well like garlic, onions and beef 🙂  Essentially it created a saucy perfection. The best part is that the equation for the recipe is super simple: For each pound of beef you use 1 onion and 2 cloves garlic.  Deliciously simple right?  It is also very important to season the meat with a heavy hand with good coarse salt and fresh ground black pepper.  I also like to finish it off with a nice turn of freshly ground black pepper once it is out of the oven.
Searing the Meat:  Searing the meat is the first step in almost any stew or pot roast.  Despite the popular idea, searing meat is NOT done to retain moisture in the meat.  It is however done to boost flavor.  When the meat gets seared, a fun little chemical reaction happens and a nice, beautiful golden crust appears adding a very important depth of flavor to the meat.  More importantly it leaves caramelized little bits on the bottom of the pot that get picked up by scrubbing the bottom of the pot and adds immense flavor to the sauce.
Cutting the Meat: I chose to cut up the meat in a few large pieces because I really wanted more surface area exposed for searing, I cut the meat into large pieces.  You can also keep it whole.  However, my roast happened to be quite large and I would have had to cut in half anyhow to fit, so I decided to cut it into a few larger pieces so that I can give as much of it as much color as possible.
The Sauce: Each time I have made this I have done something a little different with the sauce.  The first few times I made it I just left the sauce as is.  Another time, I added a bit of flour to the onions when sautéing them and this really thickened the sauce as it cooked.  Additionally I pureed the sauce roughly in my [easyazon_link identifier="B008H4SLV6″ locale="US" tag=" ne0fc6-20″]Vitamix.[/easyazon_link].  You get a chunkier texture to the sauce using this method, which makes the whole dish feel a bit more hearty.  Lastly, you can make a little slurry out of 2 tablespoons of water and 2 tablespoons of flour and thicken the sauce while it boils.  There is no correct method.  They all work and this dish was designed to actually work with the sauce just being served as is.
With the limited strength I had, I seasoned the meat heavily with salt and pepper and seared it on the "sautee" option in my Instant Pot.  In the meantime, I cut up 4 onions grabbed 8 cloves of garlic and wiped the tears from my eyes from the potent onions (or the creeping fever).  I removed the meat rom the [easyazon_link identifier="B06Y1MP2PY" locale="US" tag=" ne0fc6-20″]Instant Pot[/easyazon_link] and added in the onions and garlic along with a healthy helping of Kosher salt.  I scrubbed the bottom of the pot with a wooden spoon insuring to pick up all those delicious bits.
10 minutes later, I added the meat back into the [easyazon_link identifier="B06Y1MP2PY" locale="US" tag=" ne0fc6-20″]Instant Pot[/easyazon_link], sealed it up and set the timer to 40 minutes.  I then wrapped myself and the munchkin up in blankets and we both passed out for a much needed nap.
After passing out for what seemed like 9 days, I had awoken refreshed thanks to my flu meds kicking in and to the intoxicatingly delicious smell permeating the kitchen.  My Instant Pot had gone into the warm function and after allowing any remaining steam to vent, I was excited to see what savory goodness lay inside.
To say that I was happy with my results was an understatement.  The onions had almost melted into a delicious and velvety sauce that clung to each piece of meat.  But more importantly the flavor of the onions and garlic had been absorbed into every nook and cranny of the meat, leaving it savory, sweet and absurdly delicious.
But best of all…it was beyond tender.  In fact, when I tried to lift a piece of the roast out for a taste, it barely held together.  Tender goodness just melted in my mouth encouraging me to let out a loud "Yum" .  The munchkin heard me and quietly let out the words, "I'm hungry, feed me."  And so I did.  I served it over some leftover Creamy Mashed Cauliflower and she never even suspected that they were not mashed potatoes.
We both sat side by side, eating up every bit of the pot roast.  Happy that our fevers had finally broken and our appetite had returned, we ate helping after helping, almost forgetting to leave the hubs some for his dinner.
Later as I lay the munchkin down to sleep, I heard the garage open and so I texted the hubs to help himself to the pot roast.  After the munchkin fell into her slumber, I made my way into the kitchen and was happily surprised by the hubby's comments,
"That meat was so good I ate the whole pot. "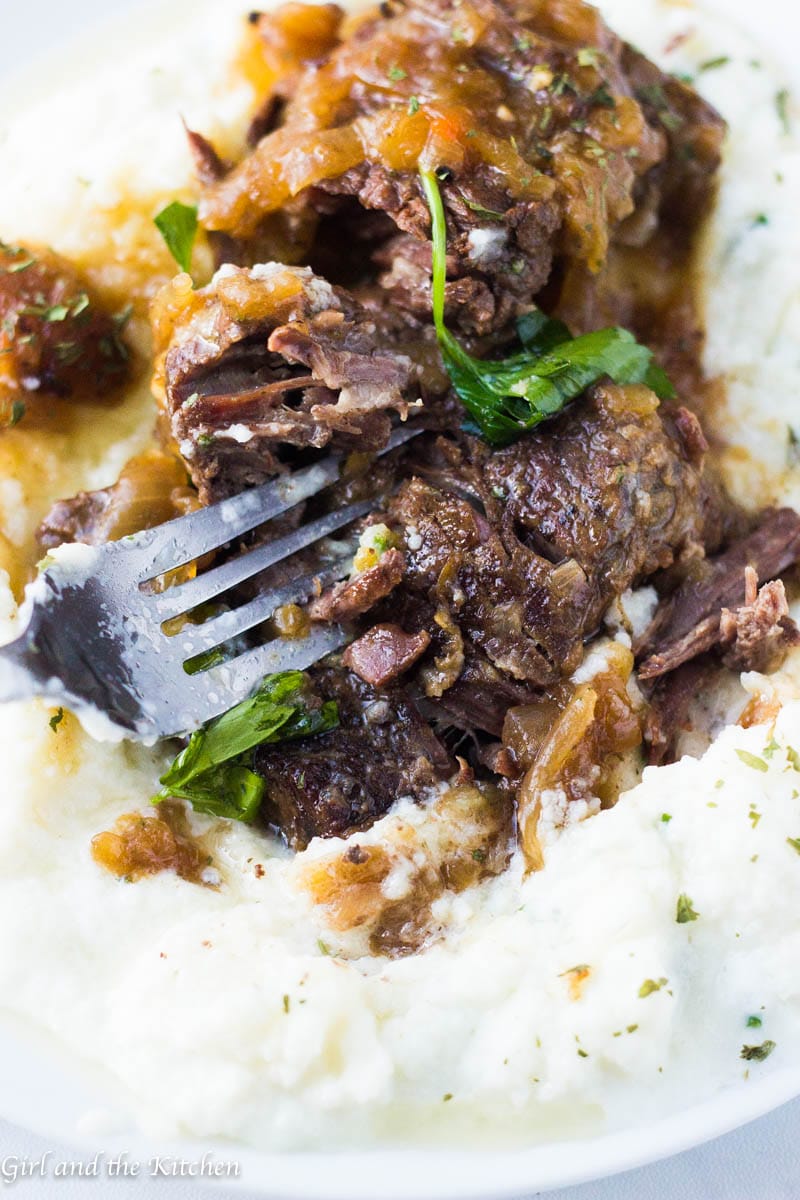 Considering how spoiled the hubby is with food, I had to agree with him on this one…my Instant Pot Pot Roast was indeed delicious…and absurdly tender.  My accidental Instant Pot Pot Roast was unanimously one of the best items to have come out of my trusty Instant Pot.
Print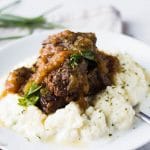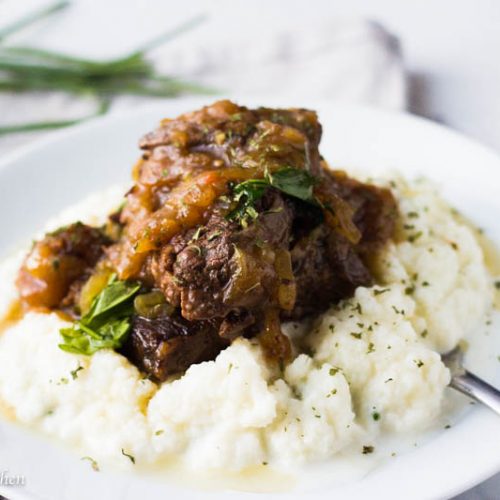 3 Ingredient Instant Pot Pot Roast
---
Total Time:

65 minutes

Yield:

6

people

1

x
Description
This ridiculously tender Instant Pot Pot Roast is made with only 3 ingredients but is loaded with flavor! Tender meat is surrounded by a luxurious sauce!
---
4

pounds chuck pot roast cut (see note)

4

onions (sliced roughly)

8

garlic cloves

1 tbsp

olive oil
black pepper and kosher salt (to taste)
parsley (chopped to garnish )
---
Instructions
Turn the Instant Pot to the "saute" function. Press the "saute" button until it reaches the highest temperature.
In the meantime, cut up the meat into large pieces. This of course IS optional. You can just as easily leave it whole. However, I feel that it gets a great deal more depth of flavor in each piece when I cut it up.
Season heavily with Kosher salt and black pepper.
Pour the oil into the pot. Add in your meat in batches (if cut up) or place the whole piece in at once. Allow to sear for 5 minutes on each side.
Remove the meat and add in your onions and garlic, season with salt and pepper. After two minutes, some of the juices from the onions will release. Using a wooden spoon, scrape the bottom of the pot using that liquid as a way to really pick up those browned bits. See note
After allowing the onions to cook for a total of 10 minute, add in the meat. Toss some of the onions with the meat and seal the lid.
Turn the valve to "sealing", set the Instant Pot to "manual" high pressure, 40 minutes.
Once the time is up, allow to sit on the "Keep Warm" option for 15 minutes.
Turn the venting valve to the "vent" position. HINT: Place a towel over the vent so it doesn't spray everywhere.
Open the lid carefully. At this point you can also remove the meat and puree the sauce to give it some more body. Additionally, you can bring it up to a boil and make a slurry with 2 tbsp cornstarch and 2 tbsp cold water and slowly add it to the boiling sauce. This however is totally optional.
Sprinkle with parsley and serve over my super creamy mashed potatoes or creamy cauliflower as I have.
Notes
If the meat is a less fatty cut or one that has less marbling add on 5 more minutes to the recipe.
You can also add in 1 tablespoon of flour to the onions while they sautee  .  This will result in a thicker gravy as they cook.
You will not need any additional liquid in this recipe because so much liquid comes out of the onions and the meat.
The meat will not be completely fall apart like a pulled beef.  It still has plenty of texture but it is so tender that only a fork is needed to eat it.  If you would like it a bit more tender, add an additional 10 minutes. 
If you have more than 4 pounds add 5 extra minutes per pound.  For example, if you have 5 pounds then the cook time will be 45 minutes.
You can also make this a one pot meal and add in potatoes.  Just peel and quarter the potatoes.  Once the meat has finished cooking and you have opened the lid, turn the "sautee" option on and add the potatoes in.  Allow to cook until fork tender.  They will absorb they delicious sauce and be even more delicious! 
Prep Time:

5 minutes

Cook Time:

60 minutes

Category:

beef, freezer friendly, Main Entree

Cuisine:

American Classic
Pin For Later

SaveSave
SaveSaveSaveSave
SaveSave