Mexican Instant Pot Pulled Pork (Carnitas)
This Instant Pot Pulled Pork makes for the ultimate carnitas!!! Loaded with just the right flavors and ridiculously simple this is the only Mexican pulled pork recipe you will ever need, plus learn how to get gloriously crispy bits that are perfect in tacos!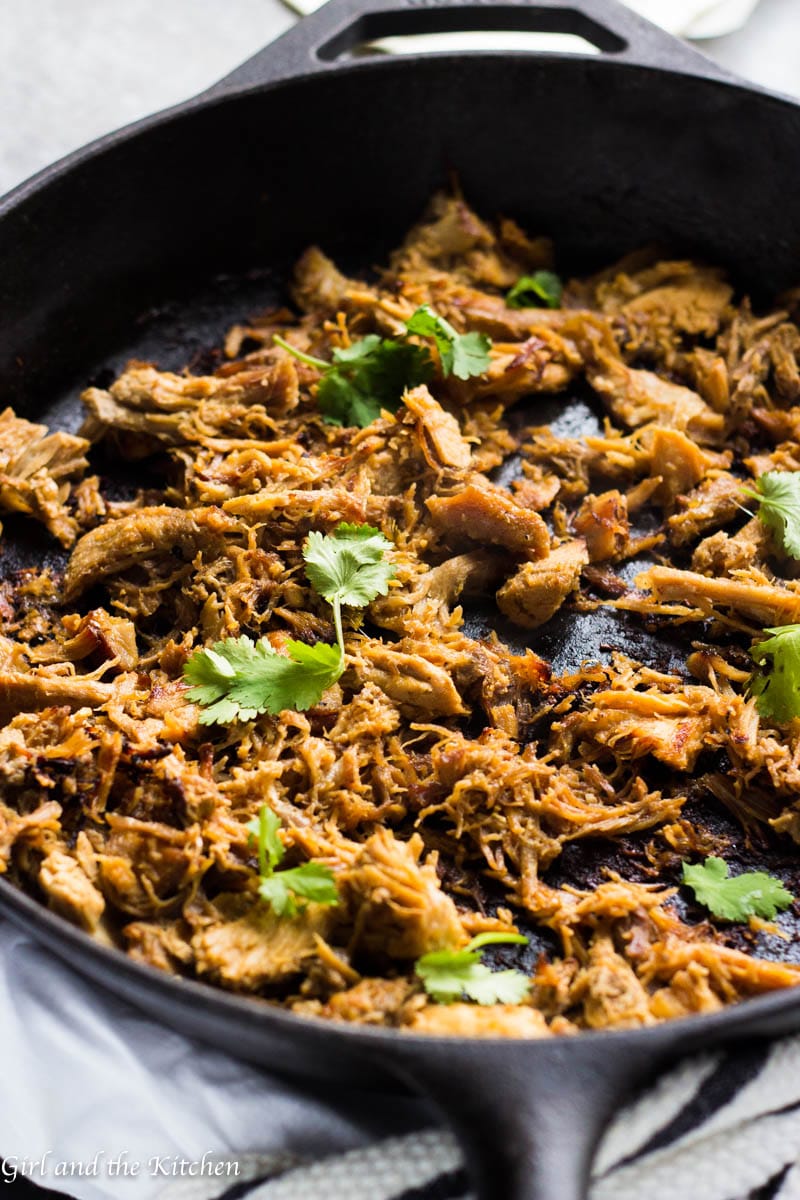 I have eaten quite a few carnitas in my life.  And sadly, I have never been too impressed with any of the ones that I have tasted.  Most of them were either too fatty (yuck) or too dry and scratched my mouth as I attempted to chew on them.
But with the recent purchase of my Instant Pot…I knew I could revolutionize all the bad recipes I have had and instead create something that was truly epic.
All classic pulled pork recipes start out with a really great rub.  I knew that my best rub was the one that was created by my cousin Kenny which I have used in a ton of recipes…all of which that have proved to be successful.  It is a perfect combination of sweet, savory, spicy and tangy and it would go absolutely perfect with my Instant Pot Pulled Pork.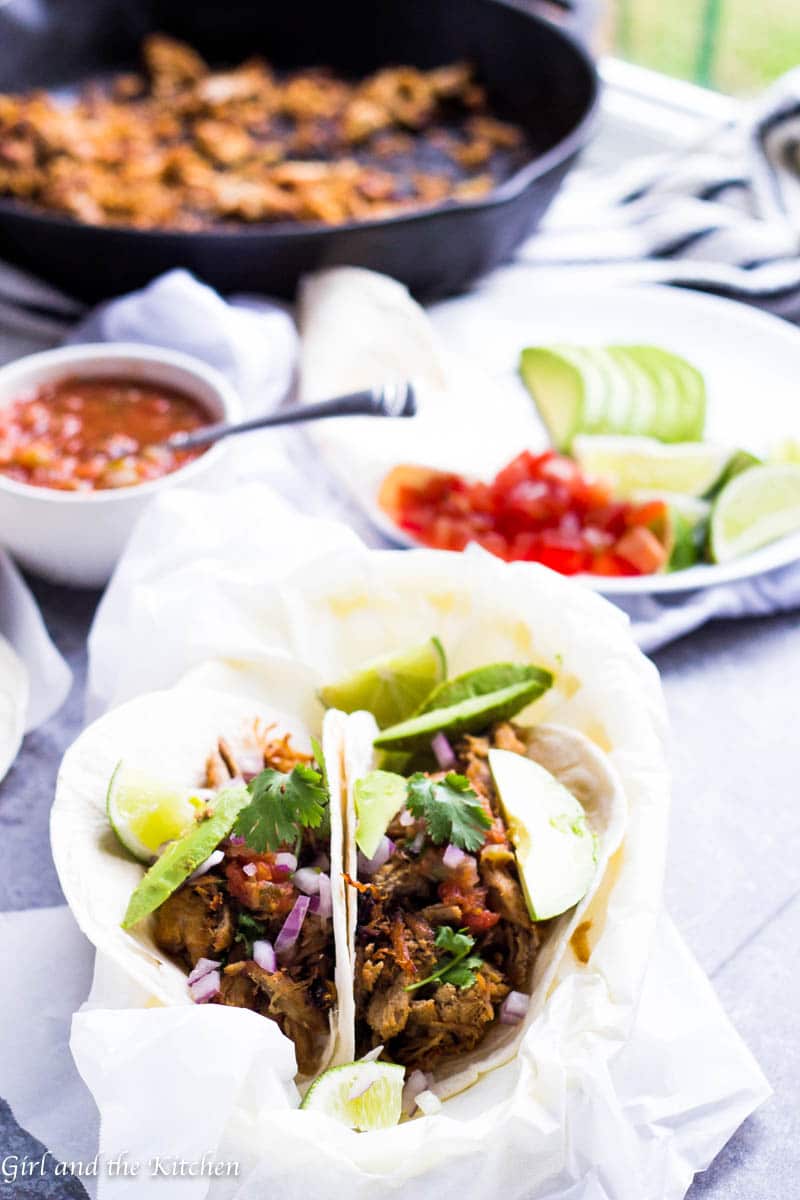 In addition to the rub the braising liquid is JUST as important.  It is no surprise that I got my inspiration for the braising liquid from my good friend and brilliant blogger Nagi from RecipeTin Eats.  Nagi's recipes are always full of bright flavors and extremely well researched.  I know that before she posts anything on her site she has eaten it many times AND has tweaked it to the point of her own perfection.  But most importantly what I really love about her recipes was that they were always simple and just made perfect sense.
Traditionally, many Mexican recipes have the flavors of bitter orange in them.  Nagi's recipe reminded me of just that!  Naturally (and very much like Nagi) I made some additions to the recipes of my own but in general I left the braising liquid true to Nagi's recipe.
And truthfully, these Instant Pot Pulled Pork Carnitas were deeeeeeeeee-licious!
THE TECHNIQUE
Boneless VS Bone In: I have made this both way with a bone in roast and boneless.  That being said, the quality and flavor of the meat was just about the same.  The biggest difference of course was the cooking time.  Due to the bone, it took the roast a bit longer to cook.  If you have your heart set on a boneless roast and your store only has bone-in, just ask the store butcher to remove the bone for you.
The Flavors:  The rub perfected by my cousin Kenny is truly a game changer in this recipe. It is spicy, smoky and sweet.  Truly the complete flavor profile!  I added in some liquid smoke and some lime juice to the braising liquid to really deepen the flavors.  I added in some roughly cut onion, serranos and garlic into the liquid to brighten up the flavors as well.

The rub is massaged into the meat to ensure that all the flavors permeate the meat prior to searing.

The Sear: I found that searing the big ole chunk of meat just seals in the rub a bit better and also start the braising liquid with even more flavor in it from the browned up bits on the bottom of the pan.
The Instant Pot: TheInstant Pot has made my life a ton easier!  If a classic pulled pork of this size would easily take 1.5-2 hours in a crock pot or an oven this baby was done in 30 minutes on the meat setting.  It was perfection and there was no work to be done.
Frying up the Shredded Bits: The meat post braising is still really REALLY delicious honest.  But it comes to life when I put it into a super hot cast iron pan WITH the braising liquid (another Nagi tip) which invigorates the meat with even more flavor.  The ends get beautifully crispy but still retain all those incredible flavors of the braise.  I like to leave the little bits of onion, garlic and serranos in there to compliment the meat after it has been cooked.  Those little bits just add in that much more flavor when you bite into them in a taco or a quesadilla 🙂
Freezing: These delicious carnitas will also freeze up beautifully!  I just like to freeze them in ziplock bags along with the braising liquid.  This keeps them nice and moist plus you have the option to use the braising liquid to sautee up.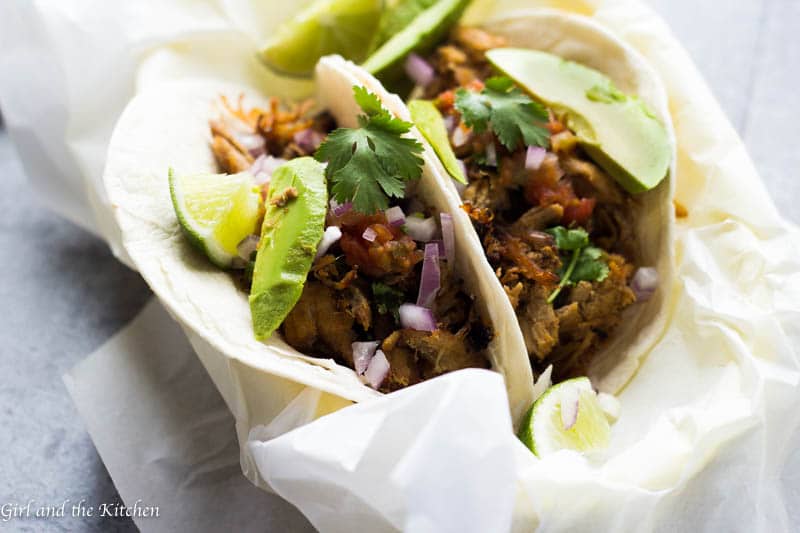 One of the best part of this recipe is that it truly is super versatile!  I have made several batches for taco nights at our house and sadly never had enough leftovers to actually take pretty photographs for the blog.  BUT I did taste many sauces and toppings on top of my Instant Pot Pulled Pork Carnitas and so very many of them were FANTASTIC!!! Which forces me to make a batch of these muy delicioso  carnitas to play around with and create a PLETHORA of delicious other recipes!!!
Prepare for much more deliciousness to come!!!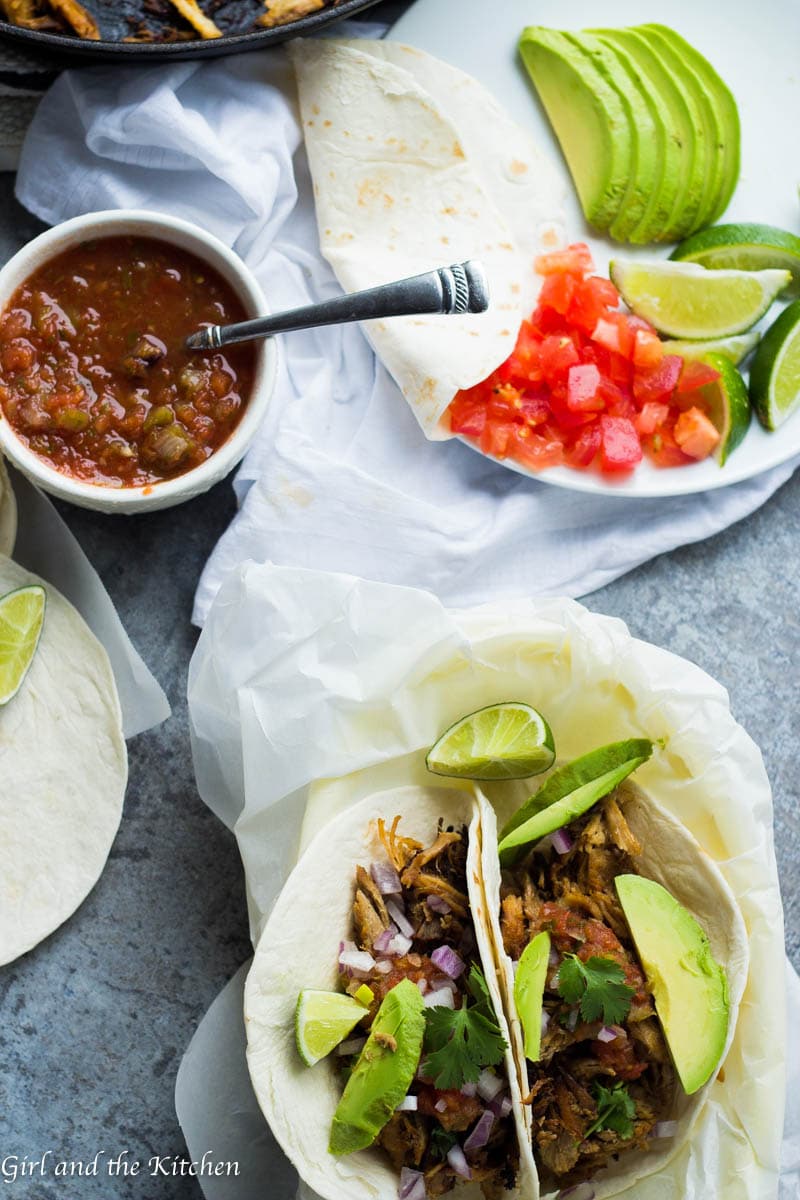 Print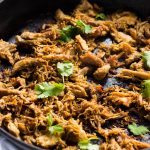 Mexican Instant Pot Pulled Pork Carnitas
---
Author:

Prep Time:

5 minutes

Cook Time:

60 minutes

Total Time:

35 minutes

Yield:

0

servings

1

x
Description
This Instant Pot Pulled Pork makes for the ultimate carnitas!!! Loaded with just the right flavors and ridiculously simple this is the only Mexican pulled pork recipe you will ever need, plus learn how to get gloriously crispy bits that are perfect in tacos!
---
Scale
Ingredients
The Rub
3 tbsp

smoked paprika

1.5 tbsp

garlic powder

1 tsp

ginger powder

1 tbsp

chipotle powder

2 tbsp

Kosher salt

2 tbsp

raw can sugar

1/2 tsp

dry sage
Braising Liquid
2 tsp

liquid smoke

2

limes juiced

2

oranges juiced (

3/4 cup

of orange juice)

1

onion (roughly chopped)

5

garlic cloves (roughly chopped)

1

serrano pepper (roughly chopped)

1 tsp

black pepper

5

–

6

pounds pork shoulder or pork butt boneless or bone-in ( (if using b

one

less you will need about

4

pounds)

2 tbsp

olive oil
---
Instructions
Place the Instant Pot onto the "saute" setting.
Combine all the ingredients of the rub in a bowl. Rub them all over the pork ensuring every nook and cranny is covered.

Pour in the olive oil into the Instant Pot and place the meat into the pot. Allow to sear 4-5 minutes per side.
Add in all of the remaining ingredients of the braising liquid and seal the lid.  Press the "off/clear" button and then press the "meat" button and adjust the time to 60 minutes.  MAKE SURE YOU HAVE TURNED THE VENTING VALVE TO "SEALING"
Allow the pressure to release naturally for 15 minutes. Then turn the vent valve to "venting" and allow all the steam to escape prior to opening.
With gloves or two forks, shred the pork until no large pieces remain.
Optional: to serve, place the shredded pork in a sheet pan under the broiler with about 1/4 cup of the braising liquid. Broil until perfectly crispy, about 5-10 minutes. OR repeat the same steps on the stovetop in a hot cast iron pan.
Notes
If your limes seem a bit hard, stick them into the microwave for 15 seconds to loosen up the juices.
These carnitas will freeze up beautifully!  Just make sure to freeze it along with the braising liquid to keep them nice and moist when re heating.
Category:

Entree, Main Course, Main Entree

Cuisine:

Mexican
Make it a Complete Meal and add these recipes to your delicious Mexican Fiesta!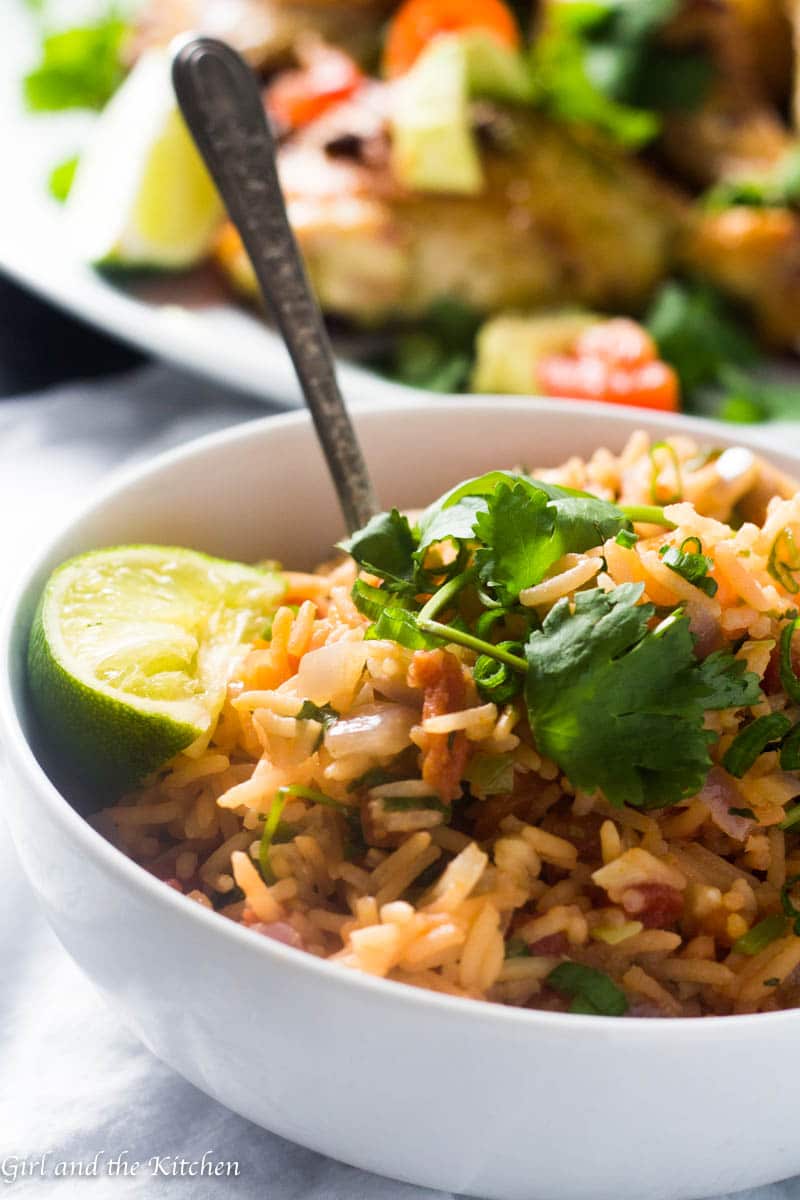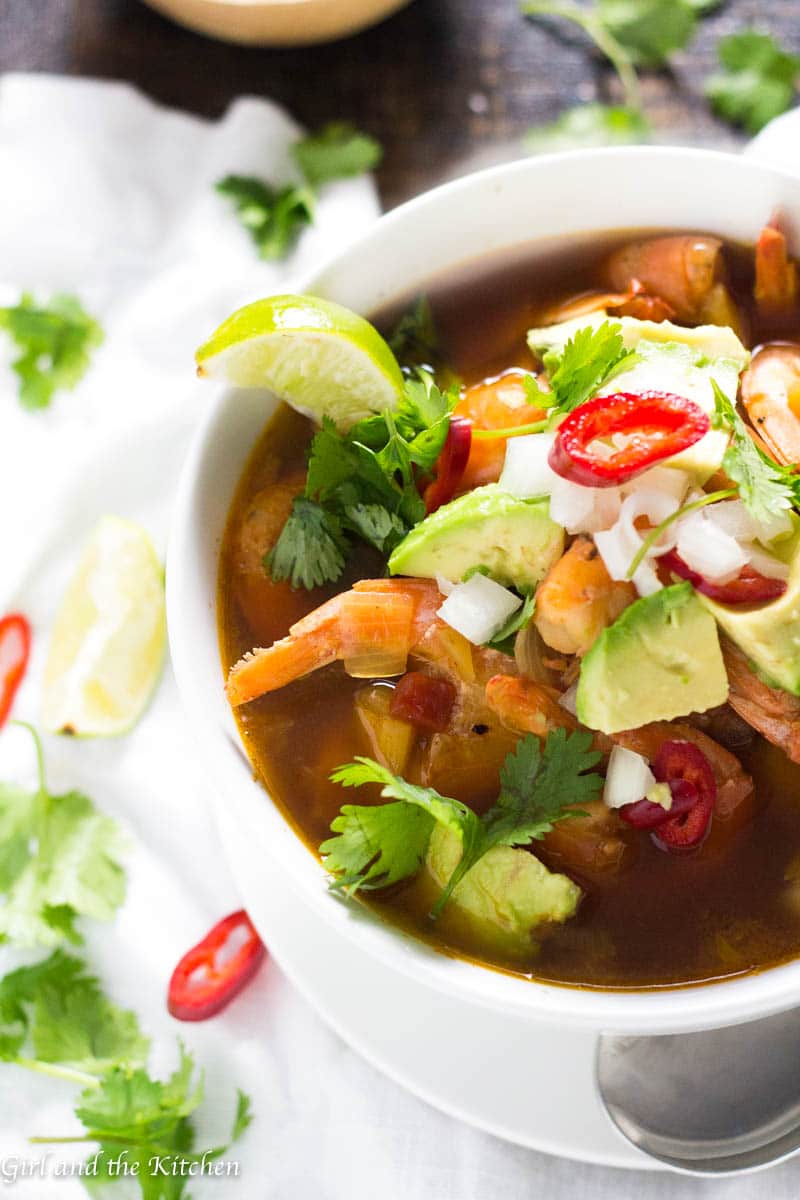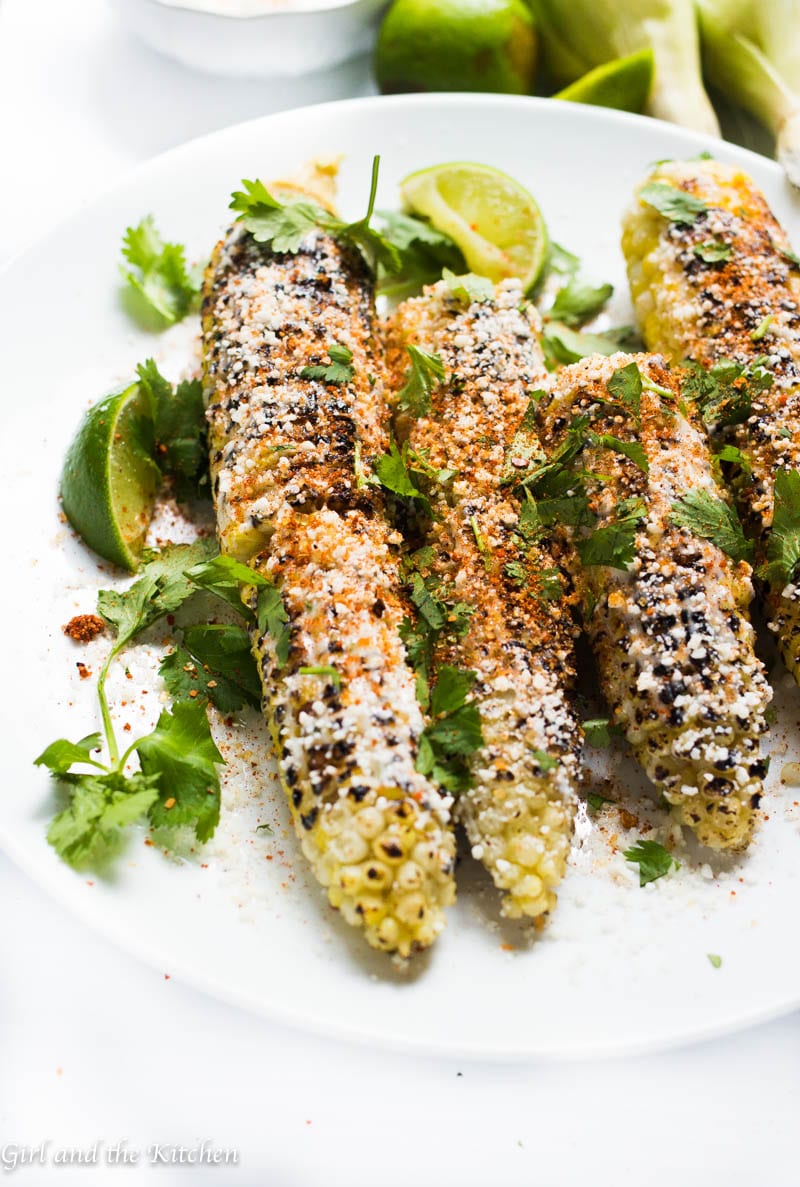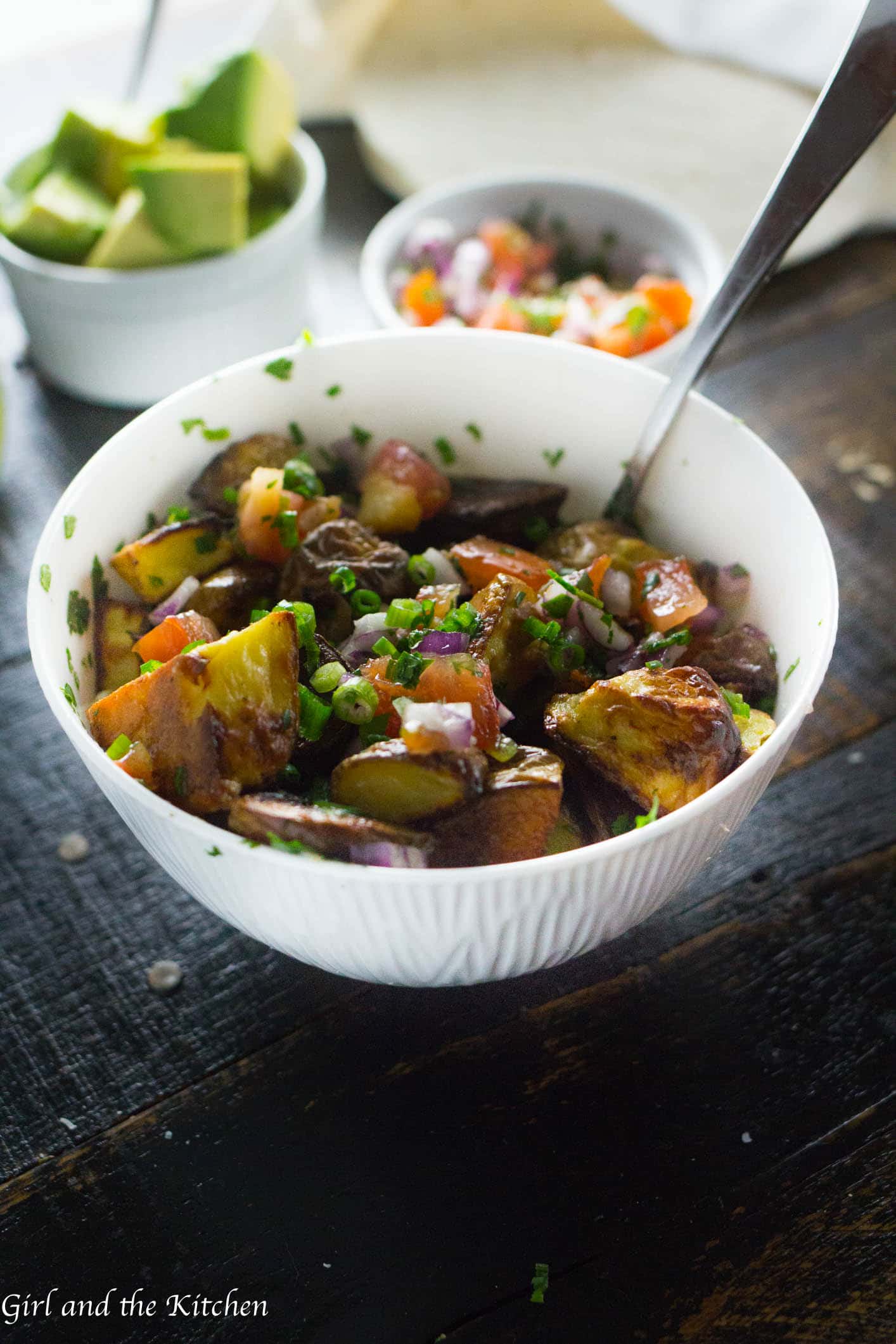 A delicious OTHER twist on Pulled Pork!