This spicy caprese panini boasts a super tender and crunchy focaccia bread and is spread with a deliciously spicy and creamy aioli.  Prepare to meat the ultimate panini.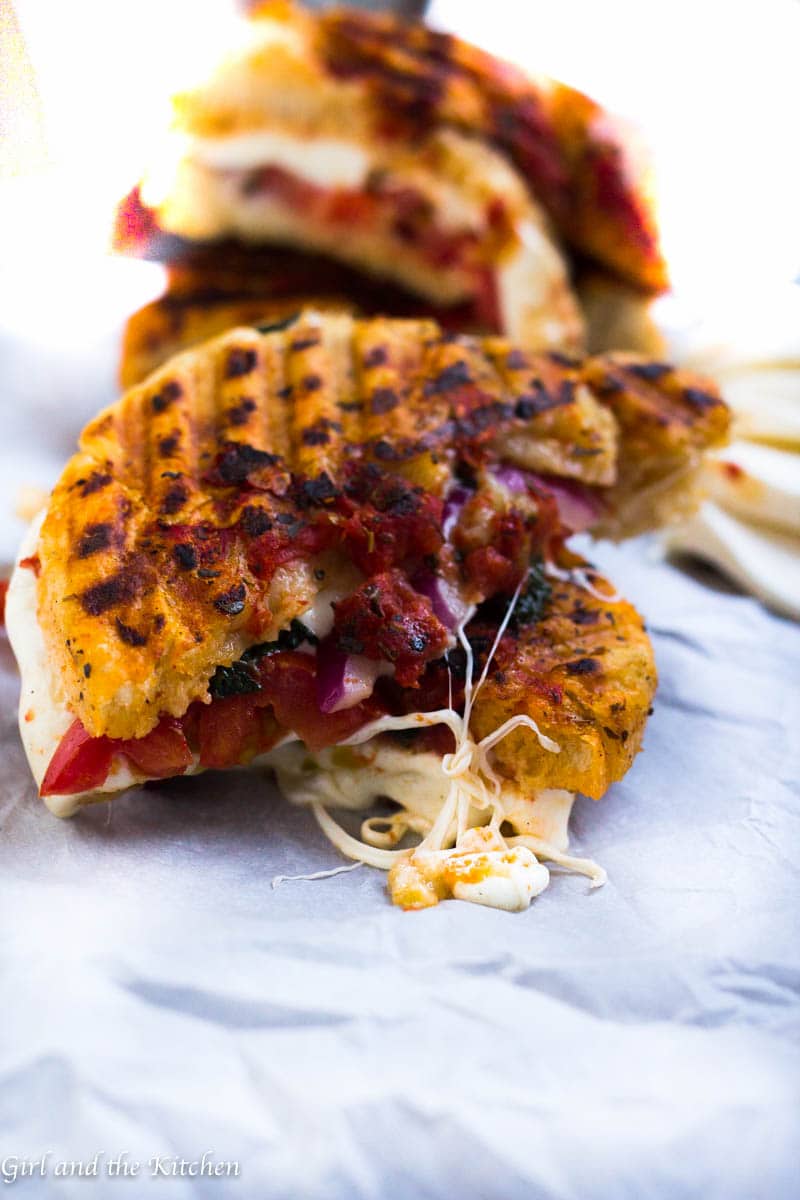 [wprm-recipe-jump] I was an odd child.  One of my favorite parts of the week was Sunday mornings.  Because that was when my mom, my babushka and I woke up early and went grocery shopping for the week.  I loved tagging along my mom listening to her and babushka discuss the week's menu they would create for the family.  They would pick up each tomato, smell it, feel it and see if it was suitable.  My mom chose everything the way my babushka taught her: through touch of her own two hands and by smelling with her own nose.
My mom would touch the fresh Italian bread and listen to it crunch between her fingers and watch the tiny pieces of crust fall onto her hands.  There had to be the right sound and the right feel and only then would she agree to allow me to take it and put it in our shopping cart.  We had a tradition: we would come up to the deli and she would order her turkey breast for the family, always making sure to give me a piece to taste.  I would then tear off a piece off of the end of the bread, the crispiest piece with edges sharp enough to cut my mouth.  She would give me the turkey and I would put it on top of the bread and take a bite.  Heaven.  I still remember that taste of the crunchy and savory bread and the fragrant turkey breast.  My mom would always look at me with a smile when I did this.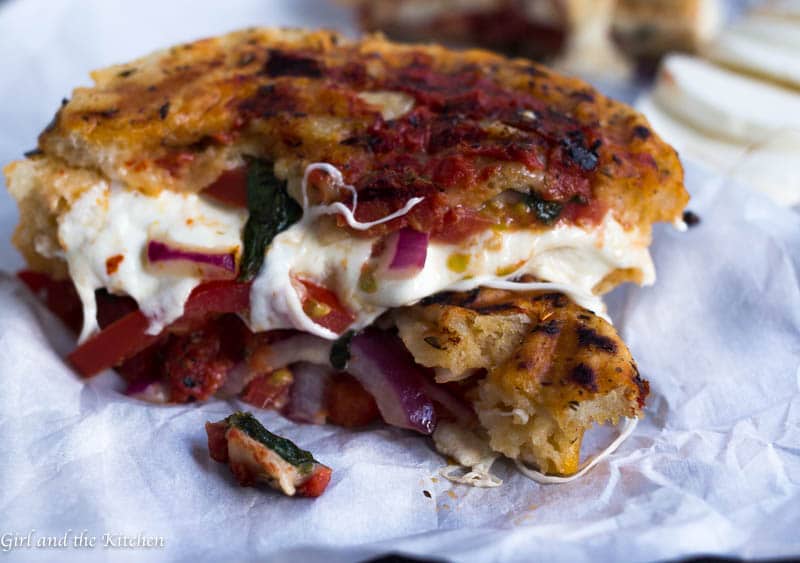 One Sunday morning we were at the deli, repeating our usual routine of make shift sandwich making.  Except this time she gave me something else.  A small white ball from the deli counter that the man had given her.
"Here Mila, put it on top and taste it."  Being the obnoxiously picky eater that I was, I naturally continued asking her loads of questions about what this was.
"Mama, what is this? Why is this wet? What is it made of? Am I going to like it?"
"Oh my god Mila just eat it!  It's cheese.  It's fresh mozzarella."
The gentleman behind the deli counter had persuaded my mom to try the fresh mozzarella instead of the usual mozzarella she would buy and naturally my mom thought that the pickiest eater around should taste it.  And I did.  And I was in love.  Ahhh it was creamy, salty without being overly salty and most importantly it was beyond delicious.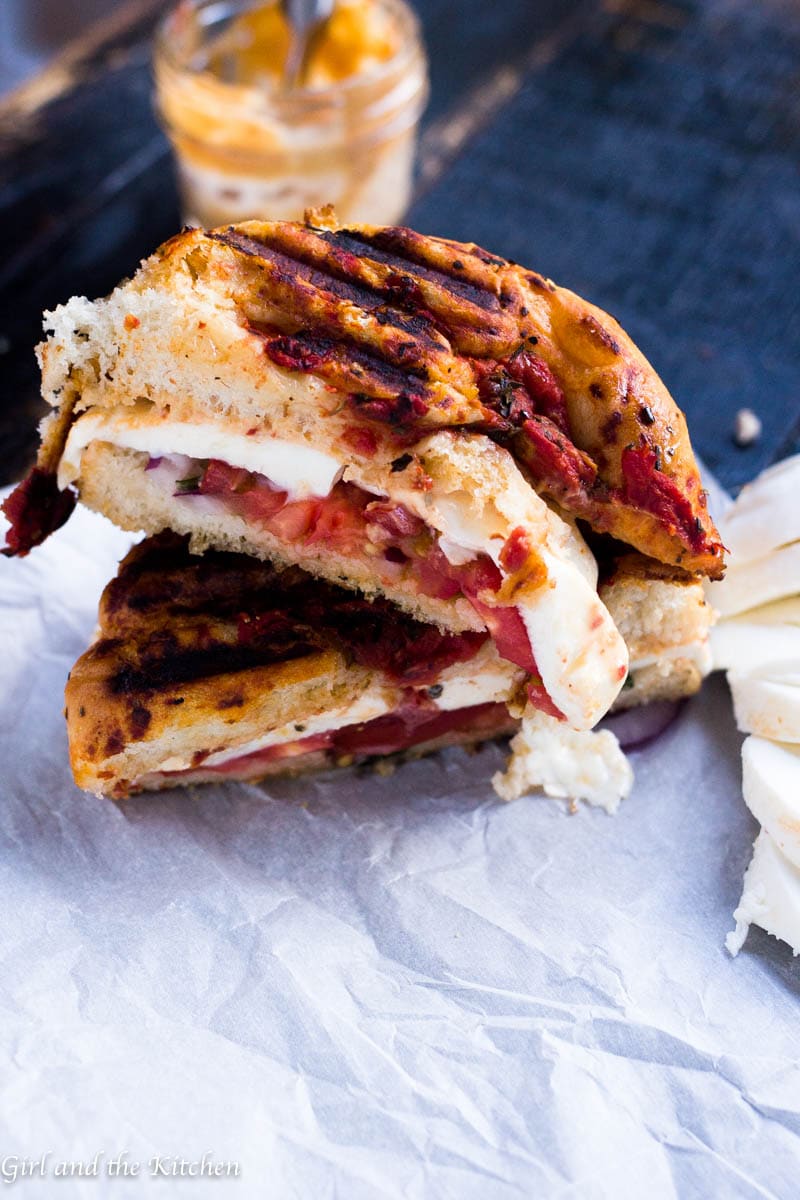 Once we got home my mom went to work on making her meals for the week for the family.  That way she did not have to cook all week and instead we had food for several days at a time.  To this day it is still the way I cook for my family.  For lunch she had my dad grill up some BBQ chicken drumsticks for us, along with babushka's famous dill and garlic potatoes  and in the middle of the platter lay an incredible array of fresh tomatoes, fresh basil and my new best friend, fresh mozzarella.
"Mama, what's that?" I asked ready to rid the plate of every last bit of the mozzarella.
"Mila, it's a caprese salad.  It's how the Italians eat the fresh mozzarella.  But eat it with the basil and the tomatoes."
I was so impressed with mama.  Here she is away from her homeland in a strange country, making Italian salads.  Mama was pretty fantastic and genius.
Fresh mozzarella  became a staple in our household.  Mama put it in salads, on warm sandwiches, in pita's loaded with tons of fresh veggies.  I of course always ate it fresh accompanied by absolutely nothing at all except a smile on my face.
Many years later, sadly without my mama by my side, I still buy fresh mozzarella for the house hold.  My local grocery store has a HUGE variety of fresh mozzarella.  A few weeks ago, they had a few fresh mozzarella's to taste and my munchkin and I of course went ahead and tasted every single one.  Without missing a beat, the little 3 foot munchkin ran over to the lady who was handing out samples and grabbed a package of Stella Fresh Mozzarella Cheese and threw it into the cart.  Clearly she was a fan.
We came home and the little munchkin grabbed the cheese from the grocery store and demanded I make something for her.  The question of course was…what?
It was lunch time and I did have a super yummy soup in the fridge that I knew ached for a sandwich…no better than a sandwich, a panini.  A delicious spicy sandwich that had a crispy, crunchy crust. A spicy caprese panini.
I had focaccia that the munchkin also snuck into my shopping cart because clearly she had been planning for this Caprese Panini long before I was.  After grabbing the focaccia everything just seemed to come right into place.  I put a thin layer of a smoky chipotle and sun dried tomato mayo I had hanging out in the fridge onto my tomato focaccia.
A few slices of tomato, red onion, garden fresh basil and of course the Stella fresh mozzarella cheese   completed our panini.
I grilled the Caprese Panini on our panini press and heated up our big pot of homemade soup. 10 minutes later we were all pulling taking bites of the hot spicy Caprese Paninis and had a blast watching the cheese stretch and become all deliciously stringy.  Munchkin of course enjoyed it the most…and I watched her eat her cheesy panini the same way my mama watched me eat my mini sandwiches.
Print
Spicy Caprese Panini
---
Author:

Total Time:

20 minutes

Yield:

4

sandwiches

1

x
Description
Few things in life are as comforting as a crunchy panini with a creamy and cheesy, gooey center. This spicy caprese panini boasts a super tender and crunchy focaccia bread and is spread with a deliciously spicy and creamy aioli. Prepare to meat the ultimate panini.
---
Panini
4

focaccia buns (whichever ones you choose to get)

1/2

red onion (thinly sliced)

1

ball of Stella Fresh Mozzarella (thinly sliced)

2

medium ripe tomatoes (thinly sliced)

8

basil leaves
olive oil to brush the panini grill with
Smokey Chipotle and Sundried Tomato Mayo
1/4 cup

mayo

1/4 cup

sour cream (or Greek yogurt)

4

leaves fresh basil

2

chipotle in adobe (JUST TWO PEPPERS not

two

cans)

4

–

5

sundried tomatoes
---
Instructions
Smokey Chipotle and Sundried Tomato Mayo
Add all the ingredients into a blender or food processor and process until smooth. Feel free to leave some of the chipotles or tomatoes as chunks if you would like.
Panini
Preheat panini press to high.
Assemble the sandwiches first by smearing both sides with the chipotle mayo then layering on the fresh mozzarella cheese followed by the tomatoes and then the onion. Top off with the other side of focaccia.
Brush down the panini press with olive to ensure that the panini does not stick.
Grill the sandwiches for 7-8 minutes or until the sandwiches are crispy on top and melty on the inside.
Notes
This recipe was slightly inspired by the smoky Frontega chicken sandwich at Panera. However I decided to make it without the chicken and honestly it did not lose any of its appeal.
You can also make this in a regular pan just like a classic grilled cheese. Just be careful when flipping it so it does not spill out everywhere. You can use a heavy brick or pot to weigh down the sandwich so that it gets flatter while it's cooking.
Prep Time:

10 minutes

Cook Time:

10 minutes

Category:

Sandwich

Cuisine:

Italian