How to Make Fettuccine Alfredo
Learn how to make Fettuccine Alfredo that is not swimming in a greasy sauce and comes together in only 30 minutes but tastes like it has been simmering away all day.  My version of the classic Italian American pasta is super simple and is brought to flavor perfection with just a few easy tips from a an Italian chef.
[wprm-recipe-jump]
I do not remember when I tasted my first Fettuccine Alfredo, it must have been as a teen in one of those random restaurants like Houlihans or Olive Garden.  That being said, I remember the first time I had a GOOD Fettuccine Alfredo.  It was in culinary school, while standing next to my Italian chef, Chef Paul.
Chef Paul was an Italian American that still spoke Italian fluently.  He had no accent in either language when he spoke it.  He studied at the Culinary Institute of America as well as in Italy.  So I knew that when this man spoke to me in the language of Italian food, it was legit.  He taught me the techniques that Italians used in their food in the motherland and he also taught me how to incorporate those techniques into American favorites to better them.
American favorites such as Fettuccine Alfredo.
Apparently this sauce meant a lot to him, as he stood right next to me while I made it, ensuring that I did every step as he talked me through it.  Thankfully, I was a big fan of Chef Paul (obviously he was of me as well) and we would stir the Alfredo sauce and joke about everything and everyone around us.  It was Chef Paul that actually convinced me to carry on and get my Bachelors when all I wanted was to be done with school.  So I clearly owe a little bit more to him than just this recipe…but for now we will chat just about that.
I had clearly made Fettuccine Alfredo before but it was just a combination of garlic and cheese and cream.  Which yes…sounds delicious…but it wasn't amazing…THIS SAUCE was AMAZING.
"A true Alfredo is loaded with flavor it's not just a thickened up cream.  Most importantly the texture and viscosity of the sauce is so that it just perfectly coats each fettuccine strand."  He explained this to me with so much passion, that I practically felt the velvety sauce on my tongue.
And just when I thought I had learned all I could…he taught me the biggest secret of all.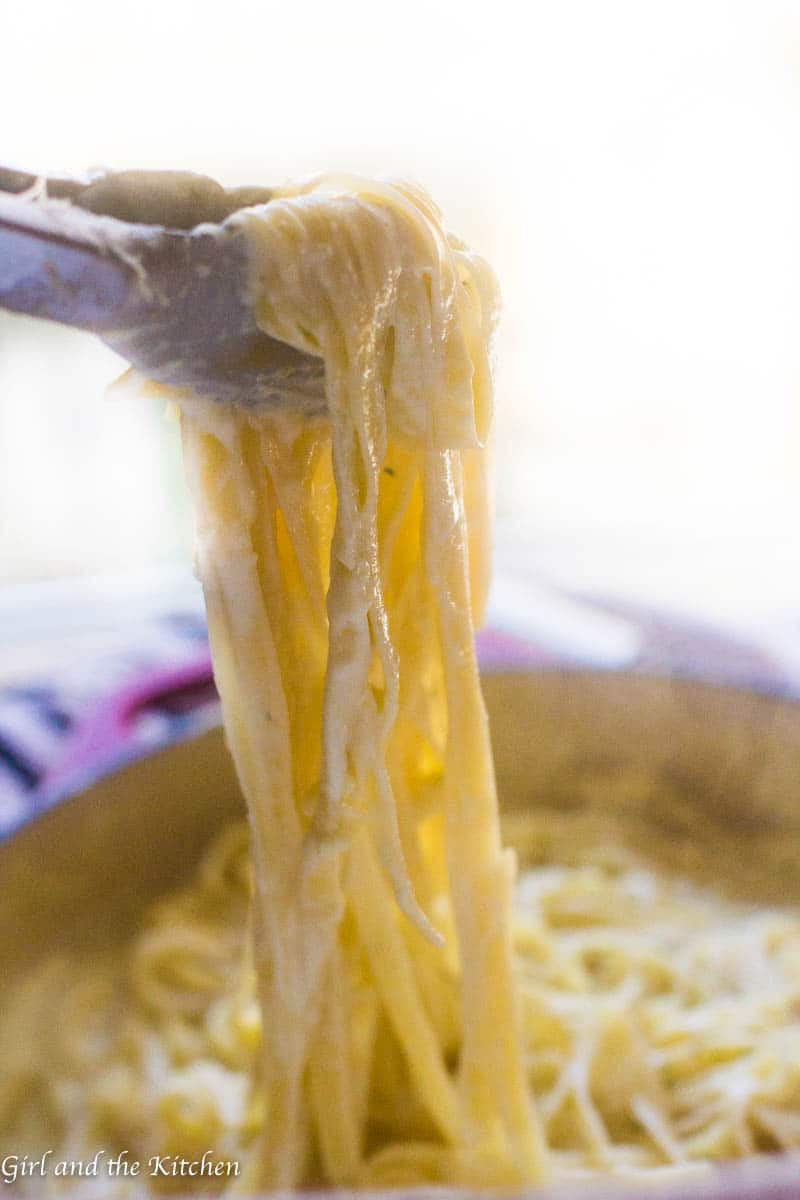 THE TECHNIQUE
Sweating out the Veggies:  I have talked about the sweating technique in almost all my sauce and soup posts.  When I sweat out my shallots and garlic in a tad of butter I do this on a low flame with a bit of salt so all the aromatics come together in a sexy steam bath.  They then release all their juices ready to enrich any and all sauces or soups.  Most importantly this technique does NOT encourage any color on the veggies and is done in a covered pan whereas sautéing is done on a high flame and always in an uncovered pan.  As far as the shallots and garlic go, I do not waste much time chopping them up, instead I throw them into my little food processor attachment of my hand blender and let it handle it.
The Flavor Maker: What I learned for Chef Paul is a technique that I use to this day in many of my sauces and soups.  The classic and simple Parmesan Rind is what makes this Fettuccine Alfredo absolutely stupendous.  The rind adds a depth of flavor that is truly only achieved using this method.  It's both savory and salty in the best possible way.  And according to Chef Paul this was the only way not to "bastardize" the sauce.
 Emulsifying: I have mentioned this many times before…the classic emulsification process of adding in pasta water has been used by generations of Italians.  This technique is what makes the sauce stick to the pasta perfectly without the need for a load of cream.  When pasta cooks, the starch comes out into the water leaving a perfect starchy thickener without adding any extra calories, which is always a plus.  The bottom line is that just half a cup of water will leave you with a sauce that is full bodied and have a silky and creamy mouth feel.  Simply, remove about 1 cup of water from the pasta water with a measuring cup prior to draining it and you will have all you need.    
Pureeing or Not: I like my alfredo sauce superbly creamy…meaning that I do not like any specs of shallots or garlic in there.  So prior to me adding in the pasta water, I place it into my Vitamix and give it a quick whiz so it's super smooth.  This of course is completely optional and not at all required.  It happens to be whatever you prefer.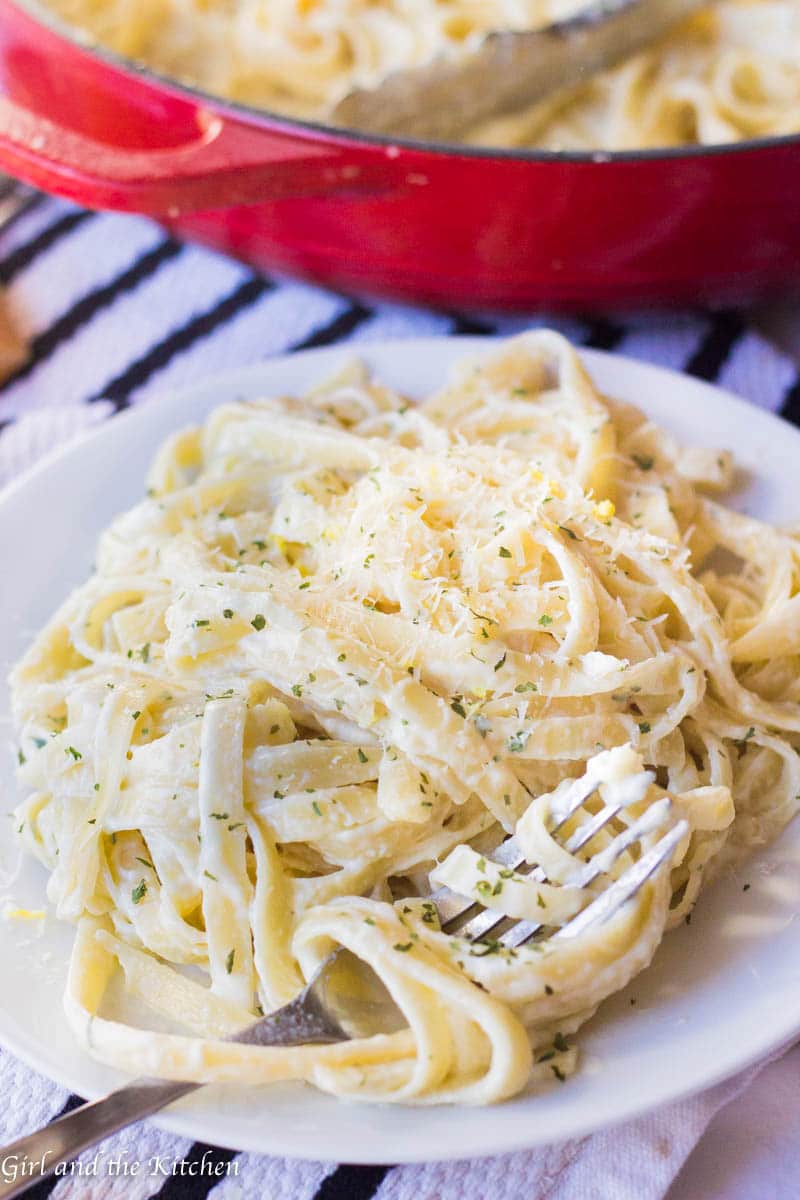 When Chef Paul finally let me taste the sauce I was absolutely consumed with deliciousness.  It was so flavorful, ridiculously creamy and most importantly each strand was perfectly enveloped in the luscious sauce.  I was blown away that this sauce was made in only 30 minutes yet it truly tasted as if it had simmered for hours.  THAT is the magic of our Parmesan rind…it leaves a flavor behind that is truly unforgettable.
I made this particular Fettuccine Alfredo many times but very few for my family…because I would do precisely what I did last week…I would eat it in extraordinary amounts and complain how full I was after consuming half a pound of pasta.  Alas…it was delicious.
IF you are in the mood for some ultimate creaminess in the dairy free variety, make sure to check out my equally creamy and delicious Dairy Free Alfredo Sauce!!!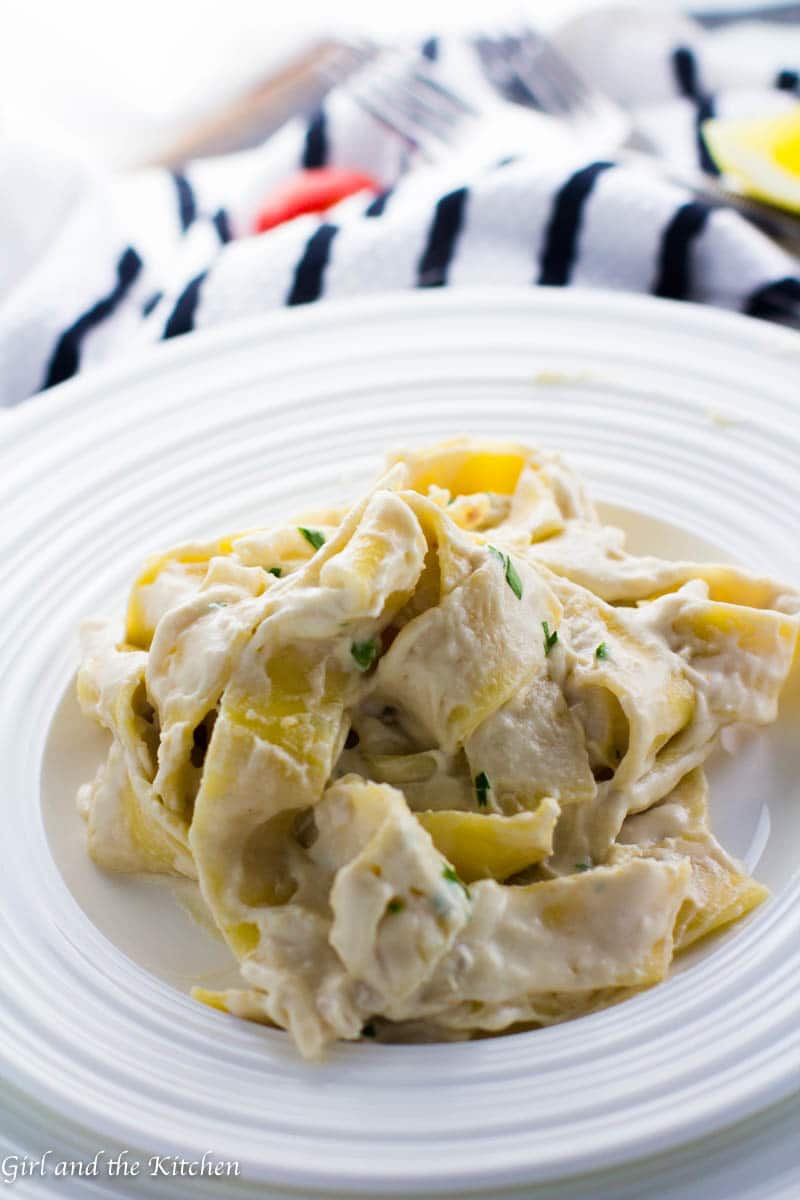 Print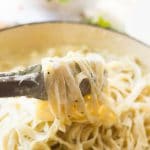 How to Make Fettuccine Alfredo
---
Author:

Total Time:

30 minutes

Yield:

4

ppl

1

x
Description
Learn how to make Fettuccine Alfredo that is not swimming in a greasy sauce and comes together in only 30 minutes but tastes like it has been simmering away all day. My version of the classic Italian American pasta is super simple and is brought to flavor perfection with just a few easy tips from a an Italian chef.
---
2 tbsp

of butter

1

shallot (finely minced)

3

garlic cloves (finely minced)

1

Parmesan Rind

1

pound fettuccine

1.5 cups

of heavy cream

1/2

a cup of freshly grated Parmesan cheese

1 cup

of reserved pasta water
salt and pepper to taste
---
Instructions
Bring a large pot of salted water to a boil for the pasta.
In a large pan, place the butter, garlic and shallots in with a pinch of salt. Sweat over low-medium heat while covered.
Allow to cook for 5 minutes.
Add in Parmesan rind and heavy cream. Increase heat to a high simmer and allow to simmer for 15-20 minutes.
Cook pasta according to package instructions, ensuring that is al dente. Remove 1 cup of pasta cooking water prior to draining the pasta.
At this point, if you want a nice and smooth sauce, place it into a blender and blend until smooth.
Add in the pasta water into the sauce along with the pasta.
Toss until completely covered.
Add in cheese and taste for seasoning.
Serve immediately.
Notes
1. Feel free to use a hand blender for chopping up the aromatics as I did.
2. The nutritional information should be used for informational purposes only.
Prep Time:

5 minutes

Cook Time:

25 minutes

Category:

Pasta

Cuisine:

Italian American