Easy and Freezer Friendly Marinara Sauce Recipe
A good marinara sauce recipe is crucial to have in any chef's artillery. The secret of this sauce lies in the simplicity of the cooking technique and the special tomatoes. I once learned from an Italian chef that the only tomatoes to use are San Marizano tomatoes. It has never steered me wrong. And best of all… I make a huge batch and throw the remainder in the freezer.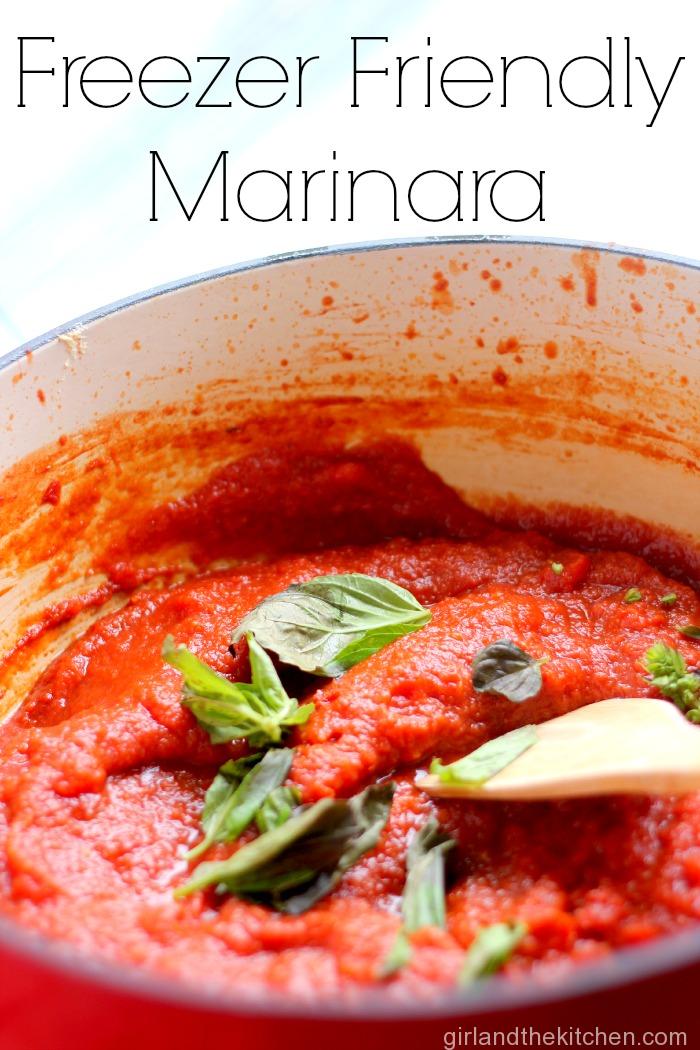 [wprm-recipe-jump]
I really dislike purchasing already made food.  I despise it in fact.  I particularly dislike the jarred variety.  It just bothers me to have buy something in a jar that I could so very simply make at home.  For less money and more flavor.
Call me crazy but to me, buying jarred sauces is one step away from buying frozen lasagna…eghhk.  I'm not judging anyone.  We all have moments of desperation when we need to feed our families and a box of spaghetti with a jar of store bought marinara seems like the only viable answer.
I have been there.  Back a few years ago when I worked 80 hours a week and had no time or energy left to cook, I took refuge in my neighborhood Trader Joe's and used every sauce in a jar they had.  The marsala simmer sauce, the picatta simmer sauce, their jarred alfredo sauce and of course their jarred marinara.
It was easy and pretty tasty and of course since it was from Trader Joe's it had to be healthy…right?  Wrong.  And then, just out of sheer curiosity I glanced at the label.  And I was shocked.
There were a quite a few ingredients that I did not agree with.  Nothing except olive oil, onions, garlic, tomatoes, basil and seasoning belonged into a marinara.
At least not my marinara…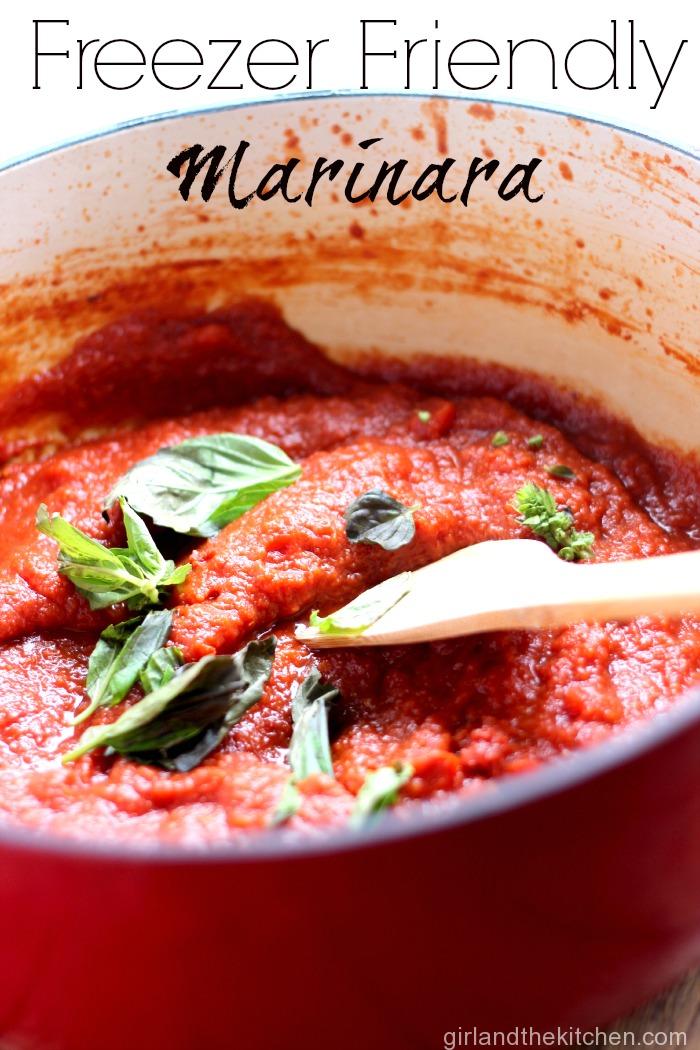 That was the last week I bought a jarred sauce.  I started experimenting with all different sauces and surprisingly all of them were very easily replicated at home.  And the best part was that they tasted just as good frozen as they did fresh.  I did double batches of each sauce and froze the extra for next time.
However, the hardest of all the sauces was the marinara.  It never tasted like it should.  It was either too acidic or too runny or too sweet. I cooked it for hours, like all the great Italian grandmother's recipes said.  But it just was not right.
Until one day, I decided to do something drastic.  I cooked the marinara for a total of 30 minutes.  No 3 hour simmers on a Sunday no praying to the gods for a perfectly acidic and sweet sauce.  Instead I received marinara nirvana with simplicity and top notch ingredients.
It is all quite simple.
First, puree one onion and 5 garlic cloves in a food processor or Vitamix.  The onions and garlic melts into the sauce this way.  And there is no need to spend time chopping.  Throw it all into a large pot with olive oil in it over medium heat.
Feel free to add some crushed red pepper flakes into the mix.
FYI: I bought this cast iron enamel dutch oven from Amazon and it is awesome!!! Just as good as the other French brand and a fifth of the price!
Allow the onion garlic mixture to sweat for 15 minutes.    You do not want any color on it.   Now go ahead and add your crushed tomatoes.  I typically use San Marizano as they tend to be the sweetest.  If you cannot find crushed then use them whole and squish them with your fingers.  You can puree the sauce in the end if you like a smoother sauce.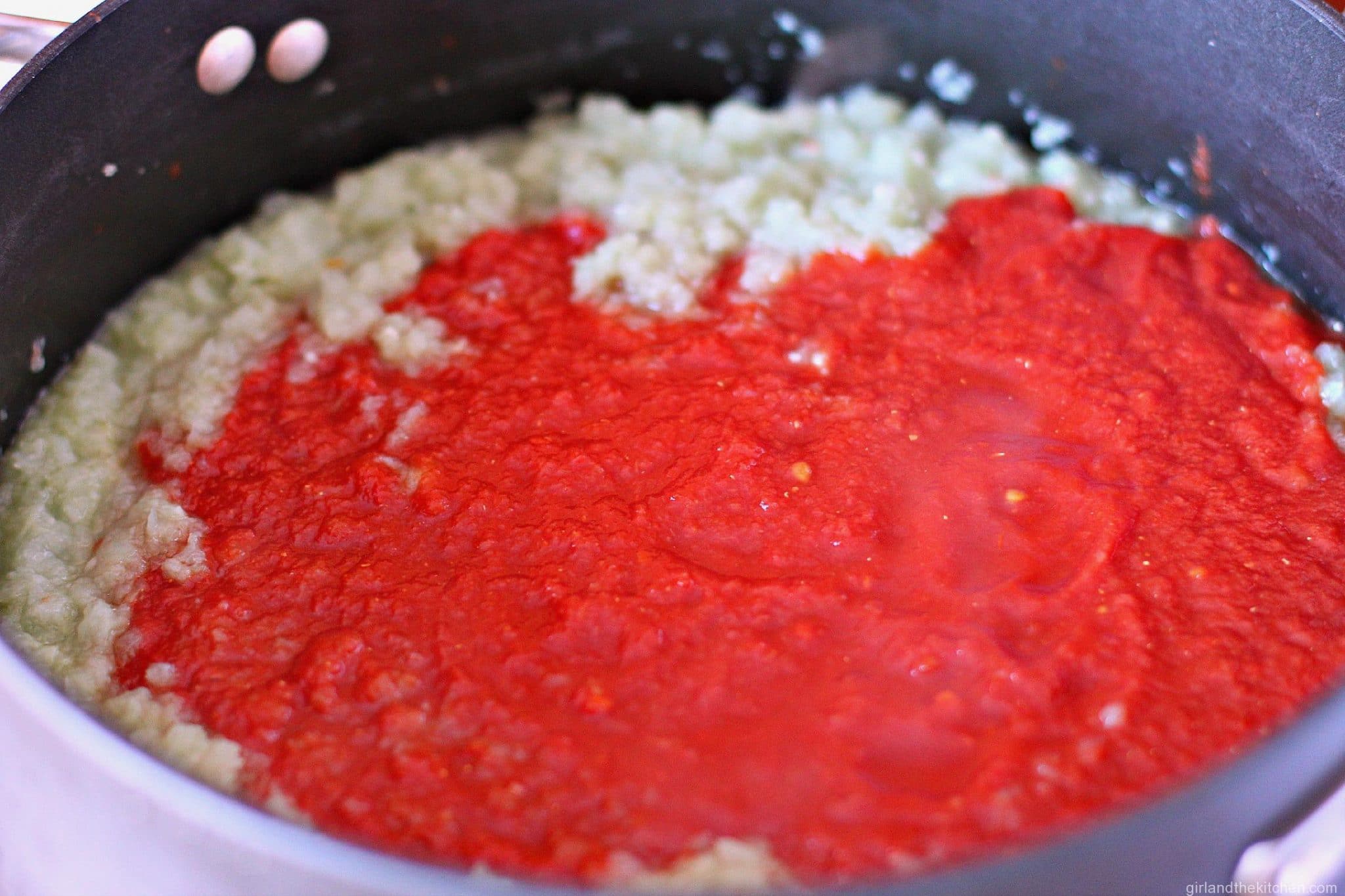 Continue to simmer the sauce for 20-25 minutes.  Taste for seasoning.  If too acidic add in a bit of sugar.  Tear your basil leaves by hand and stir them in.
  Add this over your favorite pasta or mix it with an alfredo sauce for an awesome creamy tomato sauce.  Add onto some more red pepper flakes and serve over mussels and shrimp and make a killer fra diablo.  The opportunities are endless.
Or just place it in a plastic bag and freeze it.
This way when you need a quick dinner with a delicious marinara you can reach for your homemade marinara instead of some crappy jar sauce.
Print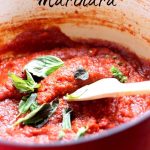 Easy and Freezer Friendly Marinara
---
1

whole onion (shredded or pureed in vitamix or food processor)

5

garlic cloves (shredded or pureed in vitamix)

1

can of 28 oz pureed tomatoes (preferably San Marizano)

1

handful of basil leaves torn by hand

1 tablespoon

olive oil
salt and pepper to taste
crushed red pepper flakes to taste
---
Instructions
Pour olive oil into a large pot and heat over medium heat.
Add pureed onion, garlic and crushed red pepper flakes to onion mixture. Cover with lid and allow to swear for 5-10 minutes. You do NOT want any color on the mix. You just want them to get fragrant and translucent.
Add the pureed tomatoes to the onion and garlic mixture.
Cook for 20-25 minutes, cook covered over low medium heat. You want the tomato sauce to very slowly simmer.
Tear basil leaves with your hands into the sauce and taste for seasoning. If the sauce seems to thick, you can thin out with water or chicken stock.