Juicy Grilled Turkey Burger
An incredibly moist and delicious grilled turkey burger blended with tarragon and ground mustard!  Plus learn the super simple trick to keep your burgers incredibly moist and juicy!  
[wprm-recipe-jump]
Ever since I introduced my husband to the wonderful world of turkey  some years ago it has become one of the only kinds of meat proteins in our house.  I tricked him into eating a turkey burger one year and he happily devoured it in a few short bites and then finally said…" This does not taste like your usual burgers but it's so good!"  And he proceeded to ask for seconds.  After that, he would even go on to restaurants and order turkey burgers all on his own, at times his friends had a good laugh at him…but I only said to him…"Let their waistlines grow you keep on devouring your delicious turkey burgers."
I was recently asked to create a simple yet intriguing recipe for turkey by the National Turkey Federation.  I knew that in order for this to be a success it had to be easy, delicious and alluring 🙂
And this turkey burger…is just that.  Full of flavor, low on fat and packed with delicious protein, nutrients and over all yummy goodness.
I usually purchase organic lean ground turkey and make my own patties.  I find it a bit easier this way as I tend to have control of mixing in tons of goodies into the ground turkey mix and showcasing the deliciousness of turkey in all its fame and glory.
Believe it or not this grilled turkey burger recipe was originally created by yours truly over 12 years ago!  I was working at one of the top catering companies in Chicago and my sous chef asked me, a humble intern at that point, to create a new turkey burger for their summer picnics.  He plonked down a tray of ground turkey, some brioche buns that we just received from the bakery that morning and said, "The kitchen and pantry is yours.  Create away and I will consider this your final grade and project. No pressure."
I was mildly terrified but also my taste buds and brain cells started to collaborate instantly.  I went into one of our 9 gigantic walk in coolers and started checking out all the fresh herbs and other ingredients that could adorn my grilled turkey burger.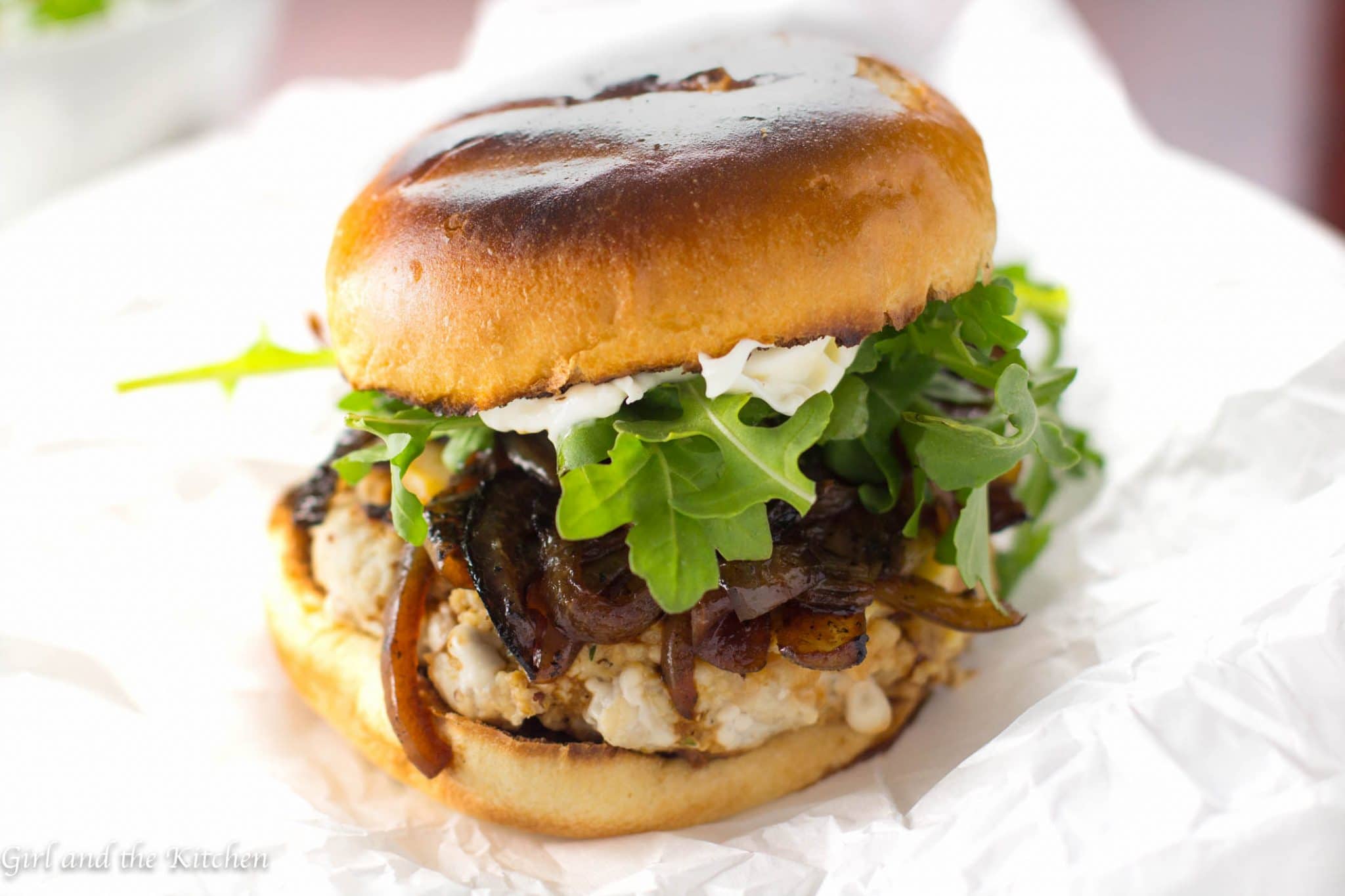 I noticed some fresh tarragon and a huge sheet pan of caramelized onions that were just calling my name.  I grabbed those two items, placed them on my station and scratched my head.  I needed more.  Clearly this was not enough.  I raided our enormous and well stocked pantry, grabbed a few more necessities and created away.
Tarragon is utter perfection with all poultry.  It is, however, a very strong flavor so it needs to be used sparingly so the flavor comes out subtly and does not over power the entire dish.  Next I added some stone ground deli mustard.  It happens to be my favorite to use in burgers and sandwiches and I find that it pairs a little better with burgers than the traditional yellow or Dijon mustard…plus it adds a very gourmet feel to the burger.  And who does not love that?
I knew that turkey can sometimes be a little dry…so there are a few tricks I like to use whenever working with turkey.
Whenever I make burgers or anything with ground meat, I add a few splashes of ice water.  My mother and babushka  used this trick when they worked with any ground meat.  You do not need a lot, just enough to add some moisture to the meat.  As it turns out, adding ice water helps to restore some of the moisture that is lost during the cooking process. I usually like to do 2-3 tablespoons per pound of meat.
As with any meat, but particularly lean cuts like turkey, it is critical not to over cook them!  They should be grilled or pan seared on high for 5-6 minutes on one side and about 4-5 minutes on the other side.  The juices should run clear and the temperature should be 160 degrees F when removing them.
Always ALWAYS let the meet rest.  It may be for only 2-3 minutes which is just enough time to crisp up your buns.
When making this burger, it turned out the flavors were beyond perfect! Those caramelized onions sweetened the deal nicely and on to add another level of flavor.
By the way make sure to check out my tutorial on making the easiest and most delicious caramelized onions EVER!
I topped off the burger with deliciously smoky Gouda cheese and a nice pepper arugula.  After serving this dish to my sous chef, he delightfully it into the juicy grilled turkey burger and juices dripped down his arm.  He seemed pleased and congratulated me on having won the burger of the season!
I think I should get some royalties from the catering company don't you?
Make sure to check out the National Turkey Federation site for other delicious turkey recipes!
Print
Juicy Grilled Turkey Burger
---
Author:

Total Time:

20 minutes

Yield:

4

burgers

1

x
Description
An incredibly moist and delicious grilled turkey burger blended with tarragon and ground mustard! Plus learn the super simple trick to keep your burgers incredibly moist and juicy!
---
1

pound of lean ground turkey

1.5 tablespoons

finely chopped fresh tarragon

2 tbsp

stone ground deli mustard

2

–

3

tablespoons ice cold water

2 tbsp

dry onions*
caramelized onions

4

brioche buns
arugula
mayonnaise (I used egg free and dairy free mayonnaise)

8

slices of smoked Gouda
salt and pepper to taste
cooking oil or pan spray
---
Instructions
Combine the first 5 ingredients in a bowl and mix just to combine.* Add salt and pepper to taste then fry up one tablespoon of ground meat in a small pan with a rad of oil. This is your taste test. Adjust seasoning as necessary.
Pre-heat your grill, grill pan or my favorite cast iron pan to high.
Oil your pan or grill to ensure the burger does not stick.
While the grill or pan heats up make the patties with your hands. Make a small dimple with your thumb in the middle of the patty. This allows for it to keep its shape instals moist all throughout.
Cook the patty for 4-5 minutes one one side then turn it over and cook for 3-4 minutes.
When there is 2 minutes cooking time left, place the Gouda on top of the burger.
In the meantime, toast the buns on the grill or in a toaster.
Remove the burger. Add mayo, arugula and caramelized onions.
Take a bite and enjoy!
Notes
1. I like the addition of the dry onions more so than regular onion because I find that the flavor is a little more concentrated and brings out the savory flavors in the burger
2. These are 4-5 ounce burgers. Feel free to make them bigger, however I like to load up all the toppings and minimize the meat.
3. Do not overtax the ground meat. Working it more than necessary can make the meat tougher.
Prep Time:

5 minutes

Cook Time:

15 minutes

Category:

Burger

Cuisine:

American