How to Make Instant Pot Chicken Soup
Learn how to make Instant Pot chicken soup with this delicious guide!  The recipe is absurdly simple yet filled with loads of hearty flavor all with the added bonus of a one pot meal!

Chicken soup is clearly the best way to cure a crummy day or a nasty case of the sniffles.
Chicken bouillon is clearly the best way to cure a crummy day or a nasty case of the sniffles.  That was precisely the situation in my house a few weeks ago.
Munchkin had the flu, I had strept throat and hubby was just feeling crummy.  Soup was in order. And one with oodles of noodles.
I have been researching how to make chicken soup for quite some time.  I attempted many types of soups in the instant pot and frequently I was disappointed because it either lacked flavor or I ran into the issue of the broth not being clear or a million other issues.
How to make the perfect soup with chicken
I was set on creating the ultimate chicken soup this time though.  One that would soothe my throat, cure my munchkin's sniffles and improve the hubby's crummy mood.  I had high hopes for my instant pot and maybe it was the delusion caused by my fever or perhaps it was the encouragement that I recieved from my Facebook fans who were asking me for more Instant Pot recipes and more recently how to make chicken soup in a multicooker.  Whatever the reason was, I set out to create that ultimate chicken soup…
And ladies and gentlemen I succeeded.
The Technique
There are a few known secrets to this beautiful chicken soup and aside from the magic of the multicooker there is also a few techniques that make this super fast soup taste as if it simmered slowly all day.
The Chicken: In a traditional chicken soup, (such as this lovely Jewish Chicken Soup) the entire chicken is used.  The dark, the white and all the in-between 🙂 The difference is that in a classic chicken soup, it is simmered uncovered and therefore you are able to skim all the "scum" off the top that coagulates and you are left with a super clear soup.  However, in an instant pot all the cooking happens with the lid closed and there is no opportunity to skim the coagulated scum off and that results in a less than clear broth…which is a no-no in my book.  So for this particular chicken soup, I decided to only use bone-in, skin-on chicken breasts.  They happen to have less scum come out of them, yet with the right broth to chicken ratio they produce a really great flavor and color without the worry of a cloudy and scum filled broth. I used a little bit more chicken then usual because I wanted the soup to be filled with tons of chicken pieces.  Once the soup had finished cooking, I removed the chicken out of the soup, deboned it and shredded it by hand.
The Stock: The stock or broth used in this soup is extremely important.  I have experimented with this recipe a few times having used just the breasts, aromatics and water and it just lacked the depth of flavor that I really crave from a soul warming chicken soup.  I knew that my quest in learning how to make Instant Pot soup, I would have to really amp up the flavor to make those die hard chicken soup fans like me turn to the Instant Pot for their chicken soups.  I decided to use a really great chicken stock that I knew had loads of flavor.  There are several companies out in the grocery stores today that have wonderfully deep flavored broths and stocks that do wonders for soups.  In the event that I do not have any homemade stock or broth in my freezer I reach for one of these stocks.  I prefer stocks because I feel they have a richer flavor however if you have a broth that you know is going to be full of flavor have at it!  By using this other than water you are not only flavoring your soup but also your chicken and thereby increasing the flavor profile of the soup ten-fold.  If for some reason you cannot find a flavorful stock just add in a tablespoon or two of my very favorite Better Than Bouillion.
The Aromatics: The aromatics in this soup are super simple.  They consist of the classic onions, carrots and celery or otherwise known as mirepoix.  I wanted a super flavorful broth with tons of veggies so I used twice as many veggies as usual and it proved to be correct.  The soup was uber flavorful with sweet notes from the carrots and a savory flavor from the celery.  In addition, I decided to throw in some fresh parsley once the soup had finished cooking as well as some chopped chives to brighten the color as well as the flavor profile.
The Noodles:  In a classic chicken noodle soup, egg noodles are the chosen noodles.  Typically those noodles are cooked in the soup along with all the other ingredients.  This works out great if the soup is being eaten immediately.  However, if the soup is eaten the next day, the noodles will soak up all that delicious broth and you end up with chicken noodle pasta instead of chicken noodle soup.  Because of that I cooked up the noodles separately and added them to each bowl as it was eaten.
As I nursed my aching throat and my exhausted body with this warm soup, I sipped in every fat goblet and and slurped up each noodle and I felt a bit better.  When I turned to the munchkin and saw her carefully blowing on each steaming hot spoonful and sighing "MMMMMM, ahhhhhhh" after each mouthful, my soul felt a lot lighter and my ego seemed to fly a little higher.  And if learning how to make this chicken soup in a slow cooker can make me such an awesome mom…I can stop trying to bribe her with My Little Ponies and instead just give her a bowl of soup.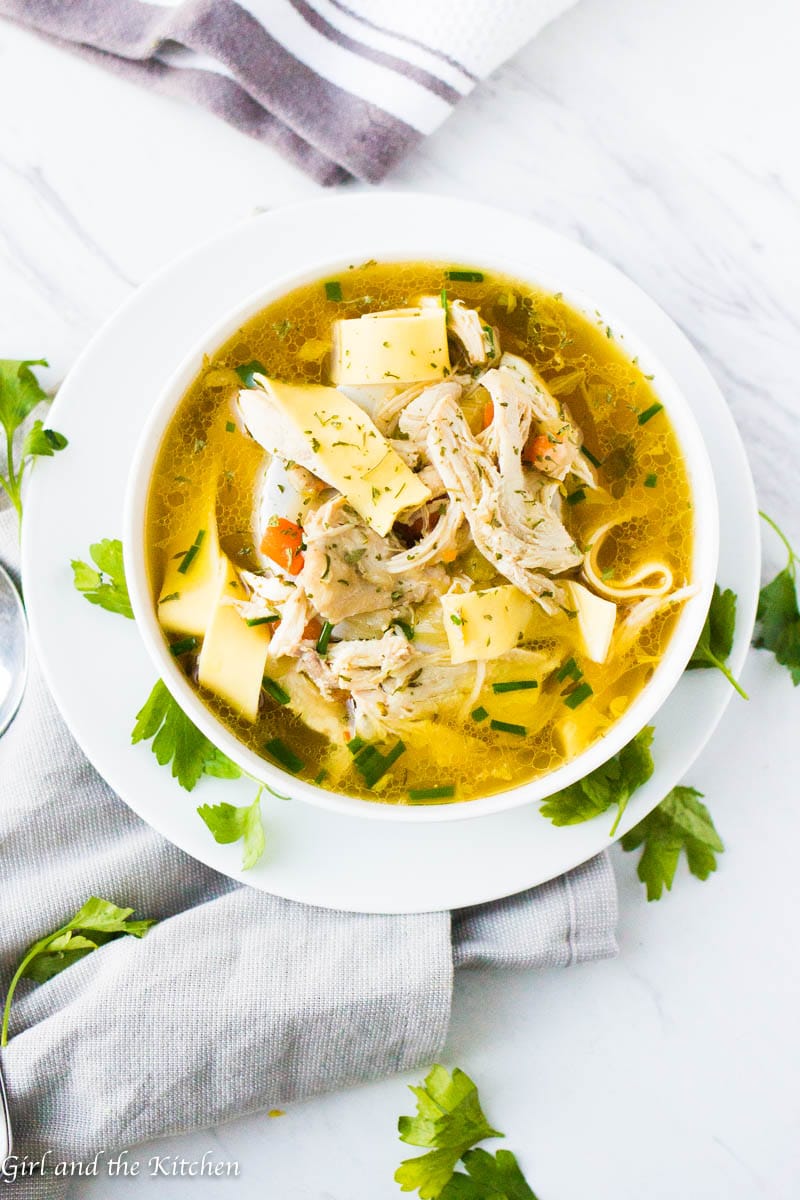 Print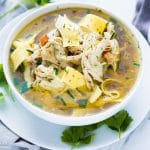 Instant Pot Chicken Soup
---
Total Time:

17 minutes

Yield:

6

people

1

x
Description
Learn how to make soup from chicken with this delicious guide!  The recipe is absurdly simple yet  filled with loads of hearty flavor all with the added bonus of a one pit meal!
---
1 tbsp

olive oil

2

onions (chopped roughly )

4

large carrots (chopped into rounds)

4

celery stalks (chopped into rounds)

4

garlic cloves (minced on the microplane)

3

chicken breasts(about 2.5-3lbs) (bone-in, skin on)

2 quarts

chicken stock

2 tbsp

parsley (chopped)
salt and pepper (to taste)

6 oz

egg noodles (un-cooked)
---
Instructions
Turn the Instant Pot setting to "sautee" on medium.
Pour in the olive oil.  Add the onions, carrots, celery and garlic to the Instant pot. Season with salt and pepper.  Allow to sweat (no color) for 5-7 min.
Pour in the stock into the multicooker and add in the chicken breasts.
Set the Instant Pot to "soup' for 10 minutes.
Once the Instant Pot soup cycle is complete, wait until the natural release cycle is complete, this should take about 10-15 minutes depending on your model.
Remove the chicken breasts with tongs to a cutting board and shred with your hands or two forks.
If you are planning on eating the soup in one sitting, at this point go ahead and turn on the "sautee" setting on the Instant Pot.  Once the soup boils add in the noodles and cook according to the package instructions.
If you plan on saving the soup for later or want to eat it throughout the week, just cook the noodles separately and keep in a separate container in the fridge.
Turn off the Instant Pot by pressing "cancel" Place the chicken back into the pot.  Taste and season.  Garnish with the parsley and enjoy.
Notes
The nutritional information is an estimate only.
Boneless, skinless chicken breasts can be used, however they will not have as much flavor.
Prep Time:

10 minutes

Cook Time:

7 minutes

Category:

Soup

Cuisine:

American Classic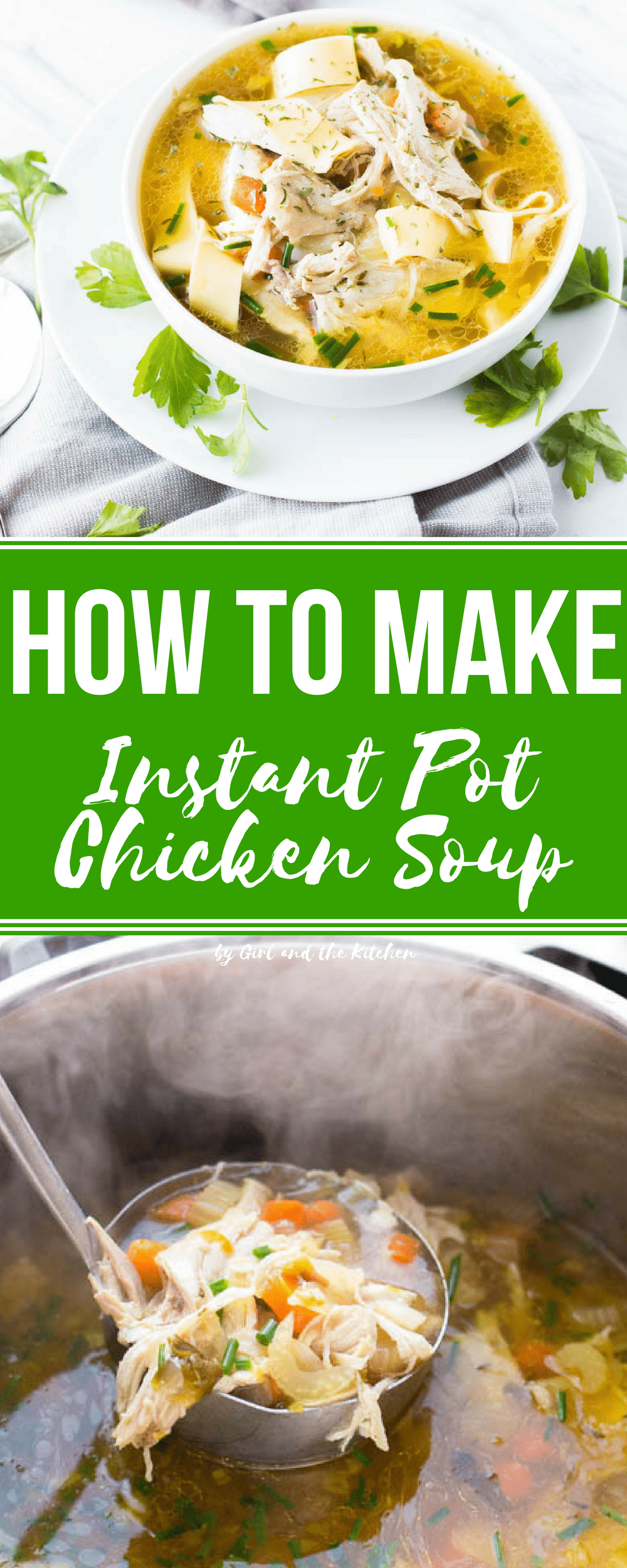 Pin For later

SaveSave
SaveSave
SaveSave
SaveSave
SaveSave