Herb Stuffed Roasted Pork Shoulder
A classic pork roast that is perfectly juicy and tender on the inside and has a crunchy skin on the outside.   Stuffed with savory herbs and garlic my roasted pork shoulder bursts with incredible flavor and ultimate juiciness.  Plus…learn how to truss your pork without any fuss!  Who said roasts are for special occasions?!

[wprm-recipe-jump]
A client of mine told me, " I need to wow my guests for my daughter's birthday dinner but I need something simple. Got any ideas?"
"Of course, how about a stuffed pork roast?"
Without hesitation she answered,
" You know what I'll just order in." And with that she hung up.
Why is it that the word roast seems to make my clients and friends run screaming to the next takeout restaurant?! I think because roasts have been reserved for special occasions, people automatically get the picture of chaotic women running frantically around their kitchens, feverishly basting their roasts, hoping for a roast to wow their guests with.
The truth of the matter is, roasts are easy. No really! In order to have a successful roast you need one really important tool, a meat thermometer. A thermometer takes all the guess work out of a perfect roast.
For this particular roast I found a really beautiful pork butt. (which is actually the pork shoulder.) I asked my butcher to remove the bone from it and I toted the bad boy home. Once home, I rub a dub dubbed my pork down with some herbs, tied it up and stuck it in my oven.
I haven't gotten around to doing a demo yet for this…but in the meantime feel free to use this one 🙂
An hour and several degrees later I had an incredible dinner that wowed my toughest (and most spoiled) critic: the hubby. Savory, succulent and delicious were just some of the words used to describe this roast.
And what happened to my client? Well I made her eat her words, literally. She did order takeout and then I brought her this roast. Needless to say she never questioned me again.
Good eating everyone!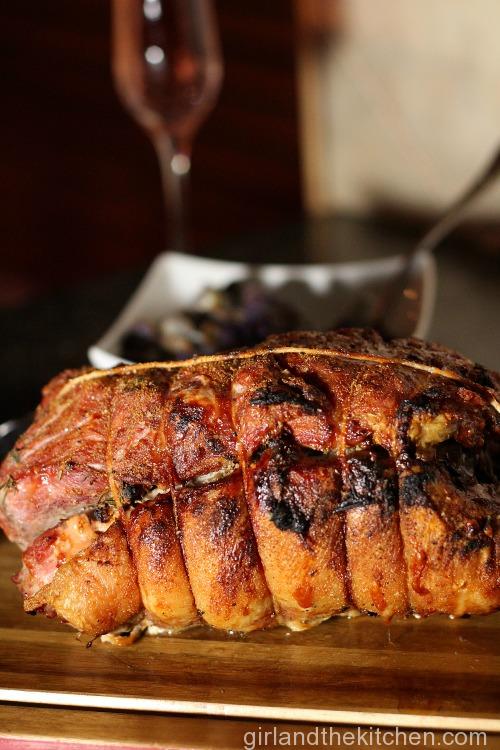 Print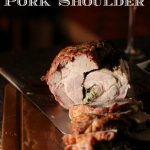 Herb Stuffed Pork Shoulder
---
1

3-5 pound pork butt (boneless)

8

garlic cloves * (I like a very garlicky flavor, feel free to use less if you like it a bit milder)

5

sprigs of rosemary (stems removed)

3

sage leaves

1/4 cup

of olive oil

1/2 cup

white wine

1/4 tsp

of crushed red pepper flakes.
Salt and pepper to taste
Butchers twine

2

onions (roughly chopped)

2

carrots roughly chopped

2

turnips roughly chopped
---
Instructions
Preheat oven to 450-degrees.
Combine sage, rosemary, garlic, olive oil, wine and crushed red pepper flakes and purée in a food processor until smooth. Season with salt and pepper and combine.
Lay the pork flat and massage the herb mixture on the inside and out.
Roll up the pork like a roulette and tie it with the butcher twine. It does not have to look beautiful, just tie it up so that it stays together
Place all the vegetables in a large roasting pan or Dutch oven. Toss with olive oil, salt and pepper.
Place the roast on top of the veggies and put in the oven.
Roast for 10 minutes then drop the temperature to 375-degrees.
Continue to cook until internal temperature of the roast reaches 145-degrees.
Remove and let rest under a foil tent for 15 minutes.
Snip off twine. Slice and enjoy!!!