Mess Free and Easy Rugelach
Rugelach are perfect little handheld cookies that are impossible to resist..  Filled with fruits and nuts and rolled up in a delicate cream cheese crust, my rugelach are perfectly sweet and delightfully tender.  Trust me on this one, double the batch, your guests will thank you.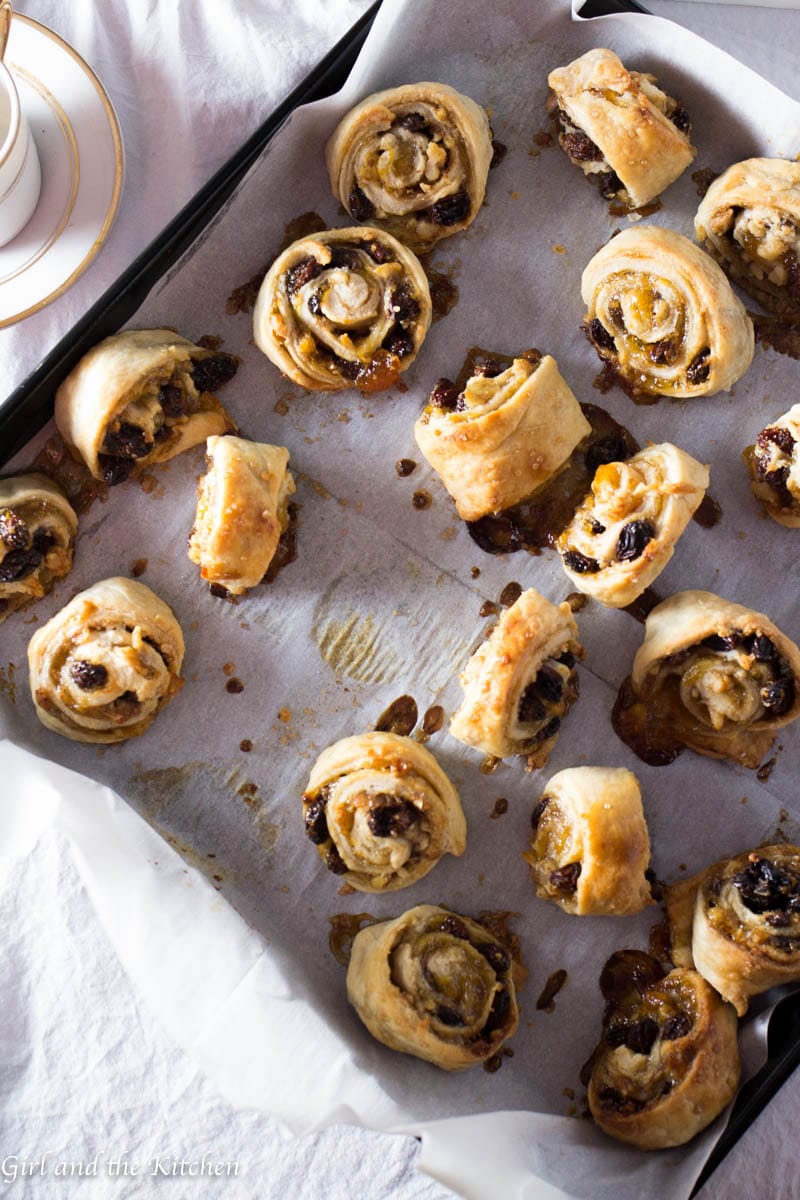 I admit…I CAN bake…it's just I do not always want to…But there is that one dessert that I make that is truly MY dessert. Everyone asks for MY recipe…Everyone doubles over in delight after eating MY creation…Everyone gains about 2 pounds after eating MY dessert.
This is how this magical dessert was born…
I was unemployed…depressed and bored. I was sitting on the couch, doing nothing more than watching the Food Network. Ina Garten comes on screen and starts making these amazing little cookies. My ears perked up and my mouth started salivating. "I can do this," I thought.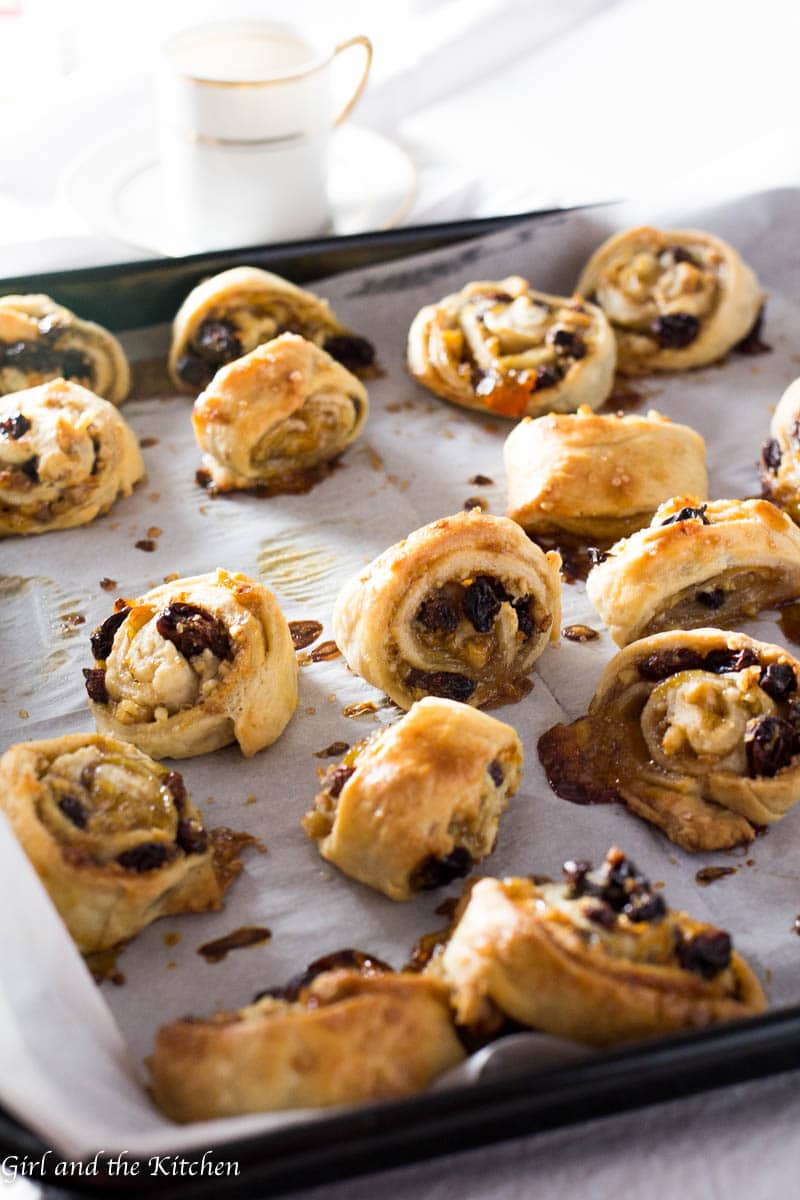 Reluctant to fail, I followed the recipe to a T. However, when the dough was not ending up quite how I like it, I tweaked it a bit. And they ended up AMAZING!
I ate ten myself and I decided these posed a major threat to my figure! I passed the delicious little love handle makers to my husband and told him to take them to work the very next day.
At 10am the next day I get a phone call from a crazed friend. She said her husband told her he had eaten the most amazing cookies that my husband brought into work and that I must make more!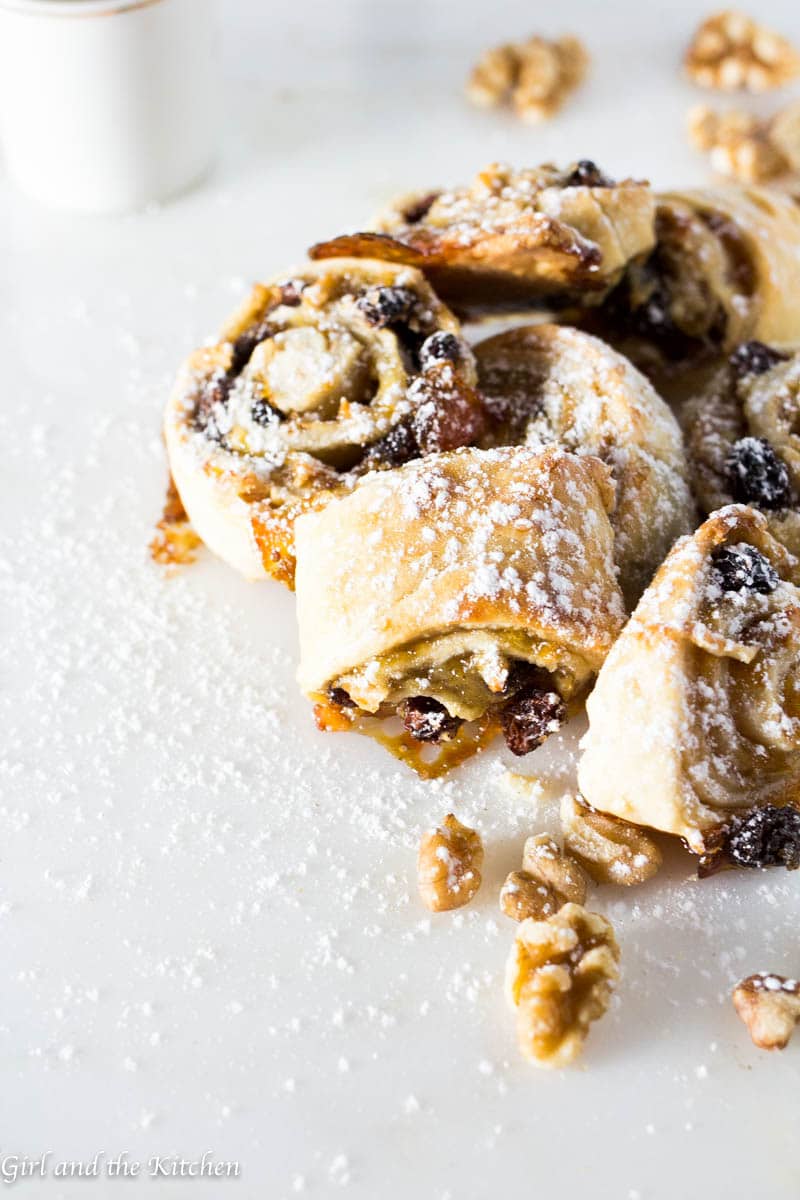 So I made more and invited her over. She drove over in an hour and was eating them still hot. The sweetest thing she said was, "It's like you put something in them that makes them absolutely irresistible! I cannot stop eating them." The following day her father-in-law tasted them…and chaos ensued!
They all literally sat with their hands folded at the table and waited for my fresh batch of cookies for hours and immediately devoured them!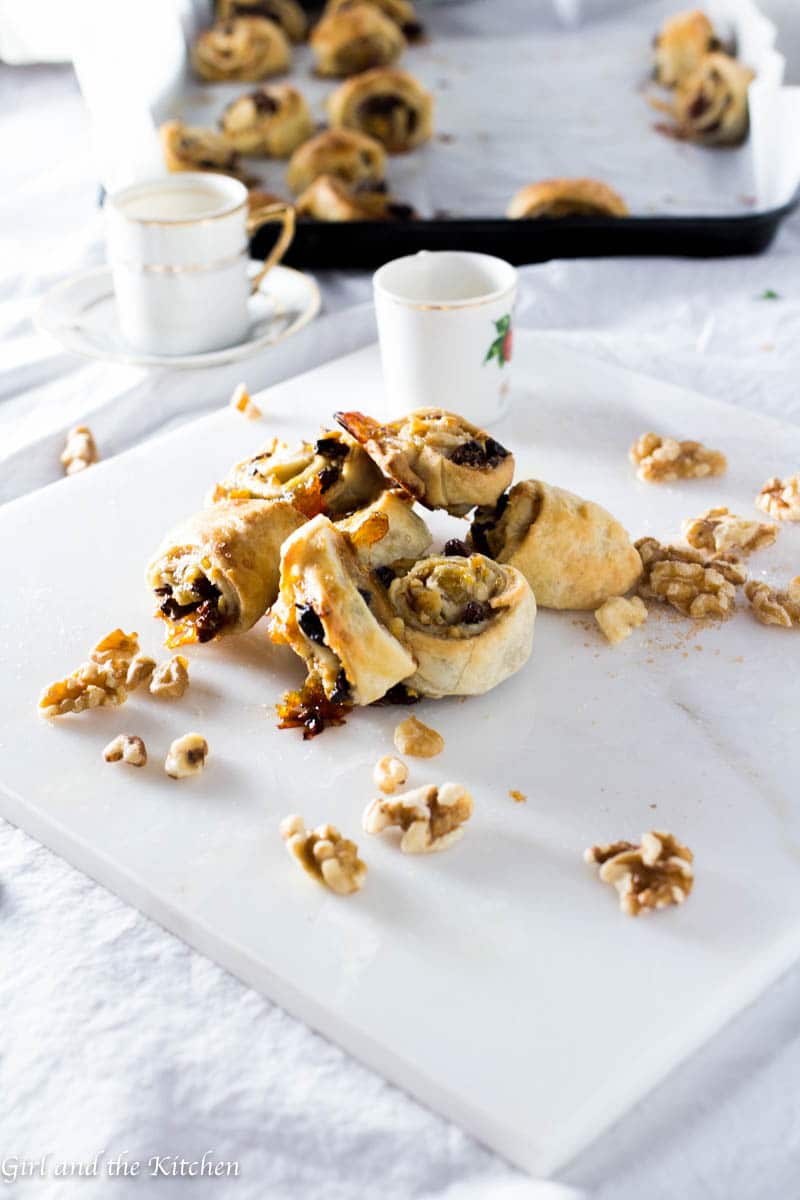 So now I finally pass them on 🙂
My rugelach are just a tad different from other recipes. Most rugelach look like little crescents. I shape mine a little differently because it's easier to cut them.
TIP: Use floss to cut the dough instead of a knife.  It cuts it so much neater!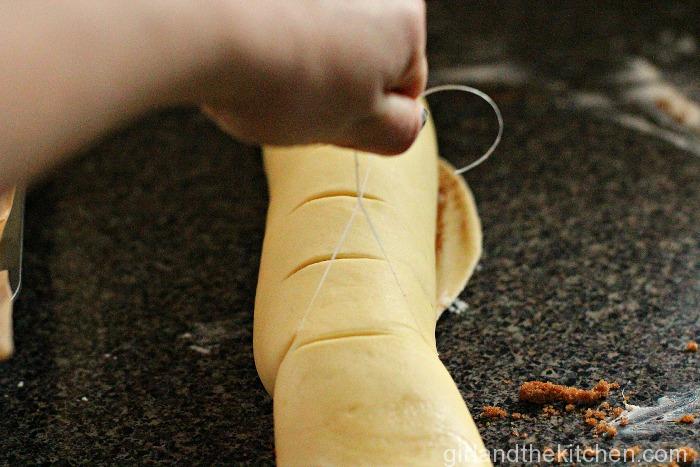 As far as the preserves goes, I have used everything from apricot, to strawberry to cherry.
Here are some other ideas for these wonderful cookies:
Add chocolate chips instead of raisins.
Create a filing out of peanut butter and then spread jelly.
Naturally…create a filling of Nutella.  (I am currently resting dough for this as we speak.)
Use other jellies and jams like strawberry jam and add some rhubarb in there.
The beauty of these little cookies is how easy it is to make them ahead of time.  Just make the dough. Freeze it. And then use it as you see fit.
(Psst, this is precisely the reason that it is included in my Rosh Hashanah and Yom Kippur Dinner Menu Plan)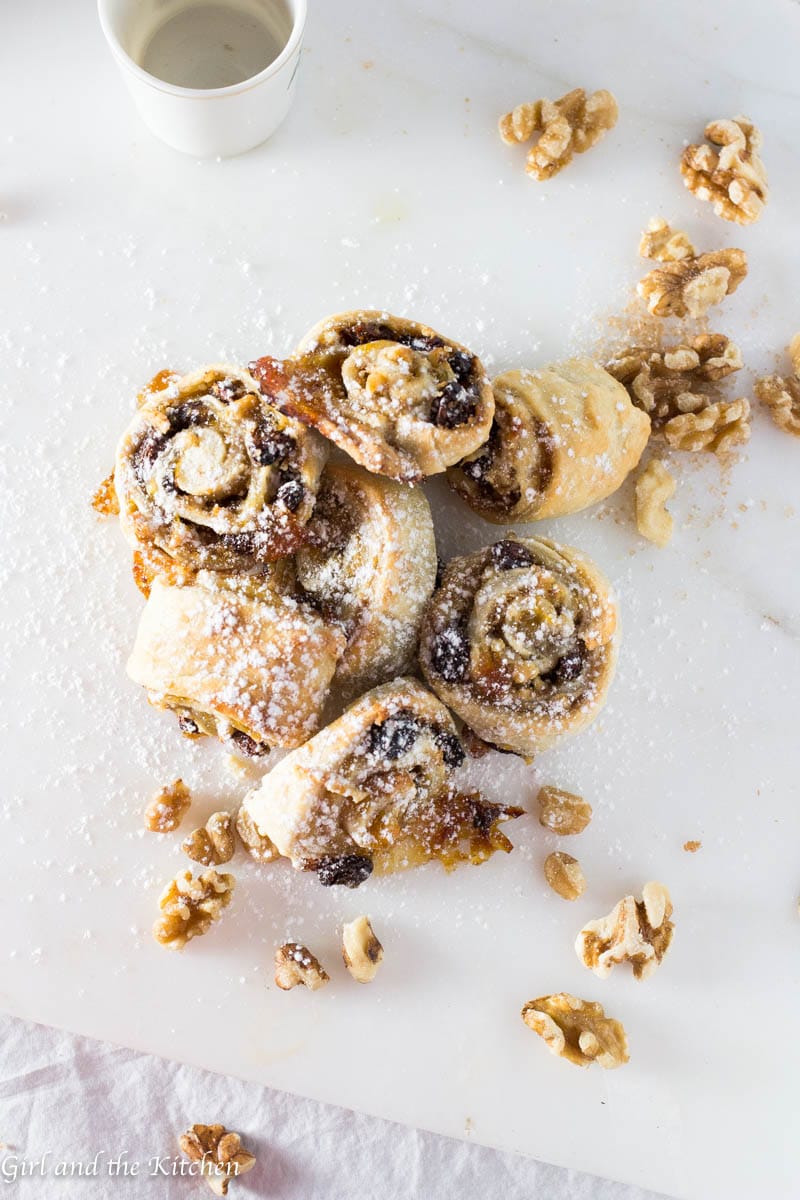 Make them as I do or make them yours…whatever it is share them…it's a sin not to…
Print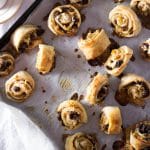 Mess Free and Easy Rugelach
---
Author:

Total Time:

90 minutes

Yield:

8

servings

1

x
Description
Rugelach are perfect little handheld cooked that are impossible to resist.. Filled with fruits and nuts and rolled up in a delicate cream cheese crust, my rugelach are perfectly sweet and delightfully tender. Trust me on this one, double the batch, your guests will thank you.
---
8 ounces

cream cheese (at room temperature)

1/2

– pound unsalted butter (at room temperature)

1/4 cup

granulated sugar

1/4 teaspoon

kosher salt

1 teaspoon

pure vanilla extract or

1 tsp

vanilla paste

2 cups

all-purpose flour

1/4 cup

light brown sugar (cane sugar or granulated sugar works in a pinch as well, packed)

1 1/2 teaspoons

ground cinnamon

3/4 cup

raisins

1 cup

walnuts (use this little apparatus it is the BEST, finely chopped)

1/2 cup

apricot preserves (warmed up in the microwave for

30

seconds to make a bit more spreadable)

1

egg beaten with 1 tablespoon milk or water (for egg wash)
---
Instructions
Cream the cheese and butter in the bowl of an electric mixer fitted with the paddle attachment until light. Add 1/4 cup granulated sugar, the salt, and vanilla. With the mixer on low speed, add the flour and mix until just combined. Dump the dough out onto a well-floured board and roll it into a ball. Cut the ball in quarters, wrap each piece in plastic, and refrigerate for 1 hour. *I have also used a food processor to make the dough and it worked great.*
To make the filling, combine 6 tablespoons of granulated sugar, the brown sugar, 1/2 teaspoon cinnamon, the raisins, and walnuts.
On a well-floured board, roll each ball of dough into a 9-inch circle. Spread the dough with 2 tablespoons apricot preserves and sprinkle with 1/2 cup of the filling. Press the filling lightly into the dough.
Roll up the dough carefully like a jelly roll, making sure to tuck the corners under.
With floss slice them (as pictured) about 1 inch thick.
Lay them on a sheet pan lined with parchment paper.
Chill for 30 minutes.
Preheat the oven to 350 degrees F.
Brush each cookie with the egg wash. Combine 3 tablespoons granulated sugar and 1 teaspoon cinnamon and sprinkle on the cookies. Bake for 15 to 20 minutes, until lightly browned. Remove to a wire rack and let cool.
Notes
You can double this recipe and save the dough in the fridge for a week for a rainy day.
Sometimes it takes longer for the cookies to bake. Just monitor them carefully.
The nutritional information is to be used for information purposes only.
Prep Time:

75 minutes

Cook Time:

15 minutes

Category:

Dessert, Jewish Cookies, sweets

Cuisine:

American, Jewish
Recipe inspired by Ina Garten