Gourmet Steak and Eggs Skillet
A perfect and elegant breakfast or brunch idea that amps up the classic steak and eggs.  Runny poached eggs served with filet mignon is how brunch is  done in our house. Sometimes:)
It is no secret that our family LOVES breakfast.  Our only issue is that we are not morning people.  None of us.  So breakfast  tends to be a problem.
I think having early breakfasts are totally overrated.  I like to enjoy the entire process of breakfast. Cooking and eating it.  And on a typical Sunday, when the munchkin wakes me up before 8am and my brain is not yet prepared to operate, I cannot enjoy this delicate process.  I cannot shovel food in my mouth and call it breakfast.  Frankly, neither can the hungry munchkin and let me tell you… she's an eater.  And the hubs is typically still asleep.  So it's quiet couch time for the two of us gals.
Sundays mornings are for pinning and Facebooking and watching Frozen for the umpteenth time that week.  Munchkin sits next to me typically in her onesie pj's sipping a bottle of milk absentmindedly.  Somehow I manage to conjure up enough strength to brew myself a double shot cappuccino and lay back next to the munchkin while looking for breakfast ideas on Pinterest or scanning through my Gourmet magazine.
Last weekend, the munchkin gave me a run for my money.  She woke me up at 6am with a huge grin on her face and a wet spot on her pj's.  When she laid eyes on me, she clapped gleefully and reached up for me saying, " Mommy, mommy, MOMMIE!" The last mommie was a growl…munchkins sometimes channels her inner tiger and growls out her words.  This is both terrifying and hilarious.
I changed her diaper with one eye open and the other still shut with sleep and we both made our way downstairs to take our places on the comfy, oversized couch.  I met her demands of milk and Elsa and we both sat quietly enjoying our respective agendas.
I was mindlessly leafing through one of my many food magazines when I saw a glorious breakfast editorial.  It had all savory foods, a cornucopia of farm fresh eggs, homemade smoked bacon, crispy home fries, buttery hash browns, creamy grits and t-bone steaks.  It was all set on gorgeous, dark distressed wood and in between the plates were stems of rosemary and thyme.  I stared at this and studied each detail.
Completely distracted by this glorious food porn, I did not notice that the munchkin had made her way into the kitchen and had opened the fridge.  She was carrying a plate of Filet Mignons that were marinating in the fridge for dinner.  I'm not always this fancy, I just happened to have some leftover from a private party I catered.
Apparently the munchkin wanted steak for breakfast.  And steak she shall have.
I was after all inspired by this spread so I leapt to my feet and started channeling my inner southern girl.  To me steak and eggs was so incredibly southern plus I had just purchased a cast iron skillet that I was itching to try out.  This whole Southern scene all reminded me of my very special trip to New Orleans, and I found myself craving some grits.
"Mama is going to make you some comfort food munchkin!"  Munchkin looked at me unimpressed with my statement and went to sit back on the couch. Figures.
My steaks had been marinating since the night before in a simple mixture of Merlot and rosemary.  For me, the earthiness of rosemary and the creaminess of eggs pairs up incredibly well.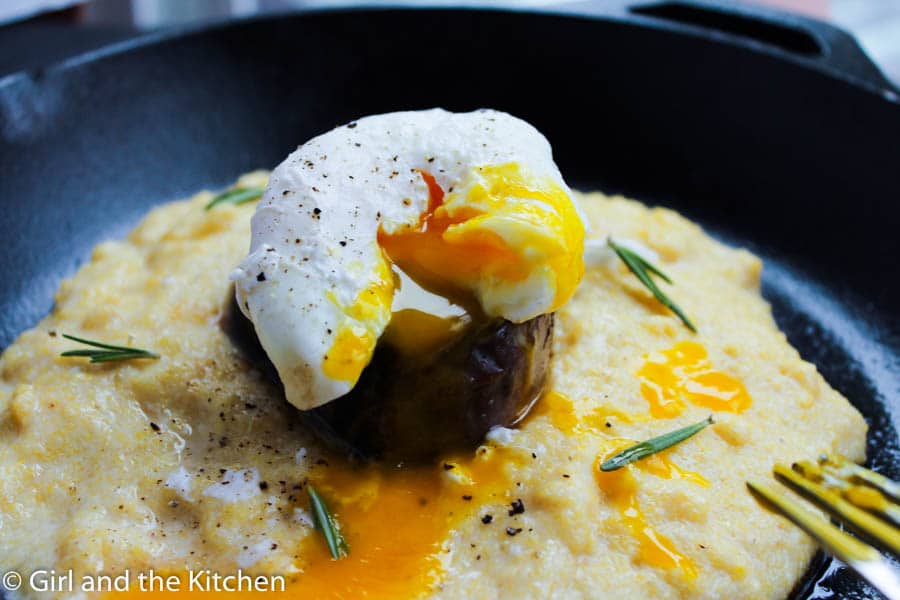 I dried my steaks a bit with some paper towels to absorb the extra liquid from the marinade.  (A dry steak equals a perfect sear) I then placed a tablespoon of coconut oil into my cast iron pan, turned on the exhaust fan, opened up the windows and turned the flame onto high.  It was my first time using it so I was worried the sucker would smoke the house up.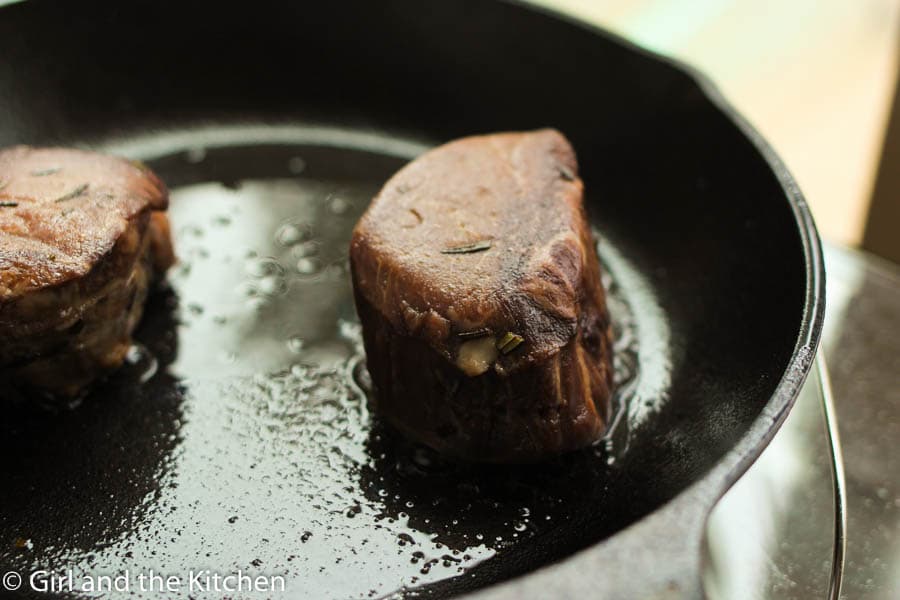 The rest came together like a dream.  Instead of grits, I gourmeted things up a bit with an overly creamy polenta.  I make my polenta with milk instead of water to make it even creamier.  And I added a special ingredient this time to give it a different flavor component and even more creaminess: whipped cream cheese.
I finished things off with a beautiful gently poached egg and a few sprinkles of fresh rosemary.
Pssst… I have the ULTIMATE Poached egg tutorial right here!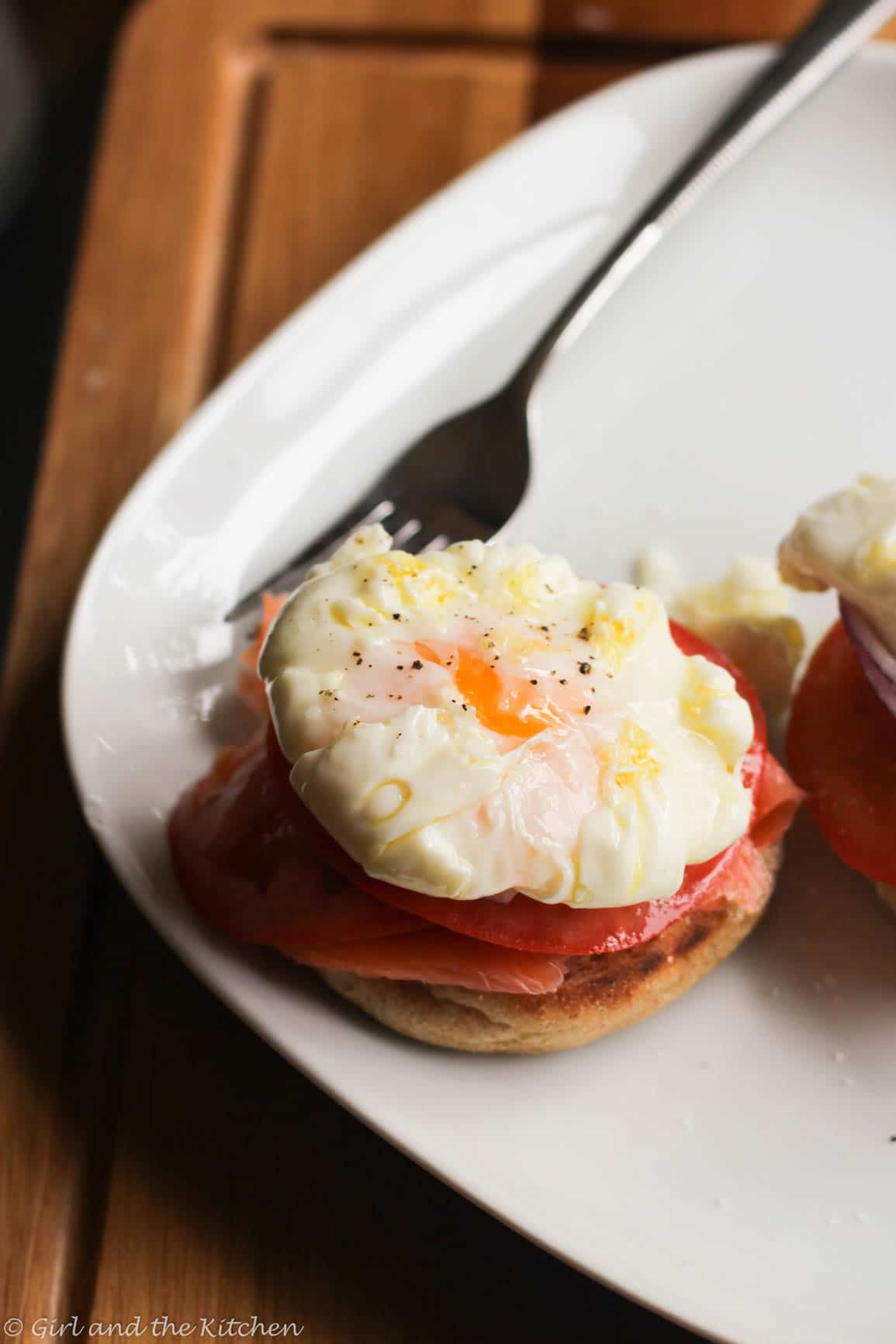 And wouldn't you know it, I looked at the clock and it was 10am, the perfect time for a breakfast this fabulous.
Print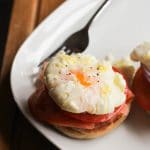 Gourmet Steak and Eggs Skillet
---
Description
A perfect and elegant breakfast or brunch idea that amps up the classic steak and eggs. Runny poached eggs served with filet mignon are gourmet and easy!
---
4

Filet Mignons (Any steak will do actually. Even a sirloin)

1 cup

red wine

4

stems of rosemary

1 cup

of instant polenta

3 cups

of milk

2 tbsp

whipped cream cheese

¼ cup

freshly grated Parmesan

4

eggs

2 tbsp

white vinegar
Salt and Freshly Ground Pepper

1 tbsp

coconut oil
---
Instructions
!Steaks
Place steaks, red wine and rosemary into a zip lock bag and allow to marinate for at least 2 hours and up to overnight. You can also freeze them like this and upon defrosting them they will soak up even more of the marinade.
Pat the steaks dry to get any access moisture off of them: remember a dry steak is a nicely seared steak. Season liberally with salt and pepper.
Place some coconut oil or any other high temperature cooking fat into a cast iron skillet or any other skillet that has a thick bottom. Turn to high heat.
Places steaks into the skillet and allow to sear for 3-5 minutes per side. This will give you a nice medium rare. Remove off the heat and cover loosely with foil so it can rest.
Creamy Polenta
Bring 3 cups of milk to a boil. Once you have reached a boil, add in the polenta and stir with a whisk for 5 minutes or until smooth and creamy. If you need it creamier, add a bit more milk.
Remove off of the heat and add in cream cheese and Parmesan. Taste for seasoning and adjust if necessary. Set aside.
Poaching Eggs
While the pan is heating up, fill up a medium pot with water and add the vinegar. Allow to come to a simmer, then reduce heat so that you can see bubbles only at the bottom of the pot.
Place each egg into a ramekin.
Once the water is just barely simmering (bubbles at the bottom of the pot only) using a spatuala or a wooden spoon, create a little tornado in the water by swirling your spatula in a circular motion.
Gently pour the egg right into that tornado center and allow to cook for 3-4 minutes or until center looks firm.
Remove from the water with a slotted spoon onto another plate very gently. Season with salt and freshly ground pepper.
!Plating
Place the polenta on the bottom of a plate or a skillet. If it needs to be more creamy just add a bit more milk.
Place steak on top of the polenta and add the poached egg right on top of the steak
Category:

Breakfast

Cuisine:

American