How to Make Tiramisu (The Real Italian Recipe)
A classic tiramisu is light, airy and oh so very delicious. Best of all it does NOT require any baking! Learn how to make tiramisu the way that all Italian grandmothers make it! Authentic, simple and delicious!
Tiramisu is a classic Italian dessert that is literally translated to "pick me up." It is light yet rich without ever feeling like it is too much.
THIS tiramisu is also super authentic and done the right way…with RAW EGGS. Yes it is safe. Especially here in the states 🙂 There is no whipped cream in here. Just super classic and simple ingredients that leads to the most epic dessert! (it is recommended that young children, pregnant women or people with immune health issues avoid foods made with raw eggs. )
Tiramisu is also extremely important to me. Because…tiramisu…was the first thing I ever cooked.
That's right. This Russian girl's very first recipe was a classic Italian Tiramisu recipe.
Like so many of my recipes, this one starts off with my mom. My mom taught me how to make tiramisu. Her sister taught her. And her sister learned from a client who was a real Italian grandmother. And she said that the key to make a tiramisu authentic is the raw eggs.
An Italian Recipe Made by Russians
So when New Year's Eve approached one year…my mom and my aunt stood side by side and they made tiramisu. My aunt had made this countless of times before, but my mom was a tiramisu virgin and was basically following her lead. My mom was hesitant at using raw eggs in the recipe, but she had decided to be a purist and not question generations of Italian women who had been passing on how to make tiramisu for generations. (I believe this was a trait I had inherited from my mom.)
I sat at the side, my feet propped up on one of the kitchen chairs, watching my mom and my aunt while simultaneously watching the TV. My babushka (grandmother) sat by me doing her usual activity of word search and also occasionally sneaking a look at her two girls collaborating on this tiramisu and making jabs at each other, like only two sisters can 🙂
I made my way to my mom and watched her spread the mascarpone cream on the cake with ease. "Mom can I help?" I asked, hoping to help her finish the spreading. "Here," she said handing me a mini sifter with cocoa powder in it. She watched me slowly and carefully sift the cocoa powder onto the tiramisu, micromanaging to ensure there was not too much on it. (This is yet another trait I inherited from her, micromanaging my daughter's sifting has become my specialty.)
I Got it From My Mama
Once my mom had perfected this recipe and added her own unique touches to it, she taught me how to make tiramisu. She taught me the real authentic recipe she had learned, plus she also gave me all her tips and tricks that made this tiramisu, hers. And at the ripe age of 13, I was making this tiramisu exactly how my mom had taught me. My mom entrusted me with this recipe since then, requesting for me to make tiramisu whenever anyone had requested it for a party.
For me, the question was never how to make a tiramisu, but how to make it better. In culinary school I learned how to make a tiramisu CAKE from a French chef. With homemade ladyfingers, homemade mascarpone whipped cream and loads of other additives. But, this was not better. It was DIFFERENT. But not better. My second year of culinary school, I had an Italian chef who asked me to make Tiramisu for one of our chef dinners. I made it the way my mom taught me. My chef tasted it and said, "Mila, this is how my mom made it. This is the real deal! Who taught you how to make tiramisu this authentic?" So of course I told him the whole story about my mom, my aunt and her Italian client. And I reiterated the technique for him to ensure he approved.
Which he did 🙂
The Technique
The Ladyfingers

: Let's start out with what ladyfingers are. They are spongy, dainty yet crispy little Italian cookies with a light sugar crust on top. They serve as the "cake" portion for this cake. Since there is no actual baking of the tiramisu, we use cookies to be the vehicle of flavor and texture. They are super spongy so they absorb the liquid super fast! The ladyfingers are dipped into my mom's magical mix of : espresso (or super dark coffee), liquor and vanilla. And the flavor of these otherwise simple cookies is transformed into something incredible! I have also baked my own ladyfingers and while they are lovely, I did not notice a huge difference in the cake.

Beating the Egg Yolks:

Separating the egg yolks and whites is the first step in making a tiramisu. Beating the yolks with the sugar is crucial because you have to whip enough air into them until they are light in both texture and color. This takes about 3-4 minutes but totally worth it. When you lift your paddle attachment up, and let the egg and sugar mixture drip off, it should flow delicately like a silk ribbon.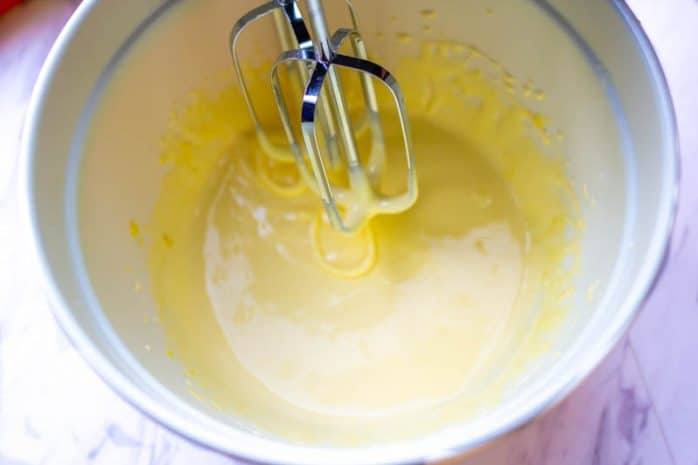 Beating the Egg Whites

: The egg whites are another crucial component to creating the perfect light and airy texture to the cream for the tiramisu. The egg whites are whisked with some sugar, but they are whisked to stiff peaks. This also takes about 3-5 minutes (depending on your mixer) You will know that they are done because once you lift up your whisk attachment, the eggs will form a stiff peak on the tip without falling off of the attachment. Another neat little party trick is to flip your bowl upside down, just make sure they are definitely in a stiff peak, or else they will be all over the place 🙂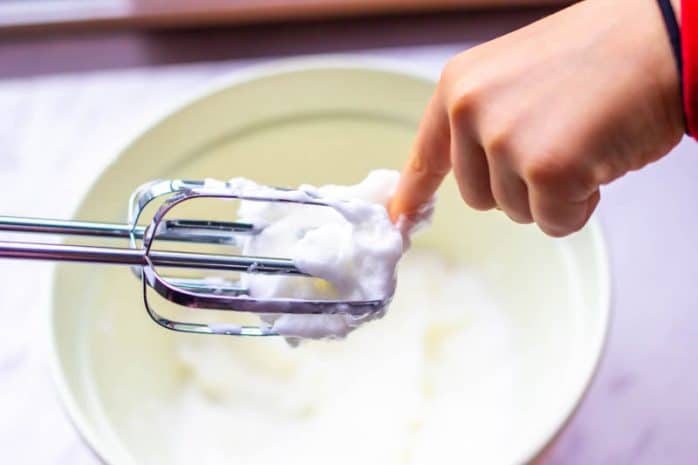 Whipping Mascarpone Cream

: Mascarpone cream is of course one of the main ingredients in a tiramisu. It is a delicious and super creamy cheese that transforms this tiramisu into a decadent yet light dessert. However, if the mascarpone is beaten or whipped for too long, it will break and will affect the truly smooth and silky feel of tiramisu. I put my mascarpone into the beaten egg yolks and beat it in. Carefully watching to ensure that I stop once it is incorporated. If using a hand blender make sure you move the mixer around so that it does not stand in one place.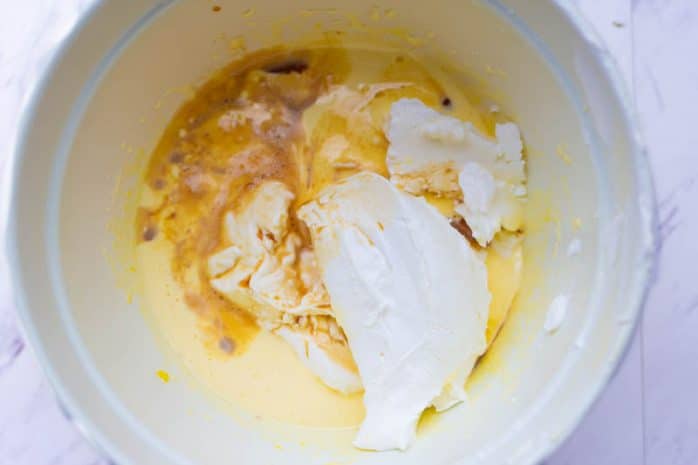 The Cream: The last part of the cream is adding in the egg whites and flavorings into mascarpone mixture. When adding in the egg whites, we need to do so carefully. They are folded in carefully so not to deflate them completely. That way the cream will be light and airy and not heavy and dense. Folding is done but placing a spatula in the middle of the bowl and then swirling the egg whites in. Sort of like the photo below demos.
Flavorings:

There are two parts to this tiramisu recipe where we can add in flavor, the mascarpone cream is one of them. Tiramisu is known for its coffee flavor but my mom's recipe really accentuated that even more. Traditionally, you just add in espresso to the cream. My mom added one of two liquors to the recipe always. She either added Frangelico or Godiva Chocolate Liquor to really amp up the flavors in the cream. Frangelico, is hazelnut flavored so it pairs with coffee incredibly! And Godiva is chocolate which is an awesome pair for coffee because they both amplify each other's flavors. I also started adding in a little bit of really good vanilla paste into the cream as well.
The Espresso Dip

: As mentioned above, the espresso is another place that we can add in flavor. Firstly, let's mention that the espresso is what we dip our lady fingers into which then becomes the base of the cake. So we need to ensure it also has some flavor. My mom taught me to add in a little bit of liquor into the espresso mix as well to incorporate that flavor throughout. When I was growing up, we did not have an espresso machine, so mom improvised. She either used instant coffee that she made super strong or she used instant espresso granules. Either will do the trick! Now this is IMPORTANT: Make sure that the first thing you do is make your coffee! You want it to start cooling off because you DO NOT want to dip the ladyfingers in it when it is piping hot or else they will fall apart. Also as my munchkin learned while helping me dip them, you have to work fast or else the ladyfingers will start falling apart in your hands. Dip quickly for a second or 2 on each side then place right into your dish!
Finishing the Cake:

Once everything is made, it becomes quite easy to put the cake together. The bottom layer is created by dipping the ladyfingers into the espresso mixture and then placing them into a casserole pan. Then we place half the whip cream on top of that and carefully smooth it out. THIS IS IMPORTANT: if you are using a super deep dish and want to do more layers, just double up the cream. I promise, the cream will NEVER go to waste 🙂 In fact for this pan like this one I always double up he recipe. The cream can always be used to make extra little mini desserts or it can just be licked with a spoon 🙂 Once everything is layered up, sprinkle the top with some cocoa powder for added color with a mini sifter. Then place it into the fridge for at least 6 hours. If transferring the cake, and you do not have a lid for the dish, here is a neat trick: place toothpicks into the cake throughout and cover with plastic wrap. The toothpicks will keep the plastic wrap from touching the cake!
A Perfect Recipe for Kids to Help
Some of you may or may not know, but sadly I lost my mom many years ago…so I vowed to make a connection with cooking with my little girl and she helped me make this entire tiramisu, with licking the bowl and all! I loved teaching her how to make a tiramisu the way my mom made it. And even though I tried micromanaging her, she always does things to her own beat…which is as it should be 🙂
Obviously she did a fantastic job except…one teeny thing: She kept the ladyfingers in the espresso too long so they started breaking apart (which is fine) but they also leaked a lot of the espresso in the bottom of the pan. Again, not the end of the world but it just does not look as pretty when cut 🙂
Complete the Feast
Considering that I am not Italian, I sure do have plenty of Italian recipes on here don't I? So here are some of my faves that would go brilliantly with the Tiramisu!
Starters
Classic Italian Bruschetta : This ridiculously simple appetizer is extremely versatile and delicious!
Arancini: By far my favorite Italian appetizer (and potentially my favorite appetizer altogether) are these gorgeous little rice balls that are fried to perfect!
Mains
Dessert
TIRAMISU

: I mean obviously!
Tools and Ingredients to Help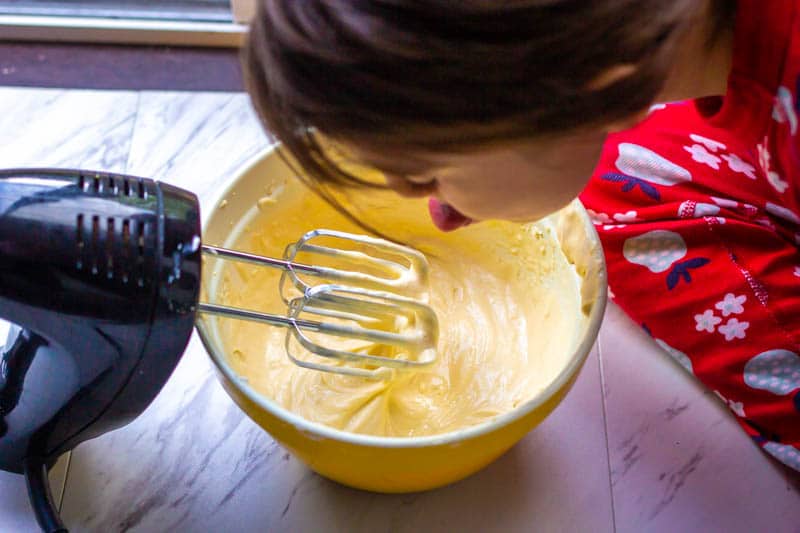 Print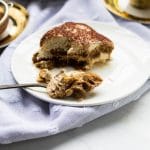 How to Make Tiramisu (The Italian Recipe)
---
Description
A classic tiramisu is light, airy and oh so very delicious. Best of all it does NOT require any baking! Learn how to make tiramisu the way that all Italian grandmothers make it! Authentic, simple and delicious!
---
36

ladyfinger cookies

1

pound mascarpone

5

whole eggs (seperated into yolks and white)

1/2 cup

sugar

2.5 cups

strong black coffee

2

tbsp vanilla paste (or vanilla extract)

3 tbsp

Frangelico or other Liquor (feel free to leave out if not wanted)
cocoa powder (for sifting)
---
Instructions
Brew coffee. If using regular coffee you are going to want to taste it, it needs to taste super strong because you rivaling an espresso. Taste and confirm 🙂 (See note)
Add all of the sugar to the egg yolks and using a paddle attachment, whip for 4-5 minutes(depending on the strength of the mixer) until it transforms into a light yellow and when the beaters are lifted it forms ribbon

In another bowl, whip the egg whites with a whisk attachment (see note 1) until stiff peaks form. You will know they are done when you can lift the whisk out of the bowl and the egg whites form a peak without falling back into the bowl.

Add the mascarpone to the egg yolk and sugar mixture. Scrape every last bit out of that tub! Add in 4 tbsp of the brewed coffee, all of the liquor and the all of the vanilla. Slowly beat in the mascarpone into the egg yolks with a paddle or whisk attachment, it won't matter, until fully combined.

Add the beaten egg whites into the mascarpone and egg yolk mixture and carefully fold them in with a rubber spatula. Once the everything is combined, set aside.

Dip the ladyfingers into the coffee, working quickly. Dip flip to the other side and place into a casserole dish.

Smear half the mascarpone cream onto the the ladyfingers.

Continue to layer the ladyfingers on top of the cream and then cover with the final layer of cream.

Sprinkle with cocoa powder and refrigerate for at least 4-6 hours.

Notes
I used my Nespresso machine to make the espresso.  If you are doing so, it will take about 6-7 espresso pods for this recipe.  If you have the one I linked it will be about 3 of the coffee pods if you are out of espresso.
I used the beater attachments on my hand blender to make both the egg whites and yolks.  If using a stand mixer you will want to use the whisk attachment for the egg whites to get them really whipped up.  This is why I really love the hand mixer for this recipe, it is way more convenient.
There really is not anything that mascarpone cream can be substituted with.  But it is readily available in almost any store now so you should not have any issues locating it!
Another option for not using raw eggs, is called zabaglione.  Essentially, you slowly whisk the eggs over a double boiler (aka steam).  However, the raw eggs really should not pose any problems for you unless you have low functioning immune systems and or are elderly or pregnant.  It is also not recommended for young children.

Consuming raw or undercooked meats, poultry, seafood, shellfish, or eggs may increase your risk of foodborne illness.