Creamy Low Carb Cauliflower Soup (Keto Friendly)
A delicious creamy low carb cauliflower soup that is not only good for you but cooked in under 30 minutes! Full of good for you fats and low on the carbs this soup will not only satisfy your soup cravings but will make you feel like you are indulging!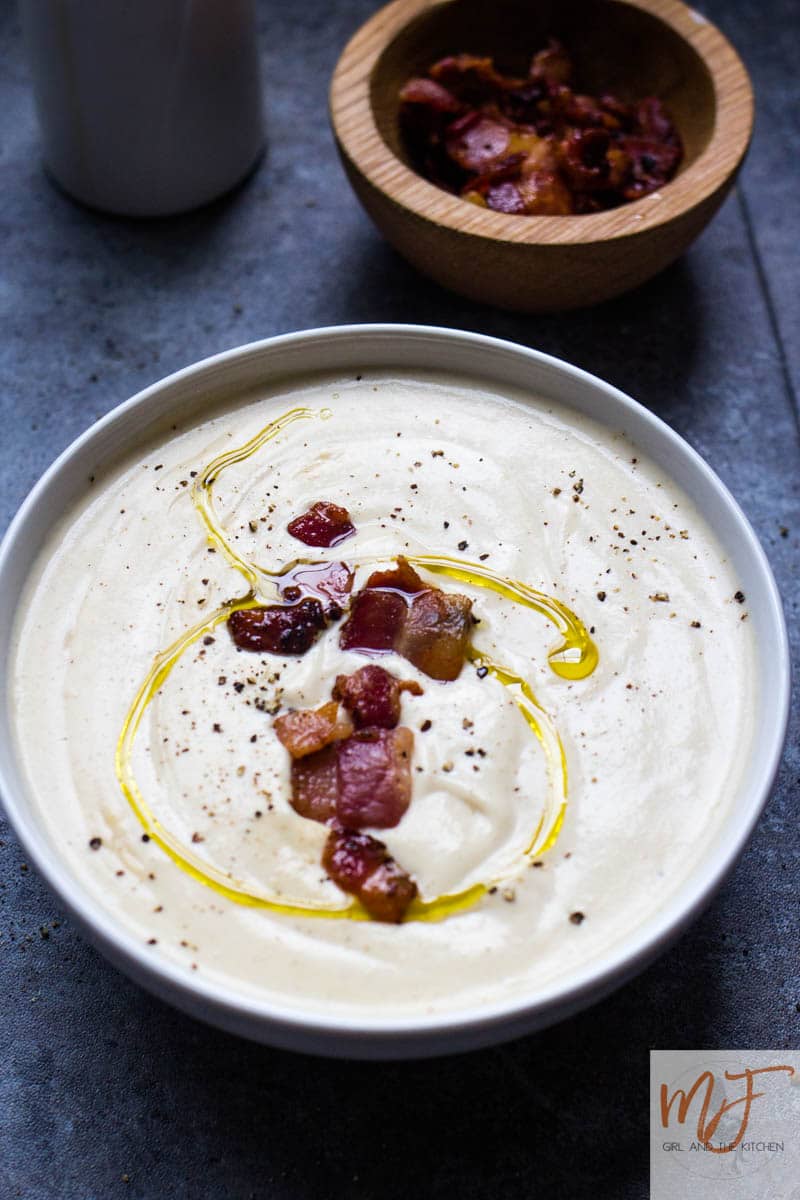 I do love cauliflower. And I have done quite a bit with it throughout the years…
I have roasted it and turned into "popcorn"
I have made purees out of it and faked people out thinking it's mashed potatoes.
I have created bright and colorful vegan curries for a delicious dinner!
But this Creamy Low Carb Cauliflower Soup…changed the way that I look at cauliflower. It has everything indulgent food needs to have.
Flavor
Creaminess
Luciousness (is that a word)
Cheesiness
BACON
I know…I should have just led with bacon right? I mean who does not LOVE bacon!!! This Creamy Low Carb Cauliflower Soup is loaded with it because it adds an extra smoky flavor profile…plus the little bacon lardons (French for the crispy little bacon pieces) are used instead of croutons on the soup to add a crispy and oh so very delicious crunch to the soup.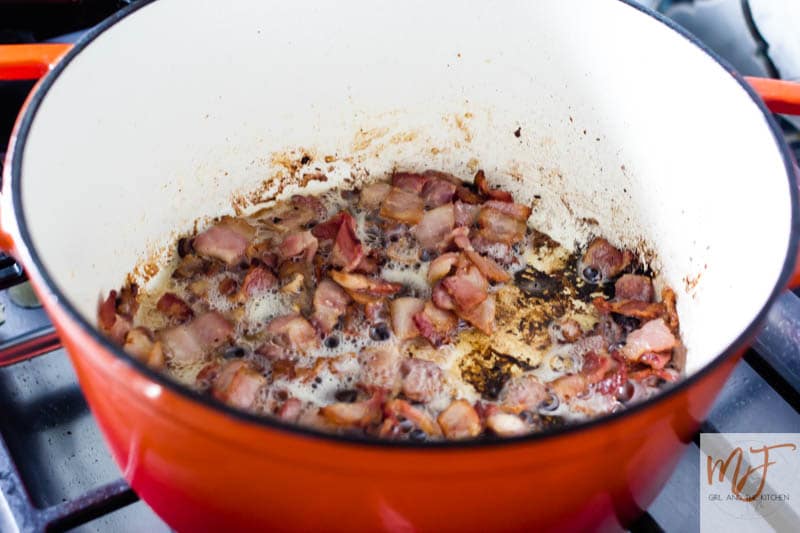 There is no roasting involved with this Creamy Low Carb Cauliflower Soup either. It is a truly a one pot soup. We render out the bacon fat in the same pot. Then we add in and sweat our aromatics in the same pot. Then we cook the soup with cream all in the same pot. AND we even can puree the soup…ALL IN THE SAME POT!
Both of my kids are obsessed with this soup. They particularly love stealing all the bacon lardons and eating them separately. My daughter walks by so very nonchalantly and steals the bacon lardons and secretly places them into the little ones mouth…until I turn around and notice there are non left!!! Naturally, the only proof I had of their scheme is the not so adorable little bacon fingerprints all over my newly painted walls. Note: if your family loves the crispy little bacon pieces as much as mine does…I highly recommend making a double batch of bacon lardons for this soup. Because you will definitely not have any left to use as toppings!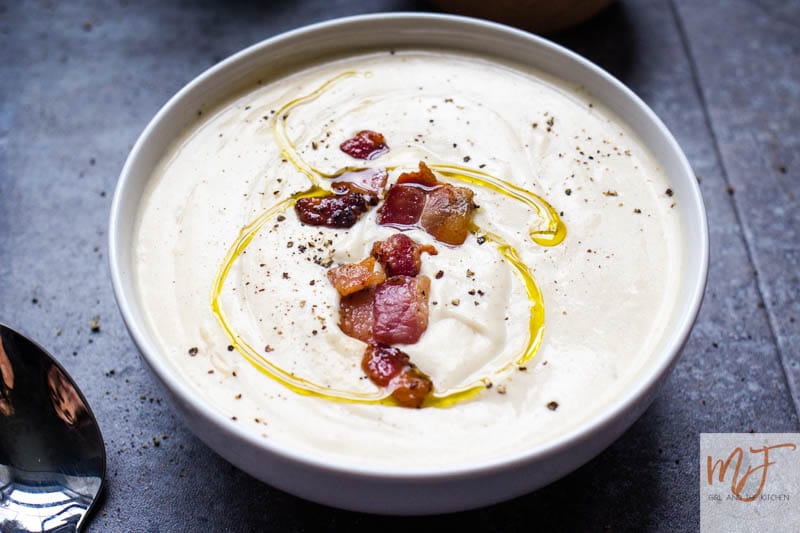 The Technique
Rendering the Bacon

in a Cold Pot Technique

:

After we have cut up our bacon into little pieces, we add it to A COLD POT. This is done so purposely. Adding the cold bacon to the cold pot allows for the bacon to very slowly cook the fat out to make it nice and crispy. We do this over medium heat, stirring every 5 minutes or so to ensure everything is cooking evenly. BUT BE CAREFUL …once it starts turning brown it can go from wonderfully crispy to awfully burnt in minutes and sometimes even seconds! As soon as you see it turning brown, remove it with a slotted spoon and set aside. The reason we are rendering the fat out in this creamy low carb cauliflower soup…is because a. it will give us lovely crispy pieces for our topping and b. it will also flavor the soup with really lovely smoky, bacon flavor. If you do not eat pork or want to make the soup vegetarian, feel free to leave it out…but for me it is the very best part!

Sweating out the Aromatics

: I went super simple with the aromatics because I truly wanted the bacon flavor to stand out. I sweated all our aromatics. Sweating combines low heat and a covered pot, this technique encourages your aromatics to sweat out all their juices. I used shallots and sweet onions in this recipe. But feel free to add in carrots, celery, garlic or anything else your little heart desires. Just be aware that this will change the color of your soup if you use colorful veggies. i was all about having a perfect, creamy white soup… go ahead and be you!

Using Heavy Cream

: So because this is a truly Low Carb High Fat (LCHF) recipe…I am using heavy cream because it has less sugars than any other dairy item (ie milk, half and half etc). Plus it adds such a creaminess! If all this heavy cream is too heavy for you and you are LCHF and want to just lighten it up a tad…use half heavy creamy and the rest water. DO NOT ADD IN MILK OF HALF AND HALF. This will add in sugars and we are not doing that in this recipe.

Pureeing

: I have an awesome hand blender that I use for my creamy soups. I love it because I can just throw it into my soup and puree right there in the same pot! Sadly…this time when making the soup… I lent the hand blender to one of my clients and I did not get it back in time for my daughters demand of this soup. So I used my handy Vitamix to get everything beautifully smooth.

Cheese:

The cheese in this creamy low carb cauliflower soup is important. But I do give a little freedom in what you use. You can go with a great Swiss cheese or if you like it to have a bit more flavor use a fancy Jarlsberg. I also love it with Parmesan for a milder but saltier finish. Even a nice white cheddar will be great! It truly won't matter because any cheese adds that great stretchability factor and loads of flavor!

Toppings:

The toppings here are truly a necessary add on. I used the bacon lardons (obviously) and I drizzled on some really lovely fruity olive oil. Many can be used just ensure the acidity level of .2%. The olive oil a lovely sweet and savory flavor to the finish of the soup. Additionally, I love some nice fresh cracked black pepper on top. For starters it looks gorgeous but additionally it just adds this nice kick that livens things up! Feel free to add in some chopped chives or chopped parsley! I just felt it did not need it!
The kids adored this soup!!!! My daughter literally inhaled it. More importantly she ensured to have the entire bowl of bacon lardons right next to her. Let me assure you that she devoured the whole darn bowl. All of it. Yes I did have to make more and yes she and her baby bro inhaled the whole bowl again for dinner. Sorry hubby.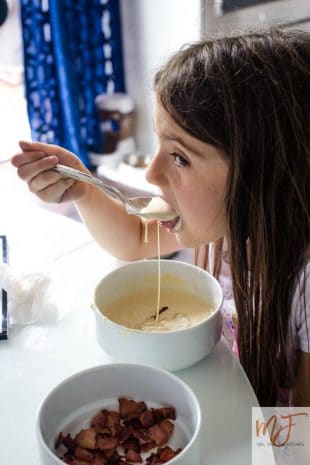 Helpful Equipment for this Recipe
Please let me know how this recipe turns out for you in the comments! Or reach out to me on Instagram! I really love hearing from you.
You in the mood for more cauliflower? Here are some more of my favorite cauliflower recipes on Girl and the Kitchen:
Craving more soups? Don't miss all my other soup recipes here!
Print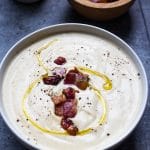 Creamy Low Carb Cauliflower Soup
---
Total Time:

30 minutes

Yield:

8

servings

1

x
16 oz

Thick Cut Bacon (Cut up into squares )

16 oz

Cauliflower (Frozen or Fresh, Cut up into Florets)
Fine Sea Salt (To Taste)

1

Medium Onion (Cut up roughly)

4 cups

Heavy Cream

½ cup

Mild Swiss Cheese (Shredded )
fruity olive oil (to garnish)
freshly cracked black pepper (to garnish)
---
Instructions
Place the diced bacon in a heavy bottomed pan. Remember you are placing the COLD bacon into a COLD pot.

While the bacon is cooking, cut up your onions and measure your other ingredients.
Allow the fat to render out of the bacon on medium heat. This will take about 15 minutes, but keep a watchful eye on it, once it starts turning brown it can go from gloriously brown to burnt in seconds!
Remove with a slotted spoon and pour out all but 2 tbsp of the fat. Feel free to reserve the fat to use in sauces, soups or for cooking eggs in the mornings.

Add in the onions and toss them in the bacon fat. Season with a pinch of salt. Allow to sweat for abou 5-10 minutes until translucent and tender.

Place the cauliflower into the pot and fill the pot with the heavy cream. Allow to simmer for 15 more minutes or until flavor has developed. Taste for seasoning.

Remove the pot from heat and puree the soup either in a blender or right in the pot with a stick blender. Taste for seasoning.
Add in the grated cheese and stir in with a whisk over low heat to ensure all the cheese melts in.

Serve with a few swiirls of olive oil, bacon lardons and soem freshly cracked black pepper
Notes
If you would like to use any other cheese feel free! Parmesan, Swiss, Cheddar or you can even use Monterrey Jack for a kick!
In the event that you want to lighten things up and are trying to keep this low carb DO NOT use half and half or milk.  Instead do half heavy cream and half broth.  If you add milk or half and half you are adding in lactose, ie, carbs.
Feel free to garnish with some chives or parsley! 
Prep Time:

5 minutes

Cook Time:

25 minutes

Category:

Soup

Cuisine:

American
Did you make this recipe?Please let me know how it turned out for you! Leave a comment below and tag me and share a picture on Instagram with the hashtag #girlandthekitchen.