Soy and Lime Spicy Grilled Shrimp
An easy and versatile marinade that comes together in minutes and packs a huge punch of umami flavor!  Use it as a marinade for grilled shrimp, fish or even as a dipping oil for lobster and shrimp. 
I sometimes feel like I have the best job in the world.  Being a personal chef, (this is just one of my many jobs) I feel privileged to be able to bring my passion for food and cooking into people's lives.  Especially when I get to do it for people who enjoy food as much as I do.
My favorite client and close friend is a foodie.  She was one of my first clients and our friendship and bond formed over our love for good wine, great food and crude jokes.  She is one of my favorite people to hang out with partially because she accepts me as the neurotic, crazy mess that I am.  In fact, she not only accepts me but she teaches me to embrace that neurotic craziness because it only makes me a stronger and better woman.
I love her because she is the sanity to my crazy and she happens to be one of the strongest women and most incredible moms I know.  She never pretends to be someone she isn't or acts in any way that isn't true to herself.
So yes, I <3 her.
A few years back when I was still pregnant, I offered to be her personal chef.  She of course refused initially, saying she could never impose on a pregnant woman like that.  I pushed, as I frequently do and convinced her that as soon as I got too big (literally) to handle the job, I would let her know.  And so I continued to cook for her and her family until I was at the gigantic size of 8 months pregnant.  I had my baby and once my mommy mind regained its consciousness and became more than mush I started working for her again.
Sometimes it was just to help with a recipe, other times it was private cooking lessons,  or it was a last minute get together that she needed help throwing.
Such was the case last August. We actually had spent the entire week  in Miami for my very low key birthday and had a fantastic week filled with great food, gorgeous views and many laughs.  She had returned two days before I did and was already in a crazy panic over all the errands and business she had to take care of.  In addition she had promised some of her daughters friend's parents to do a little BBQ after school.
Convinced that there was no way she would be able to pull this together in time, she texted me and asked if I was able to swing by and prep everything for her.
"I have gorgeous steaks and giant prawns that I will grill.  I need you to just do the sides and maybe a marinade for the prawns."
"Prawns?  Really what are you a Brit?" I asked her while searching through my mind's index of recipes.
"Well the size of these babies here is nothing else you can call them!  Just wait till you see them, they are gorgeous!"
I went to sleep that night with recipes for gorgeous grilled shrimp, I mean prawns, circulating in my head.
The next day, I came over and whipped up a bunch of yumminess for her.  She was begging me to make these incredible CRACK potatoes for her since she saw me posting them in Miami, so naturally I obliged.  I tossed them in a delicious mint and garlic chimichurri (recipe is on its way   here).
The prawns were indeed gorgeous and deserved a worthy marinade.  I whipped together a concoction of simple ingredients that promised an abundance of flavors.  My friend is a huge fan of bright flavors and deliciously spicy undertones.  So I made sure to add in plenty of red chili flakes.   The outcome was a delicious marinade that could very easily double as a dip for lobster or crab legs.  Instead of the typical butter.
I received a text many hours later:
"The food was fantastic.  Even the children gobbled everything up.  But that marinade for the shrimp was awesome!  I must have the recipe!"
And so my dear friend…I give this recipe to you 🙂
Print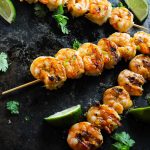 Soy and Lime Spicy Grilled Shrimp
---
Description
An easy and versatile marinade that comes together in minutes and packs a huge punch of umami flavor! Use it as a marinade for grilled shrimp, fish or even as a dipping oil for lobster and shrimp
---
1

pound of 8-10 size shrimp

3

garlic cloves (minced on a microplaner)

1/2 tsp

of red chilli flakes

2 tbsp

honey

3 tbsp

soy sauce

1 tsp

salt

1/2

a tsp black pepper

2

scallions finely minced
zest and juice of 1 lime
---
Instructions
Combine all the ingredients except the shrimp in a bowl and whisk to combine. Taste to ensure that the seasoning and spice is to your liking.
Place the marinade into a zip-lock bag or a bowl and add the shrimp. Toss everything well so that the shrimp are completely covered.
Do not allow the shrimp to stay in the marinade for longer than 45 minutes.
Grill or broil for 3 minutes on the first side and 3 minutes on the second side. Serve with lime wedges.
Notes
1. If you need there is not enough of the marinade, just add in a bit of water to stretch it a bit without concentrating the flavor.
2. If you are not a fan of the chili flakes feel free to leave them out entirely.
3.Do NOT leave the shrimp in the marinade any longer than 45 minutes or you will run the risk of turning the shrimp into ceviche.
Category:

Grill

Cuisine:

Asian