Saucy Coconut Lentils…A One Pot Meal
Lentils have gotten a bad rep.  And I think I need to fix that.  Lentils are full of fiber, protein, incredible texture and best of all they are super economical!  My saucy coconut lentils are packed with savory flavors and sweet, creamy coconut milk.  Serve it with rice, naan or nothing at all 🙂

Lentils have never been a big part of my life.  In fact, I used to despise them.  However, those tiny little round pearls of flavor are pretty effing fantastic!

Since going plant based I have really embraced so many foods that I have pushed away in the past.  Because carbs used to be my nemesis…I loaded up on all the protein and unfortunately missed out on a great deal of yummy foods that were really good for me.

I had to choose protein over potatoes and I missed out on tons of good for you deliciousness.

Want to read more about my plant based journey?  Feel free to check this post out with my amazingly delicious Roasted Potatoes and Healthy Aioli!

For some reason, I never thought that lentils could be a side dish.  And as we know from previous posts, side dishes are not my strength.  At least they weren't before.  Now that I am plant based, I am becoming a great deal more adventurous with my sides than ever before.

The best part is now I get to eat rice unapologetically (that's a word right?).  I love Basmati rice.  It's fragrant, earthy and super filling.  And an absolutely perfect choice as a bed for this rocking dish.

Tip:  Always make loads extra than you need, then place it into a ziplock bag and put it in the freezer.  Next time you need a side dish, all you have to do is pop the bag in the microwave and voila.  

I love this dish because of how simple the ingredient list is and the POW of flavor that you taste as soon as it hits your palate.  The ginger, garlic and jalapeno really make this dish a star!  And it's all one pan!
I am honestly more impressed with the hubs because he has been willing to try all the concoctions that I have created for him.
When I whipped up these lentils, he stared at the bright orange stew and said, "I'll try these, only cause you are a chef, I doubt you can mess it up…well not too bad at least."  He is a ball buster.
He tasted it and said, "Hmm that's really good!  So what you put this like on top of chicken?"
"No genius, you put it on top of rice! It's loaded with protein."  I proclaimed to him.
"Well Mila, I like my protein with protein, you can have the rice."
So I let him have some grilled chicken kebobs  and I put a small serving of rice and lentils right next to them.  He mixed the lentils in with the chicken and seemed pretty pleased.  Win.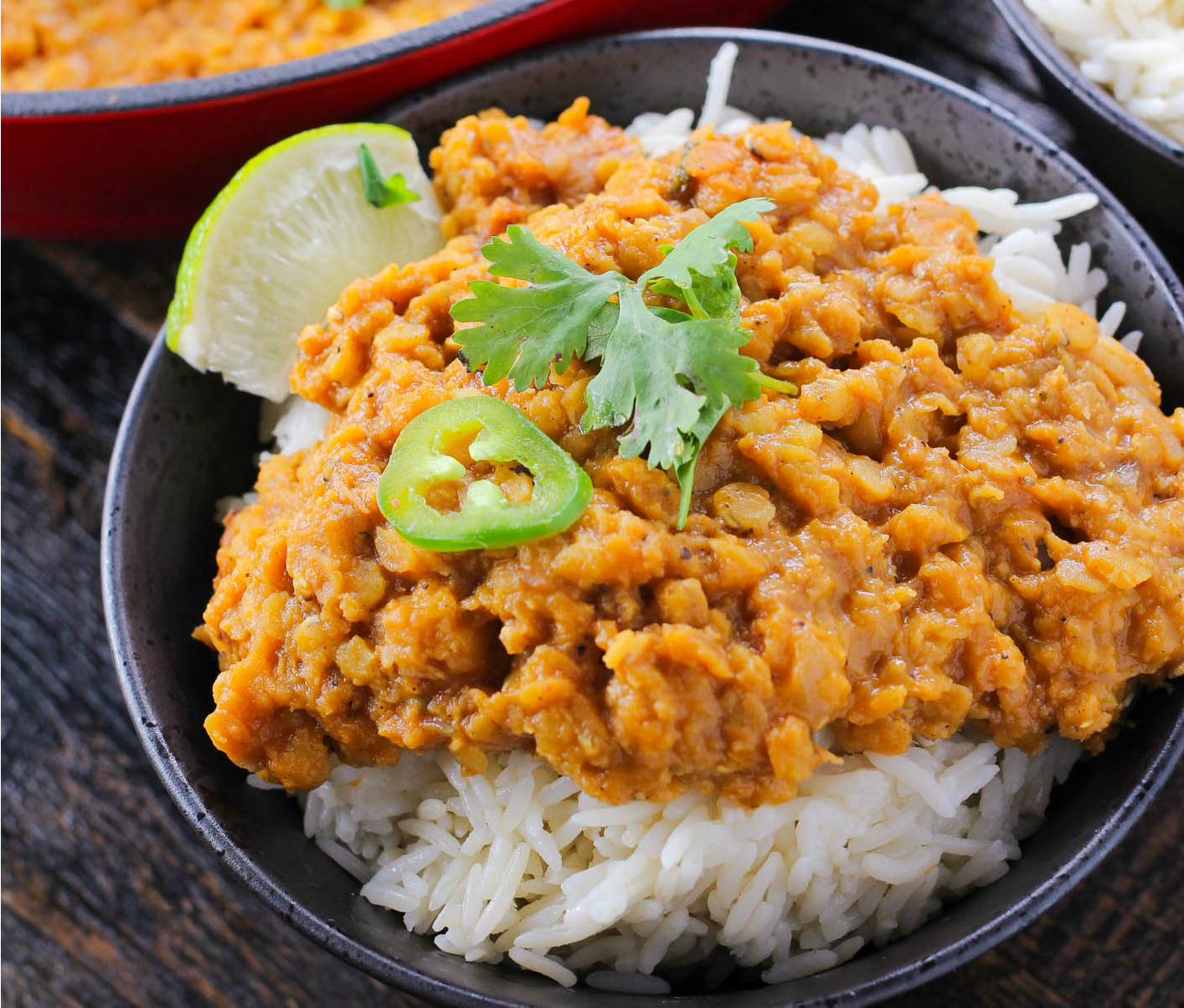 I sat down next to him and scarfed down this bowl above.  That GIANT serving of rice and lentils was my dinner.  Mind you dinner is at 9pm for the adults at our household.
"Mila, carbs at night.  Seriously?" My husband asked me accusingly.
"I eat carbs at EVERY meal!  Last night at 11pm I ate 3 bowls of Skinny Pop and I woke up 2 pounds lighter.  I stick with what works.  You stick to your protein on protein and I will stick to my carbs on carbs,"  He shook his head in disagreement and headed on out to the gym.
Leaving me with the dishes.  As usual.  Nothing new here.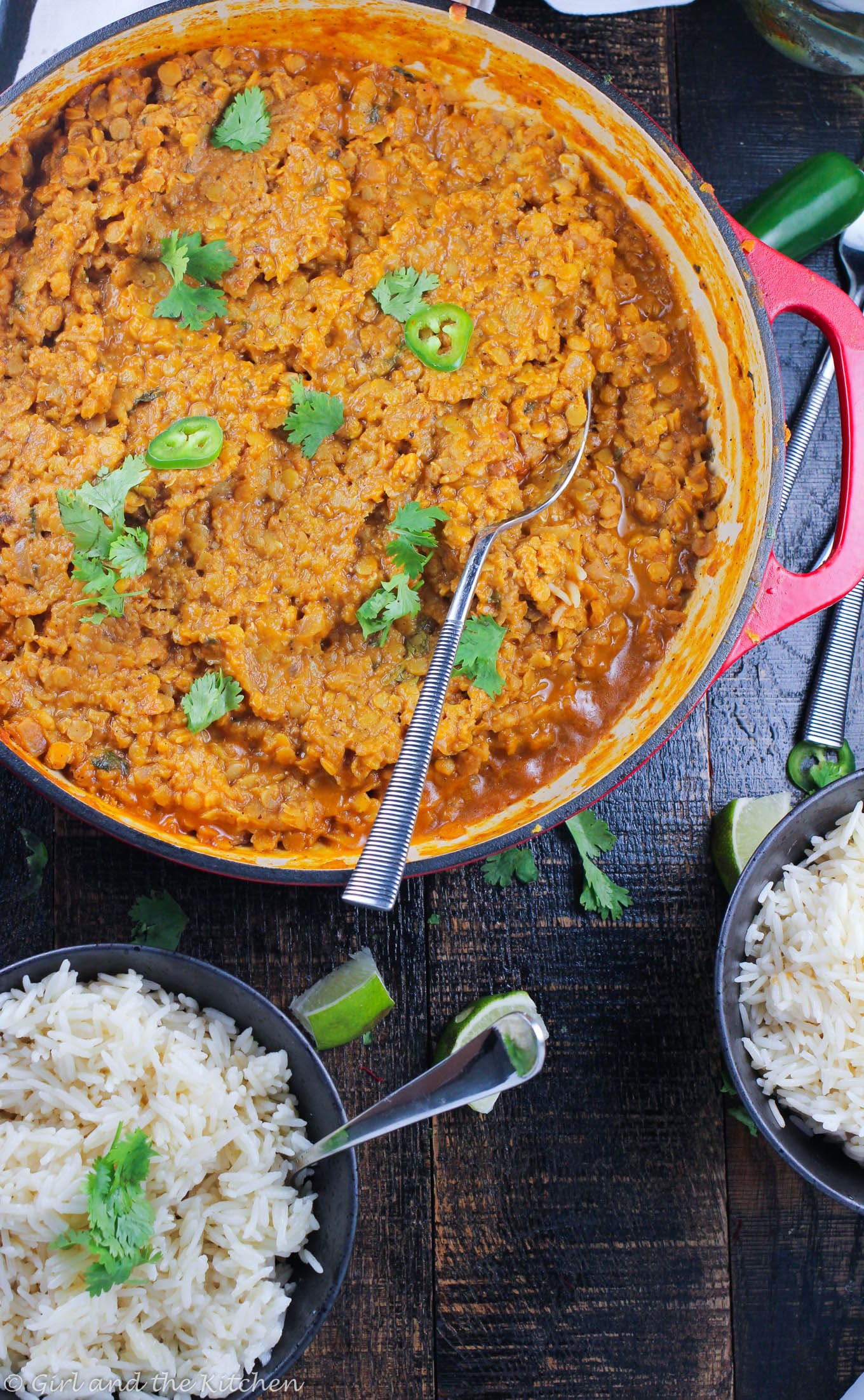 Print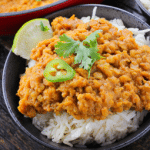 Saucy Coconut Lentils…A One Pan Meal
---
Author:

Total Time:

25 minutes

Yield:

8

1

x
Description
My one pot saucy coconut lentils are packed with savory flavors and sweet, creamy coconut milk. Serve it with rice, naan or nothing at all.
---
2 cups

of lentils (steeped in water overnight and drained)

3

cloves of garlic (minced on a microplaner)

1

shallot (diced finely)

1

, 1 inch knob of ginger

1

jalapeno (seeds and veins removed (or kept in if you like it spicy, sliced thinly)

2 cups

tomato puree

2 tbsp

tomato paste

2 cups

of water

1

can of coconut milk

1 tbsp

turmeric

2 tsp

garam masala

1

pinch chili powder

1

pinch red pepper flakes

3 tablespoons

cilantro and more for garnish

one

lime cut into wedges for garnish

1 tablespoon

coconut oil or olive oil
salt and pepper to taste
Optional: Cooked Basmati rice
---
Instructions
Place a pan over medium heat and add oil, shallots. ginger, garlic, jalapeno and red pepper flakes. Season with salt and pepper.
Allow to sweat for 7 minutes. You do not want any color on them just sweat them out until they are fragrant.
Add lentils, garam masala and turmeric. Toss everything together.
Add in coconut milk, water, tomato pure and tomato paste. Season with salt and pepper as necessary.
Allow to cook over medium heat for 15 minutes.
After 15 minutes test the doneness of the lentils by tasting them. I like mine a bit al dente. If you need to continue cooking them, just add a bit more of water so they can continue simmering.
Once the lentils are done, add in cilantro and combine. Feel free to add in a nice slice of lime and some more cilantro to the top.
Notes
*Did you know the heat of a pepper is in its veins or membrane? Remove that and you remove the heat!
*If cooking lentils for a stew, make sure to soak them over night. It allows for a much faster cooking night. If using them for a salad, do not soak and simply boil them for 15 minutes, the al dente texture in salads is really quite nice.
Prep Time:

5 minutes

Cook Time:

20 minutes

Category:

Vegan/Vegetarian

Cuisine:

Indian