Garlic and Parmesan Oven Roasted Cauliflower
Meet your new favorite veggie of the week!  This easy Oven Roasted Cauliflower is gorgeous to look at and tastes like heaven!!!  


Vegetables are always a tough subject for me.  I could honestly eat tomatoes and cucumbers and not need any other veg.  However being a chef and wife and mom I am always trying to introduce new veggies to the family because they can NOT live on tomatoes and cukes alone. 
So most recently I was strolling through the grocery store and was on the hunt for some new and exciting veggies, when I saw a gorgeous bright head of cauliflower.  It was purple and beautiful in all its glory.  They even advertised it and its green counterpart as "Gem Cauliflowers".  Creative marketing geniuses aren't they?
I decided to take one of these vivid cauliflowers home and roast it off in my typical fashion.  I never oven roasted cauliflower but I figured it can't be too bad could it?
I cut up the head of cauliflower making sure each piece had a flat edge (they get more color that way).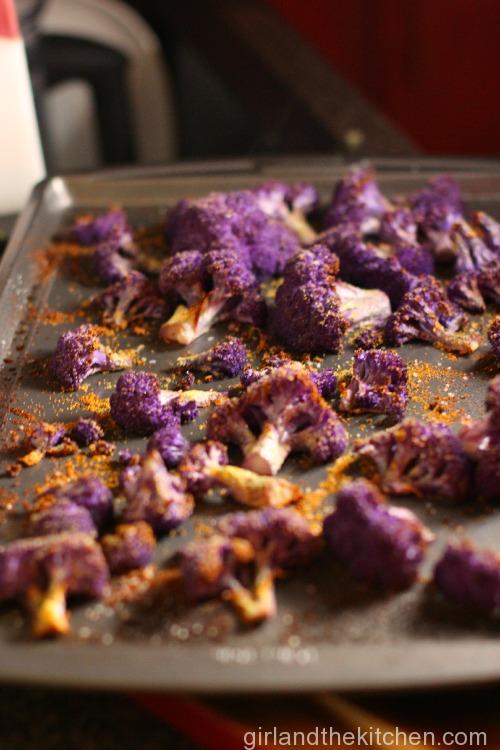 I seasoned them really simply with salt, pepper, garlic powder and butter and roasted them off in a 450-degree oven for about 15 minutes or until a knife slides through the stem easily.
I use a really neat technique with this in which I melt the butter on the sheet pan in the oven first and then add the cauliflower to it.  This helps get a nicer crust on the oven roasted cauliflower.
The result?  Crispy and caramelized little cauliflower bits that were tender on the inside and begging to be munched.  The purple color became even brighter post roasting and each little gemstone piece looked like it was ready for its crowning glory…Parmesan.  I used my microplaner to shave off some Parmesan cheese on top and watched it melt delicately on each purple crown.
This oven roasted cauliflower…It was vegetable perfection.  And actually loved by all in the family…including me.
Print
Oven Roasted Garlic and Parmesan Purple Cauliflower
---
1

head of cauliflower (any color will do)

2 tbsp

butter

1 tbsp

garlic powder
salt and pepper to taste

1/4 cup

shaved Parmesan
---
Instructions
Preheat oven to 450-degrees.
Place a baking sheet with the butter on it in the oven for a few minutes or until butter is melted and bubbly.
Cut the cauliflower into slightly larger than bite size pieces that each have a flat side to them.
Lay the cauliflower on the pan and roll it around so it's covered with butter. Make sure the flat side ends up facing down on the sheet pan.
Season with salt, pepper and garlic powder and place into the oven.
Roast for 12-15 minutes or until knife goes through the cauliflower stem smoothly.
Sprinkle with Parmesan while still hot.
Want more oven roasted goodness?  Try these delicious oven roasted root veggies!