Cheesy Bacon Bread Pudding
When dressing or stuffing just does not make the cut, make this glorious Cheesy Bacon Bread Pudding instead!  Filled with sweet leeks, smoky bacon and salty Parmesan cheese this incredibly fast and delicious recipe will be the new go to for all your Thanksgiving and holiday must haves!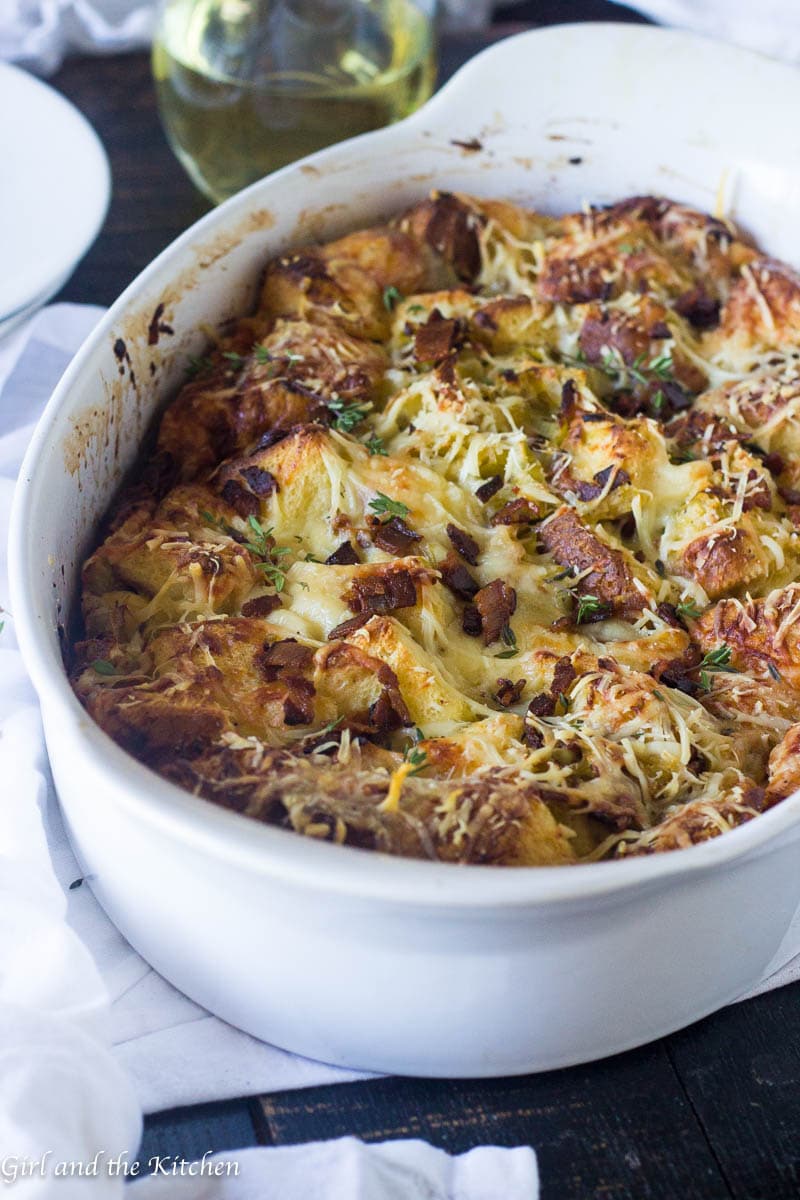 [wprm-recipe-jump]
I have yet to have a stuffing that I actually liked.  I assume I just do not understand the concept.  Croutons that are combined with random ingredients and dried out in the oven EVEN more?  No thank you.
I do however fancy myself bread puddings.  Savory or sweet bread puddings I get.  Those are typically loaded with tons of flavorful ingredients and are cooked in a lovely bath of cream and eggs…a custard of sorts.
Can I please introduce you to the perfect replacement for the (sorry to say) tired and moderately boring stuffing recipe?  This Cheesy Bacon Bread Pudding is everything your holiday side dishes dream to be.
My personal favorite of course is that it comes together in no time at all and does not call for any fancy ingredients.  Oh and not only are they NOT super fancy…but there are only 10 of them.  10 INGREDIENTS and you have a dish that will blow any stuffing or dressing recipe away!
There are just a few important steps to follow when making this recipe that will indeed make a tremendously successful recipe
Make sure you buy good quality smoked bacon. I was lucky enough to get some from my friends over at Creekside Families who smoke and cure it naturally without using any nitrates!  If you cannot get it from a private farm then ask the butcher behind the meat counter for some bacon.  Typically the bacon they have behind the counter is way better than anything in the refridgerated section.
Speaking of bacon, we will be rendering it. That means that we will slowly be cooking it so that the fat comes out of it naturally and we can have nice crispy bits.
Buy the good cheese and grate it on your own. I always buy the big hugs of cheese from behind the deli counter.  They will cut it up for you and typically this is cheaper.  You need to grate it on your own because it will not melt as well with the pre-shredded one because it has additives in there to prevent it from clumping which is no Bueno.
This recipe uses leeks. Leeks happen to be delicious over sized scallions that are sweeter and more fragrant.  They add a unique sweetness and flavor to this dish that gourmet's it up.
I created this recipe on a Sunday when I was recipe developing and I already had a ton of dishes to wash.  SO… I made the custard (the classic milk+whipping cream+egg) IN a ziplock bag and added the bread to it!  Shook it up a few times and then we were ready to go.  Technically speaking you can even make it all in one pan!  Just add the bread TO the sauté pan that all the veggies and bacon were cooked in.  Just make sure it is deep enough and large enough.  I happened to want to use a fancy dish 🙂  But feel free to make this look uber rustic and make it in a cast iron pan.
I think one of the most unique parts of this recipe must definitely be the leeks.  I took this idea from the ever so incredible Thomas Kellar.  I used Thomas Kellar's recipes many times on this site before and he never fails me.  (How could the owner of the very famous French Laundry fail me)
Back to leeks: They are the sweeter and more vibrant cousin of the scallion.  They add an incredible subtle flavor because they very slowly sweat in the remaining bacon fat.  Sweating means slowly cooking veggies without giving them any color.
Leeks+bacon=French Heaven.
Did I mention that this is a great make ahead?  Yup!  Just put the whole dish together a day or even 2 before, place it into the fridge and then 45 minutes before your dinner starts throw it into the oven and let the good tastes roll!
Since this is the ultimate Thanksgiving must it of course is listed in my 2016 Thanksgiving & Christmas Dinner Plan Extravaganza!  Make sure you check out all the other yums that go along with it!
Print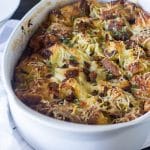 Cheesy Bacon Bread Pudding
---
Author:

Total Time:

60 minutes

Yield:

10

people

1

x
Description
When dressing or stuffing just does not make the cut, make this glorious Cheesy Bacon Bread Pudding instead! Filled with sweet leeks, smoky bacon and salty Parmesan cheese this incredibly fast and delicious recipe will be the new go to for all your Thanksgiving and holiday must haves!
---
2 cups

1/2-inch thick sliced leeks (white and light green parts)

12 cups

1-inch cubed brioche (Challah or Hawaiian bread

8

–

10

slices of bacon, cut into cubes)

2 tsp

fresh thyme

3

Garlic cloves minced

3/4 cup

Gruyere cheese (grated)

1/4 cup

Grated Parmesan cheese

3

large eggs

3 cups

heavy cream
Salt & Pepper to Taste
---
Instructions
Preheat the oven to 350-degrees.
Add the cream and eggs to a ziplock bag. Add the bread to the bag and seal.
Shake the bag up making sure that all the eggs are broken up and that the mixture covers all the bread.
Place bacon cubes into a large COLD pan. Turn the heat to medium and let the pan heat up. By doing this slowly you will render the fat out of the bacon.
Once the bacon has crisped up, remove with a slotted spoon and pour off all the fat except one tablespoon.
Lower the heat to medium and add the leeks and the time. You can put the thyme in whole and later remove the stems.
Allow them to soften. You do not want any color on them. We are just sweating them.
Add garlic and season with salt and pepper.
Remove the thyme stem.
If you decide to make this in the same pan as you sautéed up the leeks and bacon then add 3/4 of the bacon into the pan with the leeks. If you choose to make it in another pan, make sure to butter or spray down the pan so it does not stick.
Pour in the contents of the ziplock bag that held the bread in it. Add half of the cheeses.
Toss everything together gently. Cover with the remaining cheese then cover with foil.
Place into the oven for 30 minutes.
Remove foil and bake for another 15-20 minutes or until the pudding is set and golden brown.
Sprinkle with reserved bacon and garnish with thyme stems.
Notes
1. You can make this ahead easily! Just cook it 3/4 of the way and then the day of the dinner finish cooking the bread pudding while the guests sit down.
2. Nutritional information should be used only as a guide.
Prep Time:

15 minutes

Cook Time:

45 minutes

Category:

Side Dish

Cuisine:

American