Chipotle Lime Oven Roasted Cauliflower Popcorn
The ultimate movie snack just got healthy! My chili lime oven roasted cauliflower popcorn looks as cute as the original but tastes a heck of a lot better!  With subtle citrus notes and a spicy kick this faux popcorn is the perfect couch munch food.  Massive flavor+zero guilt=heaven.  
Have I mentioned that my husband is a Coscto aficionado?  He is… a big one.
"I'm making a Costco run babe, we are out of Perrier and paper towels.  Do we need anything else?"  This is always the excuse to run wild and free through the never-ending wonder of Costco aisles.
"Grab organic chicken, organic berries, organic frozen broccoli, huge bag of baby spinach, almond milk and some of my organic pita chips please." At this he always looks at me puzzled and I then decide that it is better to text the list to him as his dormant ADD will kick in the instant he walks out of the door and gets into the car.
This one particular time, hubs walked into the house after his Costco adventure…2 hours later!  I calmed myself until I saw the ridiculously insane amount of odd items he had purchased.
"Are you effing kidding me?" I yelled at him.
"What?  It's all good stuff we can use!!! You never buy the food I like!"  I call bullsh*t on that.
Here is a list of some of the random items he purchased:
-Organic green pears (a 5 pound bag)
-Organic apples (also 5 pounds)
-Avocado
-Salmon burgers
-Chicken burgers
-NON organic chicken
-Grass fed organic bison
-2 containers of hummus
-1 container of Greek yogurt dip
-A lifetime supply of microwaveable popcorn.
-A few bottles of shampoo, that I am not sure who will be using.
-A box of frozen Greek yogurt bars
-Cod fish
-Tilapia
-Container of every nut that Costco carries.
Does this list look oddly unfamiliar to anyone?  If you noticed that practically NONE of the items that I had requested were on the list you are correct and most likely as frustrated reading this as I was unpacking those items.  And FYI…this does not include the multitude of packaged waters and God knows what else that was remaining in the garage.
"Who eats cod seriously?  You don't even like cod!  And tilapia!?  Have I not taught you anything?! You may as well just pump your body full of poop soaked corn!  And NON organic chicken?  Seriously?  When have I bought that?   Really we need TWO containers of hummus?!?  And where are my berries?  You literally bought every fruit except the ones that I requested!  And popcorn!?  GMO loaded popcorn that we are NEVER going to get through but that will take up space in my pantry?"
He stared at me and then said, "Mila I bought what I THOUGHT we needed.  This is what I like to eat!"
I am going to call bullsh*t on that one as well.  Because the hummus laid untouched until I took it into work and munched on it, as did the Greek yogurt dip, as did all the frozen burgers until I cooked them up for a small BBQ.  And the tilapia I actually gave away.  The cod I cooked for him and as I had promised he said it was not his favorite fish.  The wife is always right…at least when it comes to food 🙂
I went through almost everything except that wretched popcorn. This little story occurred 2 years ago guys.  TWO.  I STILL have that damn popcorn!  Even though he made it almost every movie night I STILL have a ton left.  Well, I did.  I brought it into work and gave it away.
"Mila, where's the popcorn?"  Hubs asked as he practically destroyed my pantry.  He was a man on a mission and when he could not find something he needed at that very particular moment, the Tasmanian devil within him broke out.
"We are out of popcorn," I retorted as I scanned all the available movies on Apple TV.
"What?!? Where did it go?  Mila what are we going to munch on…You know I like that popcorn… Why do you always throw stuff out…." He continued on and on and on… I love him, but sometimes…
So I got up and decided to make us a snack.
"I want something salty, crunchy, crispy, savory and healthy." He ordered me from the couch.
I swung open the pantry and pondered on what to make.  Nothing really looked or tasted like what he wanted.
I tried my chances at the fridge and I stood face to face with a gigantic head of cauliflower I had failed to use up this week.  And something told me not to dismiss this.
I cut the gorgeous head of cauliflower into tiny little florets and was amazed at how much they resembled popcorn!  Gorgeous little popcorn florets!!! With even more nutrients and vitamins and a ton less carbs!  An entire LARGE head of cauliflower only has 210 calories.  Eat away!
I roasted them off for 15 minutes with just some oil, salt and garlic powder ensuring to shake them a few times in between to get good color.   I decided to sprinkle on some chipotle powder and just a few squeezes of lime before putting them up in a cute little holder 🙂  Hubs is quite visual and he loves it when things look like they are just waiting to be blogged 🙂
"Ohhhh what's this…looks good, I thought we were out of popcorn?" he perked up immediately upon seeing this fancy presentation and taking a whiff of the smoky goodness in front of him.
"We are out of popcorn…this is my faux popcorn"  He started eating it and by the time I had returned to the couch after tidying up the kitchen, he held up the empty container and said, "More please."
While I was super excited to consume my snack..I was not prepared for the possible need of another snack for the hubs now that he had demolished his serving.  So I gave him mine, sipped my wine and stole the remote from him.  I think I deserved to control the movie selection that night 🙂
Print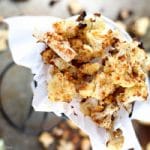 Chipotle Lime Oven Roasted Cauliflower Popcorn
---
Author:

Total Time:

20 minutes
Description
The ultimate movie snack just got healthy! My chili lime oven roasted cauliflower popcorn looks as cute as the original but tastes a heck of a lot better! With subtle citrus notes and a spicy kick this faux popcorn is the perfect couch munch food. Massive flavor+zero guilt=heaven.
---
1

large head of cauliflower (cut up into small bite size florets)

1 tablespoon

of garlic powder

1

lime

2 tsp

chipotle powder (or more depending on how smoky and spicy you want it)

1 tbsp

olive oil
spray oil (note 1)
salt and pepper
---
Instructions
Preheat oven to 450-degrees.
Take sliced up florets, drizzle with olive oil, sprinkle with salt, black pepper and garlic powder.
Bake for 5 minutes then shake the pan making sure they are browning on each side. Repeat 2 more times until perfectly brown and crispy.
Spray them with a bit of the pan spray and season with chipotle powder and squirt some lime juice on the cut up florets.
Taste for seasoning and adjust with more salt, garlic powder or chipotle as you see fit.
Eat!
Notes
Note 1: Once the popcorn comes out of the oven, spray it with the pan spray and THEN season. This will ensure that the seasoning actually adheres to the popcorn.
Prep Time:

5 minutes

Cook Time:

15 minutes

Category:

Snack

Cuisine:

Mexican