This super easy miso glazed salmon is every last minute dinner dream come true! The salmon cooks up in under 15 minutes and the miso dressing can be made ahead AND can last in your fridge for up to 3 weeks, making this the ultimate 15 minute dinner!

Plus I teach you why roasting salmon is one of the best and easiest ways to cook up a salmon!

So moms and dads who have 15 minutes for dinner on any given night…this recipe is FOR YOU!
How Do I Cook Salmon?
One of the most common questions that I get as a personal chef is, "What's the easiest way to cook salmon?" The answer always is, "In the oven!"
Whether you broil or roast salmon it is ridiculously simple and can I mention mess free?
Don't get me wrong I love a good crispy seared salmon…BUT sometimes I just need it fast and simple and easy! (PS if you guys LOVE a seared fish, but hate the mess, please check out my handy tip on how to keep things nice and clean when searing anything! )
I discovered that roasting salmon cuts down the time without sacrificing on flavor! And it leaves you with perfectly cooked fish that looks like it took way more than 15 minutes to prepare, which of course is a major BONUS! And you can make this a complete one pan meal by just adding some vegetables!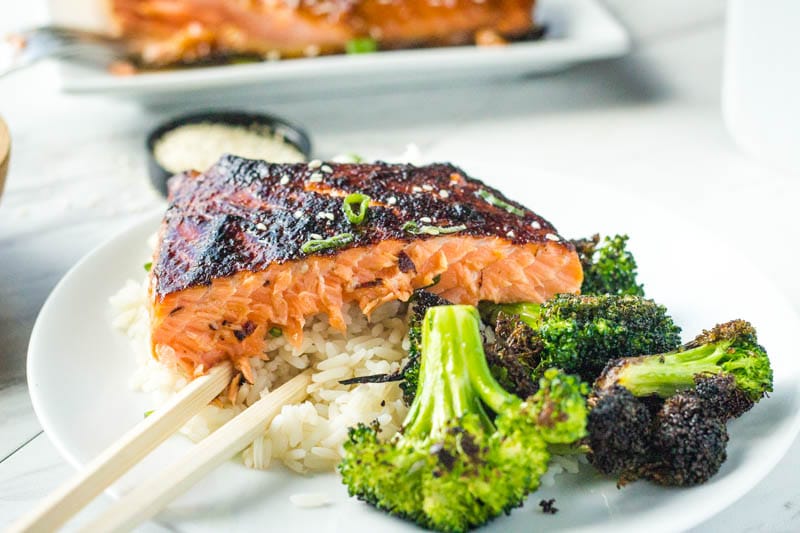 Roasting VS Baking
"But Mila, why can't I just bake my miso glazed salmon," says my confused client as she steadily jots down notes while I teach her how to cook. When I teach my clients the concept of roasting and baking they all act as if their minds are blown, but I promise there isn't anything complicated.
They both are dry sources of heat. And the actual process of cooking in the oven is actually the same. But it is how the food behaves that is different.
Baking: If you are cooking something without a solid structure until it is cooked then you are baking! So cookies, cakes, muffins, creme brûlée…those are all baking.
Roasting: If you are cooking something with a solid structure before it cooks then you are roasting. So essentially, proteins, vegetables are all roasted. Roasting also combines a high heat which in turn results in caramelization. This caramelization is why our miso glazed salmon is perfectly suited for the roasting method.
Convection VS Conventional Oven
Since we are already talking about the differences of oven techniques we should really discuss the differences between a convection and a conventional oven. The only difference between a convection and a conventional oven is that a convection oven has a fan in the back of it that circulates the hot air. So many people have convection settings on their ovens and simply do not use them because they do not know the reasoning behind it. But here is why you absolutely must use a convection setting every. Single. Time.
The food cooks more evenly in a convection oven since the air is constantly circulating around the food and covering more service area, hence creating more caramelization and more beautiful crispy bits.
It also means that the food cooks 25% faster in a convection oven! This is why when you read a recipe on a site and go to make it at home, the heating instructions may be off for you. The main reason is that you are probably not using convection and the recipe is.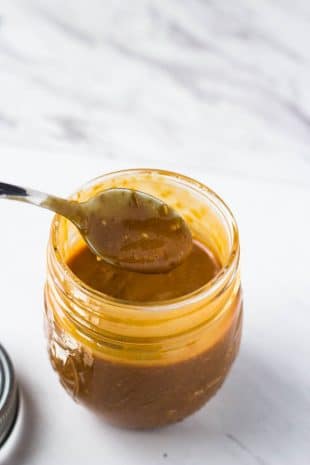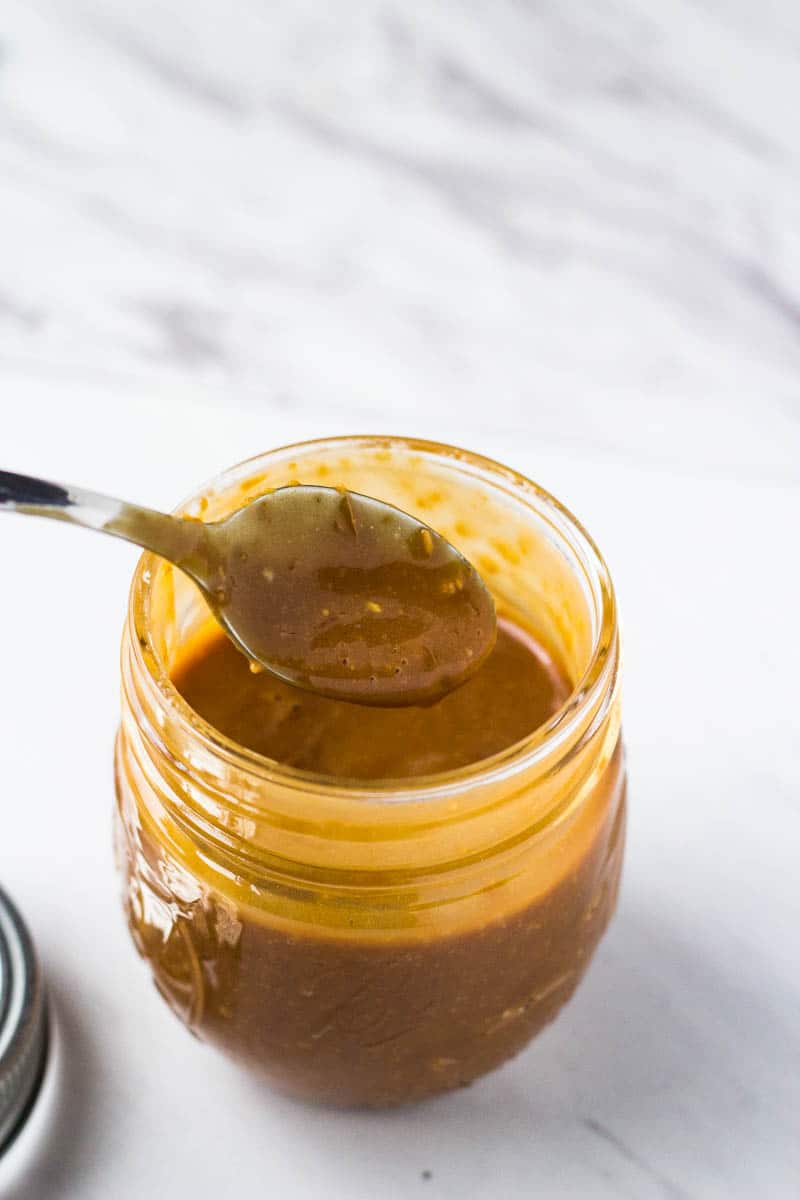 So onto the all star athlete here: The Miso Glaze. So as we know roasted salmon is ALWAYS good. But this miso glaze makes it FANTASTIC. It is tangy, briny and all things savory and has that something, something that leaves you saying "MMM I need some more of that!"
This is that one sauce that I always have on stock in my fridge. I make it weekly and just use it for a rainy day…like any weeknight in my house (insert head slap here). It's those crazy weeknights that leave most of my clients stumped for what to make for dinner and running to the local gourmet grocery store or takeout joint for answers. Well some of them of course have us as the answers.
So moms and dads who have 15 minutes for dinner on any given night…this recipe is FOR YOU! Reason being because if you have my miso glaze on hand just ready to go…then the only thing you have to do is:
Preheat your oven to 450 degrees on ROAST.
Place your salmon in a plastic bag.
Pour the miso dressing/glaze into the salmon and let it marinade while your oven warms up. Or you can even do this overnight and have it waiting for YOU!
IF you want to make this a one pan meal then cut up your veggies and add the veggies to the pan while your oven warms up.
What Kind of Veggies Can I Use?
Truly the key here is to use any veggies that are going to cook up quickly for you. Just reserve a few tablespoons of the marinade and toss the veggies in it. When you are laying them into the pan, just make sure that you lay them around the fish and not under, otherwise they will steam and not roast, leaving them soggy rather than crispy. There is ONE vegetable that you put underneath the fish…keep reading below!
Broccoli or Broccolini: Either one of these will be great in the oven, both will get crispy.
Asparagus pairs beautifully with fish and roasts up beautifully. Want something a little different with asparagus? Try my Lemon Parmesan Asparagus for a change!
Cauliflower works similar to broccoli in this recipe. However if you are in need of another great recipe my Chipotle Lime Cauliflower would pair beautifully with this miso glazed salmon as well.
Baby Spinach is always an excellent pair with fish! This will be the only vegetable that you will put underneath the fish. That way the baby spinach will wilt underneath the fish and get beautifully tender. If you want to make it separately, I do have an awesome recipe for Garlicky Baby Spinach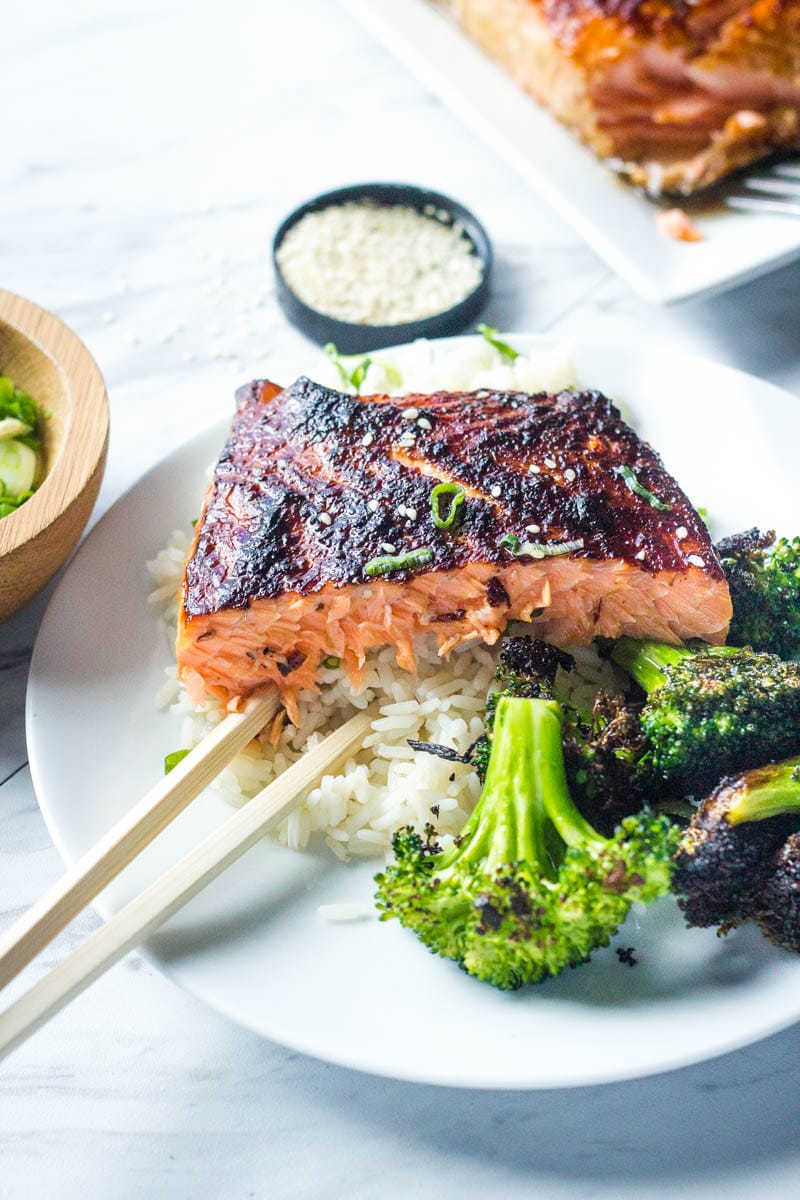 Can I Use Another Fish?
If you do not like salmon, many other fishes can be used! Halibut, cod, Chilean sea bass or even tuna will work. If you are using a thinner fleshed fish like flounder, white fish or sea bass just make sure to adjust the cooking time as it will cook faster.
Tools to Help
Handblender: This works great to whip up your miso glaze in no time!
Vitamix will work just as well if you don't happen to have a hand blender.
Baking Containers: These baking containers are great because they go from oven, to refrigerator, the dishwasher!
Sheet Pans: These can also be used to roast your fish and your vegetables together.
Knives : These Global knives are my favorites! I have had them for 15 years and with regular sharpening and honing they have stayed perfectly sharp!
Cutting Boards: These cutting boards are great because they are dishwasher safe. No matter what you cut on them, they can be placed in the dishwasher and be sanitized.
Mixing Bowls: Great for placing your fish in while it marinades because these beautiful bowls have lids that you can seal.
Print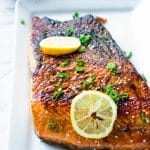 Easy Miso Glazed Salmon
---
Total Time:

20 minutes

Yield:

4

1

x
Description
This super easy miso glazed salmon is every last minute dinner dream come true! The salmon cooks up in under 15 minutes and the miso dressing can be made ahead AND can last in your fridge for up to 3 weeks, making this the ultimate 15 minute dinner!
---
1 cup

miso all purpose sauce

2

lbs salmon (skin on or off)
sesame seeds (garnish)
scallions (garnish)
lemon wedges (garnish)
---
Instructions
Place the salmon in a Ziplock bag or a mixing bowl. Pour the all purpose miso sauce on top of the salmon. Toss the fish and ensure that is covered in the sauce. Allow the fish to marinade for a minimum of 15 minutes and up to 24 hours.
Place the fish in a baking pan. Add vegetables around the fish if using them. Pour exess marinade in bag or in bowl over the fish and the veggies. Toss the veggies in the sauce to ensure that they are covered.
Preheat the oven to convection roast to 450°F.
Place fish in the preheated oven for 10-15 minutes or until browned and opaque on the sides.
Prep Time:

5 minutes

Cook Time:

15 minutes

Category:

dinner

Cuisine:

American Fusion, Asian, Asian Fusion