Thanksgiving Leftovers Pot Pies (Mini's)
When Thanksgiving Day leaves behind a ton of leftovers, my mini pot pies are the answer! These mini pot pies are loaded with all your favorite Thanksgiving flavors and surrounded by an intensely flavored, creamy sauce. And with flavors this deep no one will ever know this delicious meal only took 30 minutes.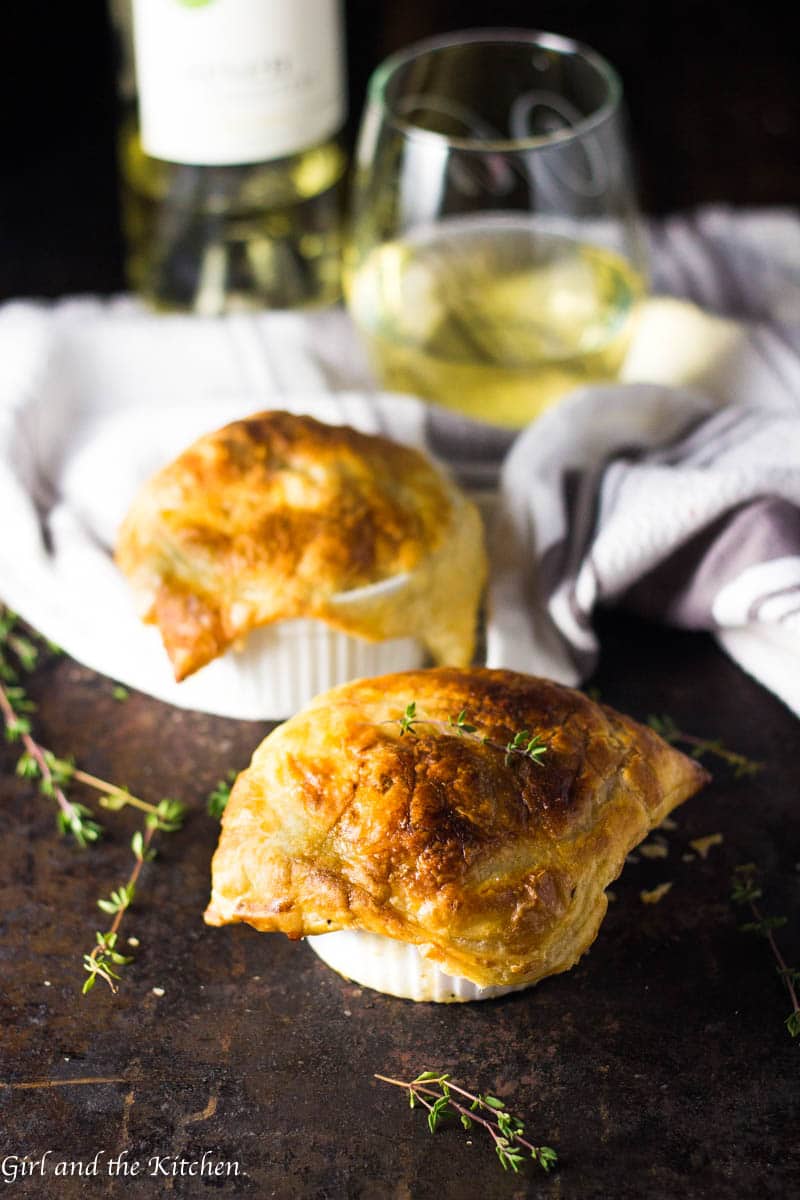 I have never been one to fall in love with savory pies.  There I said it.
Call me un-American, but the honest to God truth is they were never very good.  They were either bland or too salty or gummy.  Just not my general cup of tea…or piece of pie 🙂
That being said I have created really tasty crockpot beef and mushroom pot pies that were legendary…But I never had the urge to make chicken pot pies…
Until I remembered a little event…
About 10 years ago, I was managing a huge country club and I had to be there at their annual Christmas Party, which also happened to be the largest event of the year.  I was the closing manager that night and I prepared myself for a very late night.  All the Chicago North Shore folk (AKA the richest suburbs) sipped Manhattans, Scotch and copious amount of imported French Champagne late into the night.  An elaborate buffet featuring caviar, foie gras, prime rib, lobster, oysters and all and any  other overly priced food has been served about 3 hours ago.  It was now 10pm, the dessert buffet table had been set with stunning cupcakes, cookies, cakes and even a cotton candy machine that spewed out all sorts of artful creations.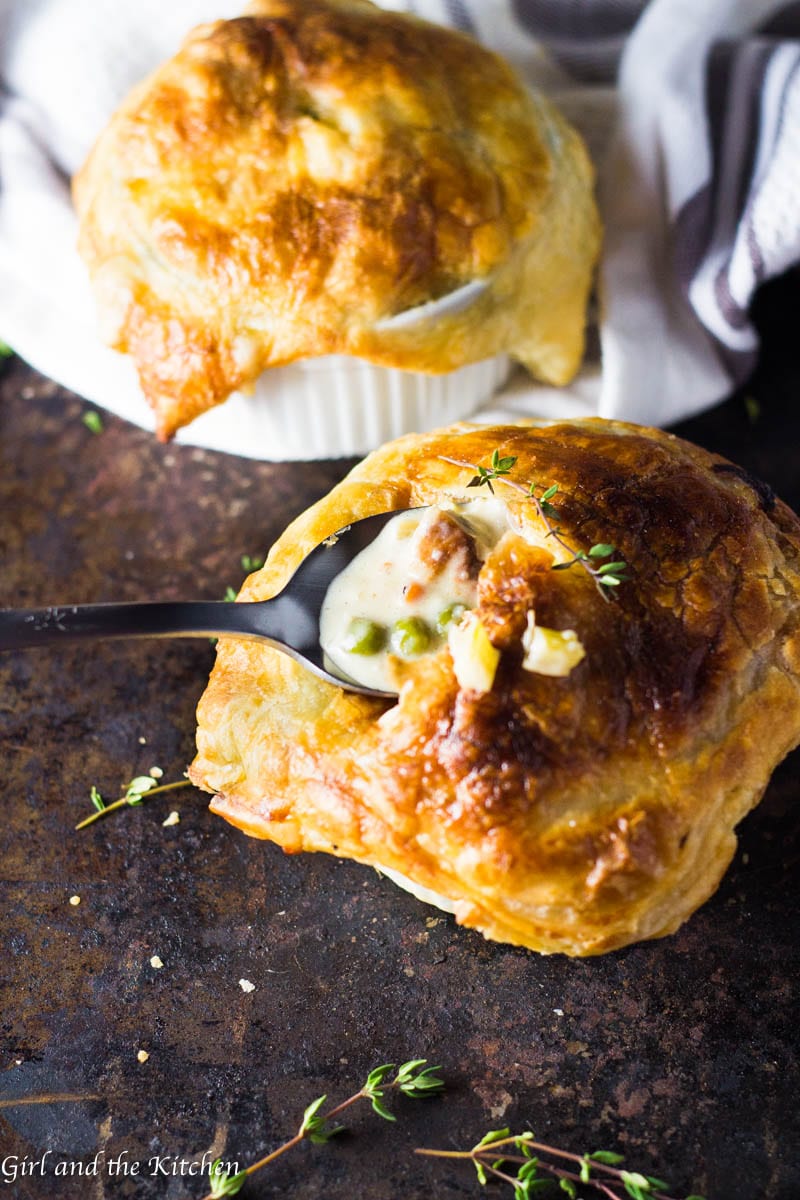 While they sipped and sugared themselves up, I sat downstairs in my office listening to the live band playing and my tummy grumbling.  I was so wound up in setting up for all theevents that I had forgotten to eat.  I ran up the winding staircase, that so many inebriated guests had fallen down, past the mildly intoxicated guests and stumbled into the kitchen.
"Chef Ed!  I am starving!  Is there anything to eat?" I screamed to my executive Chef.
He told me to grab a seat in his office and wait for him.  He came back with an adorable little casserole dish with golden puff pastry.
"These are the mini turkey pot pies we served at the party tonight.  There are only 2 left, just enough for you and me."  He proceeded to pour us some Champagne and we sat and indulged in the uber crispy crust and ridiculously flavorful filling.
Chef Ed explained to me that his secret to these magical mini pot pies was quite simple.
"I treat the pot pie exactly like I would a creamy sauce for a chicken.   The meat does not even play as a flavor factor here.  Lots of deep flavors to accentuate the protein.  You can do the exact same thing with tofu and I promise you it will still taste phenominal because of the depth of flavor."
So this year…I decided to take his advice that echoed in my mind so many years later.  I happened to make a turkey and a meatless roast turkey for a few of the vegetarians at our gigantic Thanksgiving Extravaganza.
Pssst… want to see what I made this year for my fast and easy Thanksgiving extravaganza?  It's filled with delicious and uber flavorful salads and sides plus my EASY no mess make ahead Simple Citrus Herb Roast Turkey with Potatoes!  Trust me this will be a winner! 
Quorn happens to make some of my favorite products and I had no doubt that this would be a winner.  It looked beautiful and caramelized quite nicely in the oven as well.  But most importantly, it TASTED like Thanksgiving!  Sage, celery etc.  It literally tasted like Turkey and Stuffing!

Technique
Since one of my favorite past times is to mess with people and create recipes featuring meat free items and making them think it's meatFUL…I did just that with my Thanksgiving Pot Pies.
I knew that there were just a few steps I had to follow in order to make the filling as tasty as Chef Ed's was several years earlier.
Aromatics: Shallots, carrots, celery, garlic and thyme truly make a heavenly combination of flavors.  The aromatics need to sweat out gently.  Essentially, creating a little sauna for them that enables them to sweat and release all their flavors.  It is CRUCIAL to salt the vegetables at this point so you can add the layers of flavor but also so that the salt draws out the moisture of the veggies.
The roux.  Essentially a roux is a mixture of equal parts fat and flour.  This acts as a thickening agent for our filling.  However, if the flour is not cooked long enough in the pan, the raw flour flavor will come through in the filling.  Instead, I sprinkled it right onto the vegetables once they had sweated long enough and stirred it to incorporate into all the veggies.  The flour should then be cooked for about 2 minutes over medium low heat.  Once adding a liquid to it, you must do so slowly and stir it while adding it in so that the flour does not clump up.
Deglazing: Deglazing is a simple technique where a liquid, typically an acid, is used to scrape off all the goodness off the bottom of the pot and incorporate it into the sauce for extra added flavor.  If the deglazing liquid is an alcohol (such as white wine in this case) it also adds a great deal of flavor.  Just make sure it reduces by 2/3 to burn off all the alcohol.  Otherwise it will taste very strongly like alcohol.  The wine also acts as an acidic component to cut the richness of the heavy cream.
Heavy Cream: The heavy cream does two important things.  #1 it's great for actually thickening the filling.  #2 it clearly adds a GREAT deal of flavor.  Let's be frank here…is there anyone who does NOT like heavy cream?  It adds a great deal of richness so just be careful to not go crazy with it…because it can also mask all the flavors.
I created a few of these pot pies…some with my leftover turkey  and some with my Quorn Meatless Roast Turkey.  I served them up, some sprinkled with parsley, others sprinkled with thyme sprigs, only so that I knew which was which.  NO one could tell the difference.  All I heard was mumbled words such as "delicious!" "super flavorful" and other exclamations such as these that seemed to escape their puff pastry crusted lips.
Print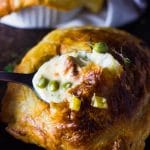 Thanksgiving Leftovers Pot Pies
---
Author:

Total Time:

40 minutes

Yield:

6

servings

1

x
2 tbsp

of butter

2 cups

leftover Turkey (Meatless Roast Turkey or Chicken, diced into bite size cubes)

2

Large shallots (finely chopped)

2

Carrots (cut into cubes)

2

Celery stalks (cut into small dice)

3

stems of thyme

3

garlic cloves

1 cup

of white wine

2 tbsp

of flour

1 cup

of heavy whipping cream

1/3 cup

of frozen peas

2 tbsp

of finely chopped parsley

1

egg+1 tbsp of water

1

box of puff pastry
salt and pepper to taste

6

six ounce ramekins
---
Instructions
About an hour prior to starting the recipe, remove the puff pastry from the freezer.
Preheat the oven to 400 degrees F.
Add butter to a pan set of medium heat.
Add shallots, carrots, celery and thyme. Season with salt and pepper and cover with a lid.
Watch to make sure that no browning occurs. If it does begin to brown, turn heat down. Allow to sweat for 5 minutes.
While the filling cooks, cut the puff pastry sheets into thirds. Set aside.
Add garlic and combine.
Sprinkled the flour and mix well to combine with the veggies.
Allow to cook for 2 minutes.
While stirring in, pour in the white wine. Stirring well to ensure that there are no lumps. Reduce by half.
Add in protein of choice and stir everything to combine. Taste and season as necessary.
Add in the heavy whipping cream and allow to simmer for 3 minutes.
Remove the thyme stems.
Turn off the heat and add in the chopped parsley and the peas. Stir to combine.
Fill each ramekin to the top.
Gently cover with puff pastry, ensuring to stretch the rectangles carefully over the ramekins so that they overlap slightly.
Slice a small slit in the center of the top of the dough so steam can escape while it bakes.
Combine the egg and the water and brush the puff pastry with the egg wash.
Place into the oven on a foil pan (in case there is spillage) for 15 minutes or until golden brown.
Let rest for 5 minutes and then serve.
Notes
1. This recipe is enough for 6 (6 inch) ramekins. It will also freeze beautifully if you happen to make extra.
2. I have always used Pepperidge Farm for my puff pastry recipes. They are perfect to have in freezer so you can create quick and easy recipes quick!
Prep Time:

10 minutes

Cook Time:

30 minutes

Category:

Main

Cuisine:

American