Healthy Persian Chicken Kebabs
Middle Eastern flavors have always been very influential in my cooking.  This particular chicken kebab has been a favorite of mine since I was a child.  The delicious and healthy yogurt marinade comes together quickly and effortlessly and leaves the chicken super moist!  
[wprm-recipe-jump]
Ahhhh the grilling season is upon us and I am making over one of my absolute favorite summer dishes.
I originally wrote all about these fantastic Persian Chicken Kebabs named Shish Tawook.  I was apparently not feeling very wordy that day…seeing as how my post is barely 4 sentences long.  Oh well…I sure am feeling wordy today!
This chicken kebab is absolute heaven!  It gets its moisture and distinct flavor from a thick Arabic yogurt called labne.
***If you are unable to find this in the stores, just use a plain Greek yogurt or even plan regular yogurt will work.  Just don't use vanilla…I accidentally did once…that was an interesting meal to say the least.***
I am a lover of meat but when you throw that meat over an open flame and char it up with charcoals…I am a goner.  That my friends is my weakness…that and salted caramel, and speckled vanilla bean ice cream, along with burgers, not to forget anything crusty or anything with Nutella..or loaded with cheese…MMMMMMKAY I have much weakness…Apparently, I have an obsession…need to look into that…
Moving on from my mental instability…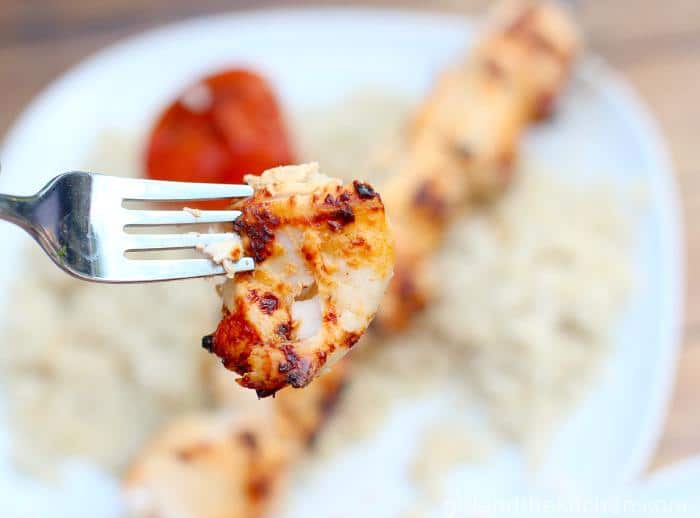 I brought this chicken over to a 4th of July BBQ last year and I was welcomed with open arms.  Typically we grill this on an open flame atop of charcoals that are just starting to resemble embers.  But today wasn't the day for that.  I was not going to be the grill master.  I was a little disappointed that I was unable to man the grill that day and show the men how to really grill a kebob.  But I sat down and pretended like I was not bothered by their amateurish grilling techniques and continued shoving my face with salsa and chips that scratched up my mouth with every bite.
I will say, that despite my finickiness over the grilling process, the chicken did turn out delicious even without being grilled on top of charcoals.
People dug into the chicken kebab like animals who just awoke from hibernation.  And I heard mmmm's and ahhhhh's instantly as the guests chewed and tasted their food.  They smacked their lips and practically licked their plates.  And everyone was begging me for the recipe.
So here is the recipe.  As simple as it may be…over charcoals or not…this is a winner in everyone's tummy!
First we combine the yogurt, garlic, lemon juice, ketchup, seasonings and the water in a blender.  Blend it all up!  Taste it make sure the seasoning is exactly how you want it.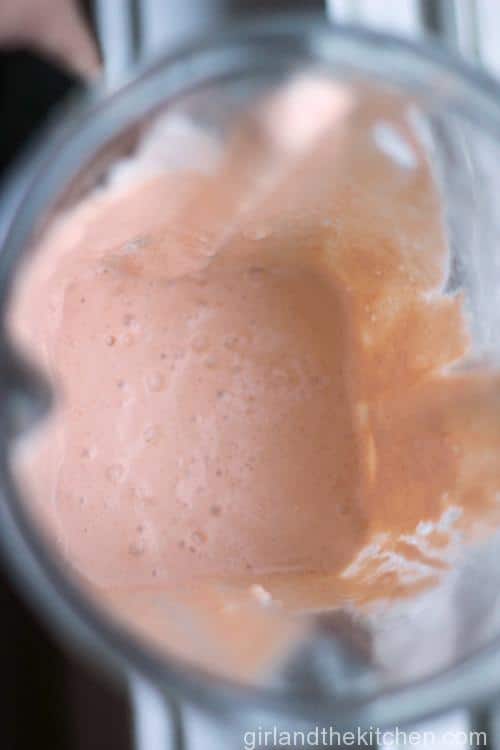 Then take your chicken and cut it into large pieces.  Larger than bite size. If using chicken breast, slice each piece vertically and then cut horizontally into about 4-5 pieces depending on the size of your chicken breasts.  If using chicken thighs, cut each thigh in HALF.  I have used both chicken breasts and thighs and they both taste absolutely incredible.  Chicken thighs tend to be a bit more forgiving of overcooking so just be careful.  Then place into ziplock bag and pour marinade over it.  Place into the fridge for anywhere from 2 hours to overnight.
Heat up your grill to high.  Whether you are using a charcoal grill or gas, ensure you have a high flame.  If using a gas grill, I like to remove the grates so that the meat cooks directly over the open flame.
Go ahead and skewer your chicken on a large skewer.
And grill them, rotating frequently to make sure they are evenly covered.

Chicken breast takes about 12-15 minutes.  Chicken thighs take about 15-18 min.  Once the juices run clear you are all set to go.  I also like to grill some onions and tomatoes on a skewer for a perfect serving.
In the winter time, you can do this in a 450-degree oven for 15 minutes.
Print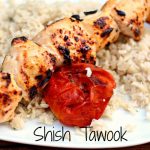 Make-Over Monday…Shish Tawook
---
1.5

pounds Boneless (Skinless, Chicken Thighs or chicken breast)

3

cloves minced garlic

1/2

tbs tomato paste

2

tbs ketsup

1/4 cup

yogurt

1/4 cup

lemon juice

1/2 tsp

salt

1 tsp

paprika

3 tbsp

turmeric (for the color)
---
Instructions
1. Trim fat and excess membranes from chicken thighs.
2. Cut chicken into 1/2 inch cubes and place in a plastic bag.
3. Blend all ingredients except the chicken in a food processor or blender. Place all ingredients into the plastic bag and shake to combine, making sure chicken is covered.
4. Let marinate in refrigerator for 2-3 hours or up to 24 hours.
5. If grilling outdoors, skewer onto metal skewers and grill about 5 minutes on each side, rotating so that they do not burn. Otherwise preheat oven to 450-degrees and cook for 10-15 minutes on a greased pan.
***Originally published July 14th 2014***