Baja Style Mexican Hot Dogs
These perfectly charred Baja Style Mexican Hot Dogs are ideal for any summer cookout rain or shine!  Learn my trick to getting the most tender and juicy dogs without sacrificing on the char factor!  Topped with a gorgeously bright cucumber salsa and a spicy mustard America aioli, these hot dogs are perfect for a summer BBQ crowd!
This shop has been compensated by Collective Bias, Inc. and Conagra Brands. All opinions are mine alone. #SummerServed #CollectiveBias.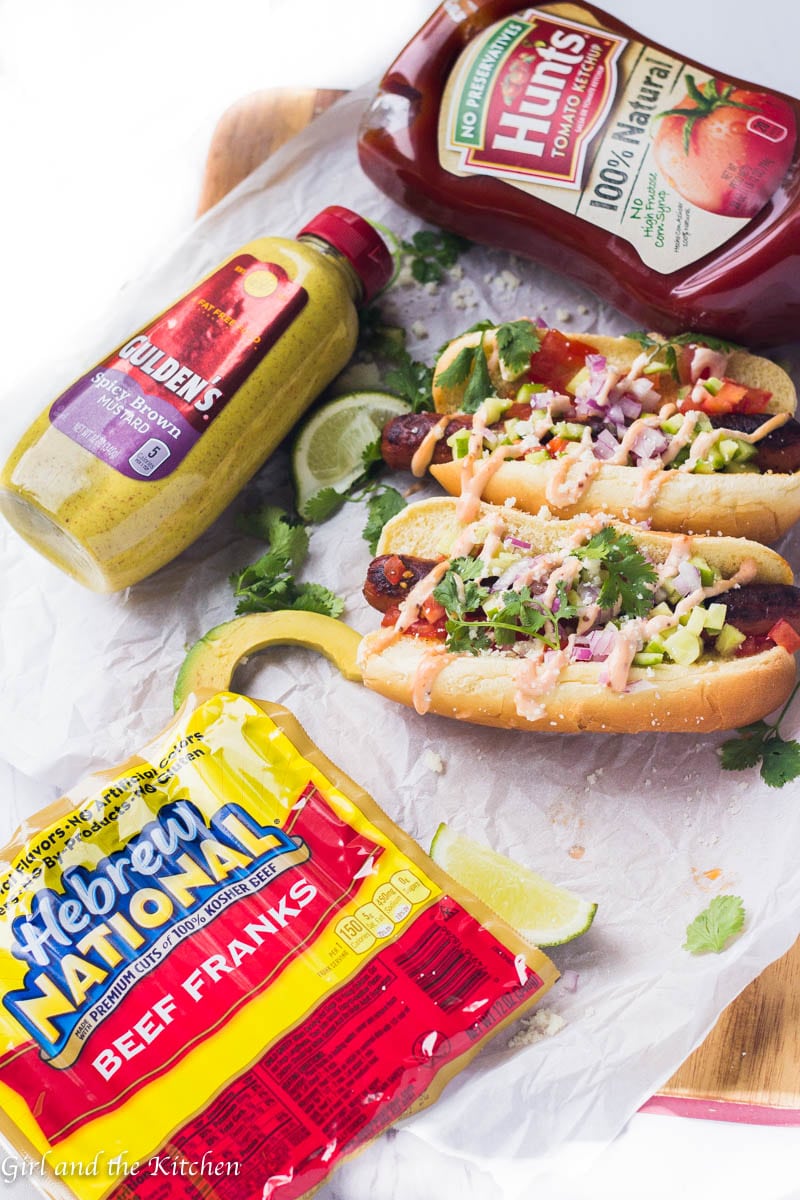 [wprm-recipe-jump]
Hot dogs are so quintessentially American.  The perfect cookout food for any BBQ has been the go to for adults and kids alike.  I personally have rarely met a hot dog I did not like.  But there was one and only one that truly left an imprint on me.  It was perfectly crisp, ridiculously juicy and full of flavor!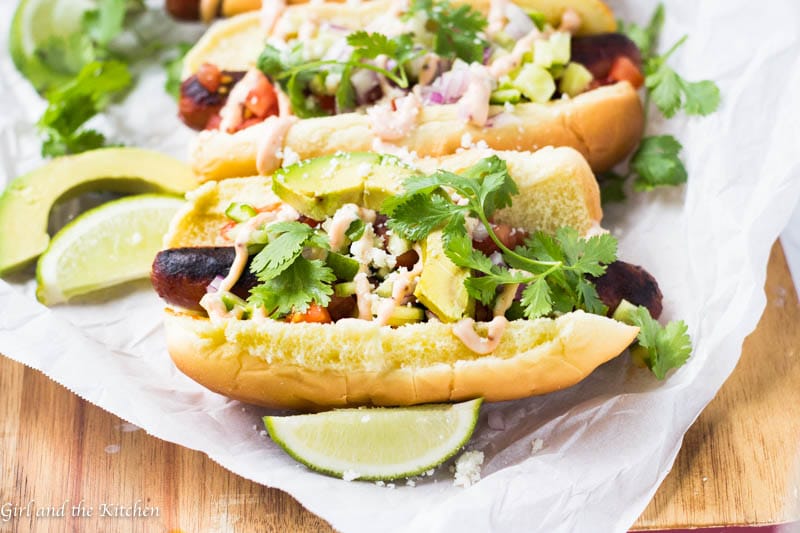 This past November, the hubby and I took a very last minute getaway to San Diego.  The munchkin got to go to Dominican Republic with my in-laws (bless them) and we decided to plan a 5 day trip to one of my favorite US cities!  Naturally the food scene in San Diego is phenom!  We ate EVERYWHERE!  At every corner, we had a bite of something.  From incredibly authentic Neapolitan pizza and gelato in Little Italy, to brunches with an oceanview in La Jolla to food trucks in the Gas Lamp district.  San Diego was a visually tantalizing treat and we tried to soak up every little bit.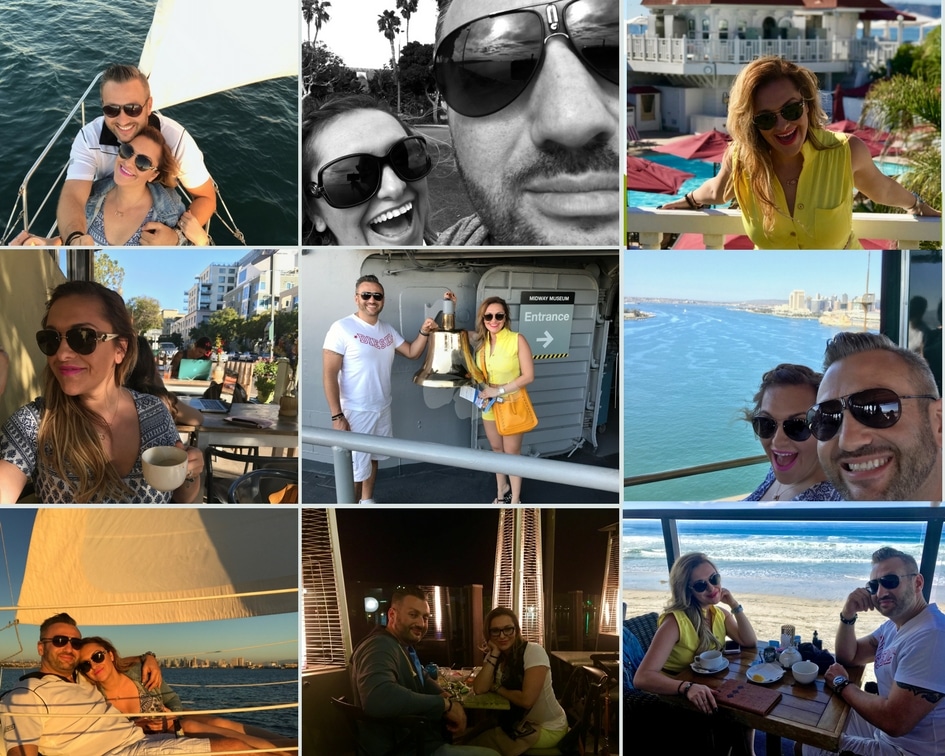 Funny enough…after all the gorgeous food it was a treat that we had only hours before heading out to the airport that stuck out in my mind.  Hubs and I had our flight delayed by 3 hours and so we decided to spend those extra 3 hours walking around the gorgeous paths of Shelter Island.  We were surrounded by never ending views of the ocean and stunning picturesque views of the marina.  As we walked we noticed a few food trucks stopping over at the hotel that we had eaten brunch at only 1 hour earlier.  Knowing what a food truck city San Diego was…we decided to check out the food trucks, JUUUUUUUST in case we were missing anything good.
Once I approached the food trucks…the hubby and I both knew that we were correct in our decision not to skip this glorious meal.
One of the trucks was a hot dog truck.  I squealed with giddy (look above for the photo of my squealing in actual progress).  There were 8 different hot dogs…but being from Chicago and having been spoiled by the famous Chicago Dog, I knew it would take more than just an overly loaded hot dog to impress me.  But once I saw their Mexican Hot Dog…I. Was. Done.
As odd the "ketchup aioli" sounded I was completely overjoyed as I bit into it.  Hubby and I were both extremely pleased with our hot dog experience and he made me promise that I would recreate this when we got home…to the snow.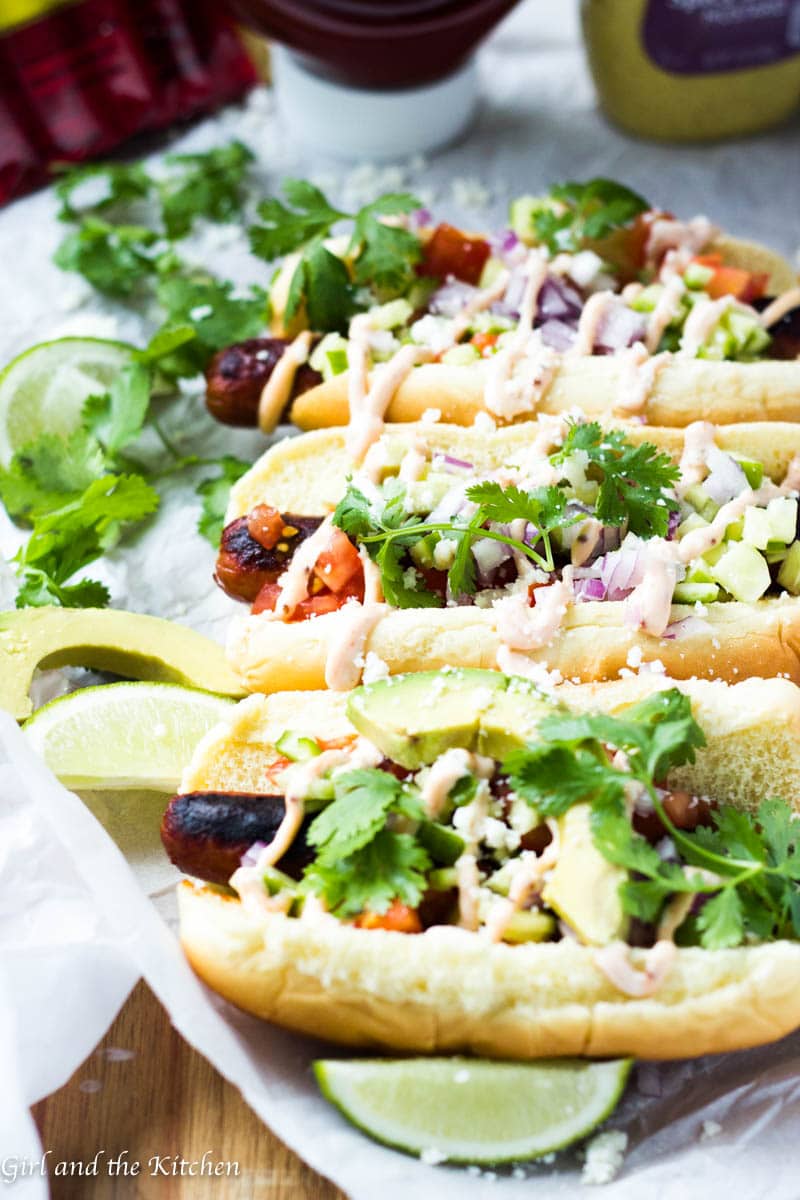 Being the good little chef wife that I am, I did just that.  I stopped by my local Walmart to stock up on some necessities for a gathering at our house that night and noticed my favorite Hebrew National® hot dogs in the refrigerated aisle.  I instantly knew not to ignore this and decided this was the perfect moment to recreate my San Diego hot dog perfection.
I chose Hunt's® Ketchup and Gulden's® Mustard as the choices for my "American aioli".  They both happened to be right next to each other in the condiments aisle, so I snatched them up knowing that delicious plans ahead of them.

I was cooking for a crowd of 10 that night… complete with 4 kids.  I knew my Baja Style Mexican Hot Dogs would please everyone, tots and adults included.
THE TECHNIQUE
How to Keep Hot Dogs Juicy and Crispy:

Everyone has grilled a hot dog or two.  But have you ever noticed that the most delicious hot dogs are neither grilled nor seared?  No they are poached.  Poaching hot dogs keeps them moist but most importantly allows them to stay warm while they wait to be finished up on the grill or for those occasional cases when our summer BBQ's have to be moved inside, they can sit in the poaching liquid and wait for the frying pan.  When it is time to get them gorgeously seared, a quick 1 minute per side is all it takes on a grill or a hot pan.  If grilling, just leave a foil pan right on the grill over a low flame so that they are constantly in the hot liquid, in this case water, but of course you can also use beer or any other liquid.  I personally find Hebrew National Franks so flavorful that they really do not need much more flavor adding in from a poaching liquid.  I do however have an extremely unique trick to get the outsides of the hot dogs even sweeter and more caramelized.
Caramelizing the Hot Dogs:  My munchkin adores ketchup as do most other kids.  And because Hunt's is all natural I personally do not find it an issue to let her be a bit more "free" with it.  In fact it was her idea to actually brush the ketchup on the outside of the hot dog before searing it.  This resulted in having a deep caramelized flavor on the hot dog but additionally it made the searing of the dog that much faster because of all the sugars in the ketchup.  When I served these Mexican Hot Dogs on the bun along with all the other ingredients it paired perfectly with the bright flavors of the cucumber salsa and the "American Aioli".
American Aioli Sauce: Classically aioli is a garlic mayo with a hint of spice and lemon.  I decided to Americanize it a bit to still leave that American nostalgia that hot dogs tend to have and add in some of the Hunt's Ketchup and the Gulden's Spicy Mustard.  When the mayonnaise combined with the garlic, the ketchup and the mustard it was seriously delicious.  Perfectly tangy, spicy, creamy and sweet.  I placed the sauce in a simple squeeze bottle and served it right alongside the tray with my Baja Style Mexican Hot Dogs hot dogs on it.
The Toppings: I decided to keep the toppings pretty true to the original recipe I had in San Diego.  I created a really bright and fresh cucumber salsa by dicing up some red onions, cucumbers and tomatoes.  I added in a few sprigs of cilantro to freshen things up a bit and sprinkled some lime juice right on top to give these Mexican Hot Dogs a nice south of the border flair.  To be ridiculously fancy, I sprinkled on some vegan cheese that I had made earlier that day that was perfectly briny and salty.  I served the hot dogs on a tray complete with plenty of fresh lime and avocado slices to brighten things up.  Some of the munchkins were not having all my fancy garnishes and so for them I just served the Hebrew National Hot Dogs up plainly seared on the buns.

Naturally upon eating them they doused them with even more of the Hunt's Ketchup.
Considering that my annual Memorial Day BBQ extravaganza is right around the corner, I am personally excited to be able to add these glorious Baja Style Mexican Hot Dogs to my menu this year! Not only are they absolutely stunning on a tray but they are ridiculously delicious and made to dress up or down to please any finicky eater!
This year Hebrew National and Hunt's Ketchup are both offering awesome coupons for their products! Considering the insane amount of people I am expecting this year at my BBQ I am beyond grateful to have these savings! Just make sure to visit their site for these Ibotta offers :
Hebrew National: Earn $1 with purchase of TWO Hebrew National Franks 11oz or larger
Hunt's Ketchup: Earn $0.50 with purchase of ONE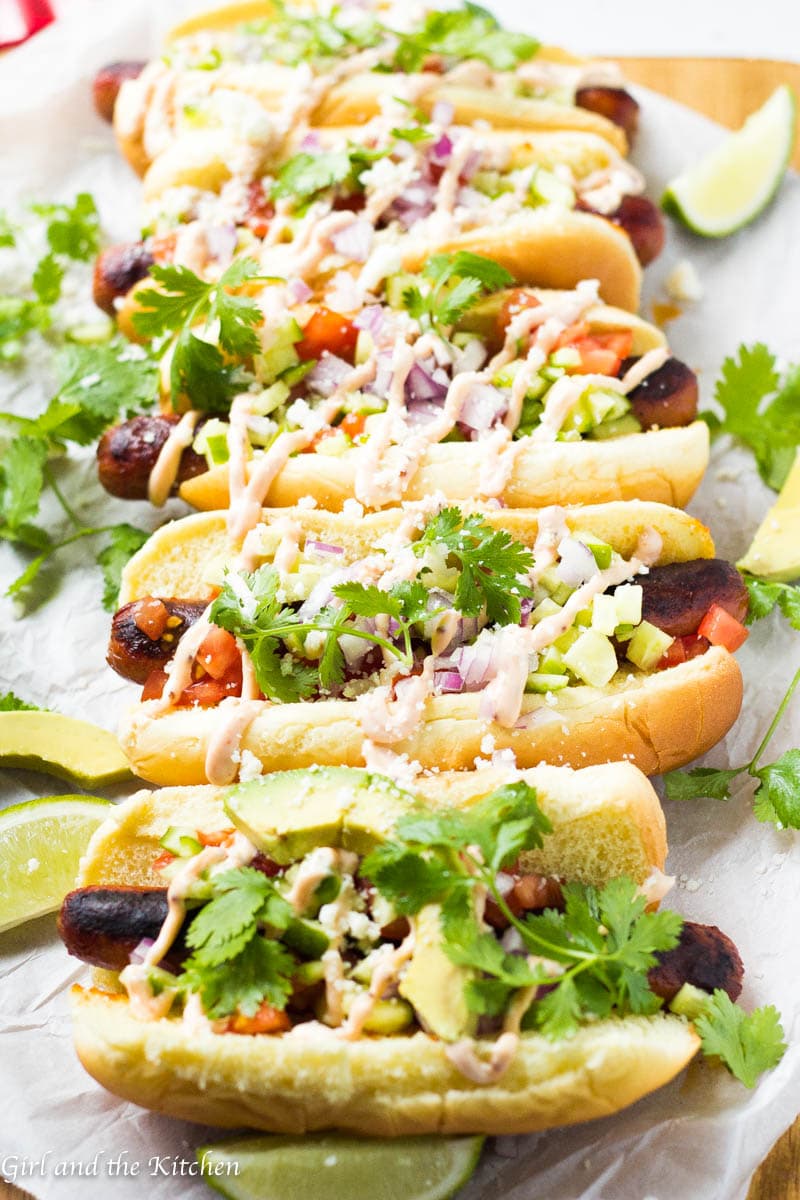 Whether it's raining or shining this Memorial Day, you can be sure that these Baja Style Mexican Hot Dogs will stand up to any crowd at your cook out! Serve them loaded or leave them plainly seared, either way they will be gloriously delicious and juicy!
And for more ideas make sure to check out their website for your summer cook out plans!
Happy cooking everyone!
Print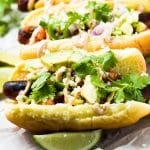 Baja Style Mexican Hot Dogs
---
Author:

Total Time:

30 minutes

Yield:

5

people

1

x
Description
These perfectly charred Baja Style Mexican Hot Dogs are ideal for any summer cookout rain or shine! Learn my trick to getting the most tender and juicy dogs without sacrificing on the char factor!
---
Hot Dogs
1

package Hebrew National Hot Dogs

5

hot dog buns

3 tbsp

Hunt's Ketchup
American Aioli
1/4 cup

Mayonnaise

2 tbsp

Gulden's Spicy Mustard

2 tbsp

Hunt's Ketchup

1

clove garlic (minced on a microplane)
Cucumber Salsa
1/2 cup

cucumber (diced)

1/2 cup

red onion (diced)

1/2 cup

tomato (diced)
salt (to taste)
Garnishes
Avocado (slices)
Lime (slices)
Cilantro sprigs
---
Instructions
Hot Dogs
Bring a medium pot of water to boil. Lower to a simmer and drop in the Hebrew National Hot Dogs into water carefully. Allow to simmer for 5 minutes or leave on the stove or the grill on a low simmer until ready to grill.
Add the Hebrew National Hot Dogs onto a hot grill or a preheated pan. Brush each Hebrew National Hot Dog with the Hunt's Ketchup and sear until browned on each side; about 30 seconds.
American Aioli
Combine all the ingredients in a bowl and place into a squeeze bottle. Serve alongside the Hebrew National Hot Dogs to use as much as necessary.
Cucumber Salsa
Combine all the ingredients in a bowl and serve along side the Hebrew National Hot Dogs.
Assembly
Place the the seared Hebrew National Hot Dogs onto the hot dog buns and garnish with the cucumber salsa, American aioli and follow with the cilantro and avocado if desired. Serve immediately.
Notes
When grilling, keep the Hebrew National Hot Dogs in an aluminum pan right on the grill over low heat.  Once ready to sear just plop them right onto the grill to sear them off.
Nutritional information is to be used as a guide only.
Prep Time:

15 minutes

Cook Time:

15 minutes

Category:

BBQ, Main Course

Cuisine:

American