PF Chang's Vegan Mongolian "Beef"
A vegan version of my favorite Chinese take out!  This Mongolian "Beef" is tender, saucy and perfectly savory.  All of the flavor and you can feel good about eating a great plant based meal!

When I decided to go plant based ,  I decided that instead of trying to substitute my meat proteins with foods that imitated meat proteins, I would eat different foods that were fulfilling but were not trying to be something they were not.  Because let's be frank… it's pretty hard to create a medium rare NY strip out of anything other than…well a NY Strip.

Let's be frank here, meat protein substitutes has gotten a really nasty rep.  Even poor tofu is treated like an ugly red headed step child.  And I get it.  It's tough to make this stuff taste good.  And it's easier to just take a piece of meat, cook it up and call it a day.

But sometimes just a tad of creativity and determination can go a very long way.

See while I am plant based, my hubs is not.  And he does not plan to be.  Unless, I trick him…for hubs it's all about taste.  If it tastes good and it's healthy he is  open to it.  When I first went plant based, he saw me chowing down on a veggie burger with chipotle and black beans and requested I make him one too.  He was so in love with it that he actually requests it for dinner.  HA!  I win! Small victories make me smile.

A few months ago I was planning on making my Skinny PF Chang's Mongolian Beef for dinner for the hubs.  And as it cooked, I tasted the sauce…inhaled the incredible aromas and practically cried…because I knew my love affair with Mongolian Beef was over.

I sighed and went into the fridge to grab some scallions for the dish and that's when I saw it.  There stashed deep in the back of my fridge was an unopened package of seitan.

Seitan is a meat substitute made of vital wheat gluten.  Yes THAT gluten. The one everyone and their grandchild claims to be allergic to.  (I am sure some of you are.  I know Celiac disease sucks because I have many people I have worked with who suffer tremendously from it.  But overall…sorry to say…gluten-free is a trend.)

Simply put, gluten is a protein.  It's THE protein in flour that gives our bread that chewy, spiderweb like appearance.  And this wheat gluten is transformed to create a meat substitute.  And it has a great deal more protein than animal products.  Almost triple the amount.  There is a great deal more detail about this on the web, however for now we are going to stick with these details.

Moving on… I had bought the seitan the week prior with huge plans for it.  And naturally, as I often do, I forgot I bought it and lay there staring at me blankly.

So I did what I do best, I decided to trick the hubs.  I prepared the seitan in EXACTLY the same way as I did the beef.  And then before giving it to him, I had him taste a piece of beef.  He liked it and requested I make him a plate.  So I did…I made him a plate of mostly seiten Mongolian "Beef" with a few pieces of real beef thrown in.

He inhaled it!  Said it was great and asked for more.  When I told him that he just had a mostly vegan meal that had more protein in it than beef…he stared at me blankly and called me a con artist.

Con artist or not…this is the ultimate meal for a meat eater and non-meater alike.

I tested it the next day again with my very favorite friend Laura.  I let her taste it and she was in love.

"I would never EVER think this isn't meat Mila.  You rock!"

I guess I do rock…as will you when you throw this dish into your repertoire.
Print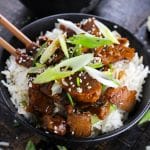 PF Chang's Vegan Mongolian "Beef"
---
Description
A vegan version of my favorite Chinese take out! This Mongolian "Beef" is tender, saucy and perfectly savory. All of the flavor and you can feel good about eat a great plant based meal!
---
2

pounds of seitan

6

large green onions (sliced on the bias)

1 cup

of low sodium soy sauce

1.5 cups

of water

1 tbsp

of minced ginger

5

cloves of garlic (minced)

½ tsp

red pepper flakes

1 tbsp

of corn starch OR

3 tbsp

of flour

1 cup

of brown sugar
Vegetable oil for sauteeing
Cooked rice
---
Instructions
Combine soy sauce, water, ginger, garlic, red pepper flakes, corn starch and sugar in a bowl. Set aside.
Over high heat, add vegetable oil to a large sautee pan or wok. Allow oil to heat up, about 2 minutes.
Slice seitan into 1 inch slices.
Add seitan slices and sautee for 2-3 minutes until lightly browned.
Add soy mixture to seitan and allow to simmer for 2 minutes.
Add in scallions, toss everything together and serve immediately over rice.
Category:

Entree

Cuisine:

Asian Vegan