4 Ingredient Garlic Baked Brie (15 Minute Appetizer!)
This gooey garlic baked brie has only 4 ingredients and takes 15 minutes to prepare!  It comes out of the oven gooey and cheesy and loaded with rich garlic and herb flavors!  This is the ultimate holiday appetizer for any party!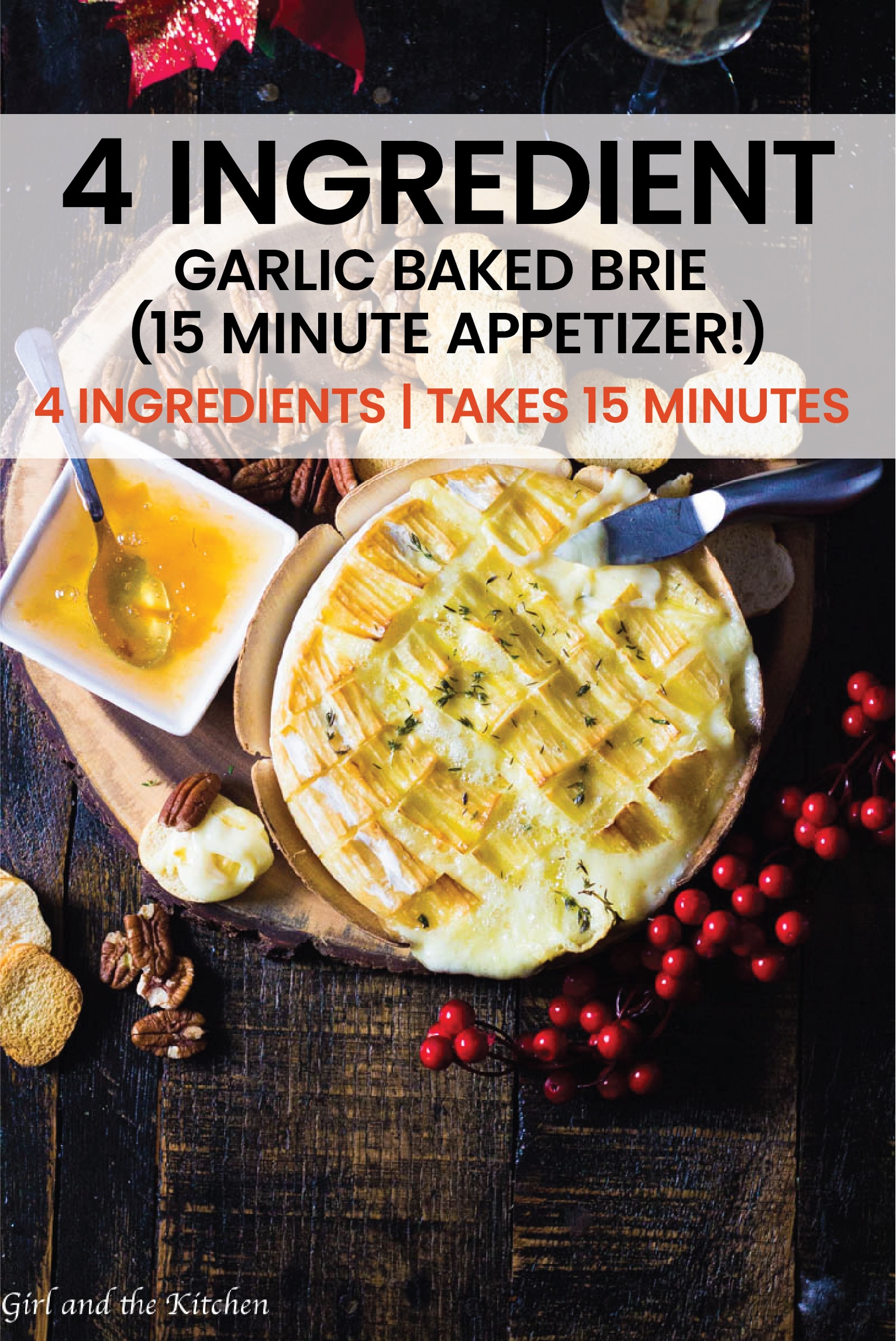 [wprm-recipe-jump]
Lately…we have had a great deal of last minute gatherings at our house.  Sometimes these last minute gatherings require more effort from me than my large parties.
I have one of those houses that is lived in.  My house never looks like perfection.  Which means that my decorative couch pillows are spread out all over the floor because munchkin was playing fort.  And her play-doh is strewn all over the playroom floor and I am perpetually taking baskets and heaps of laundry up and down the stairs.
That being said…when we decide to have guests over last minute, majority of my time goes towards putting everything back in its place and tidying up.  Lately I have realized this effort is futile since as I clean up the munchkin destroys everything behind me.  Oh well, I think my cooking skills more than makes up for the occasional pillow on the floor.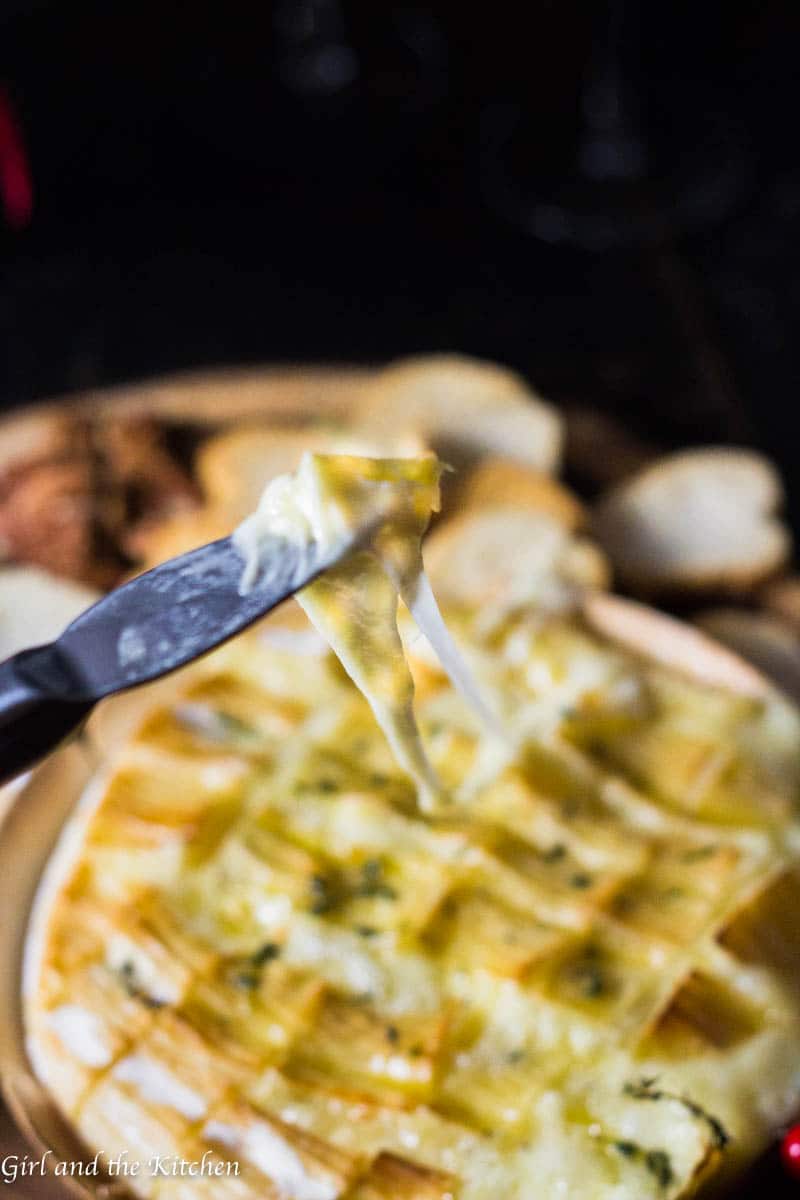 Typically by the time I figure out that my efforts are indeed futile… I realize I have maybe 30 minutes to get dinner on the table.  Fortunately, I have since perfected some full proof dishes that will keep my guests quite happy and full.
A few weeks ago, I had a last minute get together at my house after the munchkin's birthday party.  The birthday party ran a bit late and so I had very little time to get home and make yums for my fine guests.
BTW antipasti platters will make the ultimate addition to any of your holiday party menu plans!  It's gorgeous, impressive and ridiculously simple.
I had plenty of cheeses and olives to add to the
antipasti platter
 however when I looked at the brie cheese I decided to hold off on adding it to the platter.  I had better plans for this baby.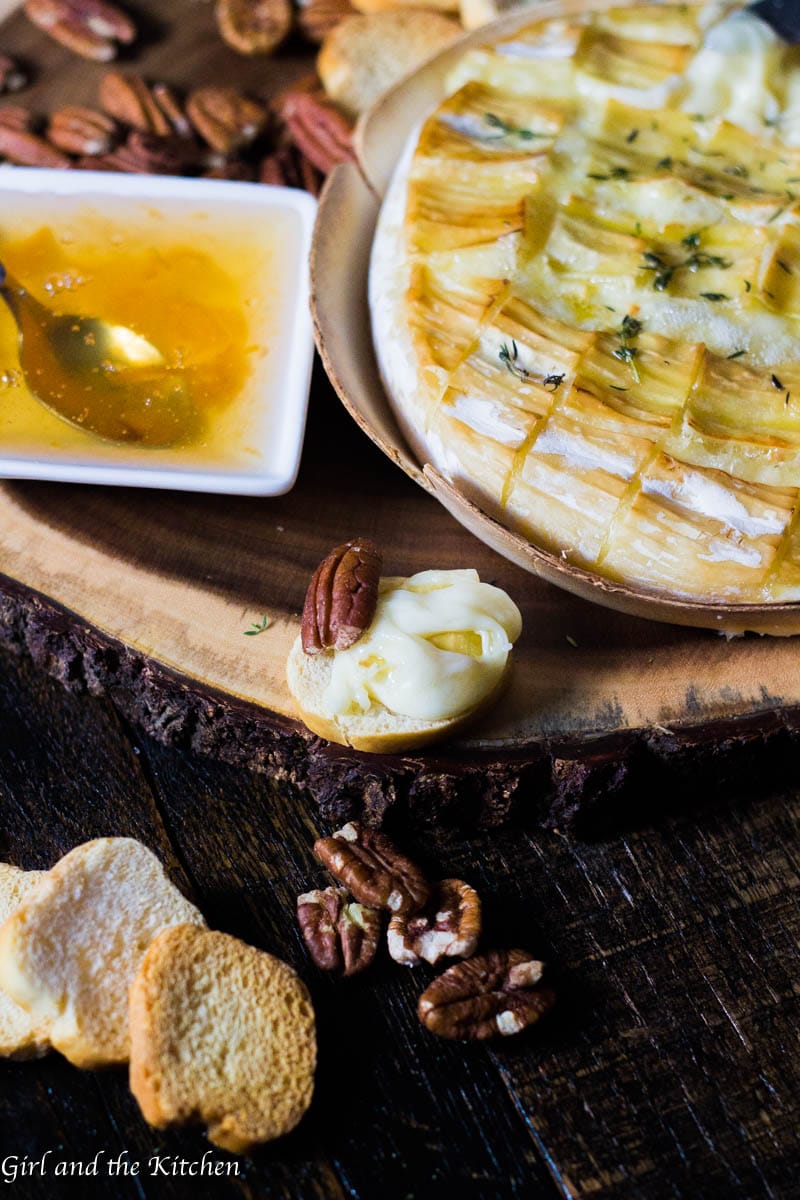 Recently I watched one of my favorite bloggers
What's Gaby Cooking
 create a baked Camembert on Facebook Live that literally left me salivating and promising myself that I would make it soon.  I figured the Brie that I had been harboring in my fridge for a special occasion would be perfect for this preparation.  And with minimal ingredients on hand and most importantly minimal time, this baked brie was the ultimate answer.  Thank you
Gaby
!
The Technique
To say that this is easy is an understatement.  There are however just a few important details to remember when preparing this garlic baked brie.
The Brie

: You can actually choose any soft cheese.  Camembert, St. Andre, Brie anything that has a rind and is delicious.
The rind helps the baked brie from momentarily oozing into everything and turning into a dip.  Additionally, when purchasing this, make your life easy and buy the cheese that has a little wooden container.  That will act like your baking container and will leave you with less dishes to wash.  Which is always a great plan!  Just make sure to take the plastic off before putting it in the oven.
I do however like to put it on a foiled sheet pan just in case it oozes over a bit.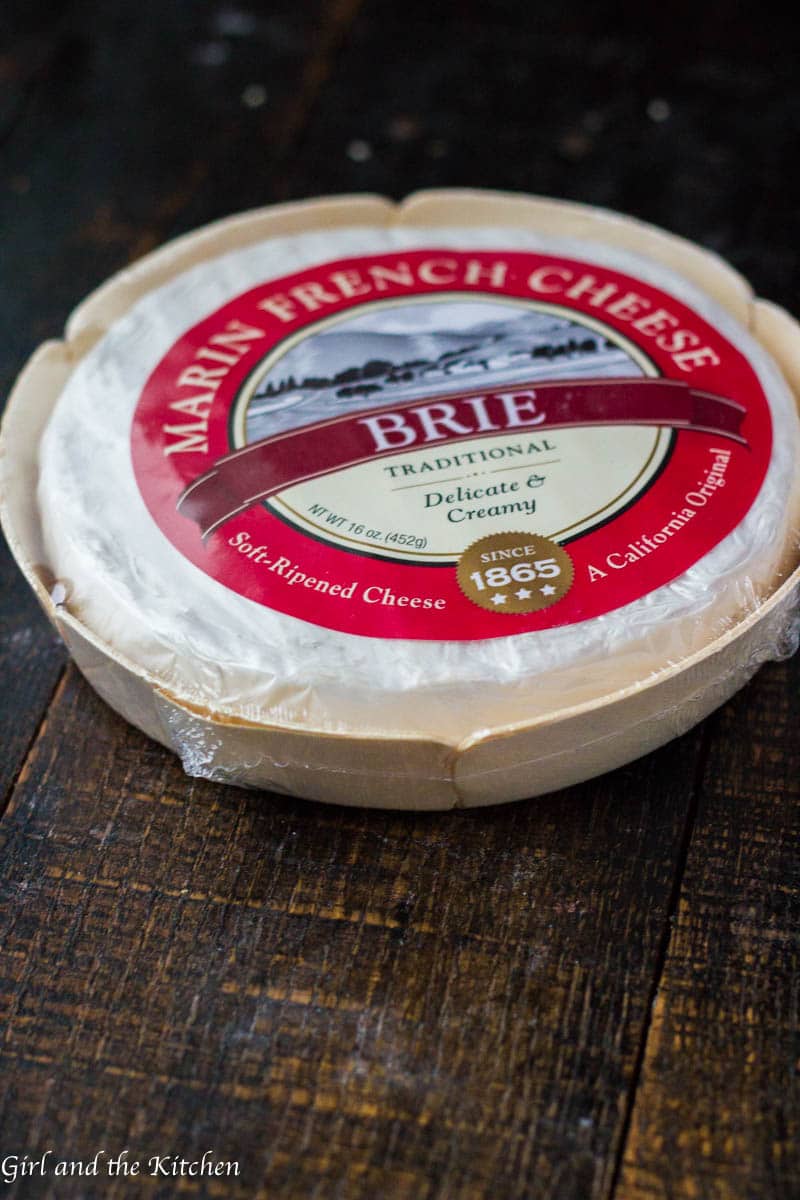 2.  The "scoring" of the cheese is important because:
it gives the cheese somewhere to go when it expands so that it does not explode in the oven…which is definitely not part of our no mess plan 🙂
it allows us to infuse the cheese with loads of flavor which is very much part of our plan 🙂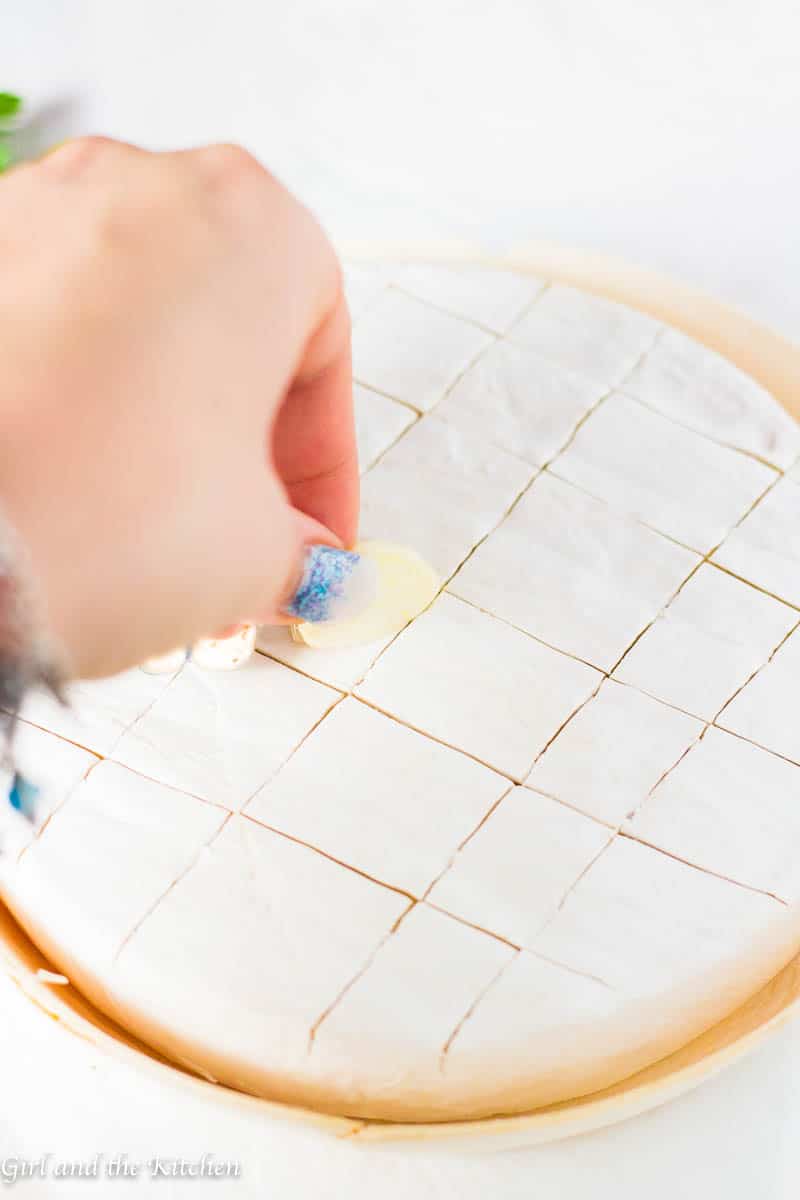 3. The Flavors
The flavors that I decided to use were super classic flavors of garlic, thyme and….truffle oil.  The truffle oil is of course optional but so highly encouraged.
Other flavors that can be used are rosemary+lemon. Sage and garlic.  The possibilities are endless but all of them will be delicious.
You can also use dried herbs if necessary but I really love the rustic look of those fresh herbs in there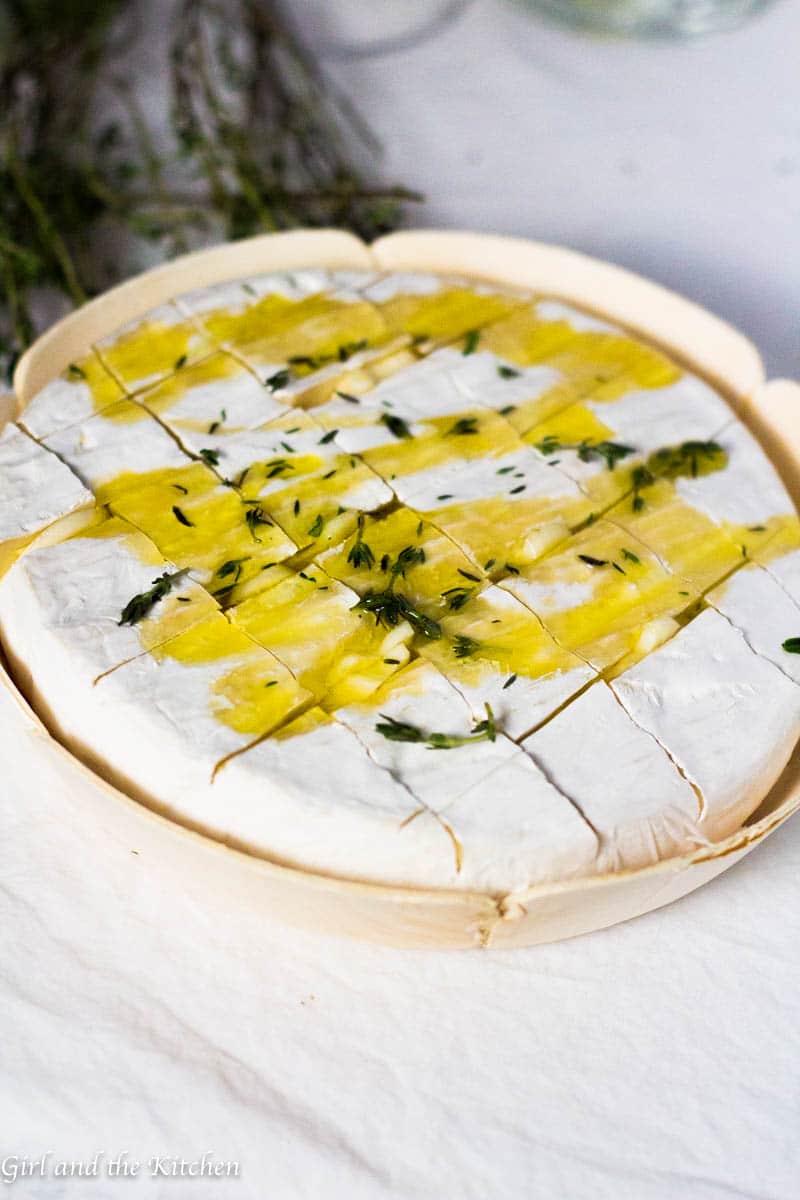 4. The Accoutrements : You can complete the baked brie with a number of different sides.
Nuts.  All and any would work great.  I used pecans but almonds, walnuts and even hazelnuts would work great.
Crostini , toast points or any crackers are mandatory.  You need something to slather all that gorgeous cheese on.
A jam, preserves, chutney or even honey will go really well with the creaminess of the cheese.  Actually, anything sweet will go great.  I happened to have some quince jam which was very mellow.  But I have also had it with dark cherry preserves and those were fabulous.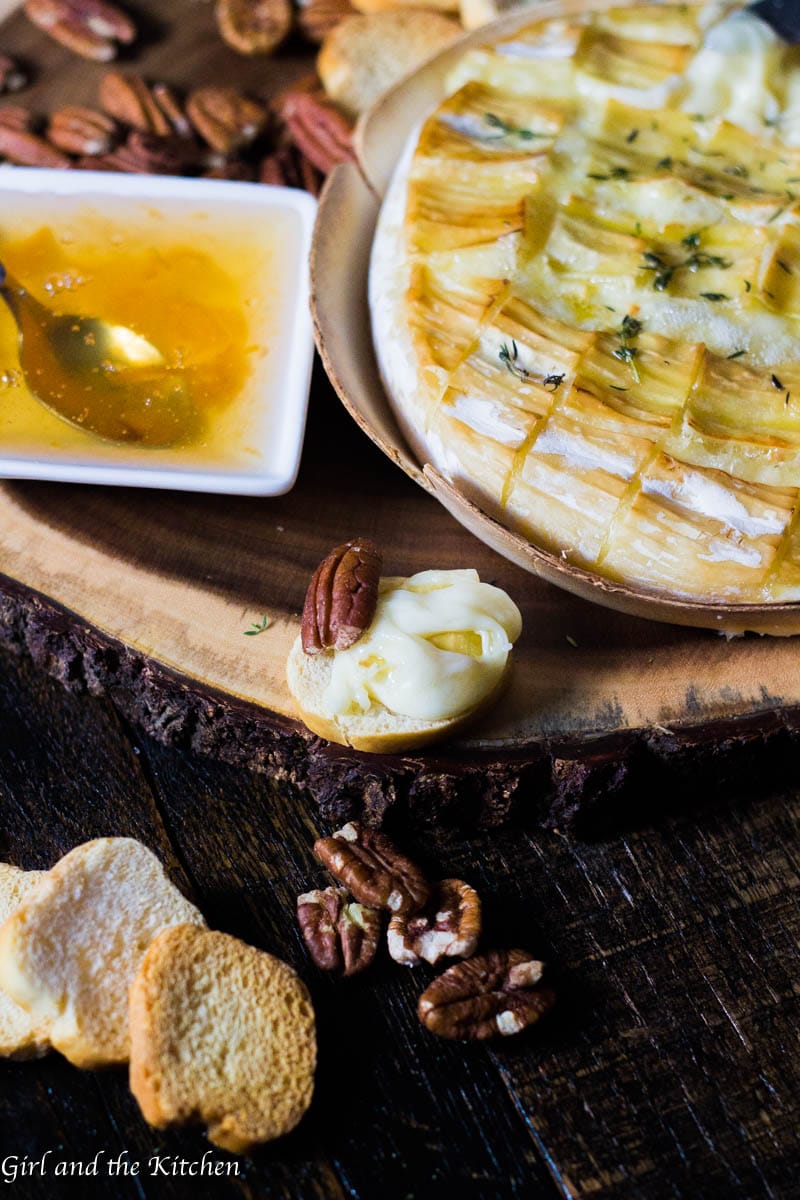 As all my friends started attacking the last bits of the antipasti platter, I unveiled my masterpiece.  The baked brie.  I received loads of oohs and ahhhs from my guests and everyone dived in immediately, completely ignoring me telling them it was piping hot.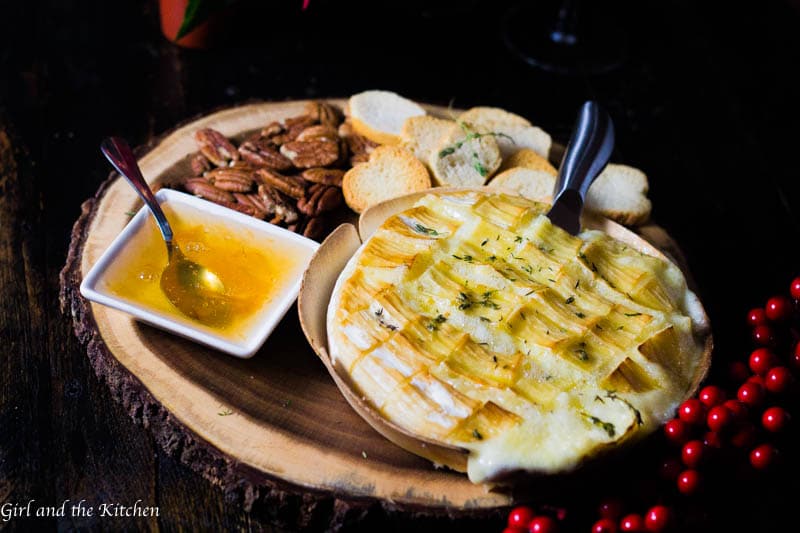 Several second degree burns on their tongues later and the brie was all but gone.  Even late into the night when it had cooled some, I was able to pop it back into the oven for just a few minutes and let it ooze all over again for us.
The brie was exquisite.  My guests were beyond full and no one ever knew that this decadent and gourmet dessert took me all of 15 minutes and just a few fresh ingredients.
Now that's what I call a holiday appetizer!  Fast, east and impressive!  THIS cannot be beat!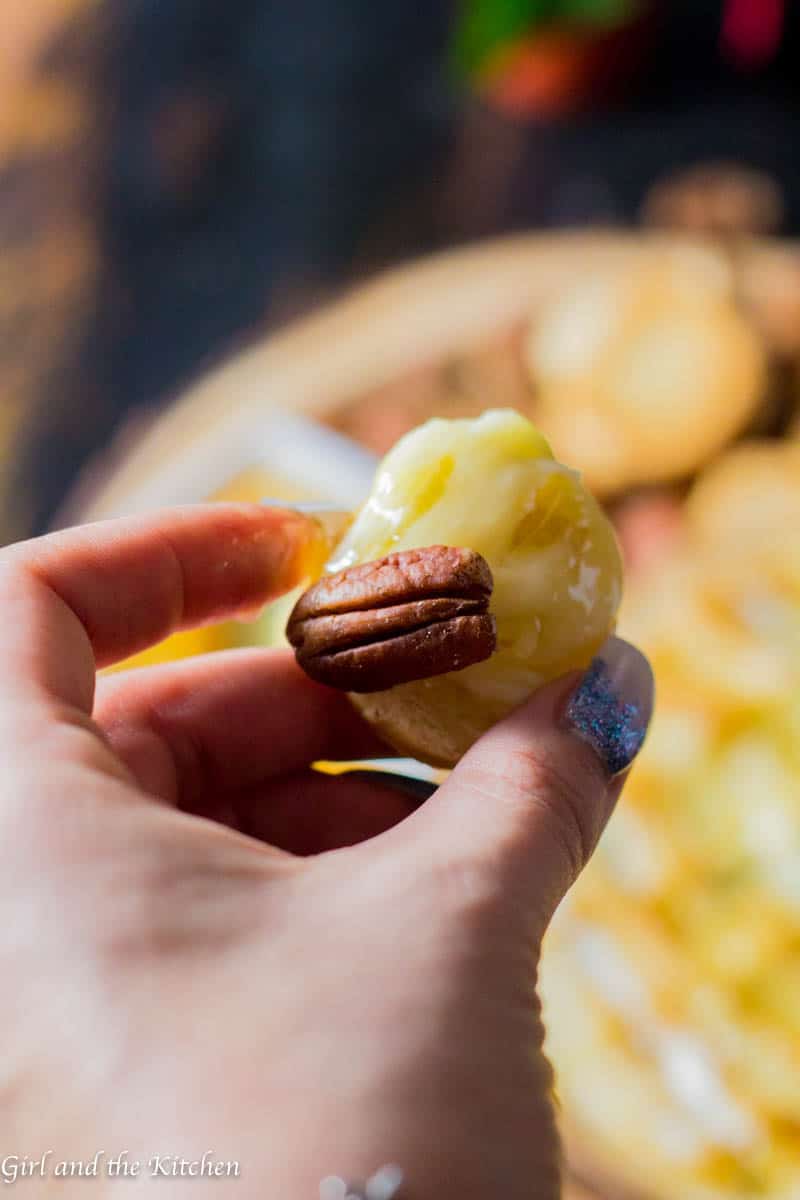 Print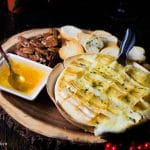 4 Ingredient Garlic Baked Brie (15 Minute Appetizer!)
---
Author:

Total Time:

20 minutes

Yield:

4

1

x
Description
This gooey garlic baked brie has only 4 ingredients and takes 15 minutes to prepare! It comes out of the oven gooey and cheesy and loaded with rich garlic and herb flavors! This is the ultimate holiday appetizer for any party!
---
1

8- ounce wheel Brie (St. Andre or Camembert Cheese)

2

cloves of garlic (sliced thinly)

2

sprigs of fresh thyme

2 tablespoons

truffle oil
Crostini or cracker
---
Instructions
Preheat the oven to 375-degrees
Remove the cheese from the box and unwrap the cheese to free it from just the plastic.
Place the cheese back into its box.
Score the top in a crosshatch pattern with a knife. Make sure you do not go all the way through to the bottom. This is done only to the top rind, Do NOT go all the way down to the bottom.
Place the pieces of the garlic into the top of the cheese and sprinkle with the fresh thyme.
Drizzle with the truffle oil and place onto a baking sheet.
Place the baking sheet into the oven for 15 minutes or until beautifully gooey.
Remove from the oven and allot it to sit for 2-3 minutes before serving with crostini.
Notes
1. Feel free to use really fragrant Extra Virgin Olive Oil if you cannot find truffle oil. But do try it with the truffle oil it is just heaven.
2. You can use Camembert, Brie or any other soft ripened cheese you like. Just make it comes in the wooden box to make your life easier.
3. In the even that you cannot find one in the wooden box, just use a sheet pan. But understand that it will spread considerably more than if it were in the box.
4. Nutritional information should only be used as a guide.
Inspired by Gaby from What's Gaby Cooking
Prep Time:

5 minutes

Cook Time:

15 minutes

Category:

Appetizer

Cuisine:

French
Pin For Later