One Pot Garlic Chicken and Potatoes…Цыпленок табака
This is NOT your average chicken!  Garlicky chicken quarters pan fried to a crispy perfection and served with perfect pan roasted potatoes.  It's one of my favorite chicken dishes from my childhood.  Plus learn how to fry up the best chicken with minimal oil splatters! 
I still have the smells of this chicken cooking engraved in my mind.  My mom used to make this garlicky chicken as a part of her recipe repertoire.  It was simple, filled with garlic and had the crispiest skin just begging to be bit into.
Technically, this a Georgian dish more than it is Ukrainian/Moldovian/Russian but since the Georgians had so much influence on our food and culture we borrowed it from them and called it our own.  That's how we roll.
This chicken can be frequently seen served at Russian restaurants as an entree but to be honest…as many as I have tasted, none were as good as my mom's…honestly, NONE.
Many combine a plethora of different herbs and spices but NONE have ever measured up to my mom's.  Her knowing hands made the best tsiplyata v tabaka (literal translation: chickens in tobacco…probably because it is so browned and crispy that it resembles tobacco?  I am not quite sure just winging it here)
The Technique
I remember how my mom would use her garlic press to crush up cloves upon cloves of fresh garlic and then combine that with salt and lots of black pepper…ultimately creating the most unbelievalbly flavorful paste to rub all over the chicken quarters.  She did this all with such speed I never actually learned a recipe from her, she always told me that she wings it…as all good home cooks so frequently do.  What I do recall is how carefully and swiftly she rubbed every single one of those pieces of chicken down with this paste.  She covered every nook and cranny, making sure to get it under the skin.  Because when that garlic becomes sweet from cooking and melts into the chicken and hits your palate it is heaven.
My mom had an incredible encyclopedia of techniques that she learned from friends, clients and the many culinary shows we watched.  The particular technique that she used to create this garlicky chicken was…brilliant.  She cooked the chicken under a heavy press.  She would always fill up a giant 2 gallon jar with water, place a plate on top of the chicken and then add the jar on top of the plate.  Essentially, using the same technique as you would in a brick chicken.
I suppose I am a bit fancier… I didn't have a large jar but I did have a fancy whiskey bottle that was just as heavy. When doing this technique anything will work.  Even a heavy brick will work.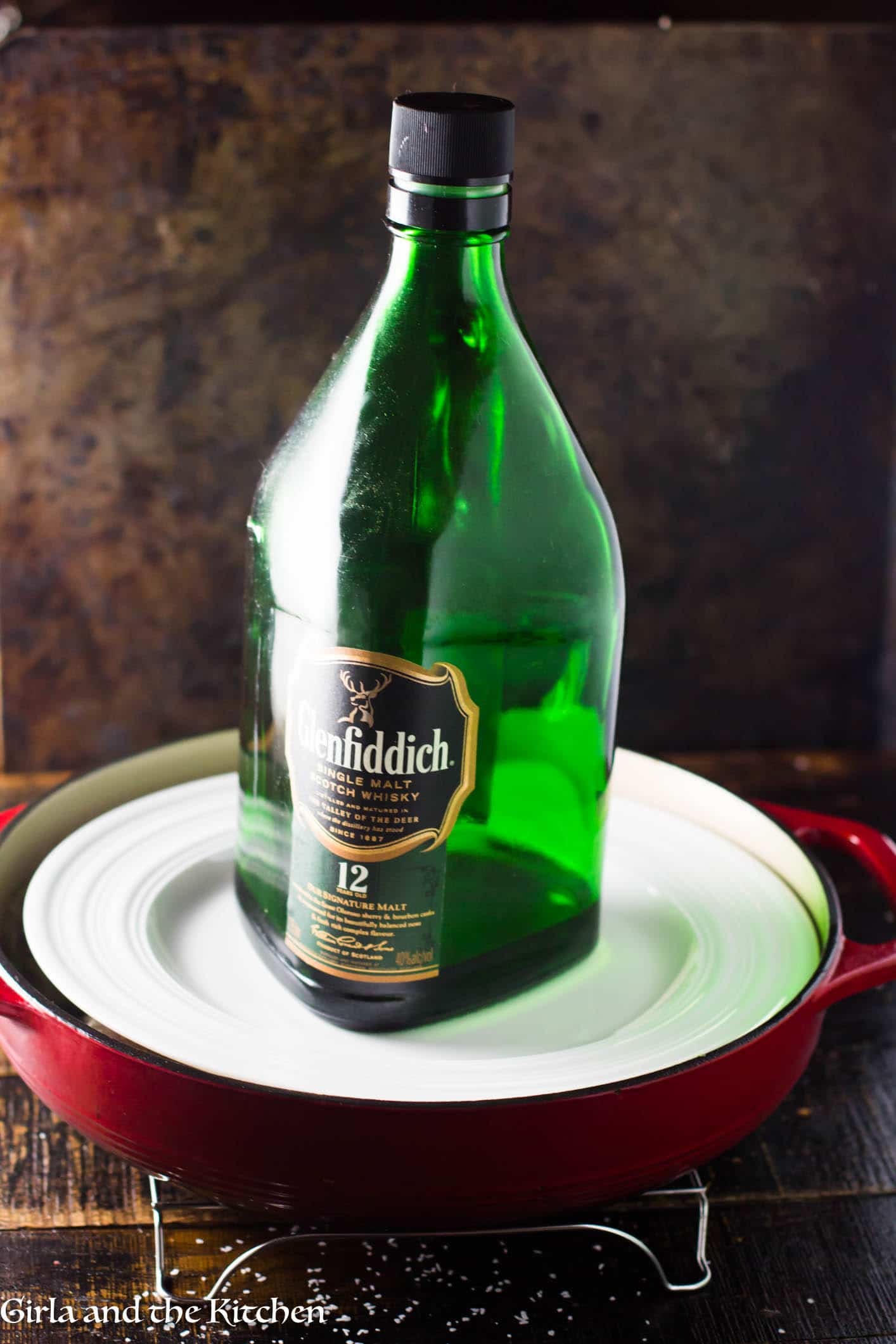 In effect…this technique was brilliant for 3 reasons:
It weighed the chicken down so that it was closer to the bottom of the pan and it cooks faster.
It pushed the chicken completely flat so that it got perfectly crispy on all sides.
It created a barrier from all those oil splatters that we all hate to clean up after.
She would methodically turn the chicken every so often, making sure that the perfect brown color was achieved on all sides.  I was always ready with a plate in hand to get the first piece.  I inhaled that glorious chicken with the classic Russian salad  and a piece of dark rye bread.  I would burn my tongue over and over again on the piping hot chicken but never cared.  It was just too good to stop eating.  My mom was always happy that her malnourished child was eating SOMETHING and allowed me to have as many as I wanted.  My scrawny self would typically inhale 2-3 pieces depending on how hungry I was and moan of how full my overgrown belly was.  Childhood bliss achieved.
One particularly cold night here in the Chi…I decided that I needed to have some nostalgia in the form of comfort food to warm me up.
In an effort to be efficient and to clean less dishes, I threw in some of my favorite baby Yukon gold potatoes while it was cooking as well…and the end result was…well…pure delicious happiness.  Garlic chicken and potatoes…what can be better comfort food than that?
Print
One Pot Garlic Chicken and Potatoes…Цыпленок B табака
---
Description
This is NOT your average chicken! Garlic chicken and potatoes are pan fried to a crispy perfection and leave you with only one pan to clean! Win!
---
2

–

3

pounds chicken quarters

10

–

12

garlic cloves

2 tsp

of kosher salt or sea salt

1.5 tsp

freshly cracked black pepper

1/2

a tsp of red pepper flakes (optional)

4 tbsp

olive oil +

1 tsp

olive oil

2

pounds of baby Yukon gold potatoes* cut in half
a heavy object to use as weight (cast iron pans work great as a weight)
a round plate to cover the chicken and to lay your weight on top off
parsley for garnishing (optional)
---
Instructions
Add garlic, salt, black pepper and 1 tsp of olive oil to a blender or food processor. Process until a smooth paste forms. Add more olive oil if necessary to get the mixture smoother.
Pat dry the chicken quarters and slather the garlic mixture onto the chicken quarters. Making sure to cover all nooks and crannies, most importantly getting plenty of the garlic mixture under the skin of the chicken.
In a bowl toss the potatoes with 1 tbsp olive oil and sprinkle with additional salt and pepper. Toss to combine.
Add olive oil to heavy bottomed pan large enough to fit the potatoes and the chicken. I used my aluminum covered cast iron dutch oven. Heat the pan to medium high.
Add chicken quarters to the pan SKIN SIDE DOWN. Place the potatoes around the chicken. Add the plate on top of the chicken and then the weight on top of the plate. Allow to cook for 5 minutes uninterrupted.
Remove the weight and the plate carefully with a towel as the plate will be hot! Flip the chicken and the potatoes and add the plate and the weight back on. Allow to cook for 5 minutes.
Do this entire method 2 more times, making sure to keep the heat at medium, otherwise the chicken will burn.*
The chicken will be done when the juices run clear.*
Notes
1. I prefer baby yukon golds because they are the most tender and sweetest. However, you can also use regular Yukon golds and just quarter them so the cook faster.
2. If the potatoes are still not done when the chicken is done cooking just remove the chicken from the pan and place a foil tent over it to keep it warm, continue cooking until they are fork tender and delicious.
3 After the chicken is browned in the first 10 minutes you can place it into a 400-degree oven and finish cooking it in there. However, this is not the actual real technique of tsiplyata v tabaka. Essentially this is a technique very similar to that of brick chicken.
Category:

Chicken

Cuisine:

Russian