Pommes Dauphinoise Recipe
The ultimate potato dish! A French scalloped potato loaded with a creamy cheese sauce and layers of Gruyere! This is the perfect comfort dish.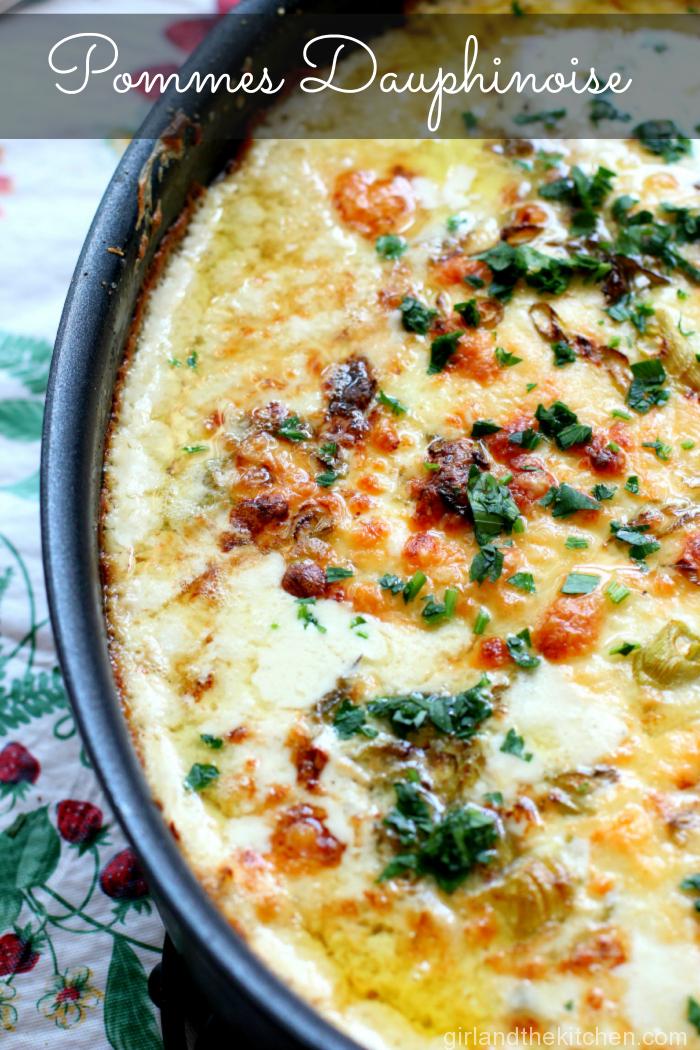 I am not really sure what I can write that will actually draw your attention to my words and away from that photo…let's take a moment of silence…
What you see here folks is the ever so glorious Pommes Dauphinoise.  Pronounced pom doe-fin-WAHZ.
Time for a little French lesson.
Pommes actually means apple, pomme de terre means potato.  Meaning apple of the earth.  However, the French use pommes as a short name for potato as well.  As in pommes dauphine or pomme frites (French fries) or our current culprit…pommes dauphonoise.  And it is called Dauphinoise because it comes from the Dauphin region in France.   Easy peazy 🙂
Say it… it even sounds sexy doesn't it?  And look at it!  That is one sexy looking dish!  All cheesy and golden brown…ahhh cheat meal here I come.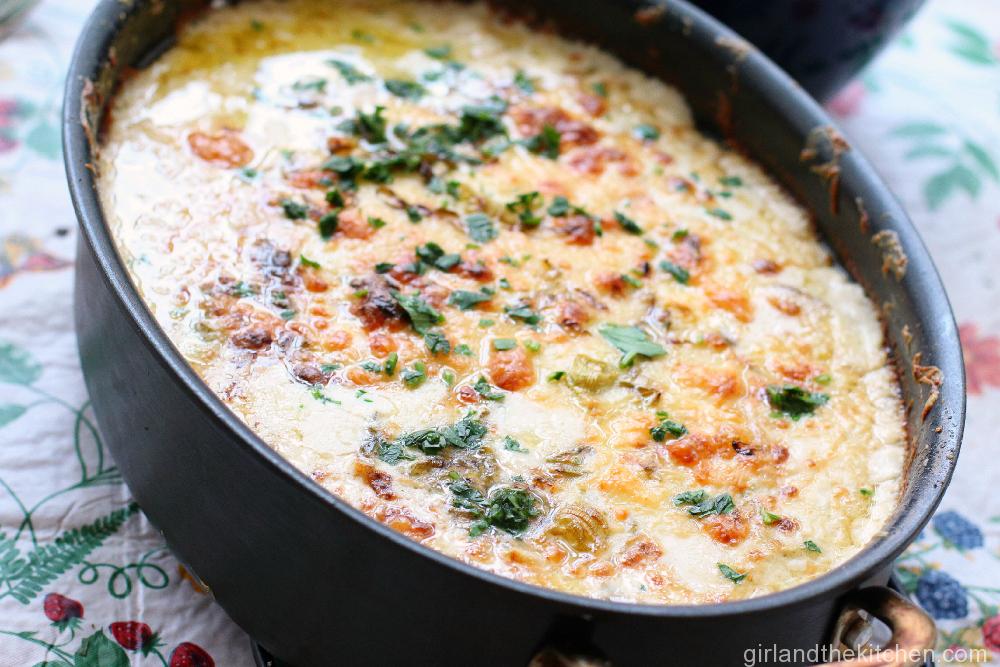 So what is this sexy dish anyhow?   It's essentially a creamy and cheesy potato casserole with layers of cream, cheese and loaded with flavors.
But casserole does not sound nearly as sexy as pomme dauphinoise.
I first made this in culinary school…naturally 🙂  And was instantly hooked.  I have been making this ever since with all different variations.  A classic American version featured a mac and cheese take on it with loads of sharp cheddar and gooey cheese on top.  Then there was an Italian version with Mozzarella and Parmesan and some Fontina.  I finally found the magic combination when I combined an unlikely recipe candidate.  Cream cheese.
The cream cheese made this sauce unbelievably creamy and deliciously tangy.  Combined with a salty Fontina and Parmesan, I was in cheese filled heaven.  It was simply finished with a few handfuls of fresh chives, my favorite of all herbs for potatoes.  Just a few additional sprinkles of parsley garnished the plate.
And it was gloriously spectacular.  All in its creamy glory.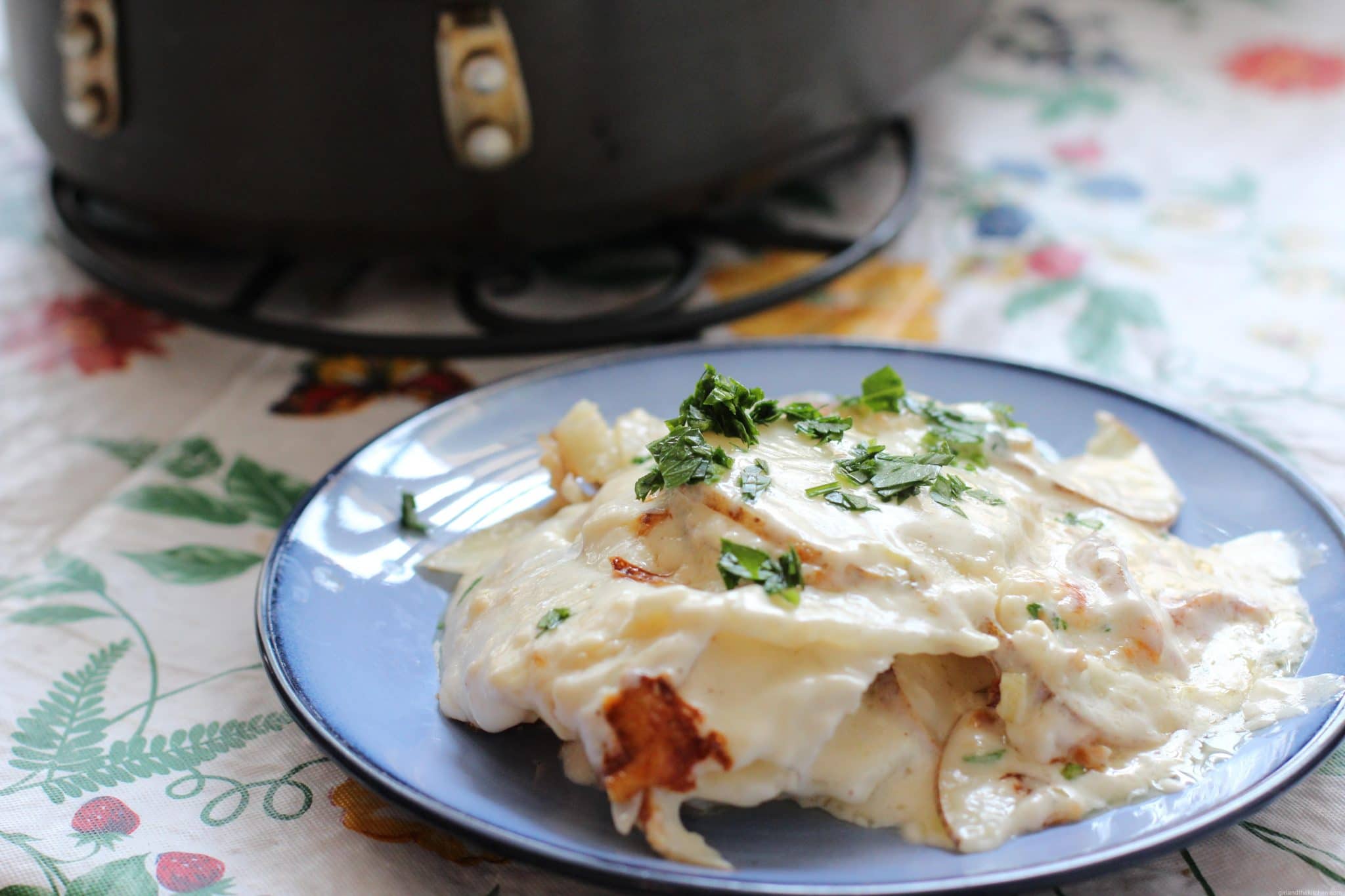 I featured this dish in my Parisian Nights cooking class and my students were absolutely blown away.  They were all "mmmmm" and "yum" and incessantly linking their forks clean.
In fact, even I found myself going from pan to pan, dipping my crusty bread into all of their sauces.  It was ridiculously delicious.  And thanks to that dish, I had several new followers of my cooking class series. 🙂
I also made this for my recent Yom Kippur dinner.  And I made this 3 WEEKS AHEAD OF TIME!  I assembled it and stuck it in the freezer.  The day of the dinner, I placed it into the oven at 325 degrees for 1.5 hours, covered, then browned the top for 10 minutes and it was served!  Nothing better than creamy goodness that is freezer friendly.
First we start with the potatoes.  You want to wash the potatoes well.  The great thing about this recipe is that there is no need to peel them.  I did because my babushka was over and she was begging me to give her something to do.  So I did.
Next you are going to want to grab a mandolin.  This is the one I have.  It's super cheap and has lasted me 8 years.  Totally worth it.  Just be careful with your fingers!!! Those things are SHARP!  You are going to want to slice those taters pretty thin as you can see.  Once sliced, place them in a bowl of water.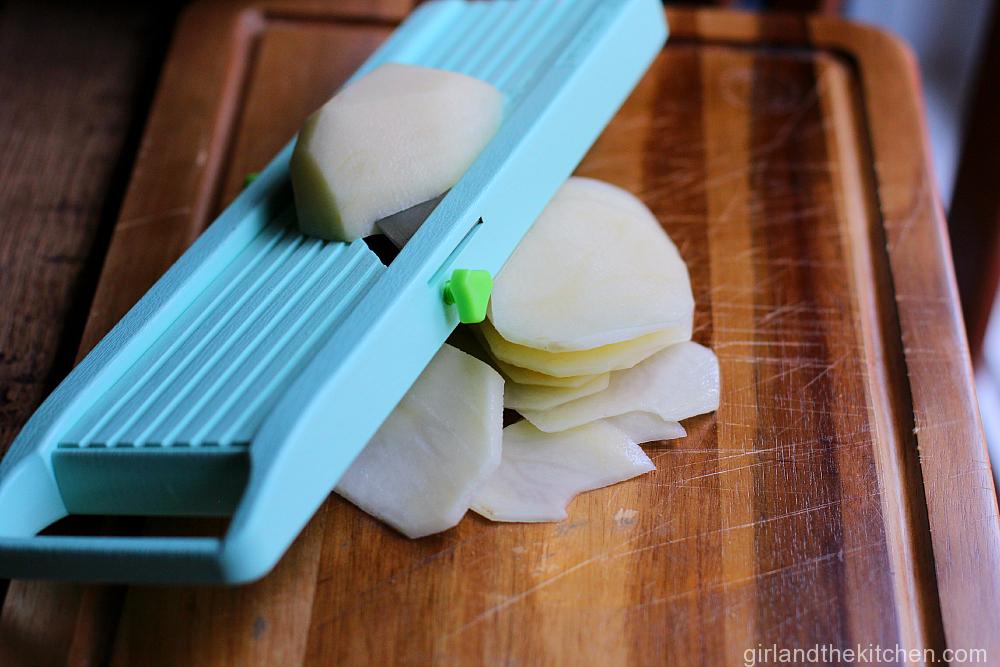 Next we are going to make our mornay sauce.  A mornay sauce is a bechamel sauce with cheese added to it.  A bechamel sauce is a combination of a roux (flour and butter) and milk combined with some onions and nutmeg.
Start with some butter in a medium sauce pan over medium heat.
Add some flour to it and whisk the flour in.  You are going to want to cook this mixture for about 2-3 minutes…whisking, making sure it does not turn brown.  By doing this you are cooking out the raw taste of the flour.  This is called a roux.  And it is used as a thickener for our sauce.  You can use this technique with an sauce you like!
Now pour in your cream, whisking as you go to ensure no clumps develop.  Allow this to come to a simmer.
In the meantime, slice up your chives finely.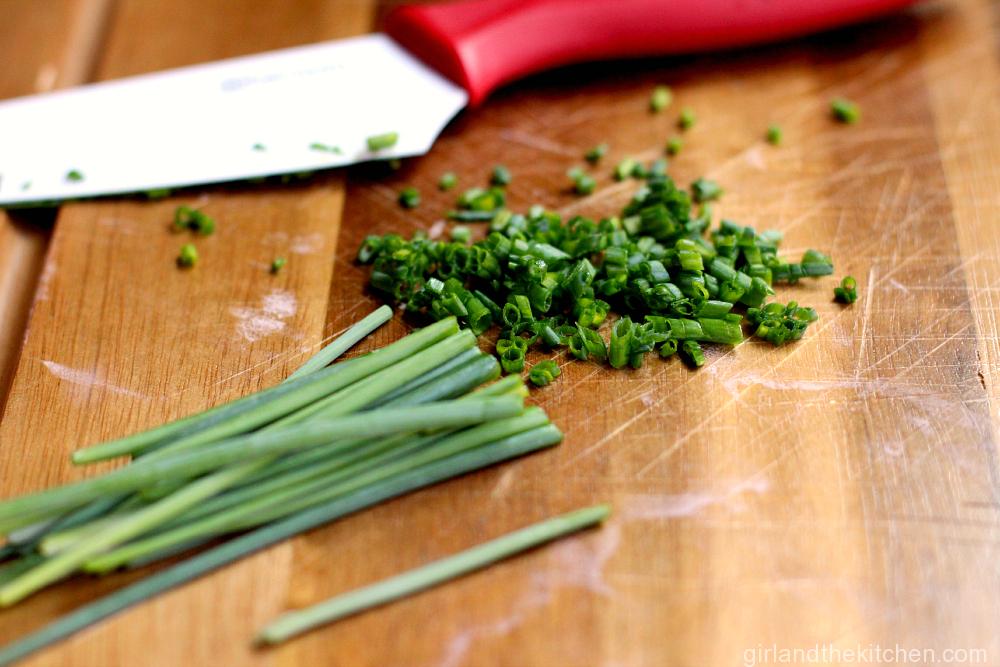 And cut up your cream cheese into smaller cubes.
And butter a 9X13 pan or equivalent.  Just take your stick of butter and run it around the pan making sure all nooks and crannies are covered.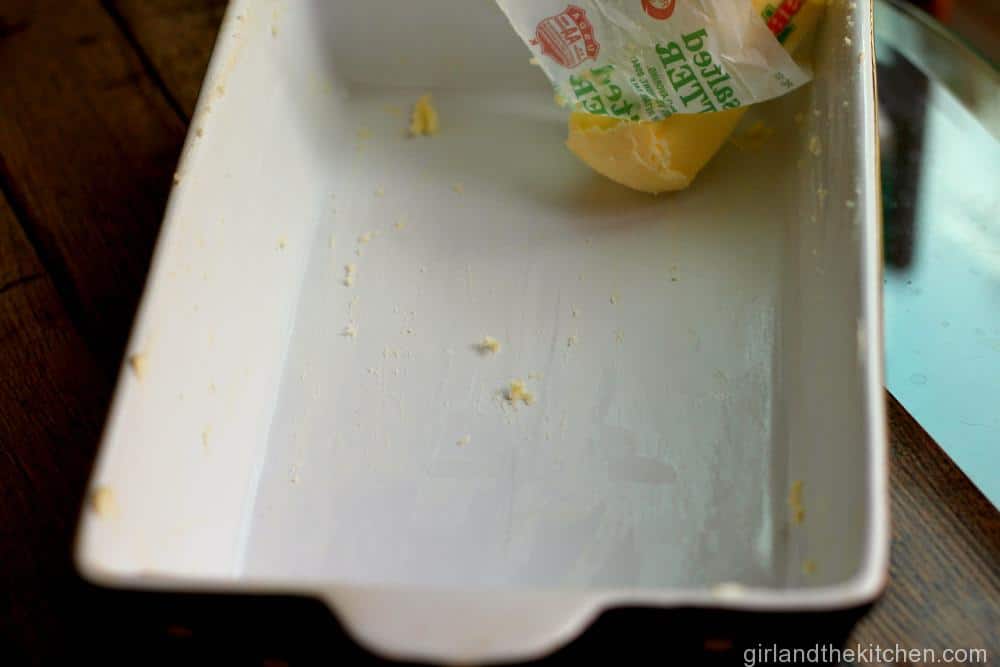 Add in the cream cheese cubes into the simmering cream one at a time.  Whisk after each addition to ensure it is incorporated well.  Once everything is melted turn the heat off.  You will see how much thicker it got.
Then shave in some fresh nutmeg on your microplaner.  This gives it that flavor in the background that makes everyone go "hmmmmm, what's that!"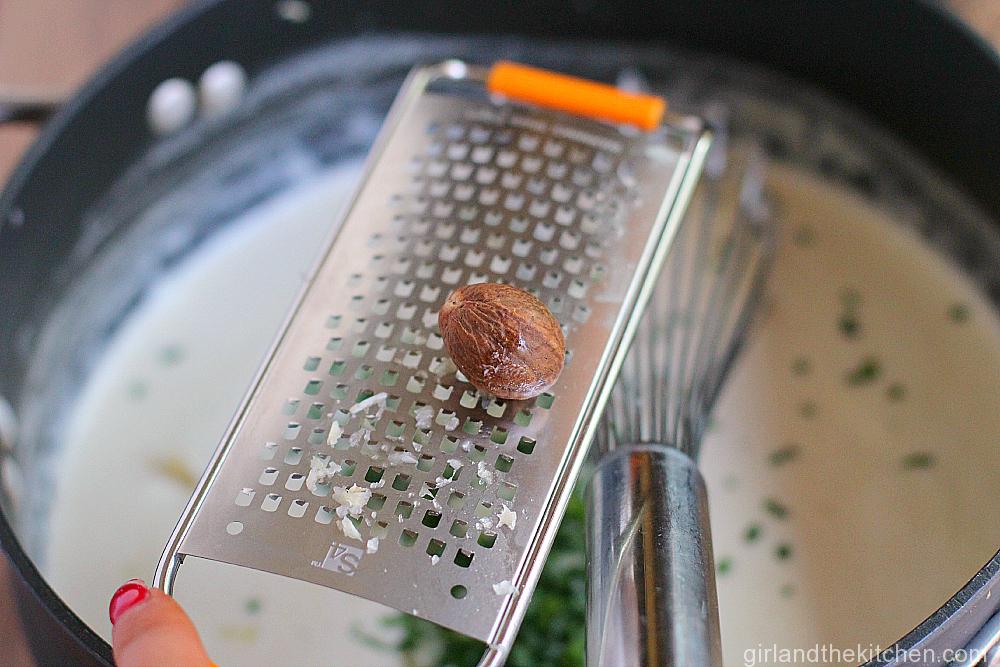 Add in your chives. And some salt, pepper and fresh minced garlic.  Reserve about 2 tbsp of chives for later.  Whisk, whisk, whisk.  Taste, taste, taste.  I almost ate the whole pot while tasting…teaspoon by teaspoon.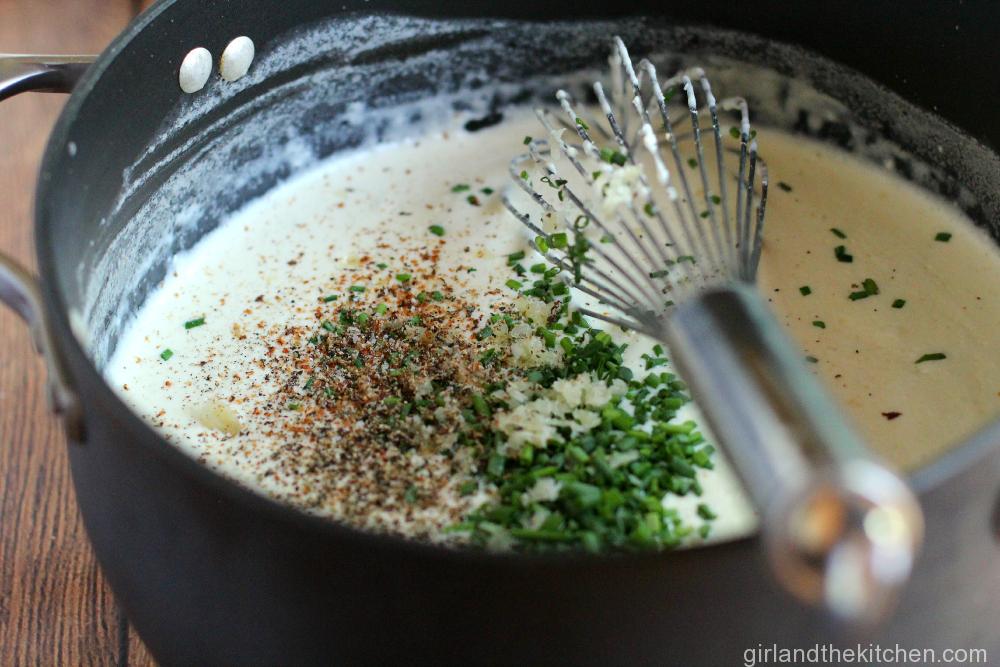 Now grab a box grater and shred some beautiful Gruyere cheese and Parmesan.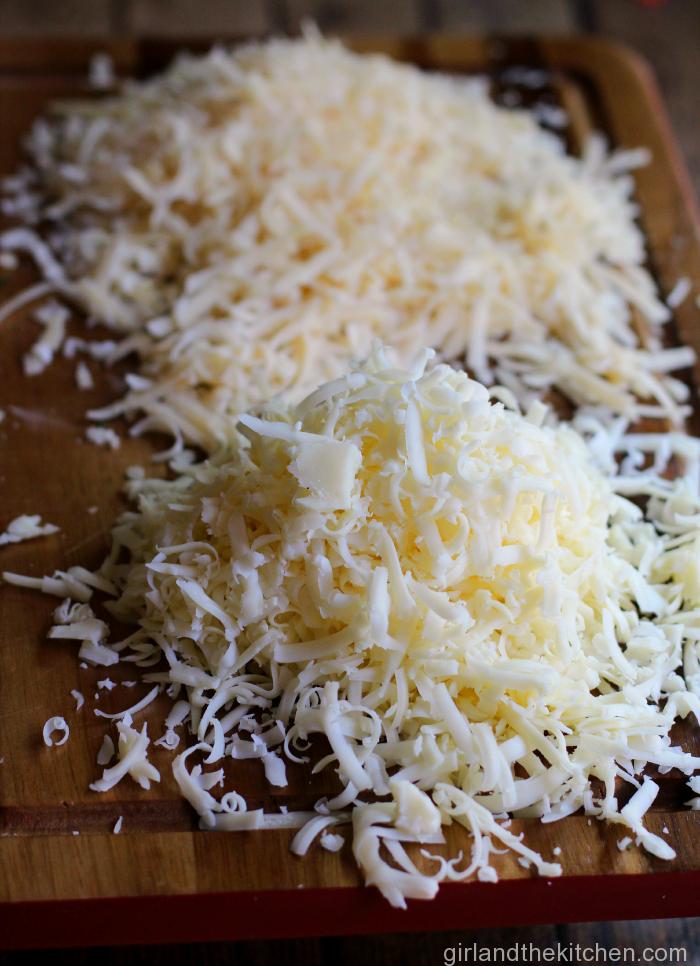 Grab your pan and your potatoes.  Start layering the potatoes into the pan,  making sure that the potatoes overlap.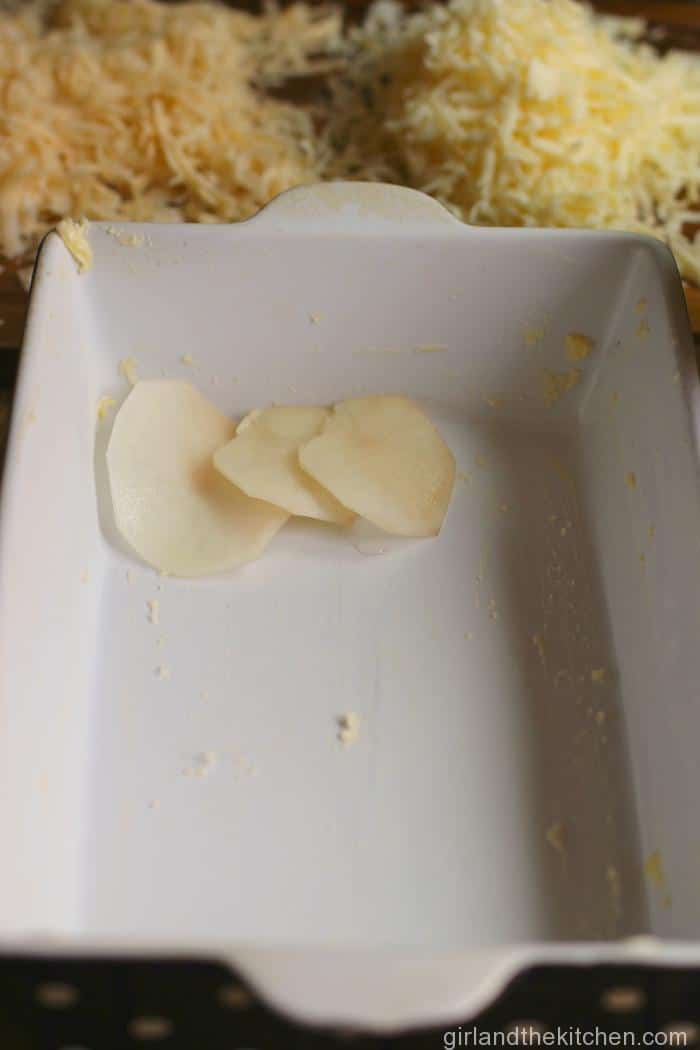 FYI..my taters got a little brown because I had a few peeking out of the water.  No worries though 🙂
Season the layer with salt and pepper.  You want each layer to have loads of flavor.  As we know…potatoes without salt are pretty blah.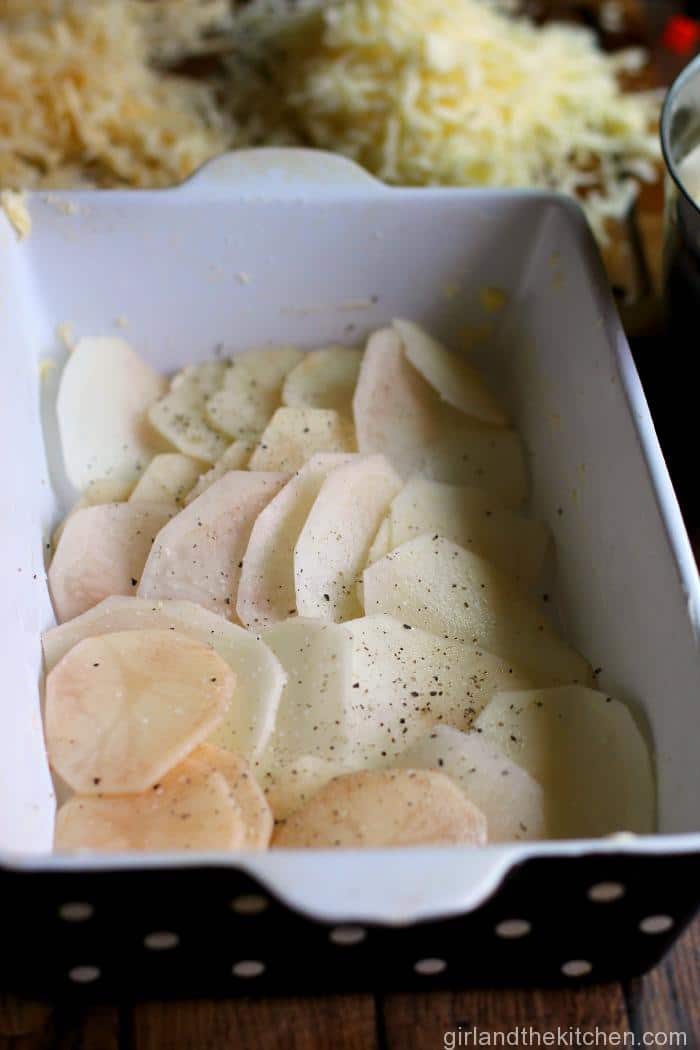 Ladle some of our creamy sauce on top, use the back of the ladle to spread the sauce relatively evenly.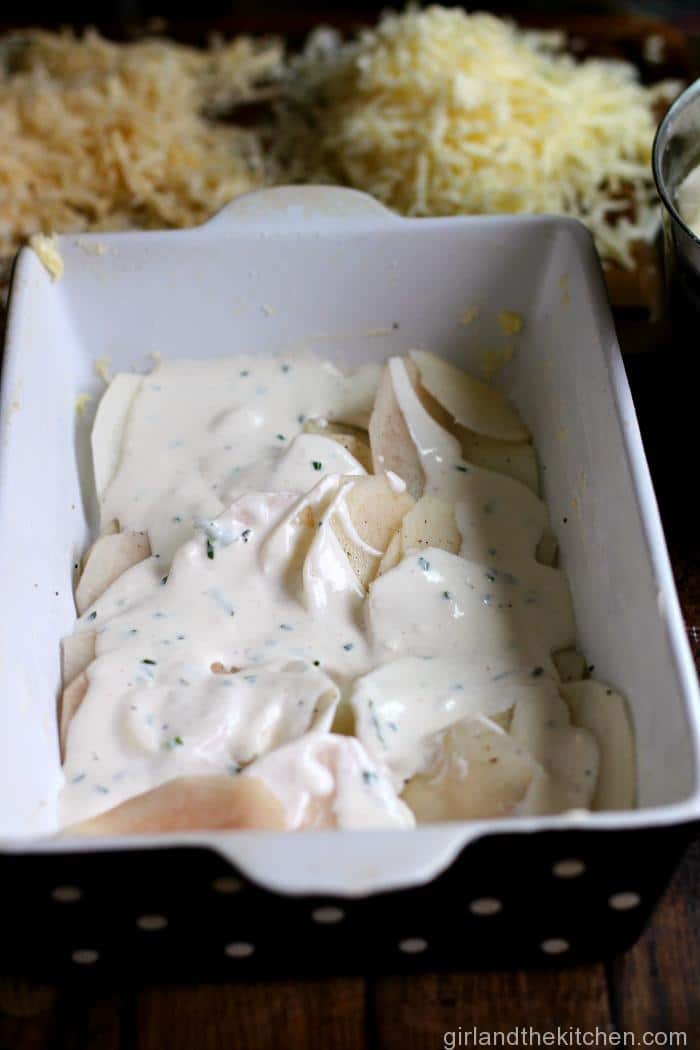 Sprinkle a bit of each cheese on the layer.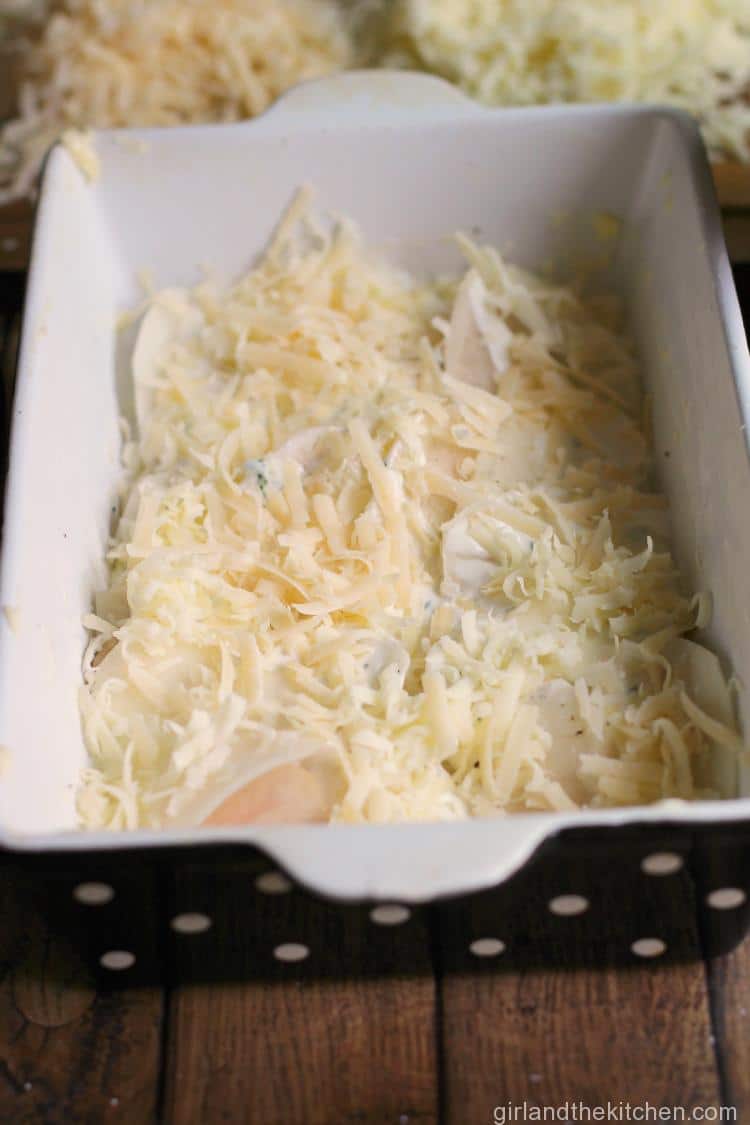 Then start again with the potatoes.  Repeat until you reach the very top ending with a nice heavy layer of cheese and some chives.

If you are planning to freeze it, this is the point you would do so.  Just wrap it up tightly.
If you have some leftover potatoes…just place them in water and into the fridge and fix yourself some of my favorite cheesy breakfast potatoes!
Now, place into a 325 degrees for 1 hour or until the potatoes are tender and the top is golden brown.  Dig in!
Print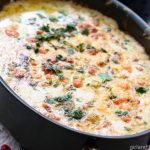 Pommes Dauphinoise Recipe
---
10

–

12

Cups thinly sliced potatoes (use a knife or a mandaline)

2 Cups

Gruyere Cheese (finely grated)

1 Cup

Parmesan Cheese

4

Tbs butter (melted)

4

Tbs flour

1 quart

cream (

4 cups

)

8 oz

cream cheese (cut into chunks)

4

cloves garlic (minced on microplaner)

1/8 tsp

nutmeg
Kosher Salt and Freshly cracked Black Pepper
Fresh Chives (sliced)

2

Tbs butter for baking pan
---
Instructions
Butter a 9X13 baking dish.
In a heavy pot melt the butter and whisk in the flour. Cook the roux for a few minutes over medium heat to cook off the raw flour taste.
Add the cream to the pot and whisk the roux into the cream until the sauce is smooth.
Add the cream cheese chunks and whisk until smooth.
Season this with garlic, nutmeg, Kosher salt and pepper.
Lay out a layer of potatoes, sprinkle them lightly with salt and pepper.
Ladle a thin layer of the sauce over the potatoes and sprinkle with Fontina and parmesan.
Add another layer of potatoes and repeat this process over and over until the potatoes are gone, ending with a layer of sauce and parmesan and a sprinkling of fresh chives.
Bake at 325 degrees for 1 hour or until the potatoes are tender and the top is golden brown.