Whole Roasted Salmon in Foil with Sweet Chili Garlic Glaze
This Whole Roasted Salmon s a showstopper!  It is glazed with a beautiful sweet and tangy chill garlic glaze that pack a ton of unique flavors all in one bite.  Classic Thai tamarind paste pairs up with molasses and chillies for a delicious salmon that serves as an incredible table centerpiece with minimal effort.
[wprm-recipe-jump]
I have been on a huge salmon kick lately.  I have fallen back in love with the bright colored fish and my kitchen experiments have featured the almighty salmon several times a month.
My mom was a huge fan of baking salmon in foil and she was the one that inspired me to make this Spicy Honey Garlic Salmon a few months ago.  It was beyond simple and ridiculously delicious.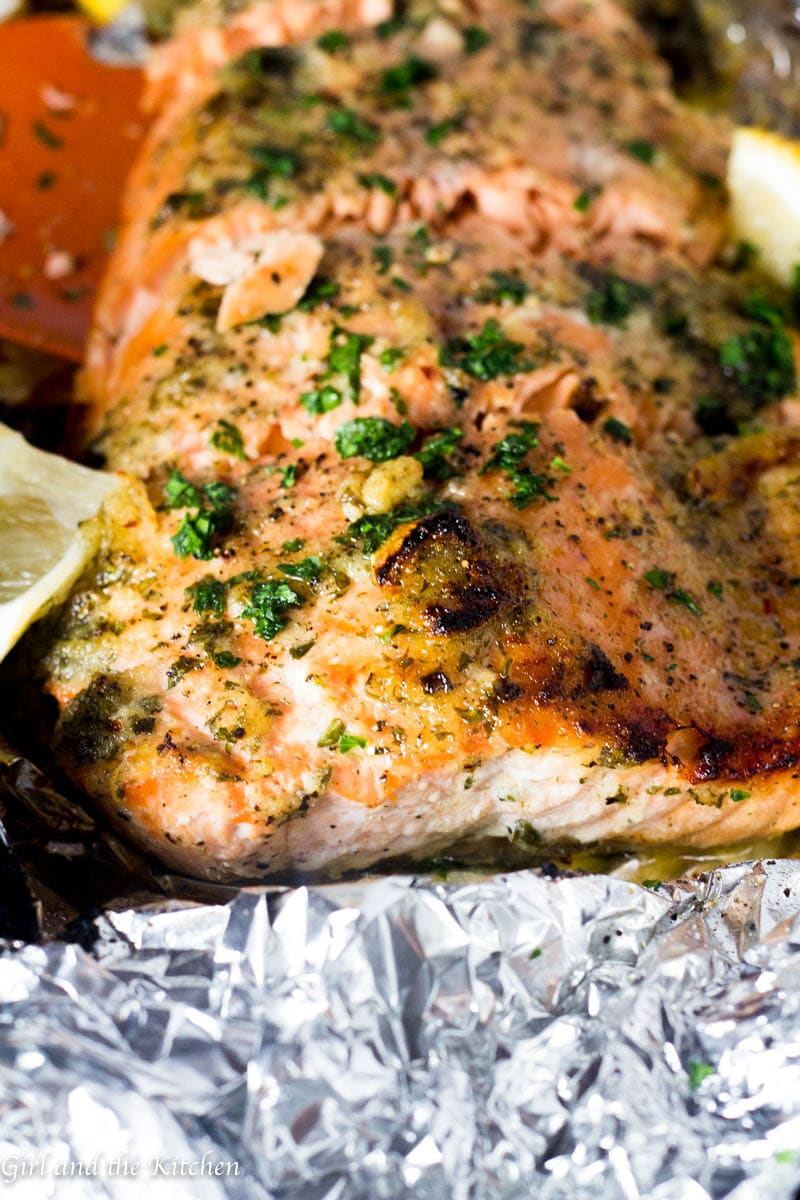 So when it came to planning out my New Year's Eve menu I wanted to include something that meat eaters and non meat eaters alike could enjoy.
I knew that a huge slab of Wild Alaskan Salmon that was deliciously roasted to tender perfection was the winning choice.  This salmon was inspired by my friend Marlena from my favorite spice shop Love That Spice.  Marlena was featured on a local television station showcasing her Tamarind and Ginger Slow Roasted Salmon  and so I decided to start my base glaze with just that.
The Flavor Profile
There are several flavor profiles used in roasting this salmon in foil.  Many aspects play key roles in the creation of this whole roasted salmon, however the ingredients are interchangeable.
The Spices:  We use quite a bit of spices in this whole roasted salmon recipe.  These of course are also interchangeable.  That being said, try and get the spices from a reputable source.  I truly get all my spices from Marlena from Love That Spice.  The best part of course is you can also order the spices from her online and they will shipped straight to you.  As far as the dry spices go we used:

Cumin
Red Pepper Flakes
Smoky Chipotle Powder
Smoked Paprika
Flavorings:  There are a few different flavorings in this whole roasted salmon that make all the difference in the world.  Of course as with the dry spices these can be interchangeable, however that being said you need flavors that are bold and bright so they can really stand out.  For this recipe I used:

Minced FRESH garlic:

  While I am a huge fan of the pre-peeled garlic I am not a fan of the pre-minced garlic.  I find it loses a great deal of flavor as it sits in the jar.  Use the fresh garlic and just mince it on your own.
Shallots: minced on a microplane.
Minced FRESH ginger:  Same idea as the garlic.  Do not buy it pre-minced.
Tamarind paste: This is one of those unique flavors that you would rarely think of using, in fact many do not even know that it exists.  Tamarind is traditionally used in Southeast Asia and the vast population of people will recognize it from the ever so popular Thai dish, Pad Thai.  It is even found in Worcestershire sauce!  It has a very distinct tart flavor and due to its acidic quality it is great in marinades because it will help tenderize meat.  In this whole roasted salmon, it plays beautifully as a contrasting flavor with the molasses.
Chilies:  I used ONE tiny Thai chili and it packed a LOT of heat.  If you prefer things mellower feel free to leave the chili out, or you can substitute it for a serrano or jalapeño pepper which are a tad less spicy.
Lime: I love using the lime zest in this recipe particularly because it gives it a super bright flavor.  And I roast it with a few lime slices on top so that it browns up when the salmon is cooking and it gives it a nice garnish.
The Technique
This is where things get a bit different for our lovely salmon.  In contrast to my Spicy Honey Garlic Salmon, where I roasted it at a very high temperature enclosed in foil, with this technique we SLOW ROASTED it.  I learned this technique from the Master Chef Floyd Cardoz.
Slow roasting salmon at the temperature of 300 degrees allows the salmon to cook slow and for the flavor to mellow out.  The flavor becomes milder and the fish also gets super tender without overcooking. This technique  slowly melts the fat between the flesh and leaves the fillets incredibly moist and tender.
Cooking it slow also gives you some room for error.  For instance, when cooking salmon at a high temperature if you misjudge the amount of time to cook it, which is typically around 15 minutes, it will come out over cooked and not tender and flaky.  Cooking it slow gives you that cushion so that you will still have perfect results.
If you miss the 120° F, just-starting-to-flake mark and take it out a bit late, it will still be good.  Even the carryover cooking will not be a big deal because the fish does not have much velocity so it will not carryover that much to impact it that greatly.
This technique is perfect for those days when you want to put something in the oven and forget about it for 45 minutes while it cooks delicately and you make another dish that needs a bit more tending.  It also lends itself well to beginner cooks who are not quite sure of how to cook fish.
One other technique that I use is the foil technique.  I am not a fan of washing dishes so I take my help where I can get it.  I double covered a large sheet pan with foil so at the end of the cooking process I can just throw out the foil.  As a bonus you can use a large foil pan, I just did not happen to have one on me.
I served this gorgeous whole roasted salmon to friends and family and they all licked their plates clean.  Even the people who were not huge fans of salmon, wiped their plates clean and commented how delicious and mild the salmon was.
I served it on an old cutting board with some parchment paper underneath it and garnished with loads of lime wedges and some fresh cilantro.  Some of the crazies even asked for extra chillies 🙂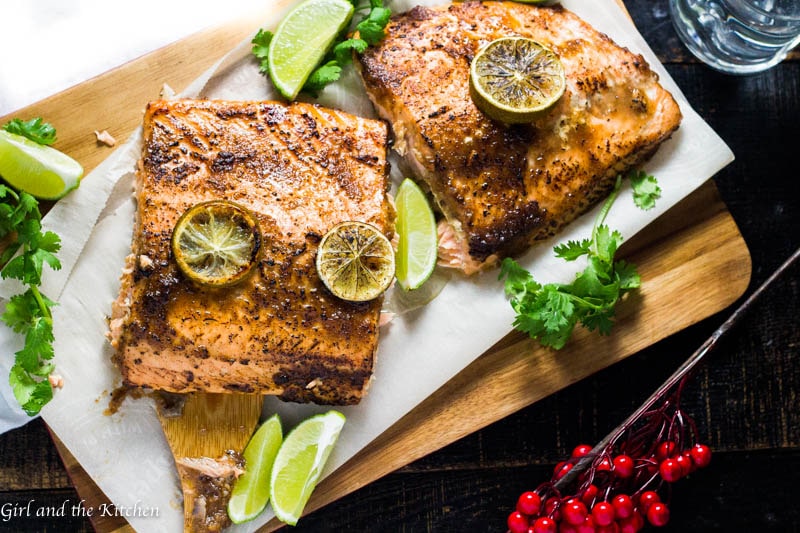 I promise this will be one of those dishes that you will make forever and ever and no one has to know how easy it was.
Happy New Year my friends.
xoxo
Print
Whole Roasted Salmon in Foil with Sweet Chili Garlic Glaze
---
Author:

Total Time:

55 minutes

Yield:

10

people

1

x
2 tablespoons

smoked chipotle powder

1 tsp

kosher salt

1 tablespoon

cumin

1 teaspoon

crushed smoked red chili

1 teaspoon

freshly crushed black pepper

1 tablespoon

olive oill (plus more for the baking dish)

4

large garlic cloves minced

1

small thai chili (finely sliced)

3

shallots minced

2 tablespoons

of minced fresh ginger
zest of

1

lime

2 tablespoons

of tamarind puree

2 tablespoons

of molasses

3

lb whole salmon fillet*
Garnish
1

lime sliced into thin slices

1

lime sliced into wedges
extra sliced chilies
cilantro leaves
sea salt
---
Instructions
Preheat oven to 300 degrees.
In a small sauce pan add all the ingredients except the fish and the garnishes.
Cook over low-medium heat for 10 minutes until fragrant and resembles a glaze.
Place the salmon on an oiled foil pan or foiled sheet pan.
Pour the glaze over the fish making sure to spread the glaze evenly and covering all the nooks and crannies. Make sure to cover both sides of the fish.*
Place into the oven COVERED for 25 minutes.
After 25 minutes, uncover the fish and allow to finish cooking and brown up. Do NOT THROW away the foil.
Let stand for 5 minutes, tented with foil.
Sprinkle with sea salt and lime zest if desired. Serve.
Notes
1. My salmon fillet was actually 3 separate pieces, in the event that you cannot get the large piece of salmon use this little trick. I just nestled them together so they make one large piece and the glaze acted like a glue.
2. You can actually let the salmon stand for about 15 minutes with the glaze on it so that it permeates the fish a bit better.
3. The nutritional information for this recipe should be used for guidance purposes only.
Prep Time:

10 minutes

Cook Time:

45 minutes

Category:

Main Entree

Cuisine:

Asian