Easy & Healthy Cheesy Quinoa Bake
Meet your new weeknight best friend!  Full of protein, good for you carbs and loaded with flavors!  This EASY and Healthy Cheesy Quinoa Bake will make your dinner done in a flash!
I am not a fan of casseroles.  However, regardless of my feelings towards some of these disasters of a one pot meal, Pinterest keeps hurling them towards me.  And I do not like it.
Look.  I like a quick and easy dinner as much as everyone else.  Particularly on a week day when the weather is nice and I would like to spend it outside chilling with the munchkin.  I say this, by the way, as a heater blows much needed warm air onto my feet,  because currently Chiberia has teased me with 2 nice days and then immediately reversed to its cold and windy normal self.
Wonderful.
There are CERTAIN foods that I do believe are great when they are baked in one pan loaded with cheese, or veggies and other tasty goodness.  A baked ziti is a perfect choice.  Or baked lasagna rolls such as these.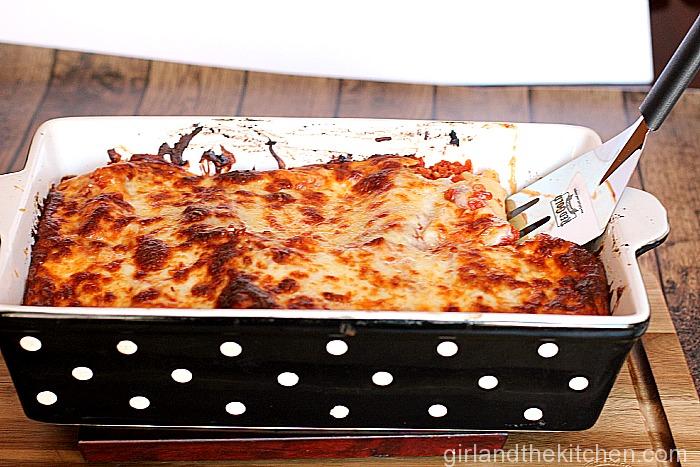 Or my favorite Greek taverna style baked beans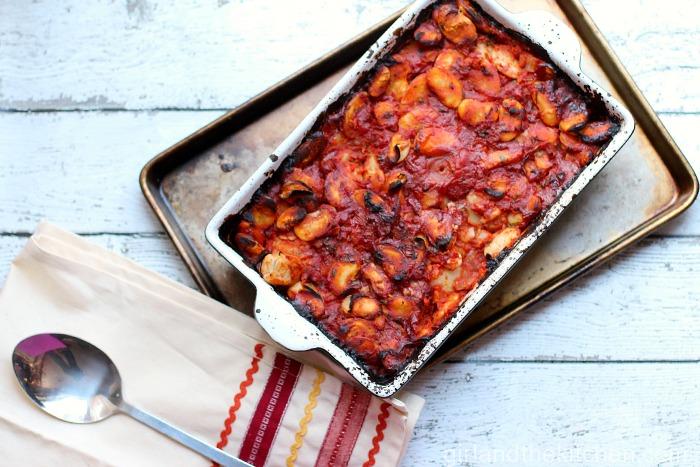 Or these fantastic pommes dauphinois, AKA potatoes loaded with cheesy and a creamy sauce.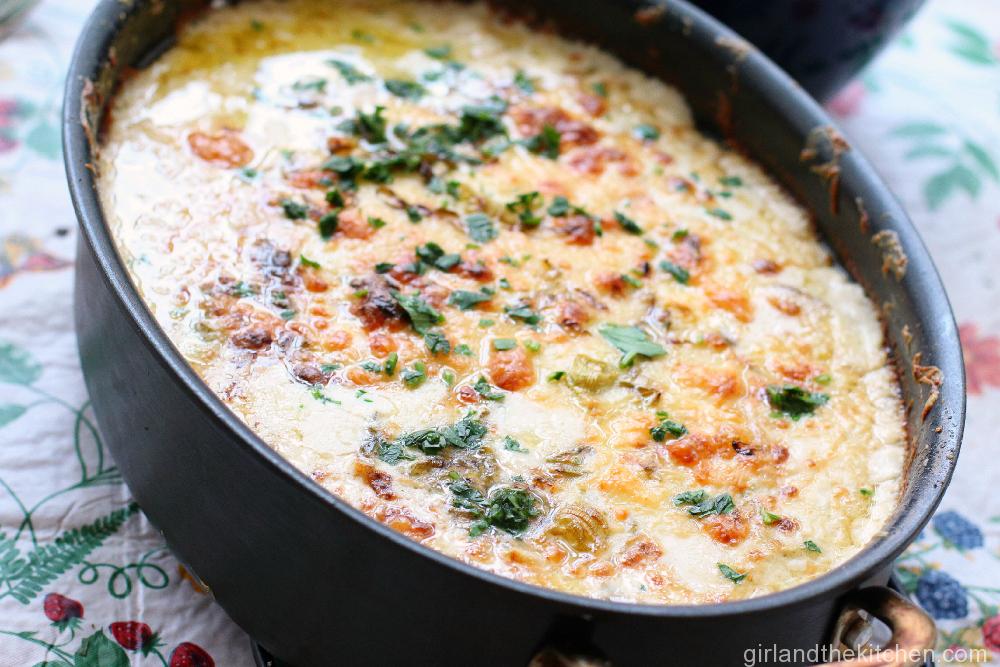 Those things make sense to me.  What does not make sense is some pasta, a can of overly processed goopy condensed creamy soup, a ton of cheese and 4 tiny pieces of broccoli added in for color.  It drives me bananas when I see this.  Why?!? Because it is 95% overly processed, unhealthy and useless food that does nothing for our bodies.
Before you close this tab in an effort to shut out the clean eating propaganda- I am here to say, this is not a crazy post advocating the new clean eating movement.  This is common sense.
Recently through the explosion of gorgeous food photography on Pinterest, the general public's interest for food and home cooking has peeked.  Unfortunately, most of the pictures that are easy to "sell" are super cheesy or creamy or are loaded with bacon…everyone's favorite meat.
I was reading an article on Salon.com that said while the home cook is spending more time in their kitchen, they are making foods that are not deemed for everyday consumption.  I love pastas, bacon, fudgy brownies, towering cakes, heavy cream and gooey cheese as much as everyone else.  I also like to pride myself that my hubs and I eat at home 5 times out of the week.  Even our lunches are homemade.  But you can bet that these sorts of fattening, calorie ridden foods are not on the menu every day in our house in fact it's usually on the menu about once a month when we have company.
As a blogger, I have always felt a sort of responsibility to show my readers that you can eat deliciously and healthily by just being mindful and cooking at home.  I grew up eating home cooked foods made by mom and babushka who used simple whole ingredients to make our meals for the week.  My mom did not know of any other way.  Restaurants were reserved for birthdays and other special occasions.  Far less times a month than the general average is now.  We ate at home, as a family when we could.  THAT was common sense to me.  The only processed foods in our house were these incredibly delicious chocolate chip cookies by Matt's.   Looking at them now, I can see they pride themselves on natural ingredients…so I guess not too horrible.
ANYHOW… my point is. I find it odd that most people think they can throw a few globs of cheese, condensed soups and some sort of refined grain into a pot and believe that it will do their bodies any justice.  Believe me, it won't.
Without going into detail…here is my mentality: eat whole foods when possible, eat somewhat processed foods (pasta, white rice, etc) once a week, eat junk food about once a month.  Move about an hour a day to get your heart beating and your sweat going.  If you are interested in more, here is an awesome article that I downheartedly believe in.
OK.  RANT over!
The other day I found myself in a tad of a predicament.  It was cold, windy and miserable outside.  After standing in a ridiculous traffic jam for an hour, picking up the munchkin and finally getting to the comfort of my home and re-energizing myself with a cappucinno I realized that I had forgotten to grab some quinoa for a side dish.  I was pissed.  And entirely against going out into the Chiberian misery to get my quinoa fix.
My composure changed when I noticed the munchkin opening up the freezer to play a quick game of hide and seek.  Apparently, freezing her little jeggings clad booty is the new activity of the week.  When I went to grab her out of the freezer as if she was a little chicken, I noticed an entire ziplock bag of cooked quinoa that I completely forgot about.  SCORE!
This is one of my shortcuts for planned cooking or planned and forgotten cooking as it was in this case.  I have frozen rice, veggies and quinoa in the freezer always for a rainy (or windy) day.
What I loved about making this was how absurdly quickly it came together.  I defrosted the quinoa for a few minutes in the microwave until there were no icebergs of quinoa remaining.
Then I added one can of drained black beans, a can of diced tomatoes with chili, some FROZEN corn and a few sliced scallions.
At this point I already had some simple citrus chicken breasts roasting off in the oven so my oven was preheated to 425-degrees.
Now here is the best part.  I knew I needed a creamy element in this dish.  And personally when I think Mexican I think of sour cream.  But I had different plans.
I took 1  cup of 0% Greek Yogurt, 3 tablespoons of Mexican style pre-shredded cheese and 1/4 cup of white wine.  I mixed it all together so it created a liquid and poured it all in lovingly.
With my hands or feel free to use a spatula, I tossed everything together making sure it was evenly distributed.  I sprinkled another half a cup of cheese on top.  Feel free to use more if you would like.  And into the oven it went.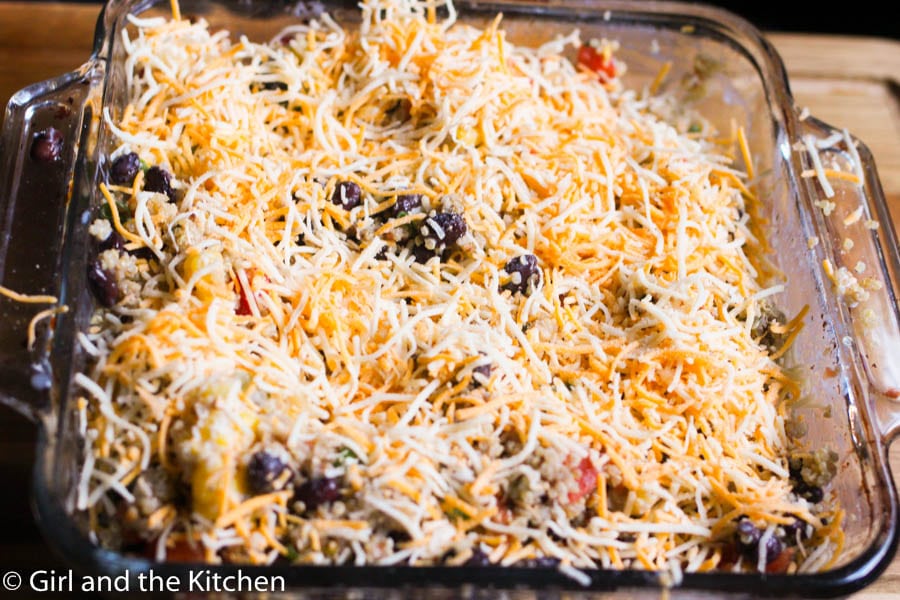 15 minutes later, I removed it, sprinkled some cilantro and waited for it to cool down a bit so I did not play the whole swishing around your mouth to avoid third degree burns game.
Once I knew it was at a safe temperature to be consumed I dug in.
A loud exhale escaped my mouth as I chewed over the kitchen sink, letting every single flavor note hit my mouth.  It was so sinfully delicious.  Fresh, hearty and creamy all at the same time.  But it was packed with good for you goodness!
Munchkin went for the freezer again and then stopped herself to climb up to the counter and steal a bite.
She game me a look of approval.  "Agreed," I said to her.
The next day when I showcased this on Instagram and to some of my friends in a cooking group I belonged to, I was bombarded with private messages and requests for this recipe.  So ladies…here it is.  Your wishes are clearly my command.
Print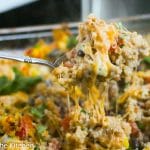 Easy & Healthy Cheesy Quinoa Bake
---
Author:

Total Time:

25 minutes
Description
Meet your new weeknight best friend! Full of protein, good for you carbs and loaded with flavors! This EASY and Healthy Cheesy Quinoa Bake will make your dinner done in a flash!
---
3 cups

pre-cooked quinoa

1

15 oz can of drained black beans

1

15 oz can of diced tomato and chilis

1/2

a cup of frozen corn

3

scallions sliced thinly plus more for garnish

1 cup

of 0% Greek yogurt

1/4 cup

of white wine

3 tablespoons

plus 1/2 a cup shredded Mexican style cheese

1/4 cup

roughly chopped cilantro for garnish and flavor
---
Instructions
Preheat oven to 425-degrees F.
Place quinoa, black beans, canned tomatoes, corn and scallions into an oven proof dish. Make sure it is deep enough to mix all the ingredients together.
Combine Greek yogurt, white wine and 3 tbsp cheese until well combined and Greek Yogurt has thinned out. If necessary to thin out further, feel free to add a few more splashes of wine.
Pour into the quinoa mixture and combine so everything is equally distributed.
Cover with remaining cheese and place into the oven uncovered for 15-20 minutes until cheese is bubbly and the inside is warmed through* Feel free to run it under the broiler for a bit to brown up the cheese a bit.
Sprinkle with cilantro and serve.
Notes
*Reminder, since I have a convection oven, mine may cook through a bit faster. Just keep an eye on it after 20 minutes.
Prep Time:

5 minutes

Cook Time:

20 minutes

Category:

Healthy

Cuisine:

Mexican