Nutella and Cream Cheese Stuffed Monkey Bread Recipe
 I have committed a sin… an ooey, gooey, sin, this monkey bread recipe is made with store bought dough and stuffed with Nutella and cream cheese AND doused with a Nutella cinnamon sugar glaze! Get your napkins ready we are going to get messy!
[wprm-recipe-jump]
I believe I have mentioned many times before that I have a bit of a Nutella addiction.  An addiction of such epic proportions that I have an entire section on my blog dedicated to Nutella.  Rightfully titled: The Nutella Chronicles.
I developed this addiction years ago when I emigrated to America through Italy.  I had my first bite of Nutella there.  It was very simply smothered on a piece of brioche type bread and enjoyed by me multiple times a day.  My m0m was only thrilled to give this to me since her tiny and scrawny 4o pound 7 year old refused to eat anything.
Years later as an adolescent and then an adult I avoided the deliciously hazelnutty (yes that's a word) spread like the plague, terrified of consuming an incredibly decadent treat loaded with calories aimed directly at my tummy.
So instead I baked it for other people and let them enjoy the deliciousness as I lived vicariously through them.  Yup. I'm evil…
The very first dessert I created was these decadent Fudgy Nutella Brownies.  They were devoured by every child and adult I served it to and are still the number one recipe on my blog and number 3 on Google.  (#NotsoHumblebrag)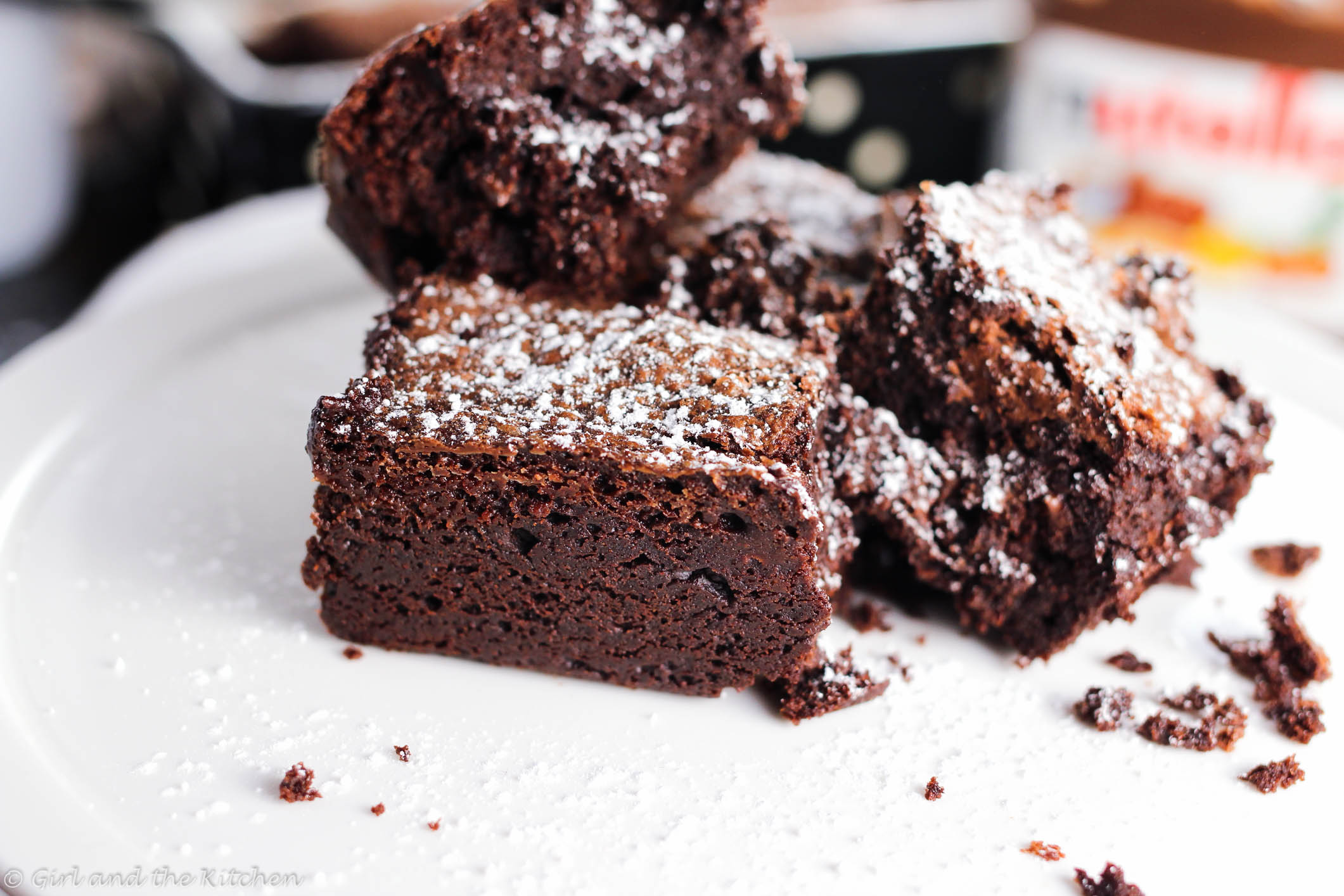 ANYHOW… A few weeks ago I was laying in bed winding down scrolling through multiple Facebook posts when one video caught my eye.  Stuffed monkey bread.
Confession inserted here:  I have never made monkey bread.  I have had many desires to.  I have even saved many recipes.  But I had never attempted it.
This monkey bread recipe was different though…it was made with store bought biscuit dough.
Yes that stuff. I myself was blown away.
And I knew this was the perfect monkey bread recipe for munchkin and I to make together.  Because there was nothing easier than adding cinnamon sugar to biscuit dough.
Munchkin has apparently got the cooking gene from me and my mom.  She also has a dish washing obsession.  As I stand at my cutting board night after night creating my recipes for the blog, she grabs the kitchen chair, drags it over to the sink and stands by me putting her pudgy little fingers into everything that I am making.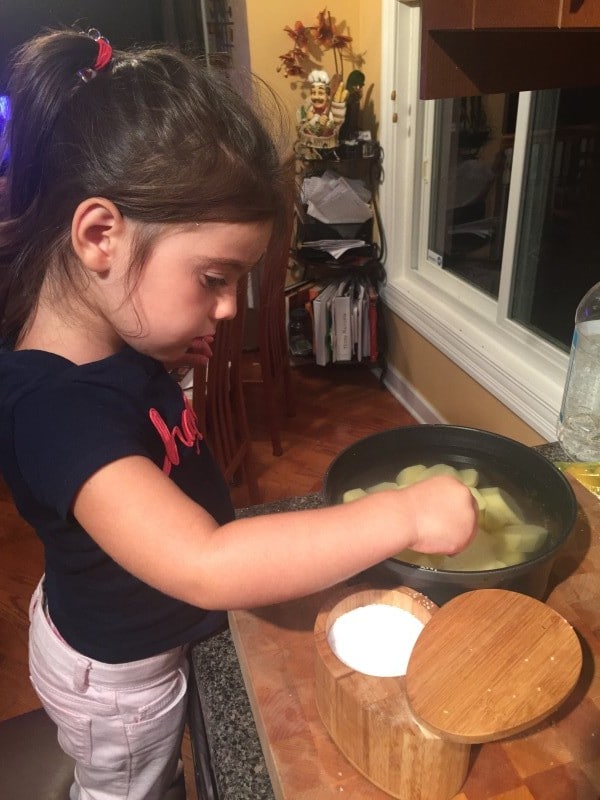 She then starts washing the dishes.  Initially this seemed like a dream come true until I felt a pond of dishwasher at my feet with a river running into it from the sink.  Munchkin had successfully turned my kitchen into a very elaborate ecosystem of dish water and tiny fruit flies that had apparently settled into the garbage disposal.  Not to mention she has managed to get every inch of her clothing wet.  So then she undresses and stands there…naked…washing my dishes.  It's a sight to see really.
This was precisely what happened last Thursday.  I sat down to write a blog post and all of a sudden I find a pair of munchkin's "Frozen" imprinted underwear on my head, obscuring my vision.  I turned around and saw a giggling munchkin surrounded by a pool of water.  Hilarious.
After dressing her in some sexy leopard print leggings, I decided to distract her with some dough.  I had no particular plans for it until I realized this was a perfect time to make the monkey bread recipe I had been dreaming about.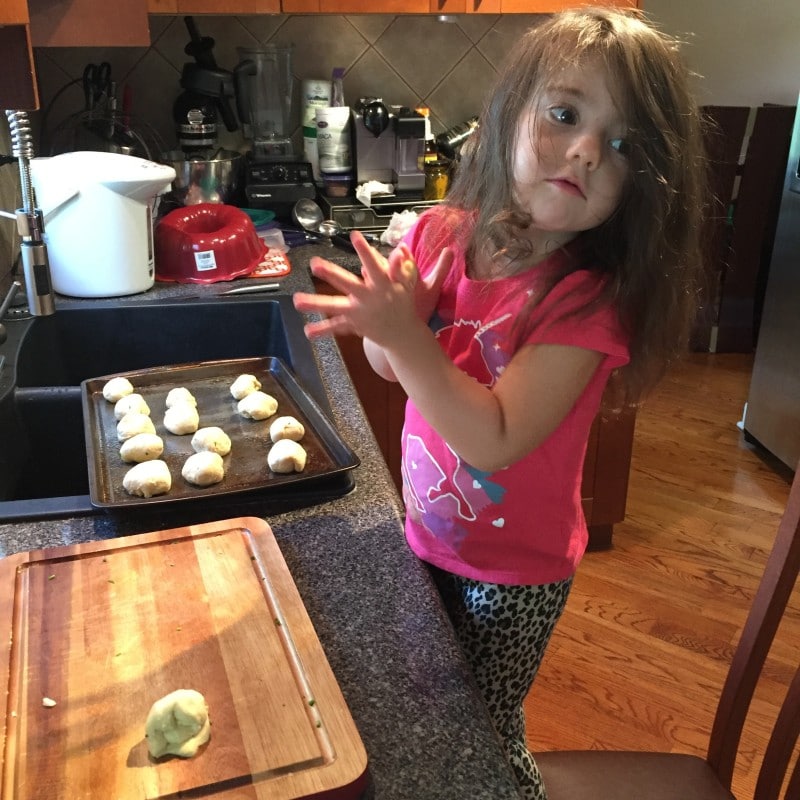 She rolled up the dough and then put some dish water on some of it…it was all quite lovely.  It has become my go to distraction for her.  Easier to clean than Playdoh that's for sure.
I put her to bed and then ran downstairs just in time to pull the monkey bread out of the oven.
It did not look that fabulous, until I had inverted it onto my plate.  It was gorgeous and glistening with that fantastic Nutella glaze.  And the little cream cheese pieces were peeking out just slightly.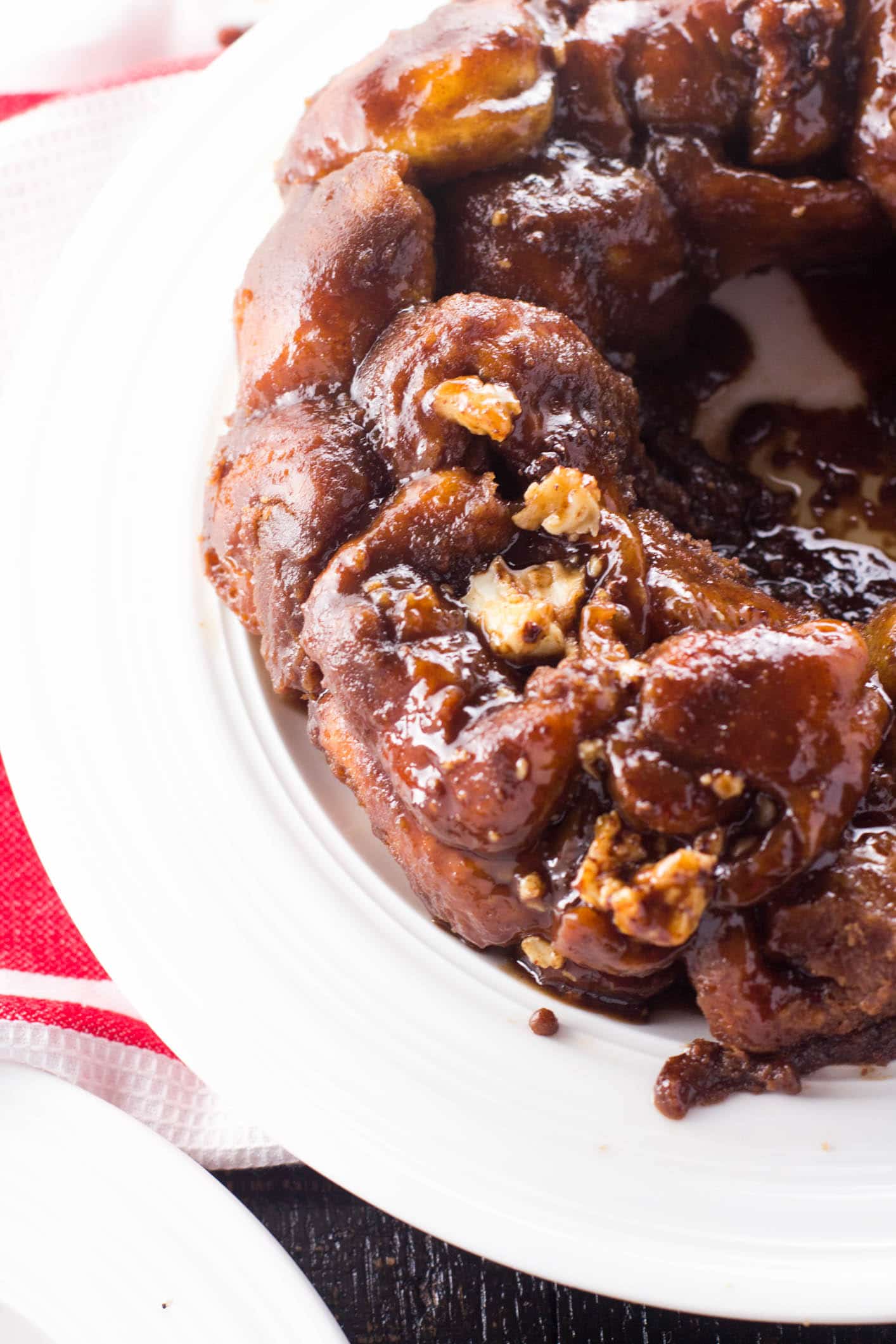 I had a bite.  And then another.  I burned my tongue and ended up having dairy for the first time in forever.  But it was fantastic.  The cream cheese was tangy and salty and a great contrast for the sweet and gooey monkey bread.
I cleaned up the kitchen…the munchkin slept and I stared at the monkey bread both proud and impressed that mine and the munchkin's little hands made this incredible creation…and I smiled.
Print
Nutella and Cream Cheese Stuffed Monkey Bread Recipe
---
Author:

Total Time:

50 minutes

Yield:

8

servings

1

x
2

packages of Pillsbury Grands Biscuits (8ct)

1

package of cream cheese (cut up into

32

cubes)

3/4 cup

Nutella plus another 1/2 cup

3 tsp

cinnamon

1 cup

of sugar

1/2

a cup of brown sugar

1

stick of butter
---
Instructions
Preheat oven to 350-degrees and spray or butter a bundt cake pan.
Open up the can of biscuits and cut each biscuit into halves.
Lay the biscuit flat on a cutting board and stretch it out with your hands so that it is round and about the size of a wonton wrapper maybe a tad bigger.
Place one cube of cream cheese in the center and a dallop of Nutella, about 1 tsp.
Bring all the 4 corners together and seal so you have a perfect little ball. Continue doing this for the remaining pieces.
Place half a cup of Nutella, 1 stick of butter and half a cup of sugar into the microwave in 30 seconds increments so that it melts evenly. It took me about 60 seconds. This is your glaze.
Add cinnamon and 1 cup of sugar to a ziplock bag.
Place all the balls in the bag about 10 at a time and shake them up, ensuring they are all covered.
Now start assembling.
Place 1/3 of the glaze onto the bottom of the bundt pan. Add in 1/ 2 of the monkey balls.
Add another 1/3 of the glaze on top and cover with remaining balls. Pour the remaining glaze on top.
Bake for 30-35 minutes or until gloriously brown and bubbly.
Let cool for 10 minutes and then invert onto plate. Serve while still warm.
Notes
The nutritional information should only be used as a guide.
Prep Time:

15 minutes

Cook Time:

35 minutes

Category:

Dessert

Cuisine:

American