I learned how to make kimchi soup purely by accident. This Asian soup is full of flavors from all over the world but yet it proves to be incredibly simple with just a few simple techniques!
My entire family is obsessed with soups. OBSESSED. That being said I have always looked at soup as a homey and comforting occasion, never one that I would make for company.
Until, I figured out how to make kimchi soup.
This kimchi soup in particular.
Is Kimchi Soup a Real Thing?
Is kimchi soup a real thing? Well, yes, yes it is. Because I made it real 🙂 Does it exist in Asian cuisine? I mean…why wouldn't it? It's delicious, spicy and hearty. It should right? I am sure there was some other mom who had some leftover kimchi in her fridge and decided to throw it in her soup to make it a bit healthier and spicier.
I am not going to claim that I am the first to make kimchi soup, but I am going to say, that I am the first to make it this unique way that encompasses not only Korean flavors but other Asian flavors from all over.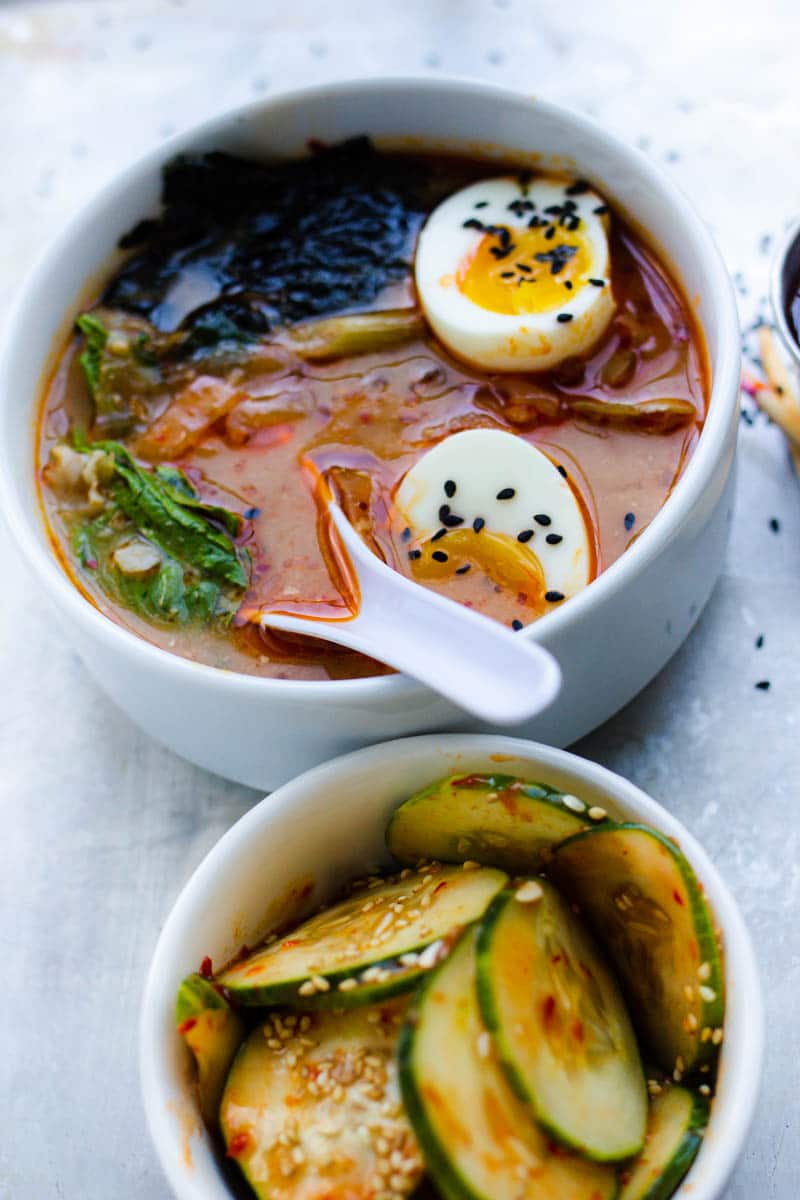 What is Kimchi?
Loosely put, Kimchi is a Korean staple consisting of fermented vegetables. It is made by lacto-fermentation, the same process that creates sauerkraut (both German and Russian versions) and traditional dill pickles. In the first stage, the cabbage is soaked in a salty brine that kills off harmful bacteria. In the second stage, the remaining Lactobacillus bacteria, AKA the good bacteria convert sugars into lactic acid, which preserves the vegetables and gives them that wonderful, tangy flavor. It is flavored with ginger and Korean red pepper flakes mostly, but anything can be used really. Some add sugar, others don't. Some add carrots others don't.
While I have made kimchi in the past…I have always purchased it for this soup. I have found some really incredible kimchi in the grocery store. They are found in the refrigerator, either next to vegan and vegetarian refrigerated fare or in the Asian refrigerated aisle. This is the one I always use.
What Makes This Soup So Unique?
This soup combines 4 very intense flavors to give it its unique and so very umami flavor. A combination of miso paste, kimchi, shrimp and shiitake mushrooms, gives this soup a super complex flavor. Despite the complexity of my kimchi soup… it comes together in only 30 minutes!
It is also extremely versatile. I have made this with pork, beef, chicken, fish and vegan! The mushrooms can totally make up for the lack of meat or fish in this kimchi soup. Because the soup gets so much flavor from the mushrooms and the kimchi, the protein is actually not as important. In fact, since I am not a fan of seafood, I actually prefer the vegan version.
Did Someone Say Miso?
We all know my affinity for miso. I have made my beloved miso sauce out of it that I put on anything! (In fact…you can add the ENTIRE sauce here as a flavor booster! ) When I was trying to figure out how to make this kimchi soup stand out, I realized it needed another level of umami other than just the mushrooms and soy. Miso did the trick . It added depth, a salty briny flavor and body to the soup. Precisely what the doctor ordered.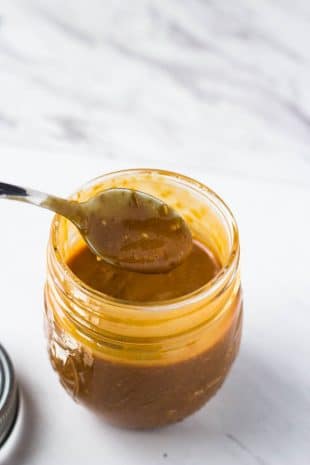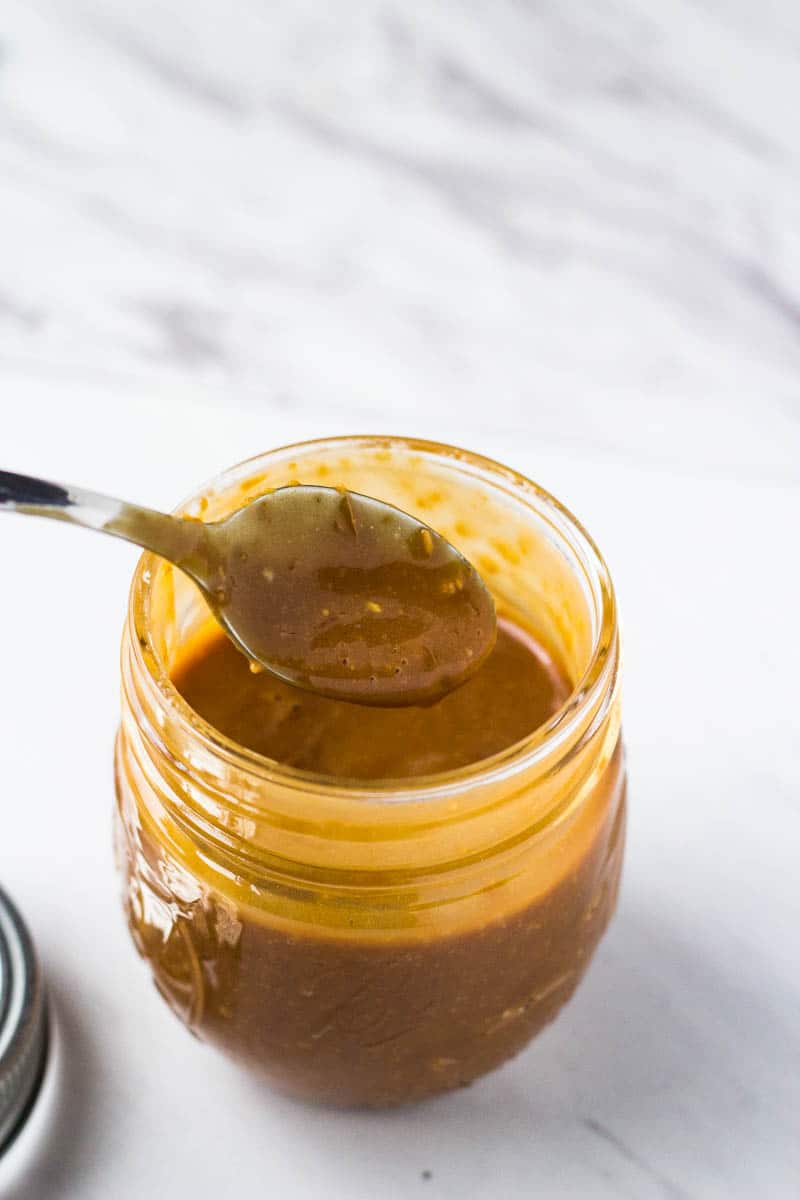 Side Dishes and Toppings Galore!
One of the reasons that I came up with this soup is because my hubby is a huge fan of Korean food. And while this is not a true Korean soup it does have many attributes that are Korean-ish. Hubby particularly loves that Korean food comes with many little side dishes to add into your food or eat along with it. For this kimchi soup I served a little spicy Korean cucumber salad along with it. It is similar to cucumber kimchi but it is not fermented so you can eat it right away. Also it has tons of chili, scallions and garlic in it so it is super flavorful and can be as spicy as you want!
The Technique
Marinading the Shrimp: When I was trying to perfect how to make kimchi soup, I realized one of the most important steps was bringing in flavor into the shrimp. I do so with a super simple marinade of avocado oil, lime juice, lime zest, cilantro, garlic, ginger, chillies, lemongrass, salt and pepper. This is important because it infuses your shrimp with boatloads of flavor. And since the next step in this soup recipe is searing the shrimp, it is even more important. When searing, this flavor intensifies and adds quite a bit of flavor to our soup.
Searing the Shrimp: This step is crucial. The reason being that you do NOT want to keep them in there too long. We are not cooking the shrimp at this point, but instead just searing them to get some flavor into the broth. Contrary to popular belief…most of the flavor of shrimp is in the shells. So when we sear them we caramelize the shells and release that flavor into the pot. The caramelized bits end up in the pot as well as on the shrimp. Later we will deglaze the pot to remove all those yummy bits to incorporate into our soup.
The Flavorings: The base of the kimchi soup is important here. There are not many ingredients, but the ones I use are powerhouses. Once the shrimp have been seared, I lower the heat and add in my powerhouse flavors: sliced shallots, shiitake mushrooms, minced ginger, minced garlic and chili oil. I first start sautéing the mushrooms and shallots with chili oil. Once they have nice color (about 8-10 minutes) I add in my garlic and ginger. If I would have added it in earlier then the garlic and ginger would burn. Then I add in my broth. The broth can be any flavor you like, I typically do a nice vegetable broth or even a ginger mushroom broth. At this point we let it simmer for about 15 minutes to let the flavors develop. Then we add in our miso paste, soy sauce and sesame oil. This is the point where you can play around with the flavors on your own. Depending on what else you want you can vary the ingredients. Want more heat? Add more chili oil. Want more umami? Add more soy sauce.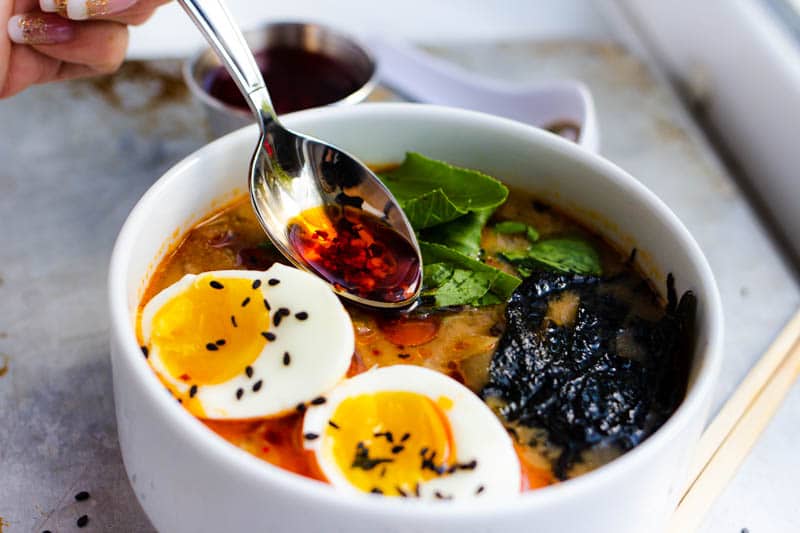 Finishing Touches: As I mentioned the versatility of this soup is precisely what makes it great. I like to always finish it with dried seaweed to give it texture and flavor. And I throw in whatever veggies I have on hand. This time around I threw in some baby bok choy. But truly, any will do. My favorite finishing touch of course is my 7 minute eggs. Not only are eggs prevalent in Korean cooking but they make everything look that much fancier. Chili oil is great on top to heat things up! Add some scallions and black sesame seeds for color and a pop of flavor! I also love to serve it with this fabulous cucumber salad! It's crisp and refreshing and makes for the perfect meal! (Recipe on its way)
Tools and Ingredients to Help
Print
Miso Kimchi Soup
---
Total Time:

40 minutes

Yield:

0

people

1

x
Description
I learned how to make kimchi soup purely by accident. This Asian soup is full of flavors from all over the world but yet it proves to be incredibly simple with just a few simple techniques!
---
Marinade for Shrimp
1

lb Skin On Shrimp

2 tbsp

Lemongrass

3

Garlic Cloves

1

inch Knob piece of ginger

2 tbsp

Cilantro

1

Chili or Serrano or Jalapeno Pepper (Feel free to leave out ot add more in)

1

Lime (Zested and Juiced)

2 tbsp

Avocado Oil (Can be replaced with Olive oil or Coconut Oil)
Soup
1 tbsp

Avocado Oil

2

Shallots (Sliced)

1

1 inch knob of ginger (Minced on Microplane)

4

garlic cloves (Minced on Microplane)
Chili Oil (See Note)

1 Cup

Shiitake Mushrooms (

one

of the containters they come in is fine)

1 quart

Vegetable Broth (See Note)

3 Tbsp

Miso Paste (See Note)

1/4 Cup

Low Sodium Tamari (or soy sauce)

1 tsp

Toasted Sesame Oil (See Note)
Kimchi (1 8oz jar, or more if you prefer!)
Finishing Touches
baby bok choy
Nori or Dried Seaweed (Torn up)
Chili Oil

7

Minute Eggs
Scallions (Sliced)
Toasted Black Sesame Seeds
Chili Oil (To Taste)

1 pint

Kimchi (See Notes)
---
Instructions
Marinade
Combine all the ingredients of the marinade in a food processor or a blender, except the shrimp. Combine until well processed. Toss shrimp with the marinade and allow to stand for 15-20 minutes.
Soup
Add avocado oil to a soup pot and turn the heat to high. (See Note)
Add the shrimp once the oil is warmed up and sear the shrimp until nice and golden brown and almost charred. Give it about 5-7 minutes total.
Remove the shrimp and set aside. Lower the heat to a low-medium heat.
Add in the remaining oil. Add in shallots, mushrooms and chili oil. Sautee until mushrooms and shallots are slightly browned and tender. About 10 minutes.
Add in your ginger, garlic and broth. Increase heat to high and allow to come to a boil.
Once the soup has reached a boil, lower the heat to a simmer and add in kimchi, miso paste, soy sauce or tamari and sesame oil. Allow everything to simmer for 10 minutes.
TASTE! This is the crucial step of figuring out what exactly the soup needs! Does it need more soy? More miso? More lime? Taste and adjust! You know the flavors you like so adjust as YOU see fit.
If you are adding in greens, add in the bok joy and dried seaweed at this point.
Garnish with any necessary garnishes. Enjoy!
Notes
You can omit the chili oil if you like.  Additionally, you can just add in red chili flakes if you do not have chili oil.
You can use a nice miso broth or just a plain vegetable broth is great too.  I find chicken broth can work but sometimes it fights the flavors in the soup and overpowers it.
When you add in the miso paste, continue tasting the soup as you cook it.  Sometimes you could want more miso, sometimes less.  Start with 2-3 tablespoons and then continue from there.
The toasted sesame oil really makes a difference.  A toasted sesame oil vs a regular sesame oil is way more powerful and extremely flavorful.
All stoves are different, what is high for me may need to be medium high for you depending on the stove.  You want the oil to be super hot so you can extract all the flavor out of the shrimp. Contrary to popular belief…most of the flavor of shrimp is in the shells. 
1 store bought jar of kimchi is plenty!  Just make sure you trust the company!
The nutritional portion is to be used as a guide.  Values can be misleading.
Prep Time:

10 minutes

Cook Time:

30 minutes

Category:

Soup

Cuisine:

Asian Fusion