My take on the classic Italian Apple Crostata is the perfect dessert for your holiday dinner parties!   Sweet and tangy apples wrapped in a crumbly and buttery crust and can be made the night before!  When it comes out of the oven it is gorgeous and warm and just begging for some ice cream to ooze all over it!!! 
Jump to Recipe
On a cold and windy night myself and 14 of my other "students" warmed up the kitchen and our souls in my Rustic Tuscan Cooking Class at a commercial kitchen I rent out.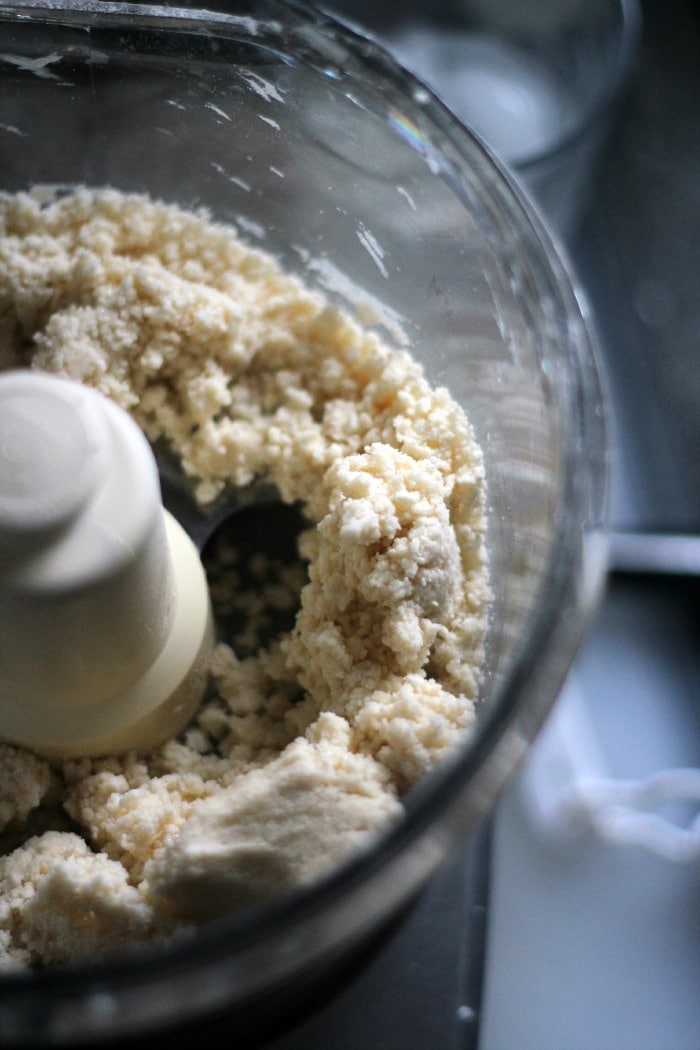 One of the more difficult tasks was making the choice of which recipes to introduce to my loyal apprentices.  I wrecked my brain for weeks and came to the conclusion that every rustic cooking class needs to have something as simple and incredible as a crostata!
A crostata is essentially a very rustic and quickly thrown together pie.  It does not require much technique in rolling out the dough or cutting out any intricate shapes. Even a mess of a baker like me can manage to make them look gorgeous.  Ahhh I love the rustic style 🙂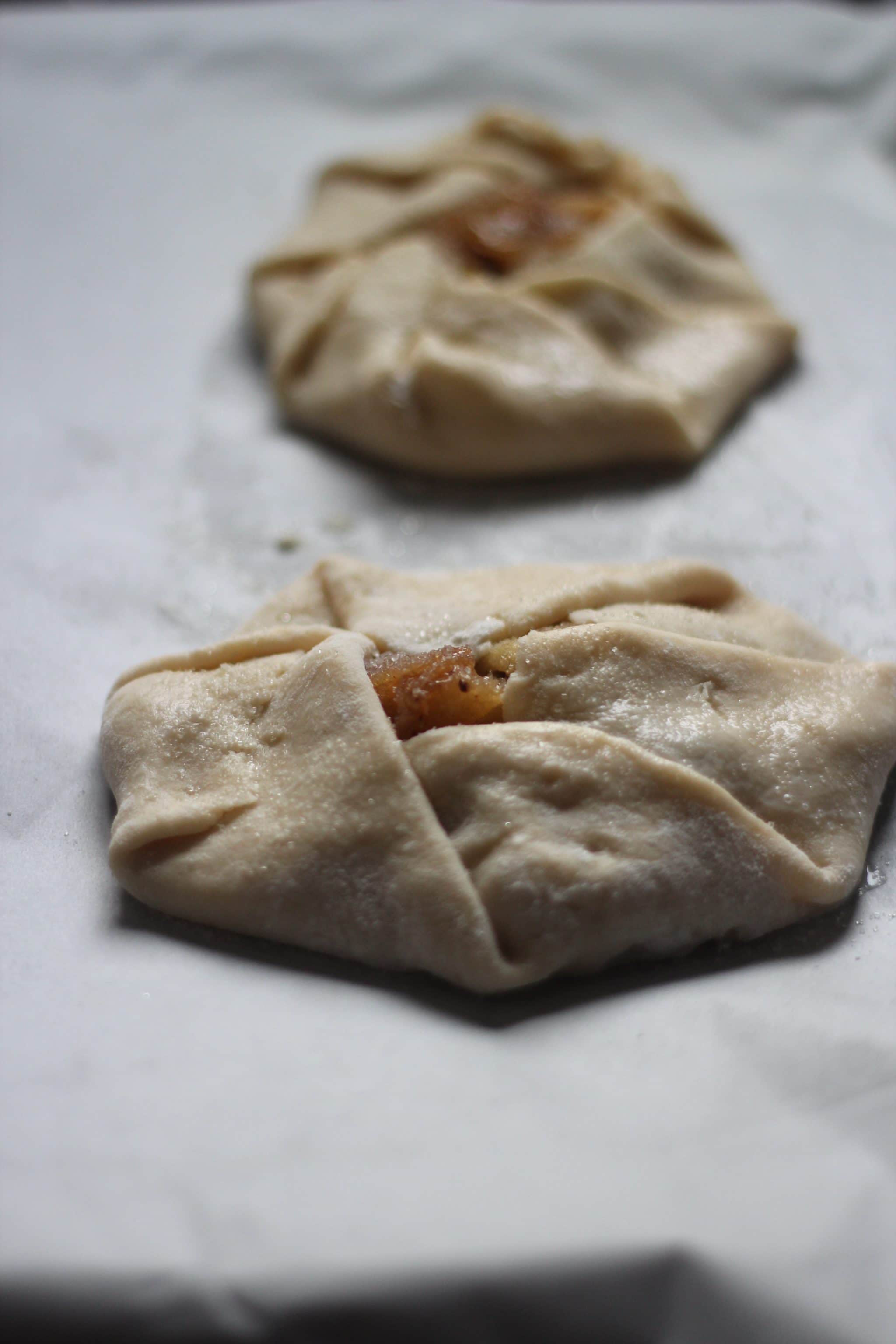 Technique
While it does not require much effort it does require very cold ingredients and a food processor.  Flour, cold butter and cold water are pulsed together in a food processor to create a beautiful dough.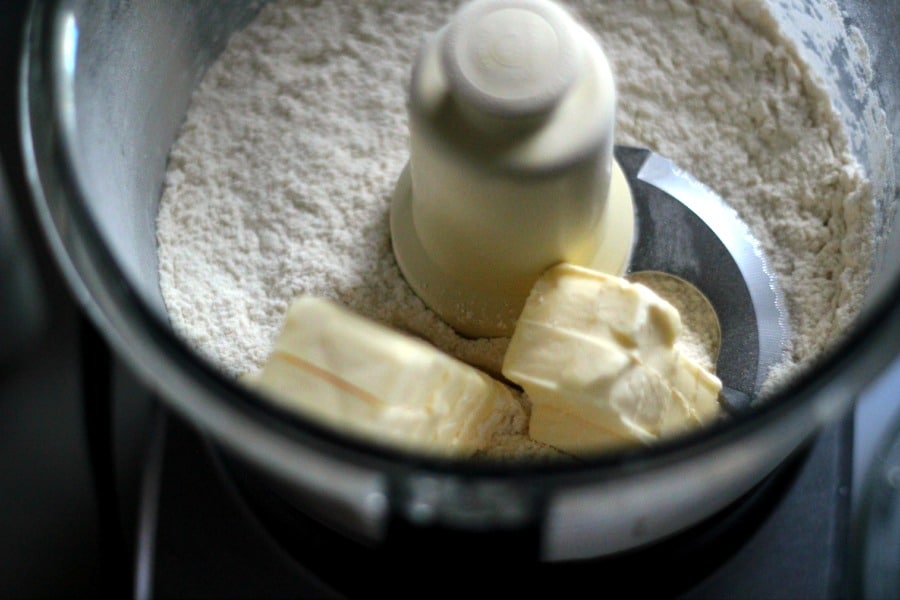 The beauty of it is that the dough can be made the night before, even a few days before!  Just keep wrapped up in plastic in the fridge and then use it when ready!  Oh and the apples can also be made ahead!  Then the day of the party just assemble and bake as you start serving your appetizers.  Then they will be perfectly cooked and warm right in time for dessert!  Can you think of anything easier for your next dinner party?  I did this for Thanksgiving last year and it was a WIN!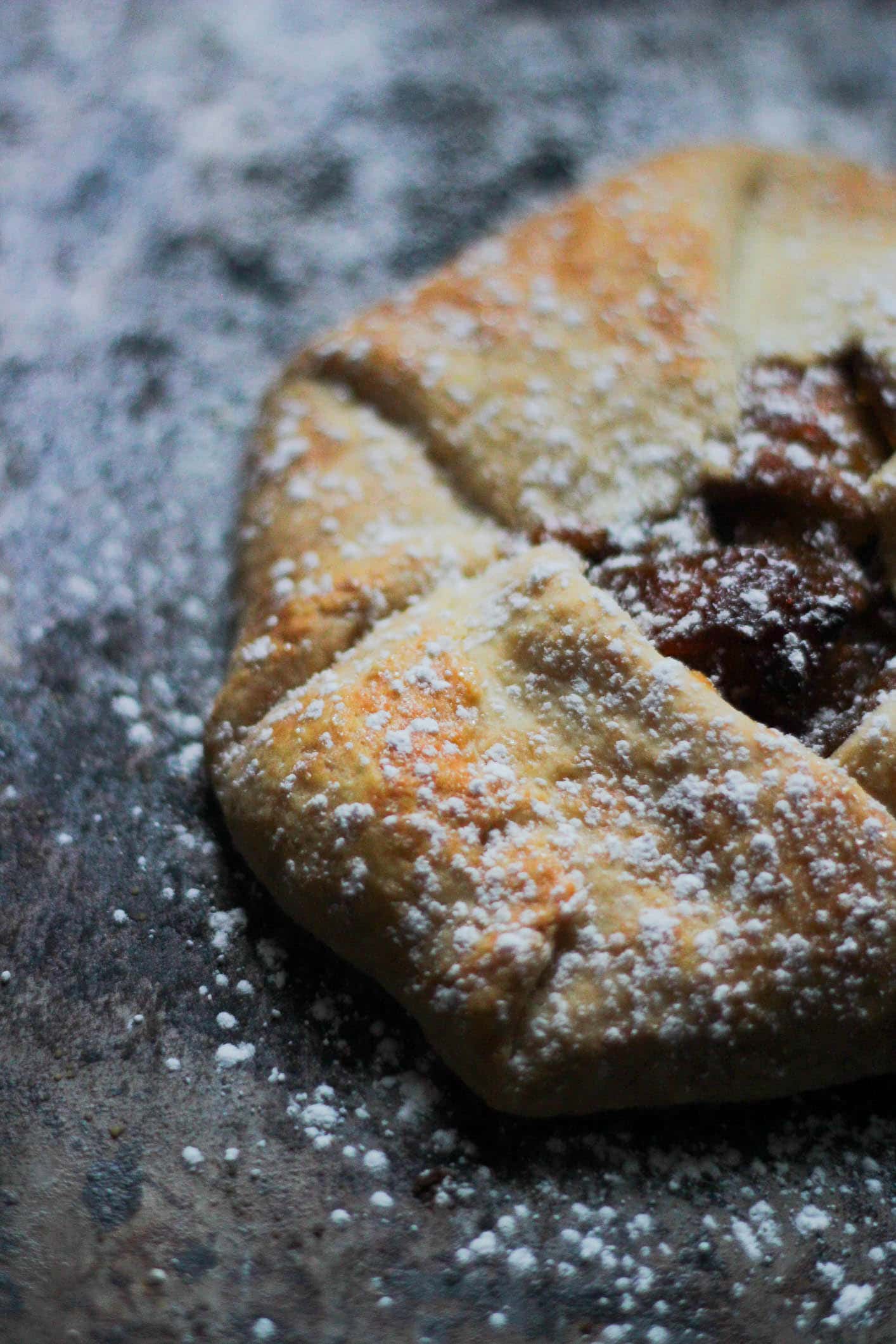 A few simple steps later, a beautiful crumbly flower emerges from the oven, enveloping your whole being in sweet and buttery goodness.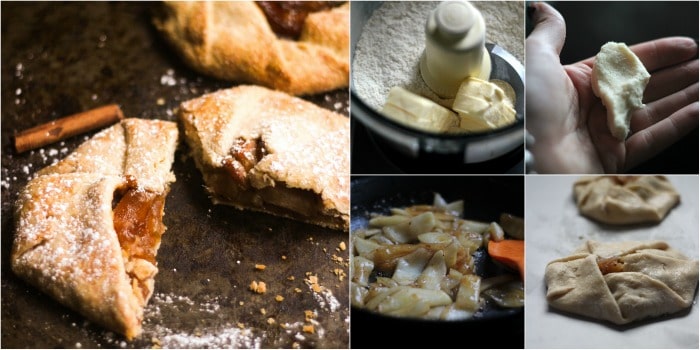 Our cooking class finished on a very sweet note when these beautiful crostatas emerged from the oven all golden brown and crumbly.  We finished the decadent dessert with a scoop of vanilla gelato and savored each and every morsel.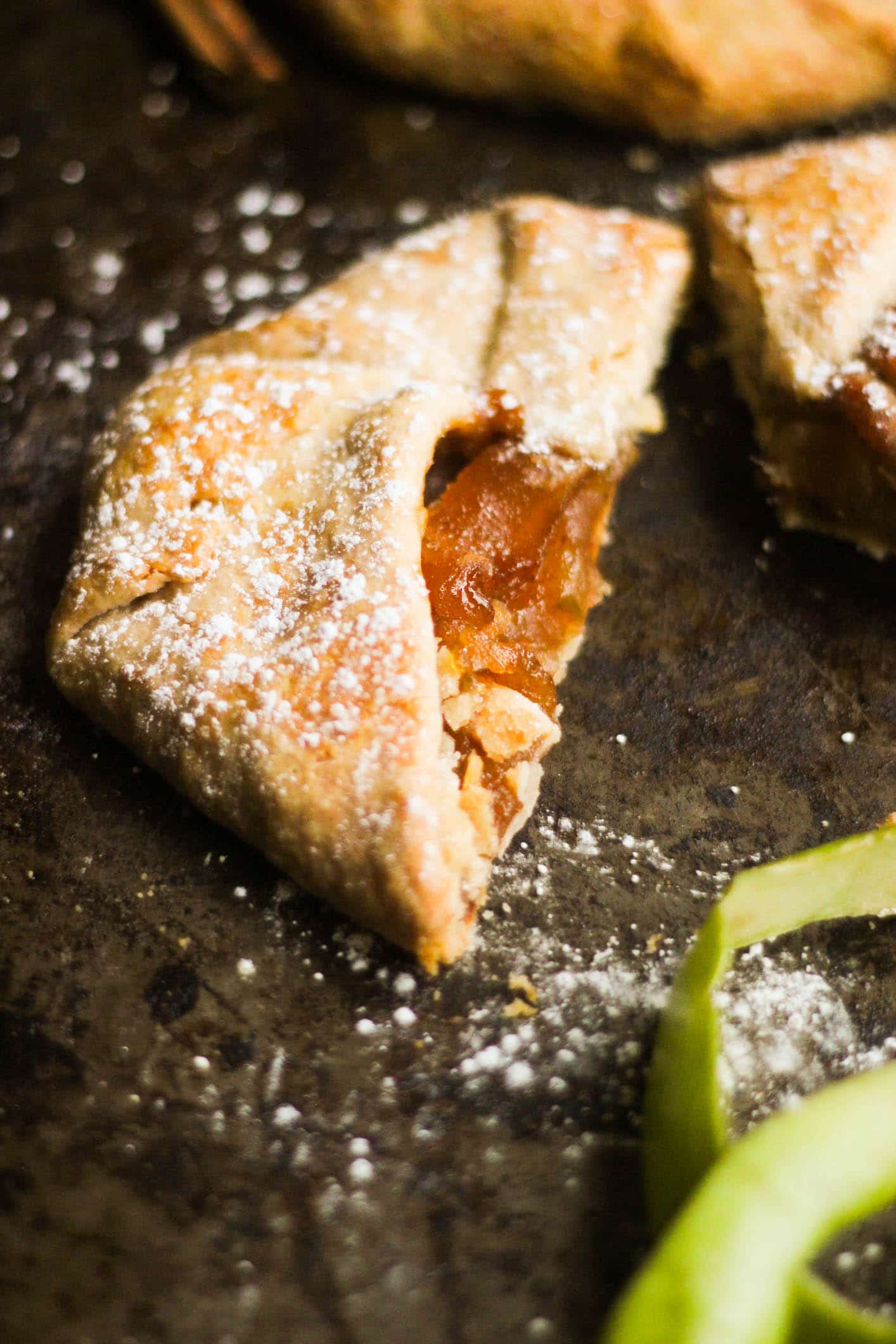 Classic Italian Apple Crostatas
My take on the classic Italian Apple Crostata is the perfect dessert for your holiday dinner parties! Sweet and tangy apples wrapped in a crumbly and buttery crust and can be made the night before!
Ingredients
Crust
1

cup

butter

cold

2

cups

all-purpose flour

1/3

cup

sugar

1/2

teaspoon

salt

2

ounces

ice water

may need more if dough does not come together
Filling
3

Granny Smith apples peeled and sliced

1/2

cup

sugar

1/4

cup

butter

3/4

teaspoon

cinnamon

¼

tsp

lemon zest

¼

tsp

orange juice

1/2

teaspoon

nutmeg

1

tablespoon

cornstarch dissolved in 1 tablespoon water

heavy cream optional
Instructions
Dough:

With a knife, cut the butter into 1/4" cubes and keep cold.

Mix flour, sugar and salt together in the food processor.

Add the butter to the dry ingredients in the food processor.

Pulse or mix briefly, until butter is in small pieces, the size of peas.

Add the ice water and mix. Stop before it is a solid mass.

NOTE: It is better to be a little crumbly.

Press the dough together and form into one large ball.  Wrap in plastic wrap.

Refrigerate at least one hour.
Filling
In large sauté pan, melt butter until foaming and add sugar. Cook about 5 minutes over medium heat until light brown. Add the apples.

Cook until apples are slightly soft, and add spices and zest - mixing well with a rubber spatula or wooden spoon.

Add the cornstarch and mix well, cooking one minute.

Remove filling and cool completely.
Assembly
Place parchment paper on a baking sheet.

Cut the crostata dough into 4 equal balls.

Roll out the dough with a rolling pin into about a 9 inch circle.

Place the rolled out dough onto the baking sheets lined with parchment paper

Using an ice cream scoop, fill with 4-1/2 OZ. apple filling.

Fold the dough onto the filling creating a rustic looking flower.

Place into refrigerator for 30 minutes.
Baking
Brush the crust of the crostatas with heavy cream.

Sprinkle crust with crystallized sugar

Bake in preheated 350 degree oven until brown and crisped (about 35-40 minutes).
Notes
Serve this with ice cream and homemade caramel for an extra delicious bite!
Nutritional information should only be used as a guide.