2016 Holiday Gift Guide for the Home Cook
This 2016 Holiday Gift Guide is the complete guide to your favorite home cook! I have hand picked my personal favorites that I use in my kitchen on a daily basis. Everything from mini ovens to measuring spoons, no matter the price or the style I have what your favorite home chef wants for this holiday!
Appliances
Vitamix 5300 Blender: This is for the chef in your life who has been VERY VERY good this year. While it comes with a higher price tag, it is worth every penny! I use this more than any other appliance in my kitchen. I use it for anything from smoothies to my favorite borscht. It comes with a lifetime warranty and cleans itself with just a drop of dish soap!

KitchenAid Hand Blender: I love using the hand blender for small things around the kitchen. Sometimes when I whip up fast marinades or just to chop up some garlic, I find this does the job so much easier and faster than my trusty Vitamix.
Nespresso VertuoLine Coffee and Espresso Maker: This was my gift to myself for my birthday this year and it was the best gift ever! I start every morning with a cup of coffee from my Nespresso and IF I do not have my coffee…I am NOT a happy camper. This particular model is bundled with an Aeroccino which is what makes the frothy milk for lattes and cappuccinos. And it's at an incredible price!
Blow Torch: A blow torch in the kitchen is essential for one very important thing: cool tricks! Essentially a blow torch is used for bruleeing things such as luscious and Creamy Creme Brûlée.
Gadgets
Mandolin: I have had this mandolin for years! It is extremely affordable and takes hardly any space in my cabinet. I use it whenever I want to slice something thinly and quickly. I have used it when I most recently made my zucchini chips and when I make my famous Pomme Dauphinois.
OXO Good Grips 4-Cup Fat Separator: This is one of those gadgets that you would probably not buy for yourself but would make a great gift! It is great to skim fat off sauces or roasts . It is a nifty little gadget that makes everyone wonder how they ever made non greasy sauces without it!
Stainless Steel Potato Ricer: This ricer is a gadget everyone should have! It creates the most creamiest dreamiest and fluffiest mashed potatoes! Plus it is super easy and super fun to do!!! This is a gift that makes everyone say "Why didn't I think of that!"

Microplane: Everyone knows how much I love this little device. I speak about it practically every recipe! From mincing garlic and ginger to grating lemon and orange zest. I love it so much that I used to give it out as gifts to all my clients. Get one in every grate size!
Levups Measuring Cups and Levups Measuring Spoons: I was contacted recently this year by a fun little company called Dreamfarms. They have the most fun gadgets and some of which are their little measuring cups and spoons! They come with tiny little levels at the top so you never have to worry about grabbing a knife to level off the top of your spoon for that perfect measure. This site alone has enough gifts and gadgets for everyone in your life!
Brieftons Spiraliger: I love this spiralizer. I have had it since way before the whole spiraling fads and zoodles came to be. This one comes with a few different blades and is dishwasher safe! Plus kids love it! What better gift can there be for a family who loves to hang out in the kitchen
Cookware and Kitchenware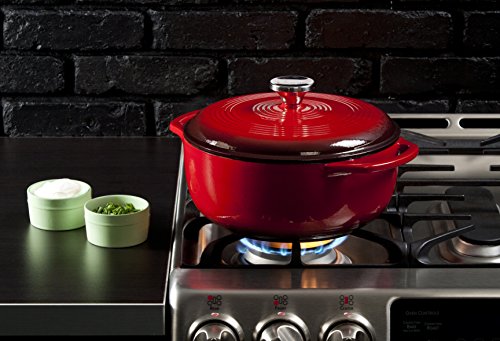 Global 7-piece Ikasu Knife Block Set: I love my Global knives. I have had them for 10 years and I am not looking to change them any time soon. They are lightweight, stay sharp for a longtime and are beautiful. This set in particular comes with a brand new contemporary knife block that is absolutely gorgeous. (Make sure you check out my how to chronicles to learn how to use a knife properly.)
John Boos Newton Prep Master Maple Wood Reversible Cutting Board with Juice Groove and Pan: A knife is no good unless you have a great cutting board to go along with it. I love these big wooden cutting boards. This one has a pan built into it for garbage or even to store foods as you cut them. And the juice groove around the board comes in handy when cutting something like a roast or a turkey. All the juices get caught in lip and do not roll over and make a big ole' mess. Plus nothing is as good on knives as a wooden board.