This Lemon Parmesan Asparagus is the perfect side dish for any entree!  It is crispy, savory and delicious, best  of all it is ideal for a quick and easy weeknight veggie as it comes together in two minutes and and roasts up in only seven minutes!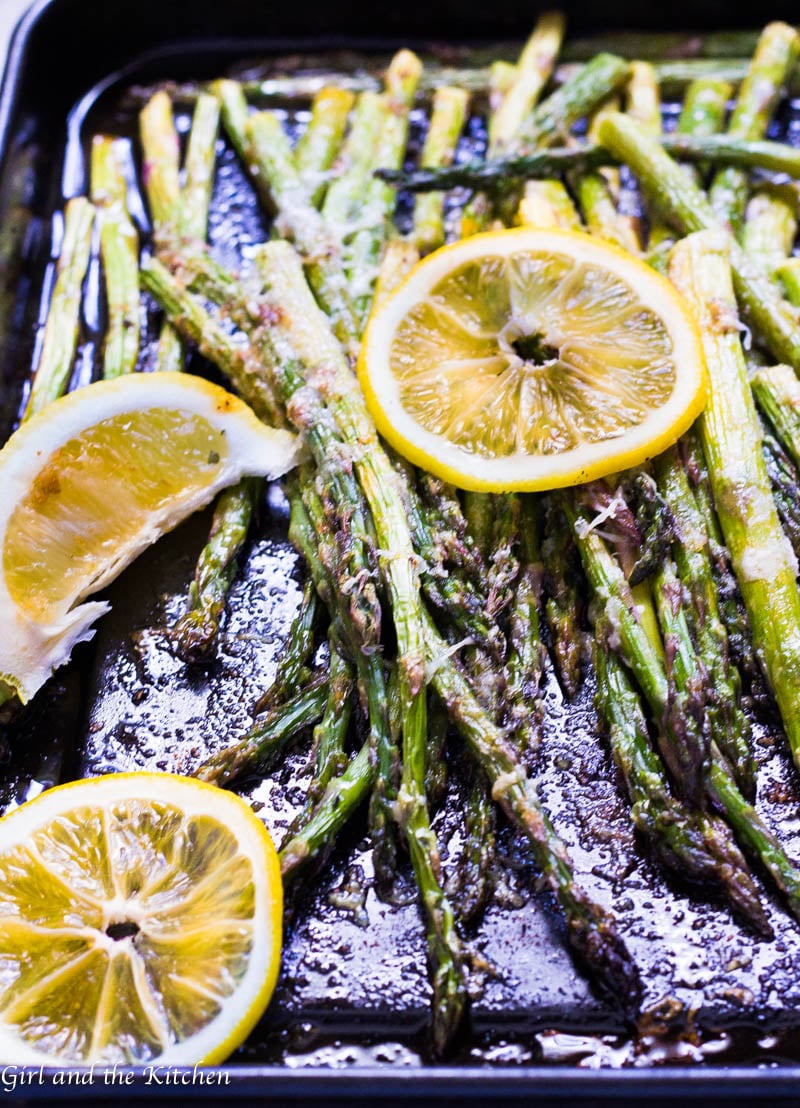 [wprm-recipe-jump]
Listen…I'll be honest.  Most of the time, dinner in our house needs to be quick and easy.  Like most other supermoms out there, my days are long and while I spend my days cooking for the blog, when it comes to cooking up dinners for the fam, I need something quick and healthy.
That being said, I do my very best to keep our meals high in protein and loaded with healthy, nutritious veggies.  Asparagus is one of those veggies that I absolutely cannot get enough of.  When I take a pan of this lemon parmesan asparagus out of the oven, I usually munch on it, until I realize that I have myself consumed half the pan and have ultimately become a vegetarian for that night.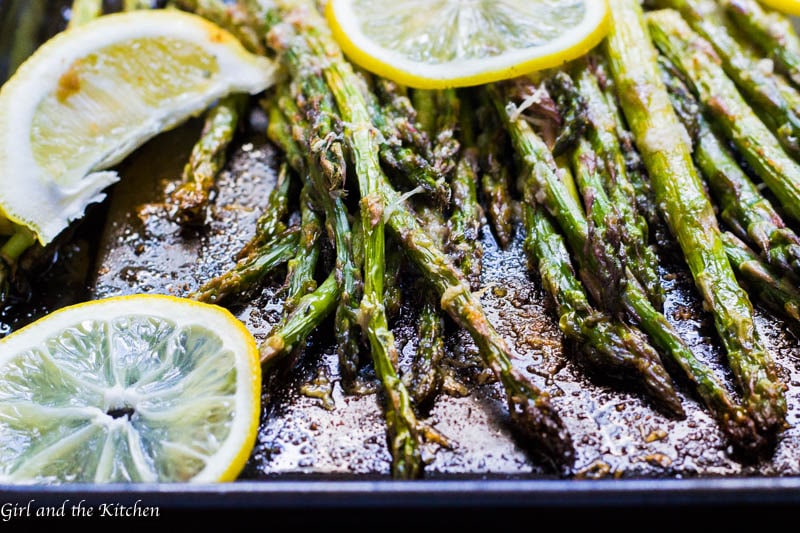 This asparagus is super versatile!  In the cold months I broil it in the oven for a few minutes.  And in the gorgeous summer weather I throw it on the grill for a quick sear along with some chicken or steaks and ring the dinner bell…or in my case, text the hubby to get his dinner on.
Naturally the best part is…from start to finish I get them on the table from start to finish in 10 minutes.  Ring the dinner bell, send a text, FaceTime…whatever gets the family to the table fast enough!  This Lemon Parmesan Asparagus will be inhaled by all!
THE TECHNIQUE
Trimming Asparagus: Trimming the asparagus correctly is crucial to the quality of the vegetable.  Some just use a vegetable peeler to peel off the tough ends and make them slightly more tender.  But I have found that they are still quite fibrous and its not worth the battle with my teeth.  So instead when I buy the asparagus stalks (which are typically bound by rubber bands) I remove one and hold it one hand on the stalk and one on the top by the spear and then I bend it.  Where it naturally snaps is where they need to be cut.  I then line all the bound stalks up with the rest and just cut them all to that same length.  You can discard the stalks, unless you are planning on throwing them into a soup for flavor.
Broiling VS Roasting: Asparagus, like many other vegetables does not benefit from a long cook time.  In fact, it tastes significantly better when it is quickly cooked.  Therefore, I always choose to broil it.  90% of the time I use my countertop Breville convection oven during the week for cooking.  It has a ridiculously powerful broiler and it gets any job done in no time, including our delicious Lemon Parmesan Asparagus.  I prefer to broil the asparagus because the Parmesan gets gorgeous and golden and the asparagus tips caramelize and add a beautiful, toasty flavor to the veggie.  Plus you cannot beat the fact that they are done in SEVEN minutes!  If you do not have a good broiler, just roast them for about 8-10 minutes, again depending on the power of your oven.
Get your toaster ovens out ladies and gentlemen…these asparagus are yours in only 10 minutes from beginning to end!!!
Print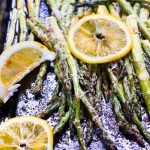 Lemony Parmesan Asparagus
---
Author:

Total Time:

10 minutes

Yield:

4

ppl

1

x
1

pound of asparagus
juice of

one

lemon

2 tablespoons

of olive oil

2 tablespoons

garlic powder
salt and pepper to taste
Shredded Parmesan cheese as desired (use a microplane)
---
Instructions
Preheat the oven to HIGH on broil. If you do not have a broiler, preheat it to 450-degrees on roast.
Grab your asparagus that is typically tightly bound with rubber bands and place it on a cutting board. You are going to want to cut off the woodsy ends and to realize where that is, just take an asparagus spear and hold 2 fingers on one end of the asparagus and 2 fingers (from the other hand) on the other side, now bend it. Where it naturally snapped is the woodsy end. Use that one asparagus as a measuring point for the rest of the asparagus and cut off the woodsy ends. You can discard those, unless you are planning on throwing them into a soup for flavor.
Wash the asparagus, thoroughly and then towel dry it. Place it into a roasting pan (a foil pan works perfectly fine). Drizzle olive oil, lemon juice, salt, pepper, Parmesan cheese and garlic powder. Toss to combine
Place it into the oven for 7 minutes on broil, 8-10 minutes on roast or grill it on high for about 5-7 minutes. It should be tender to the bite but not mushy.
Feel free to serve with extra lemons and definitely some more Parmesan!
Notes
The nutritional information should be used for informational purposes only.
Prep Time:

3 minutes

Cook Time:

7 minutes

Category:

Side Dish

Cuisine:

American