Low Carb Brussels Sprouts with Gremolata
These low carb Brussels sprouts with gremolata are the ultimate side dish that is both healthy and delicious! The trick to this recipe is using the correct technique to roast the little sprouts, leaving them super crispy! The garlicky gremolata makes this simple side dish something that is perfect for a last minute dinner but fancy enough for a dinner party!
Making Crispy Brussels Sprouts at Home
Lets be honest, low carb side dishes are all the rage now! As they should be! And these low carb Brussels have saved my my butt every time I make them. Whether it's for a casual dinner or dressed up with some edible flowers at an event… they are always a hit and ALWAYS IMPRESSIVE. But best of all these low carb brussels sprouts are always easy.
Every single time I go to a restaurant and roasted brussels sprouts are on the menu I HAVE to get them. That perfectly crispy outer layer and tender inside are what I crave. It's literally like eating vegetable crack. I know a lot of you are thinking the exact same thing, but saying "I could never make Brussels sprouts as good as restaurant quality". But you have me…so trust me you can and will! This Brussels sprouts recipe with garlicy gremolata is sure to knock the sock off of any dinner guest! And I am going to teach you how to make them with a few simple tricks and techniques!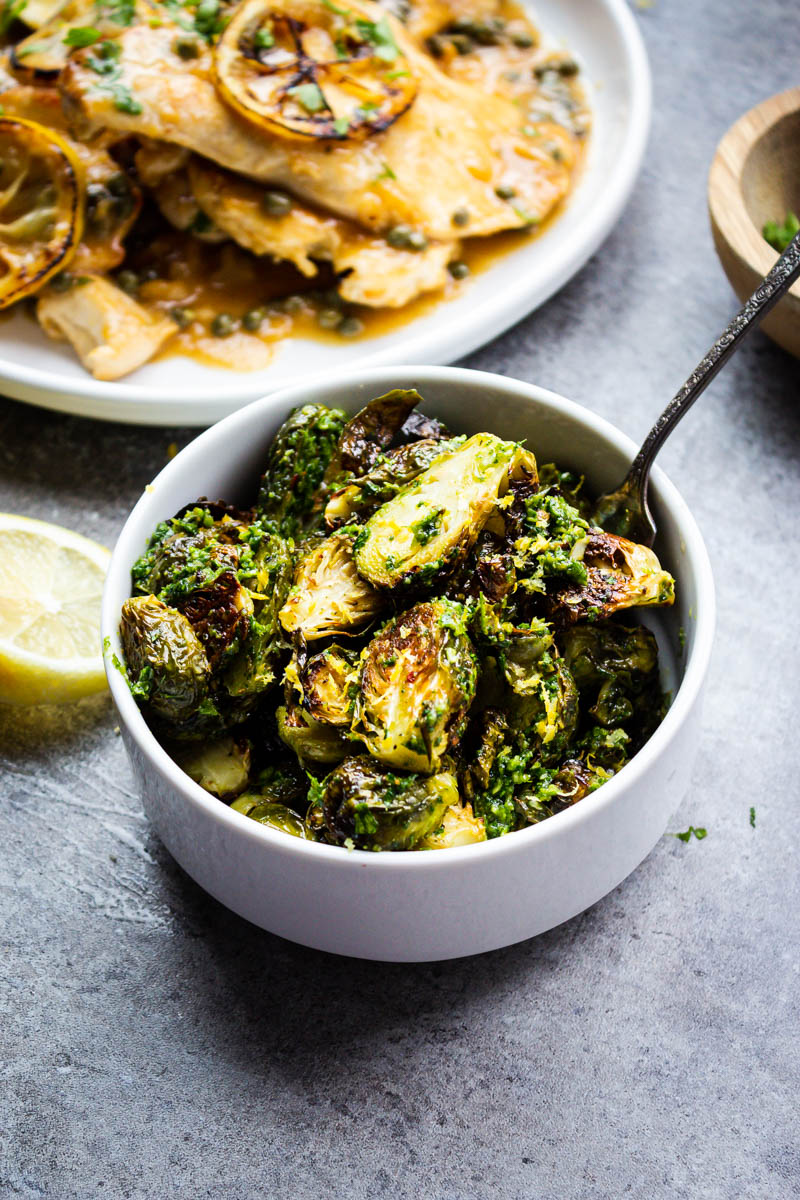 The Technique
Your Oven

: This is super important guys. To get that super crispy outer layer you HAVE to roast on a high oven temperature. This is going to draw out all of the moisture in each little brussels sprout really fast, which will leave you with a beautifully caramelized, crispy outer layer. Make sure you don't roast anything else in the oven at the same time as these babies either. If you add other things to the oven, opening and closing the oven door will change the temperature and moisture level of the oven. This will vary your results in getting the crispiest outside. Now go preheat your oven to 450F!

The Sheet Pan

: It is also extremely important to lay out all of those brussels in a single layer on your sheet pan. You have to make this happen in order to get even browning on all the brussels. Here's another little trick- DON'T use silicone baking mats for this one. It will increase the moisture and leave you with soggy sad brussels. Seriously trust me on this one. If you are worried about them sticking to the bottom, just use parchment paper. If you can stand it, go bare and skip the parchment all together for the ultimate crisp.
Simplicity

: Simplicity IS KEY to this recipe. Some of you will be tempted to add some sauce or flavorings to the Brussels before roasting. Skip it. Trust me. Adding anything extra can just totally ruin all the steps you've taken to make sure these brussels are super crispy. So instead just toss the little guys with some olive oil, salt, and pepper. THAT'S IT. Told you it was easy:)
The Gremolata

: Now THIS is gonna be your secret weapon. This gremolata will take those crispy brussels from 0 to 100! This garlicky gremolata will elevate your dish so insanely, AND it only takes a few minutes and some basic ingredients! All you need is a food processor. Seriously the ingredients are just shallots, parsley, garlic, lemon zest, red pepper flakes, salt & pepper, and EVOO. SO STINKING EASY. Soooo delicious. Seriously I eat this stuff on just about anything but on these crispy Brussels it is a total game changer. But this is important- don't add it until AFTER the brussels are done cooking and right before you serve them. This will ensure that they retain maximum crispiness.
Helpful Tools for this Recipe
Sheet Pans for the ultimate crisp without worrying about clean up.
This Food Processor to make that perfect garlicky gremolata
A Microplane to zest those lemons- a Mila staple!
Print
Low Carb Brussels Sprouts with Gremolata
---
Author:

Total Time:

35

Yield:

4

Diet:

Gluten Free
Description
These low carb brussels sprouts with gremolata are the ultimate side dish that is both healthy and delicious! The trick to this recipe is the using the correct technique to roast the little sprouts, leaving them super crispy! 
---
1 pound Brussels sprouts, trimmed and cut in half if small, quartered if large
 Salt and freshly ground pepper
 pinch of red pepper flakes
 3 tablespoons extra virgin olive oil (plus 1 tablespoon for the gremolata)
 3 garlic cloves
1 shallot 
1/2 cup finely minced flat-leaf parsley
 2 teaspoons lemon zest and juice of half a lemon
---
Instructions
Preheat the oven to 450 degrees F. 
Line a sheet pan with parchment paper or leave it plain if you are fine with washing a sheet pan.
Toss the Brussels onto the sheet pan and drizzle on some olive oil and season with salt and pepper.
Place into the oven for 15 minutes.  Then rotate the sheet pan and toss a bit.  Roast for 10 more minutes or until gloriously crispy.
In the meantime, combine the remaining ingredients in a food processor or hand blender.  Puree through until nice and creamy and combined. Taste for seasoning and set aside.
Remove the Brussels sprouts from the oven and place into a serving dish.  
Pour the gremolata on to the Brussels and serve immediately.
Notes
For best result use parchment paper or just use the regular sheet pan without lining it.  
You can make the gremotlate ahead of time and use it for marinades and event thinned out as dressings.  Add it to a mayo and make the most delicious aioli! 
I have a convection oven.  If you are using a conventional oven, the browning process may take a bit longer@
Prep Time:

10

Cook Time:

25

Category:

side dishes
Keywords: low carb, vegetables, brussels sprouts,