Moroccan Roasted Carrots with Garlicky Yogurt Sauce
Meet a veggie side dish that will steal the show!  Deliciously sweet and spicy roasted carrots with a Moroccan spice blend all drizzled with a creamy and garlicky  yogurt!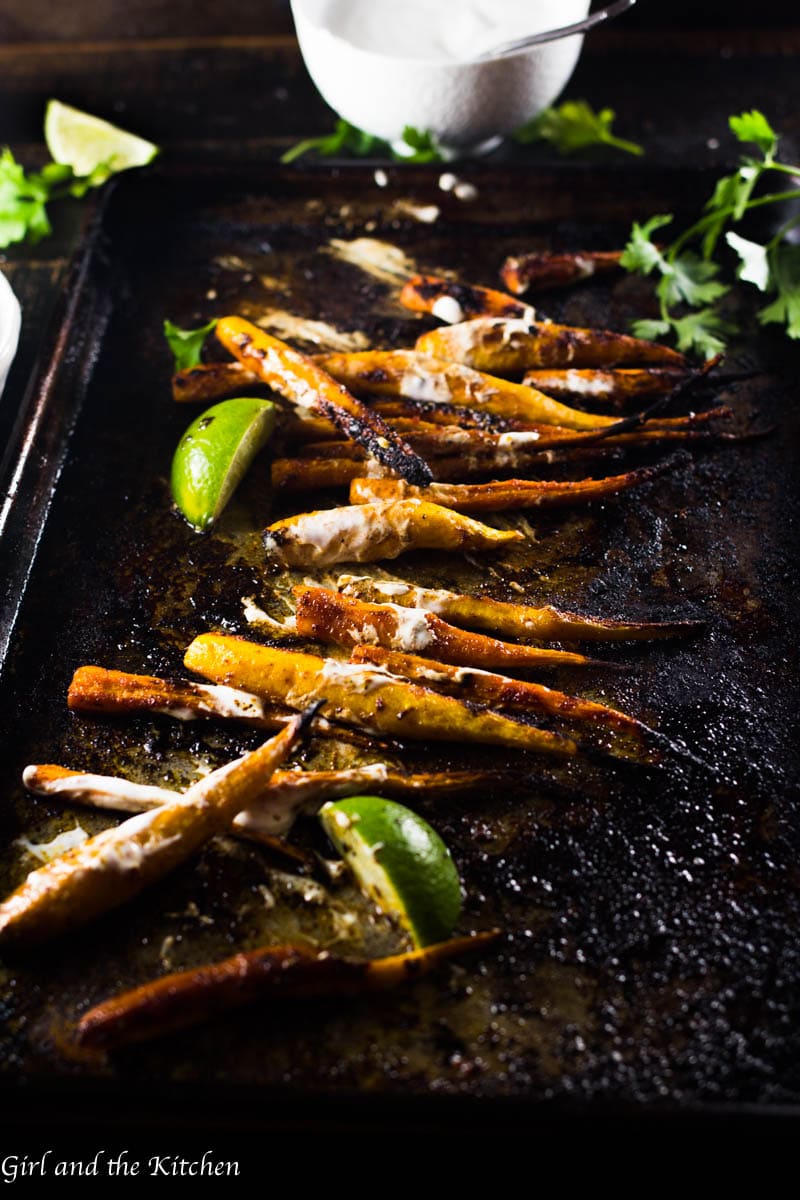 [wprm-recipe-jump]
I happen to have a friend who loves spicy food.  When I say spicy I do not necessarily mean hot (although she likes that too) she likes her food full of flavor and bursting with fragrant spices.  She has travelled all over the world and always talks about how incredible the food is everywhere she visits.  From the pyramids of Egypt to the finest Turkish baths in Istanbul to scenic cliffs and fragrant wines in the Italian countryside…my friend is quite well travelled to say the least.  Whenever she comes back she always tells me of the incredible sights she had seen…but most importantly the fabulous food she enjoyed.
This FYI is the same friend who I travelled to Miami with last year and who inspired this incredibly perfect Soy and Lime Spicy Grilled Shrimp.…or as she named them, prawns.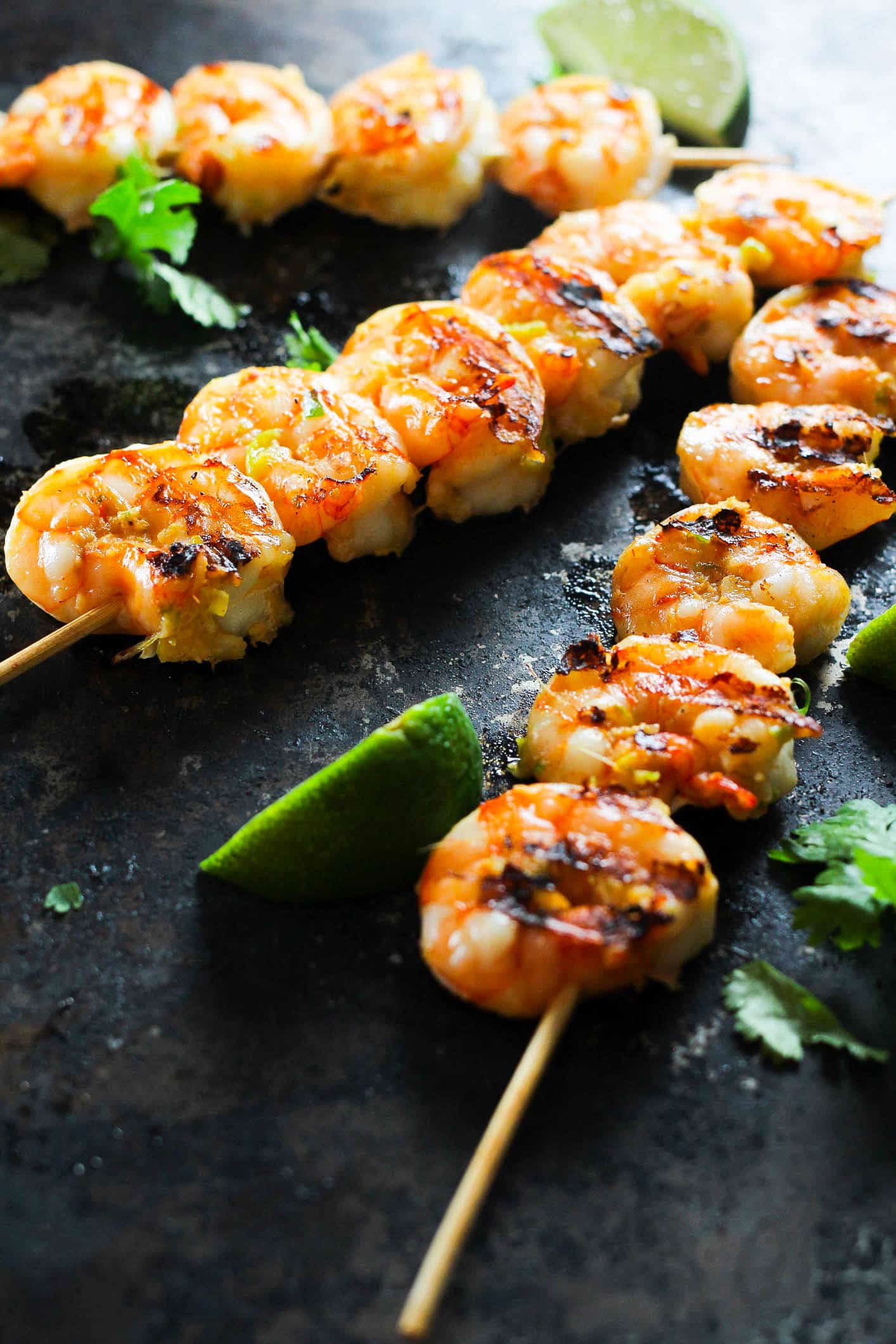 Over Thanksgiving last year, she gave her 11 year old daughter Sophie the gift of travel and took her to Dubai.  Sophie had been dying to go there to see the only 7 star hotel in the world and of course the biggest mall in the world.  Naturally, it's exactly what all 11 year old little girls dream of.  Upon returning from Dubai, she asked me to pop by her house and cook a quick dinner for the fam as they were famished (what are good chef friends for anyhow)and in return she bribed me with fresh spices from Dubai.  As Sophie twirled around me and rattled her tongue off at 300 miles a minute about the mall and the hotels and the Ferrari theme park, I whipped up a simple dinner of all their favorites.
"Sophie, let Mila breath a little bit, let her make dinner and most importantly a coffee for me:)  Oh and go grab what we got her out of my suitcase." Said my friend as Sophie whizzed off to dig through the suitcase.  How this kid had so much energy after not sleeping for almost 24 hours is beyond me.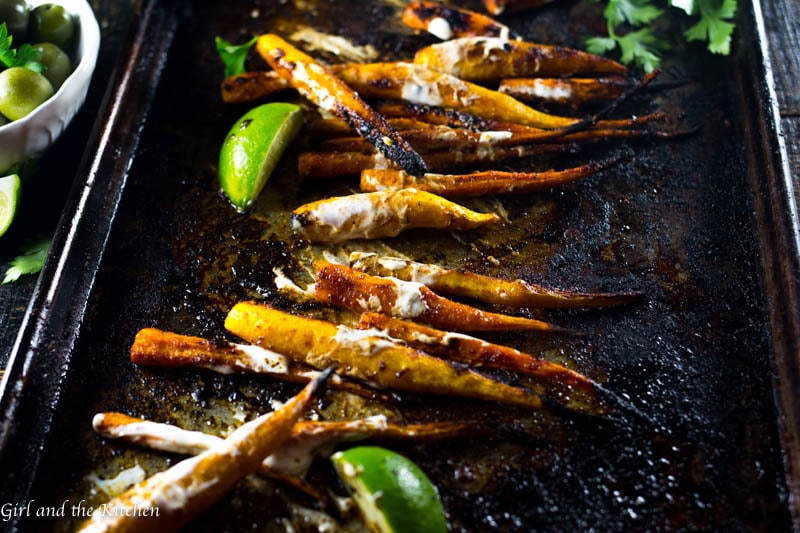 My friend and I continued to chat about Dubai and naturally the food.
"You would have loved it!  It is EVERY vegetarian's dream.  I swear I could have probably been a vegetarian there.  Could have being the operative word here." She said.
Before we even had a chance to giggle at my friend's joke, Sophie ran back in and handed me an adorable stuffed toy camel which clenched a few little packets.  The little camel was for the munchkin of course and the packets were for me.  Fragrant packets of  saffron and za'atar spice to be exact.  This is why they are such good friends…they always know what will put a smile on mine and the munchkin's face.
A few months later, my friend and I had gotten together for a very last minute BBQ.  And as she was scrolling through her phone she said, "THIS, this you have to make!" It was a picture of perfectly roasted carrots in a shiny and sticky glaze.
"Milaaaaa make it pleeeeease, put those spices that we got you to good use!" she exclaimed. Naturally I obliged and went to go raid her fridge.  She did have carrots…they were a tad  sad looking but I figured I could brighten them up.
Very quickly I whipped us up some mango margaritas, grilled chicken and tons of grilled veggies.  One of which happened to be these perfect beauties.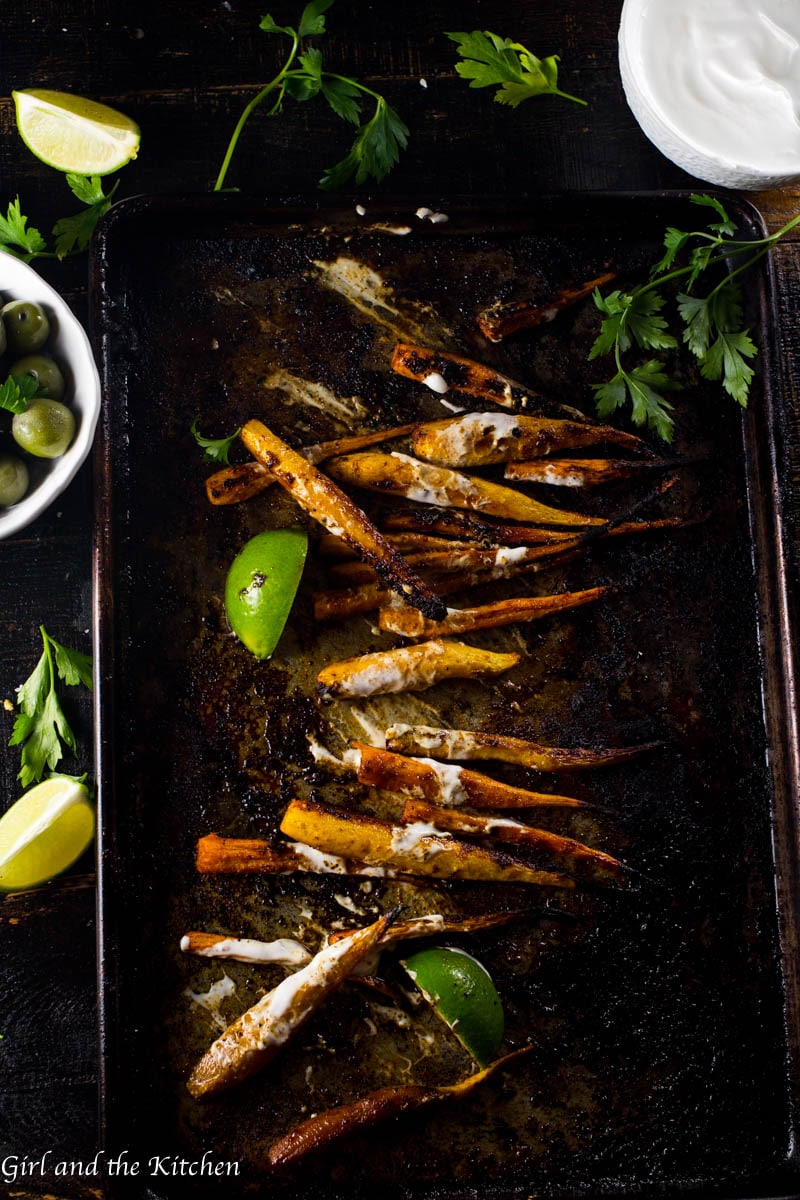 The once measly and sad looking carrots were transformed into gloriously caramelized beauties bursting with heat and flavor.  I tossed them quickly in honey, olive oil, za'tar spice, cinnamon, cayenne, sumac, red chili flakes and tons of fresh lime.  And to mellow out the heat, I spooned a simple garlicky yogurt sauce over them and sprinkled them with sprigs of parsley.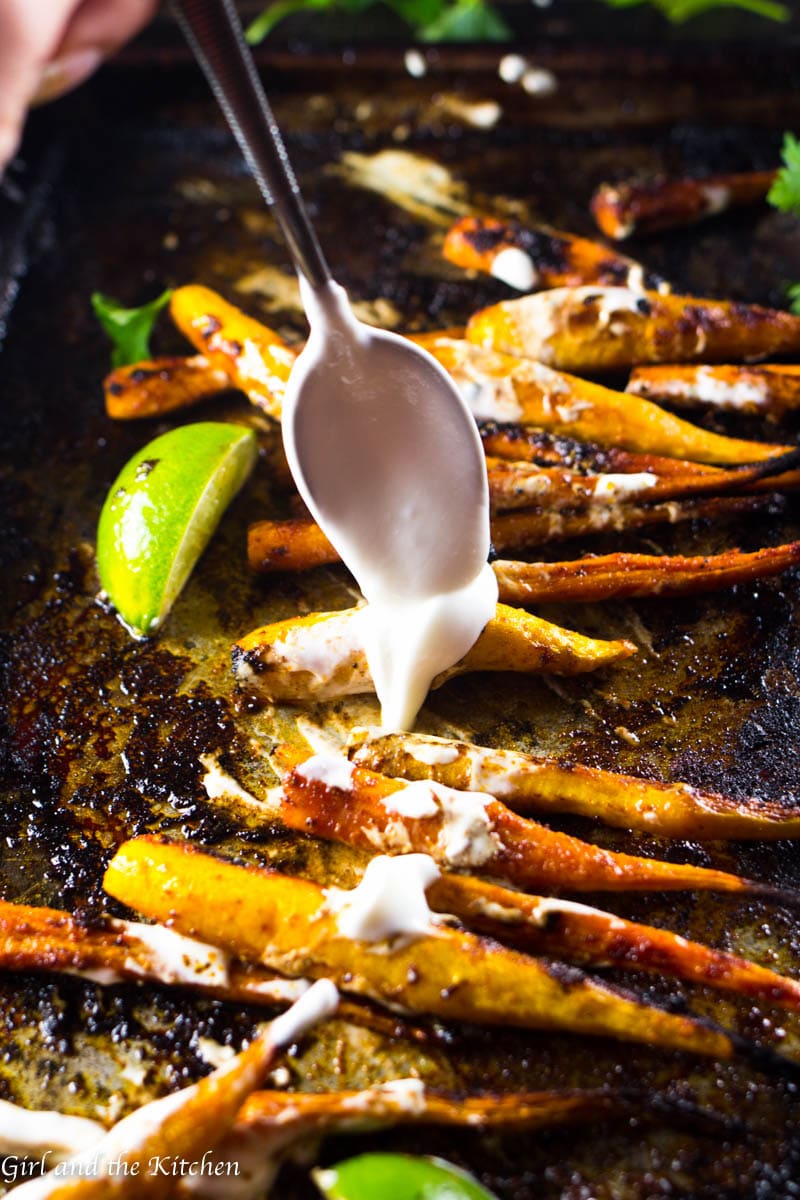 It ended up being the best kind of day.  We sipped our margaritas, as we bathed in the warm spring sun.  We watched our girls chase after each other with squeals of glee and we laughed at the silly things that would come out of the munchkin's mouth.  This…this is what good friendships are made of.
Want to make this a perfect meal???  Serve these luscious carrots with my easy Moroccan chicken and Lemon Couscous.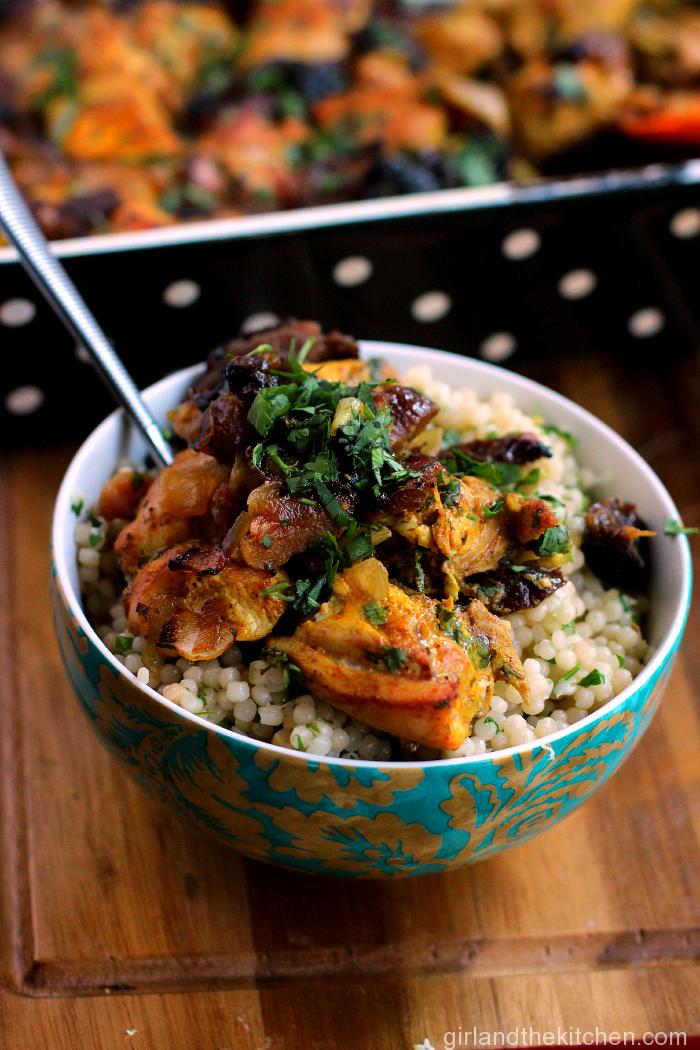 (Psst, this is so perfect for any dinner party and it is exactly the reason I included in my Rosh Hashanah and Yom Kippur Dinner Menu Plan)
Print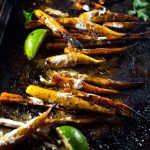 Moroccan Roasted Carrots with Garlicky Yogurt Sauce
---
Author:

Total Time:

15 minutes

Yield:

4

people

1

x
Description
Meet a veggie side dish that will steal the show! Deliciously sweet and spicy roasted carrots with a Moroccan spice blend all drizzled with a creamy and garlicky yogurt!
---
For the carrots
1 1/2

pounds thin carrots (peeled*)

2 tablespoons

olive oil

2 tablespoons

of honey*

1 tablespoon

ground cumin

1/2

a tablespoon cayenne or more if you like the heat

1 tsp

za'taar spice

1 tsp

sumac

1 tsp

of red chili flakes or more if you like it spicy

1 teaspoon

ground cinnamon

1

lime—1/2 teaspoon finely grated lemon zest plus 2 tablespoons lemon juice
For the garlicky yogurt sauce
1 cup

Greek yogurt

3

cloves of garlic (minced on the microplane)
drizzle of honey
---
Instructions
Carrots
Preheat oven to 425-degrees F
Combine all the ingredients except the carrots in a bowl. Mix well and taste for seasoning. Add more salt or spice if necessary.
Place the carrots on a sheet pan and drizzle with the honey and spice mixture and toss well to combine.
Place the sheet pan into the oven and cook for 7 minutes. Open the oven and toss the carrots around. Because of the honey in the recipe these babies caramelize quickly so just watch them.
Garlicky Yogurt Sauce
As the carrots roast, combine the garlic and the yogurt. Drizzle with honey
Serve sauce with carrots.
Notes
1. I bought really gorgeous carrots and a farmers market that were really thin and little. If for some reason you cannot find thin carrots just use regular ones and slice them in half. Always work with what you have 🙂
2. Don't forget to spray the measuring spoon with cooking spray before adding in the honey so that it doesn't stick to the spoon!
3. To make the carrots completely vegan substitute the honey for molasses.
Prep Time:

5 minutes

Cook Time:

10 minutes

Category:

Side Dish

Cuisine:

Moroccan