Lemon and Thyme Roasted Chicken Thighs
A super simple chicken thigh recipe bursting with flavor. The perfect dinner for a busy weeknight!
Chicken is a staple in our household.  In fact, I have come to realize, it's a staple in most households.  That being said, it has the unfortunate tendency to get boring.  But not this recipe…This recipe is a hit every time.This recipe never gets boring.  And it's because of its marinade.
I have found that using different marinades prior to roasting or grilling my chicken gives it an undeniable burst of oh so very necessary flavor.
There are a few secrets to a good marinade, (post on that in more detail soon to come 🙂 ) But generally speaking, you need a fat, a flavoring, salt and an acid.  Chicken only needs about 6-8 hours to marinade, but I like to do it over night since that's the easiest for me.
In addition to adding a lot of flavor to marinades I like to ensure that my chicken is super flavorful by roasting it with the bone in and skin on.
For this recipe, I used bone in, skin on, cute little chicken thighs.  They are my favorite part of the chicken 🙂  Roasting chicken with the skin on ensures the outcome of a moist and more flavorful chicken.  While the chicken roasts, the skin allows for a self basting effect and as the fat drips out, it leaves the skin crispy and delicious.  And fat free 🙂 Which of course means guilt free.
These chicken thighs roast up so golden and delicious that it's a fantastic quick go to weekday meal for the family.  It is also a great main entree to whip up when guests decide to come over last minute on a Saturday night, when you have nothing else in the fridge but garlic, lemon and some herbs. Which is pretty much the norm in our house every Saturday night.  Hence, I always have some chicken marinading in the fridge on a Saturday just in case..
But please do give this chicken a try…the picture practically begs for you to bite into it.
Happy Monday all… speaking of which…wouldn't this awesome make for a great last minute Monday dinner?  I bet you can whip it up by dinner time and just serve it over some brown rice with a nice crisp salad.  In fact…that's what I am about to do.
Print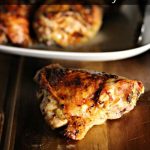 Lemon n' Thyme Chicken Thighs
---
Description
A super simple chicken thigh recipe bursting with flavor. The perfect dinner for a busy weeknight!
---
1.5

pounds chicken thighs (rinsed)

3 Tbsp

. olive oil

1/4 cup

of water
the zest and juice of one lemon

5

garlic cloves (minced on microplaner)

3

sprigs of fresh thyme (remove from stems)
coarse salt and freshly ground black pepper (to taste)
---
Instructions
Add all the ingredients except the chicken to a bowl and mix to combine.
Taste the marinade. It should be very flavorful and almost too salty.
Add the chicken and the marinade to a ziplock bag making sure to get all the air out of it. Swish it around until everything looks nicely covered.
Place into the refrigerator for at least 8 hours.
Preheat oven to 450-degrees.
Place chicken on a lightly oil sheet pan and roast until juices run clear or until internal thermometer reaches 160-degrees F.
Category:

Entree

Cuisine:

Classic