Super Creamy Parmesan Risotto with Asparagus (No-Stir Method)
A classic super creamy Parmesan risotto recipe that features a simple no-stir method!  Take all the guess work out of this recipe with this ridiculously simple method proven by yours truly and the genius behind Serious Eats. 
[wprm-recipe-jump]
The very first time I tried risotto was my first quarter in culinary school.  I was a teacher's assistant for a food demonstration and I was in charge of prepping all the ingredients for the chef so he could smoothly demonstrate the creamy risotto he had set out to make.
Mind you as a first quarter culinary student all I knew of risotto was that it was an Italian rice.
But my life was about to be changed forever.
At the demo, I listened to the Chef talk about what a risotto was and its classic techniques deeply rooted in Italy and Italian grandmothers.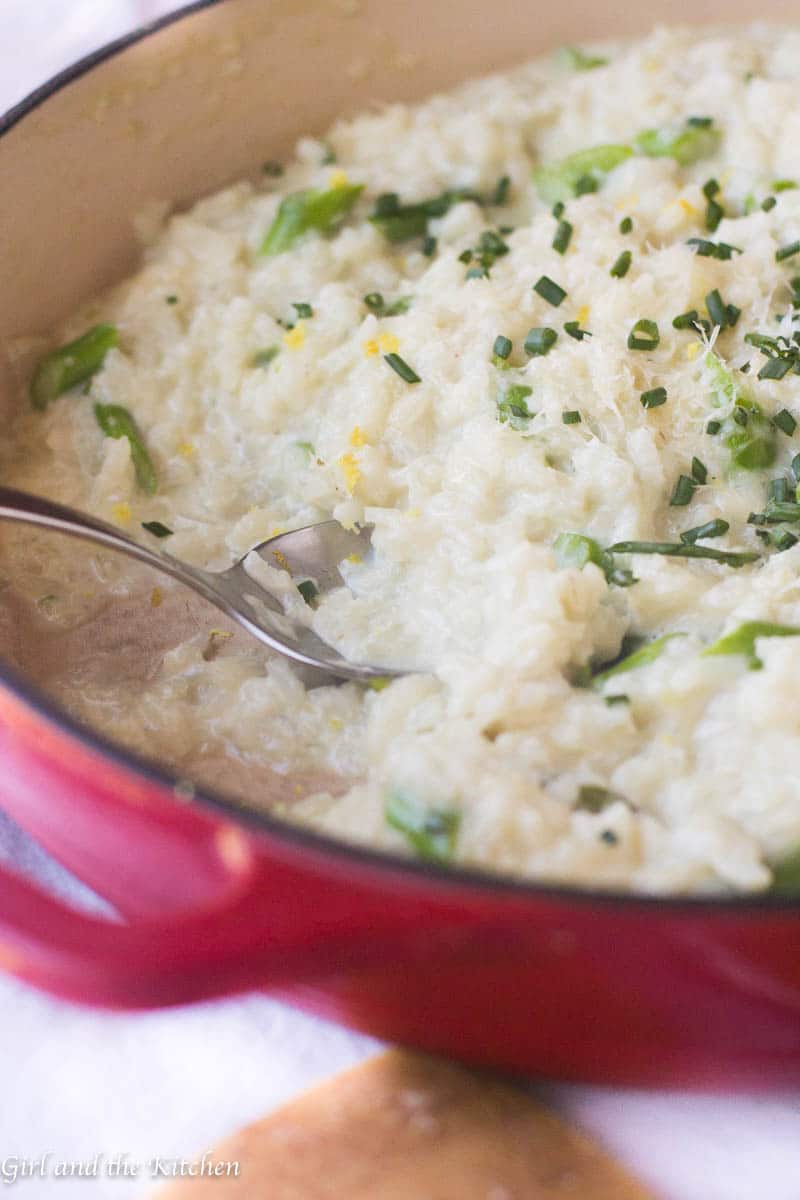 I watched him pour ladle after ladle of hot broth into the pot and stir with each addition, mentioning how incredibly important this method was to the success of the risotto.  Risottos were to be creamy and similar to porridges in texture.  Risottos were unlike any other rice dish out there because of the Arborio rice used that practically demands for the starch to be extracted so that it makes an uber creamy risotto.  Once it was super creamy and perfectly al dente, he turned it off and added in a few touches of cream and copious amounts of good ole' shredded Parmesan cheese. He finished it off with some chives and asked me to begin plating it so that I could serve it to the guests watching.
After I had completed my assistant duties, I also got a plate of this uber creamy risotto and was there and then transported to Italy.  Risotto had at this very moment become my favorite thing in the world to eat.
It was at this moment that I knew I had to come home and make this risotto.  And I did so lovingly: toasting the rice, sweating the aromatics, adding in the hot broth one ladle at a time and stirring in between to make sure I extracted all the possible starch out of the Arborio rice.  I served it with fresh Parmesan shavings and some lemon zest.  I sat and ate practically the whole pot by myself and quickly put the pot in the fridge, worried that I would so very easily consume the whole batch.
It has been years since I made that original risotto batch and for all these years, I have made my risotto the exact same way, the same way Italian grandmothers have been making it for generations.  Pouring in hot broth ladle by ladle.
But ladies and gentlemen I have turned a new leaf…and have found a new technique.
THE TECHNIQUE
I first saw this no-stir technique in an article by the brilliant Kenji from Serious Eats.  He explained that there certainly was a better way to make risotto and all apologies to Italian grandmothers…but we don't have to stir anymore!
Arborio Rice:  No matter which technique you use to create a risotto, the key to it being a risotto by definition is of course to use Arborio rice.  Arborio rice is a short grain rice that is imperative to make a creamy risotto.  Sometimes it will say fino or superfino on the package it does not matter which one you buy as both will work out just fine.  Without getting into too many details, just remember Arborio rice happens to be starchy and this is one of the reasons our risotto is indeed so creamy.  By the way, in the event you are unable to find Arborio rice in your neighborhood store, I have purposely linked them here so that you can easily find them on Amazon.
Sweating the Aromatics:  Our aromatics in risotto are almost always shallots and garlic sweated in butter.  As we all know, because I drill this into everyone practically every post, sweating is sautéing without adding color to the vegetables.  it is a way for us to encourage the aromatics to push out all their juices thereby flavoring our food.  Feel free to add fresh herbs to this step as well just DO NOT skip it.  THIS is your flavor!
Toasting the Rice: Toasting the rice is crucial to develop flavor.  However, do NOT toast it for longer than a minute because doing so will result in a less creamy risotto.  There is a great deal of science involved in this and Kenji does a great job explaining it, but I will just tell you that if you toast for just a minute you will get enough flavor without losing any of the creaminess.
Stirring vs Not Stirring: I was always taught that we stir because it helps the rice cook more evenly and because it extracts all the starch out of the rice.  According to the brilliant Kenji this is just not the case and this problem can easily be solved by using a low pan or sautee pan instead of a classic pot.  This allows more surface area to be covered so the rice cooks evenly despite the lack of stirring.  I have always used a sautee pan because that was how we did it in culinary school when we made it to order.  I can promise you it is WAY EASIER than a classic pot.  As for agitating the rice to result in a creamy risotto, we have even easier solutions than that.
Using a Hot Stock:  After making my risotto in they new no-stir method I have realized that the temperature of the stock or broth does NOT matter as long as we are using a nice and shallow pan.  What will make a huge difference is the quality of your broth or stock.  The flavor of the risotto depends heavily on the flavor of your liquids used so make sure you use a brand of stock or broth you trust if you are not using homemade broth or stock.
Creating a Creamy Risotto:   I have done many tricks to attempt in making the CREAMIEST risotto.  Despite what the perfectionists or Italian grandmothers say…my risotto is always perfectly creamy because I finish it off with some heavy whipping cream and freshly shaved Parmesan.  Classic risotto should be so creamy that oozes on a plate…and ladies and gentlemen…mine does.  Even without all that fuss.

EAT 

IMMEDIATELY : This is a no brainer because of the fact that it is so darn tempting and delicious that there is just no way you could possibly wait to consume it. The reason that we mustn't wait and MUST SERVE IMMEDIATELY is because of what happens to risotto once it starts to cool.  It becomes gummy.  Delicious but gummy.  Which is precisely why I always make a double batch…because it makes my favorite appetizer in the world Arrancini…aka Italian fried and cheesy rice balls.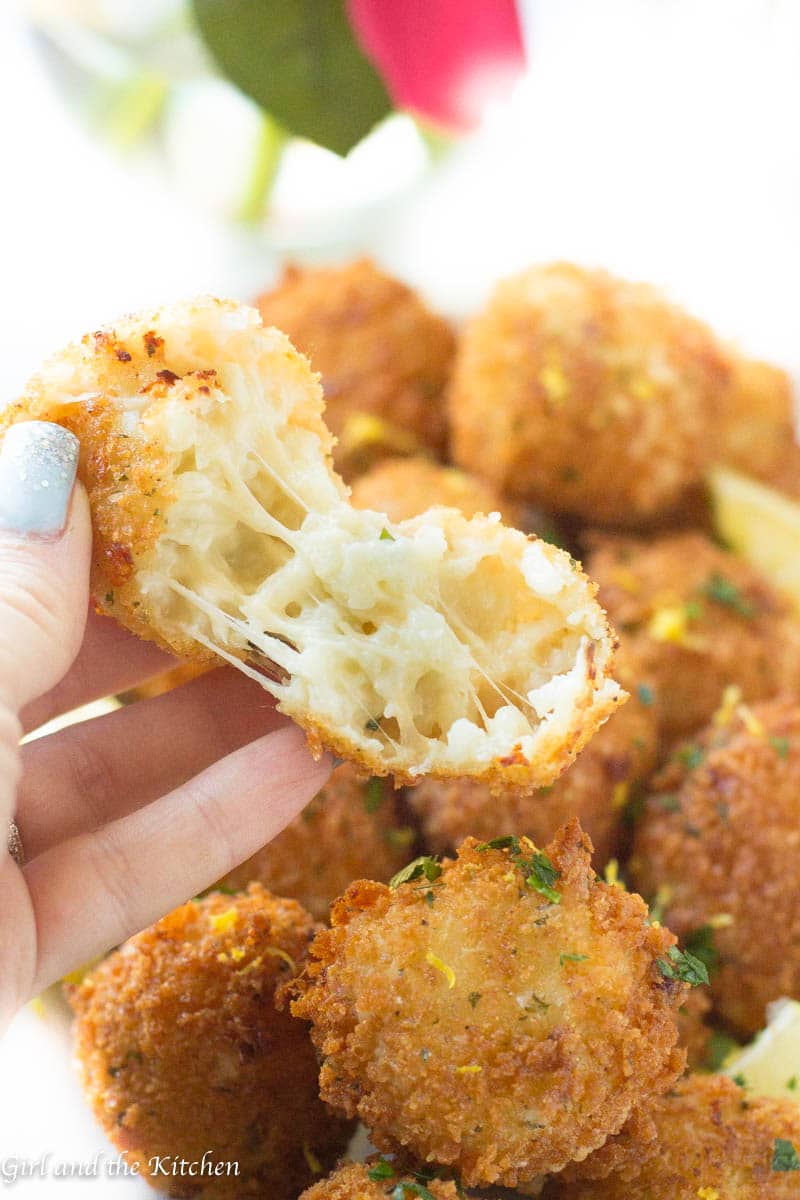 After making this risotto over and over and over again, I realized that all those countless years and hours I had spent stirring the risotto were totally unnecessary.  I finished off my creamy risotto with some beautiful spring asparagus, lemon zest and chives.  The combination of the 3 added a beautiful freshness to the risotto making it the perfect springtime treat!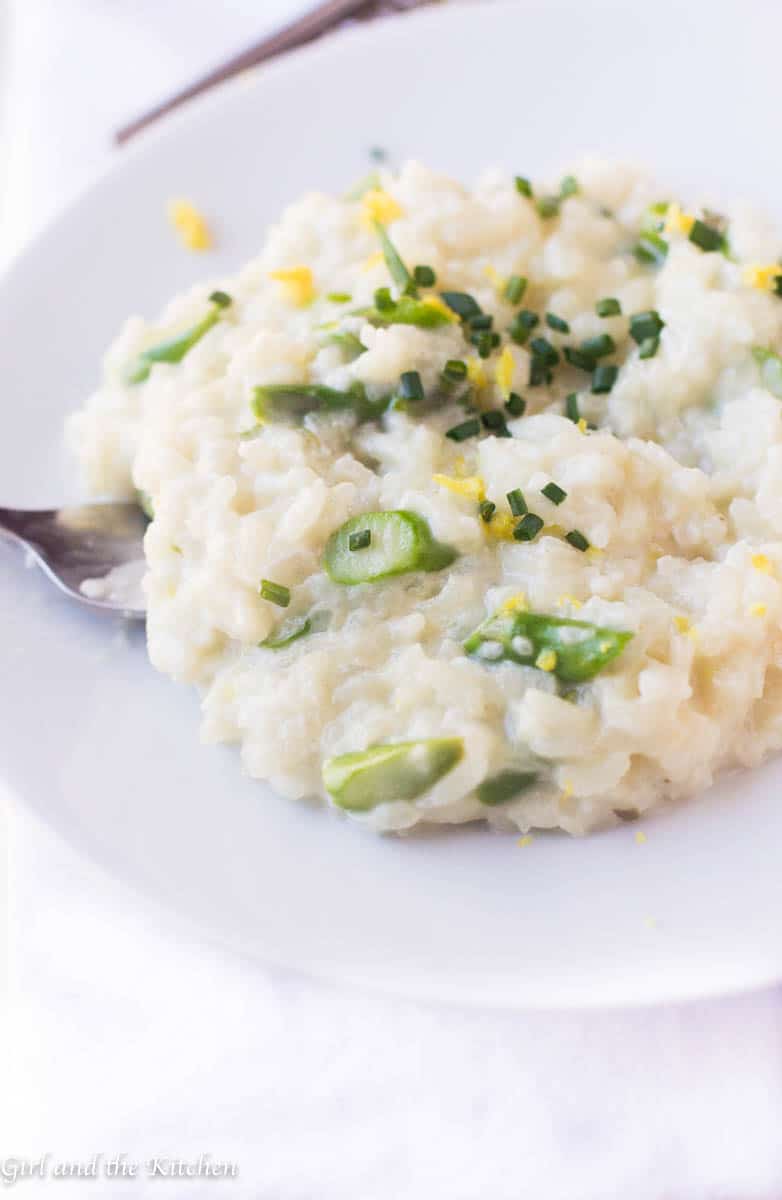 Your life has been forever changed…risotto will NEVER need to be stirred again 🙂  Thanks Kenji!
PSST…If you LOVE this…make sure you make my other two faves that are made out of your leftover risotto!
Print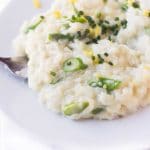 Super Creamy Parmesan Risotto with Asparagus (No-Stir Method)
---
Author:

Total Time:

30 minutes

Yield:

4

1

x
Description
A classic super creamy Parmesan risotto recipe that features a simple no-stir method! Take all the guess work out of this recipe with this ridiculously simple method proven by yours truly and the genius behind Serious Eats.
---
1 1/2 cups

Arborio rice

1 quart

good quality chicken broth

1 cup

white wine

2 tablespoons

butter

3

medium cloves garlic (grated on a microplane*see note)

3

small shallots finely minced or grated on a microplane *see note

1 cup

of sliced asparagus with the woodsy ends removed (about

5

stalks)

3/4 cup

heavy cream or more if necessary for extra creaminess

6 ounces

finely grated parmesan
zest of

half a

lemon

2 tbsp

of freshly chopped chives or freshly chopped parsley
Kosher salt and freshly ground black pepper
---
Instructions
Start with the butter in a shallow pan or sautee pan over medium heat.
Once the butter is bubbling add in the garlic and shallots. Close with a lid and allow to sweat for 5 minutes ensuring you do not get any color on them.
Turn heat up and add in rice grains. Toast for ONLY 1 MINUTE.
Add in white wine and reduce about 2 minutes. Make sure to scrape the bottom of the pan (this is called deglazing) this lifts up all the flavor!
Pour in all of the chicken broth into the pan EXCEPT ONE CUP. Reserve that one cup for later. Give everything a good stir and increase the heat to high until everything is bubbling and simmering away. Stir rice once more reduce heat to the lowest it can go and cover.
Continue cooking without peeking for 10 minutes.
Remove the lid and stir once. Replace the lid and continue cooking until the rice is al dente, about 10 more minutes.
Remove the lid, add the final cup of broth and the asparagus. Stir ensuring that the risotto gets nice and creamy. This will be just enough time for the asparagus to be perfectly cooked.
Turn of the heat, add in heavy whipping cream, lemon zest, Parmesan and chives. Stir and SERVE IMMEDIATELY.
Notes
Recipe adapted from Perfect Risotto Recipe by Serious Eats.
1. Alternatively I have placed the shallots and garlic in a food processor to puree them so they are super fine in the risotto.
2. Remember the rice should be FIRM not soft.
3. The ultimate use for leftover risotto is to make arancini or Italian cheesy rice balls.
4.  The nutritional information should be used for informational purposes only.
Prep Time:

5 minutes

Cook Time:

25 minutes

Category:

Vegetarian

Cuisine:

Italian