These ricotta meatballs are tender, light and incredibly delicious and are what meatball dreams are made of!  They take no time to prepare but are fancy enough for a Saturday night dinner!  Say hello to your new favorite meatball recipe.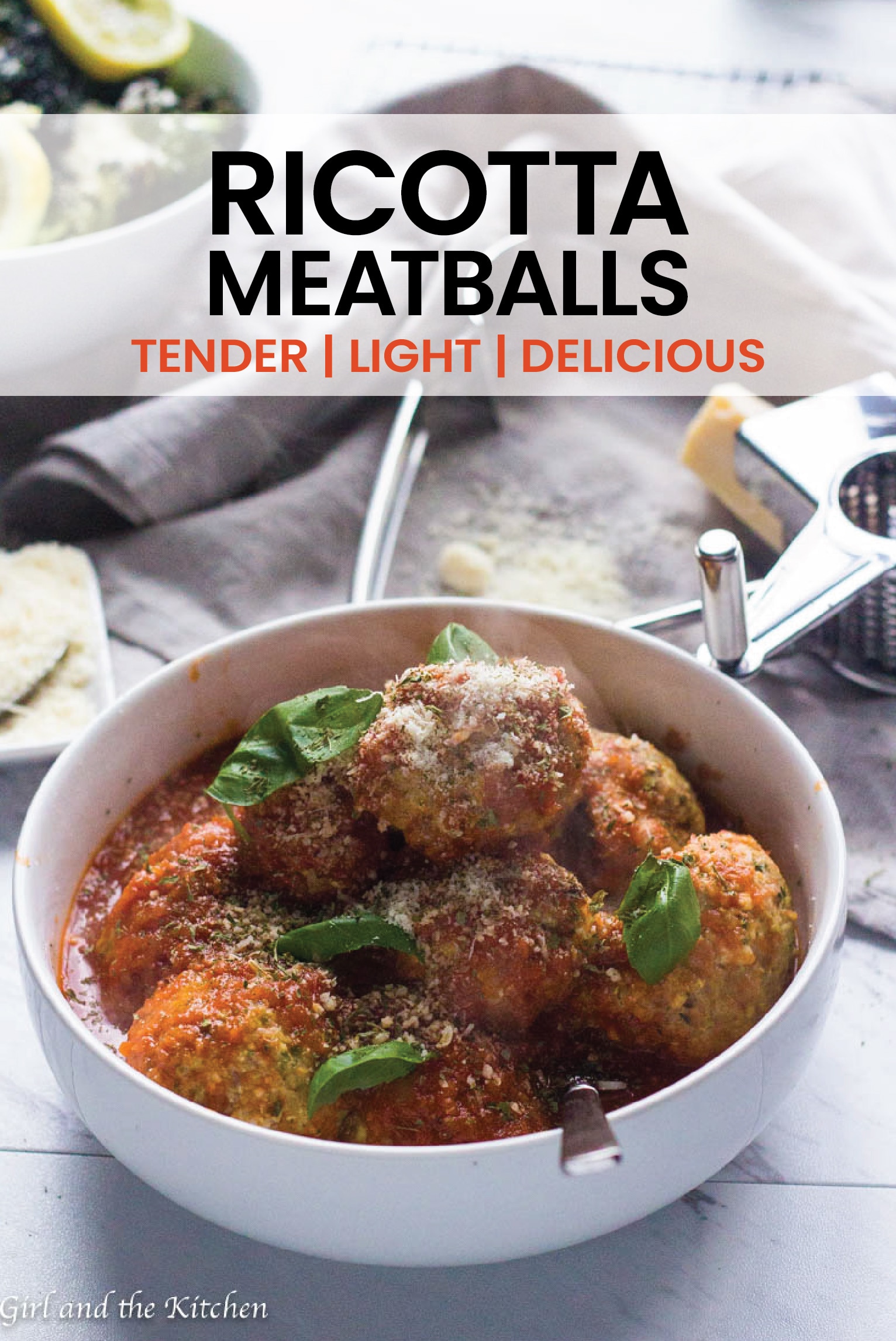 These meatballs are the kind of food that make all the other food served at a dinner table jealous. My ricotta meatballs are tender and fall apart as soon as they hit your mouth.
As a chef, I am constantly searching for new recipes or my personal favorite, the ultimate recipe.  Nothing can be greater than creating the ultimate succulent roast, the ultimate blintzes or  the ultimate golden chicken soup.  For me this requires researching a multitude of recipes, and much like a mad scientist, obsessively dissecting each recipe until I can fully understand what each ingredient does.  Then manipulating each ingredients proportions until I reach the ultimate recipe.
On a recent dinner party I was catering, I was asked to create a completely custom menu.  A menu that was unique in all its glory.  Every item on that menu  was a new recipe.  However, one of them left me with a lost feeling : the meatball.
The clients asked me to create a meatball that was hearty yet melted in your mouth.  Sure I have made meatballs before… huge tennis ball sized ones to share with a friend dripping in gooey tomato sauce.  But this was different ,they wanted succulence and airiness, they wanted them juicy and to stay together.  There were many components to this meatball that unfortunately none of my previous recipes would produce.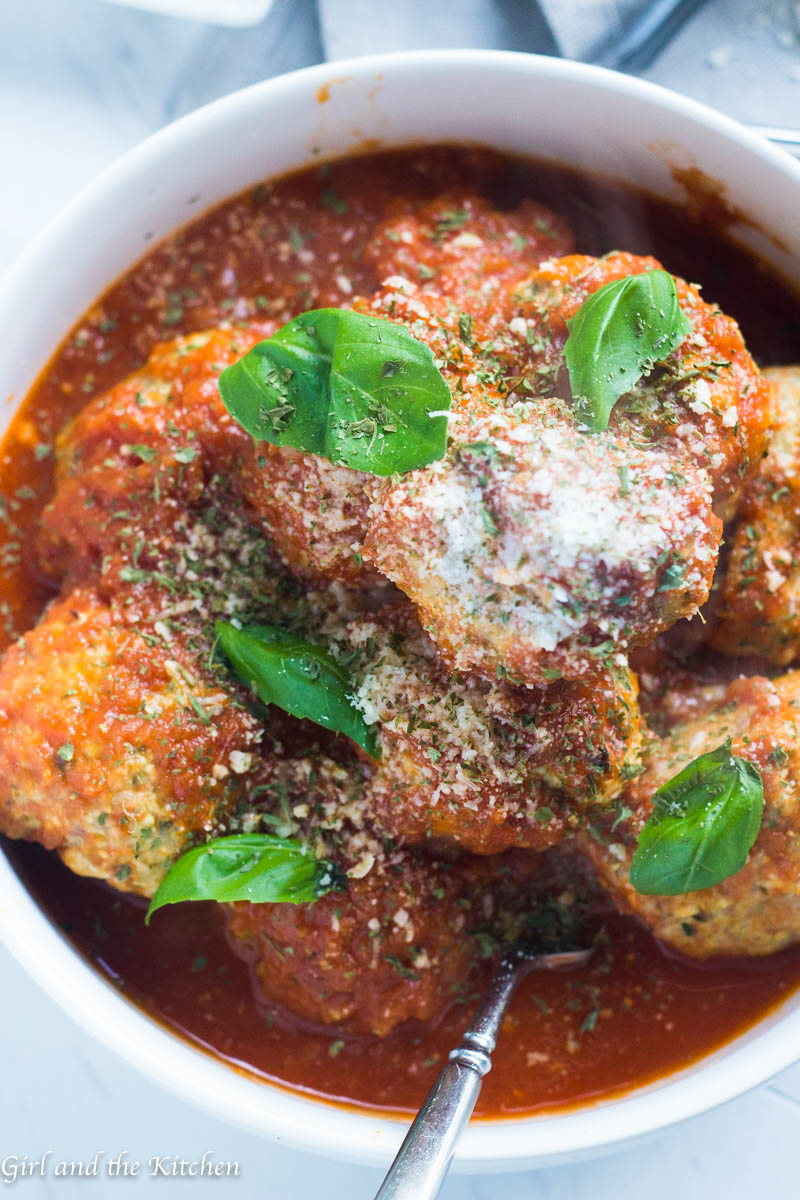 After finally completing my maddening research on Google, I had discovered the magic ingredients that I needed to make the most tender and fluffiest meatballs ever.  Ricotta.
This magical cheese makes for the fluffiest and most tender meatballs I have ever tasted.  They have become a staple in my household and in all my clients' homes.  Any time I make them for my clients, they have the same comment about these ricotta meatballs:
"Mila, next time we have to double the recipe."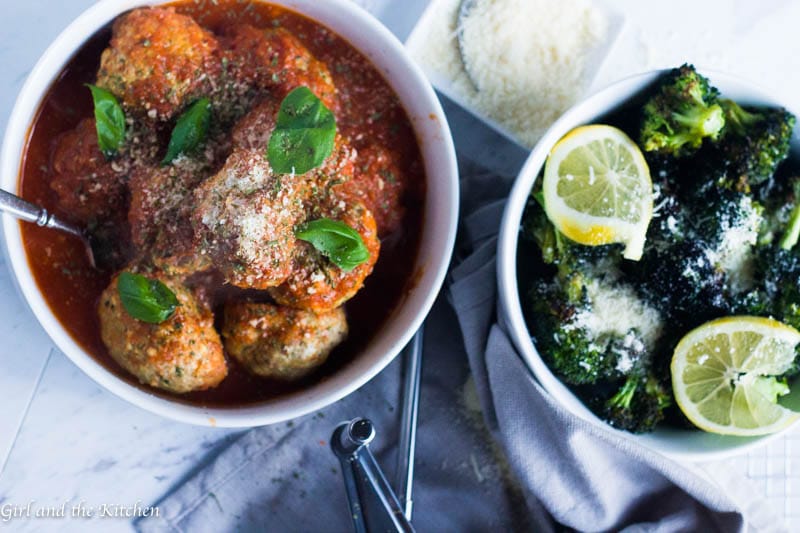 These ricotta meatballs do have a few hero ingredients that truly make them unforgettable.  They do not have the same mouth feel that a classic meat ball does.  Instead, they are pillowy, light and oh so very incredibly delish!
The Technique
The Ricotta:  It is non traditional to add ricotta into meatballs , however this is precisely what makes them light and fluffy.  However, while many cheese filled meatballs may feel super heavy and almost dense, these ricotta meatballs feel light and airy.  The ricotta also adds a super creamy texture to the meatballs.
The Flavors:  I kept the flavors classic and simple.  Some ground turkey, onion, fresh parsley, plenty of ricotta, freshly grated Parmesan and some grated nutmeg were all that went into these meatballs. The nutmeg is really a standout ingredient here.  Classically, nutmeg is always combined with dairy.  Something magical happens when these two ingredients combine and the flavors subtly melt into one another and create the perfect finish.
Resting Time: Because of the crazy amount of cheese in these meatballs, they need to rest after molding them.  A 30 minute rest in the fridge allows the meatballs to hold their form better while cooking.  This resting period actually works perfectly for making ahead. The meatballs can be molded, placed on a sheet pan, covered with plastic wrap and then placed into the fridge until the next day.
Molding: When making such a huge amount of meatballs, no one has time to mold them individually one by one.  One of the tricks I learned from working in commercial kitchens, is to scoop messily with an[easyazon_link identifier="B00004OCIW" locale="US" tag=" ne0fc6-20″]ice cream scoop[/easyazon_link] first and once everything is scooped onto the sheet pan THEN you can actually roll them and make them nice and round.  Trust me, it's a time saver when you are doing one movement instead of 3 different ones.

The bottom meatballs are the molded ones and the top ones are just measured out and put on the sheet pan. Quick and easy!

Baking Vs Searing:  Most meatballs are first seared in a pan and then slowly cooked in a sauce for a long period of time.  However, if this was to happen these delicate little meatballs would just fall apart due to the amount of cheesy goodness.   Ideally of course, we would sear them in a nice hot cast iron.  Since, this is a quick weeknight dinner, I do not have the time nor the need for the mess of searing these meatballs. Instead, I cook them at a high temperature in the oven super fast.  The beauty of making these with poultry (chicken or turkey) is that they cook up quick!  10 minutes in a 450 degree (convection oven) and these babies are tender, delicious and waiting to be bathed in sauce.
The Sauce: The meatballs have so much texture and flavor that I like to keep things simple and serve them with my classic marinara so as to not to cover up the flavor of these delectable ricotta meatballs.  They are so good on their own that they can be eaten just as they are without any sauce at all.  Whether I dress them in sauce or not, I ALWAYS finish them with some fresh lemon zest.  The lemon zest just brightens all the flavors and makes the meatballs' flavors just come alive.
Freezer and Make Ahead Friendly:  By the way did I mention that both the sauce and the meatballs can be made ahead of time.  I baked the ricotta  meatballs, covered them with sauce and refrigerated them over night.  They were amazingly delicious the next day.  And they are SUPER freezer friendly! In fact they turned out better when I froze the meatballs with the sauce and then let them slowly reheat while covered in a 350-degree oven.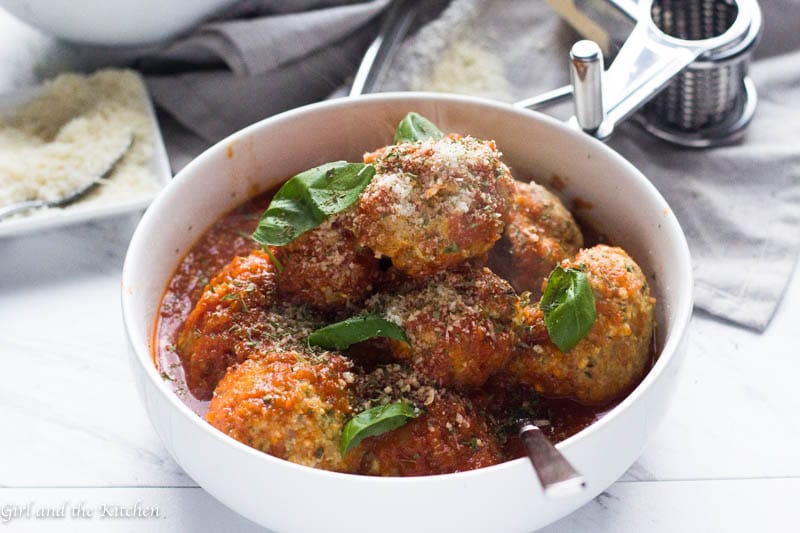 Print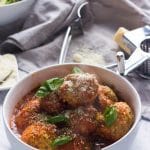 Ricotta Meatballs
---
Description
These ricotta meatballs are tender, light and incredibly delicious and are what meatball dreams are made of! They take no time to prepare but are fancy enough for a Saturday night dinner! Say hello to your new favorite meatball recipe.
---
1

pound ricotta cheese

1

pound ground turkey or chicken

2

large eggs

1 cup

grated Parmigiano-Reggiano (plus more for serving)

1

tbsp parsley (chopped)

1 tablespoon

salt (or as needed)
Freshly ground black pepper
Freshly grated nutmeg (as needed)
Vegetable oil for frying

4 cups

classic marinara

1

lemon for zesting
pan spray (as needed)
lemon (zested, as needed)
parsley (chopped, as needed)
---
Instructions
Combine all ingredients in a bowl (except marinara) and mix with hands until completely smooth, pale and homogenized.
Spray down a sheet pan or a foil pan with pan spray
Using an ice cream scoop, messily place the mixture onto the sheet pan.
Form meat into golf ball size balls, cover with plastic wrap and refrigerate until chilled, about 30 minutes.
Place them into a 450-degree oven for 12-15 minutes.
In another pan, heat up the marinara in a pot large enough to fit the marinara and the meatballs.
If serving with marinara, once the meatballs are done, carefully add them into the pot with the marinara and allow to simmer for 5 minutes.
Serve meatballs in sauce alone, or over pasta; sprinkle fresh Parmesan, grate some lemon zest and sprinkle some chopped parsley on top.
Notes
Both the sauce and the meatballs can be made ahead of time.  
The meatballs and the sauce are both very freezer friendly.  Just place them into ziplock bags or into a freezer safe container and freeze until needed.  You can also place them both into a foil pan and freeze covered in the sauce until needed.  Simply reheat right in the oven without defrosting at 350 degrees COVERED until they come to temperature.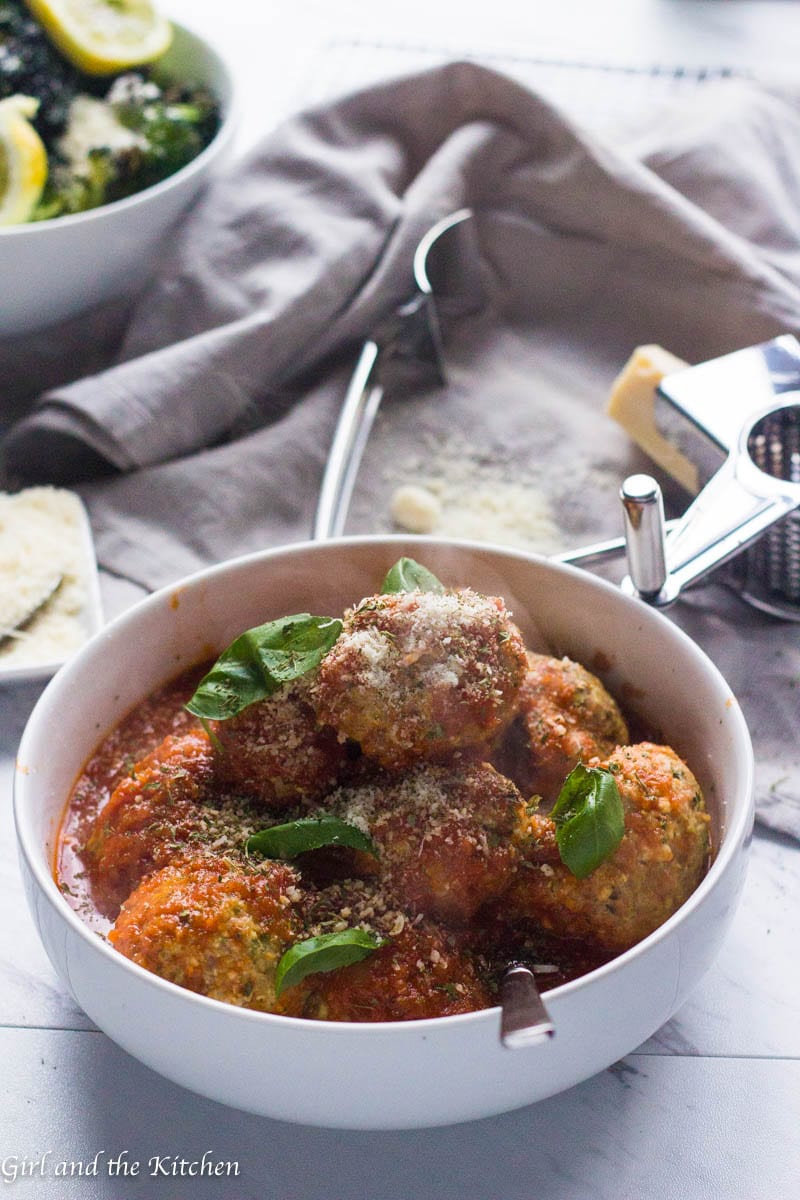 SaveSave
SaveSave
SaveSave
SaveSave
SaveSaveSaveSave