Learn how to make incredibly crunchy baked chicken tenders that are uber flavorful and moist! I serve them with my multi purpose and super delicious Honey Mustard Dressing that makes these chicken tenders irresistible to adults and children!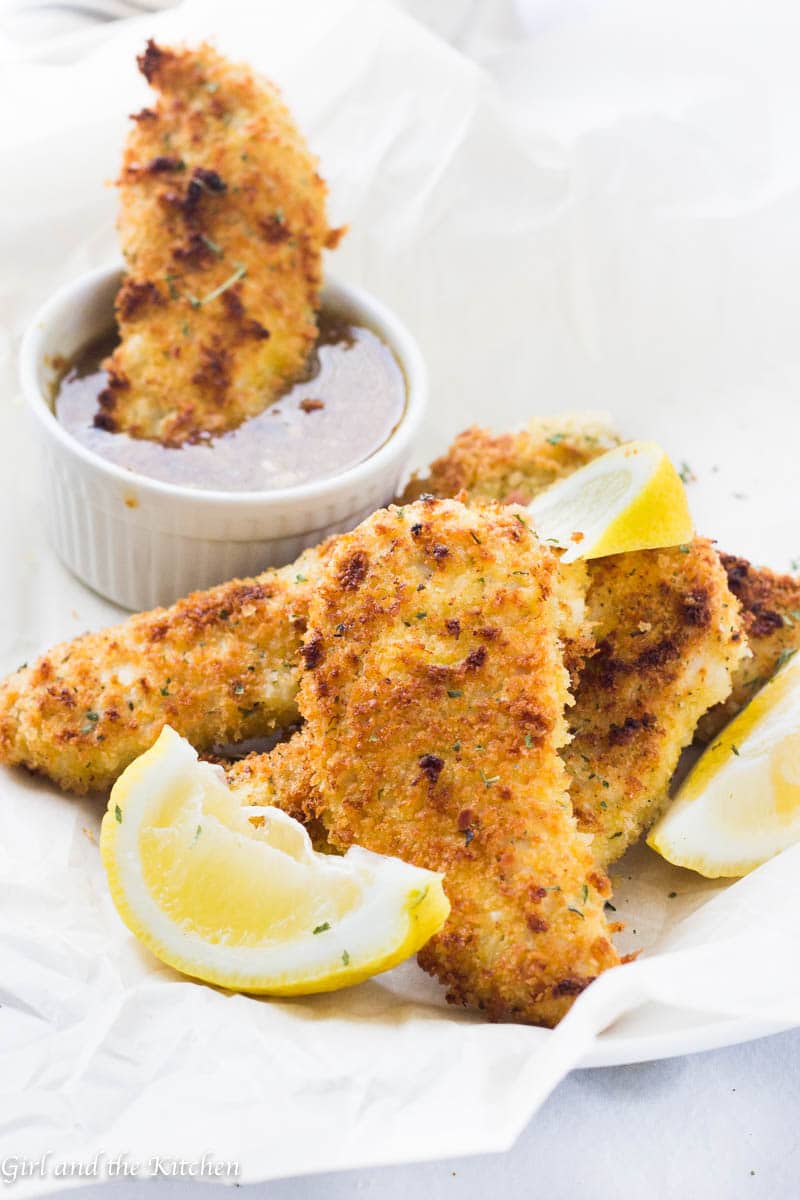 Jump to Recipe
Chicken tenders or chicken fingers as they are most frequently called in restaurants, have always been a weakness of mine. Well actually I secretly think they are everyone's weakness. Crunchy on the outside and super juicy on the inside. And then the best part of course…are the dips…my personal favorite is my Restaurant Style Honey Mustard Dressing.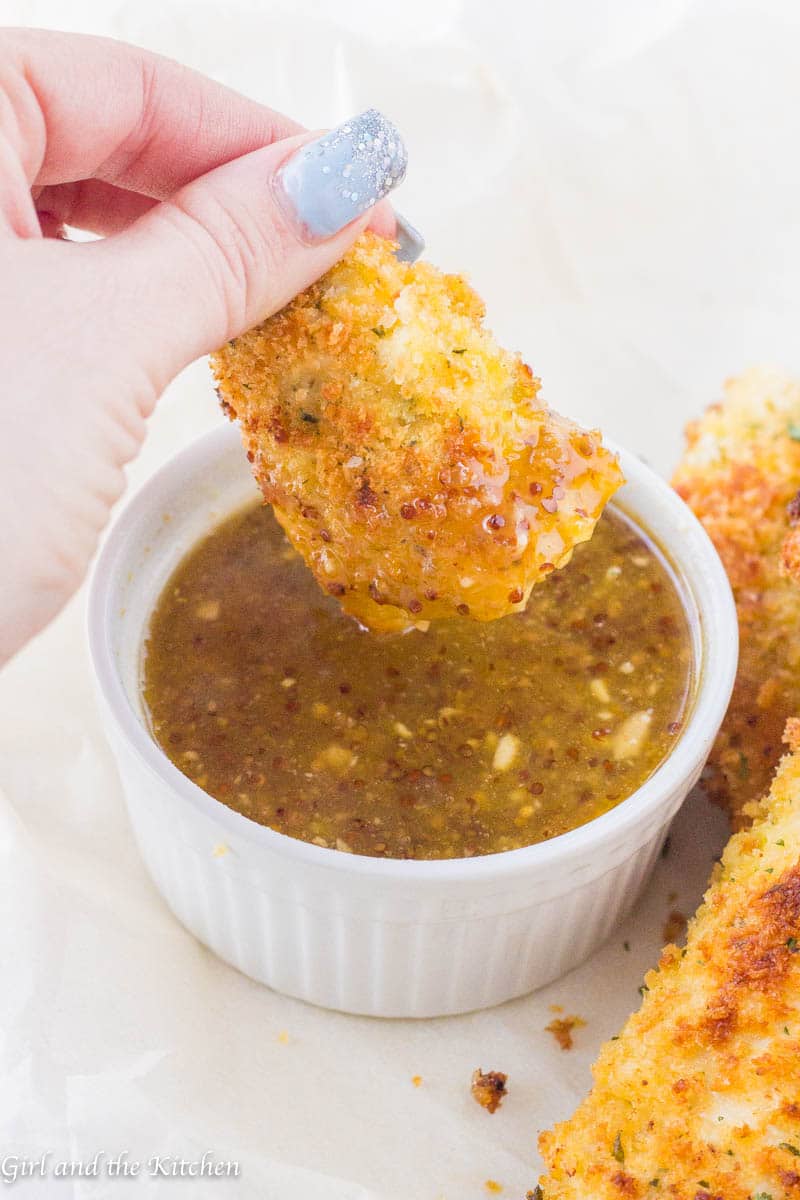 I have made them a million times when I host cooking classes with kids. Naturally, they are always impressed with my lesson on how to make crunchy chicken tenders at home.
But recently I even impressed ADULTS.
Last weekend, I was lucky enough to have Bloomingdales ask me to host a cooking demo featuring loads and loads of INCREDIBLE products from my favorite brands!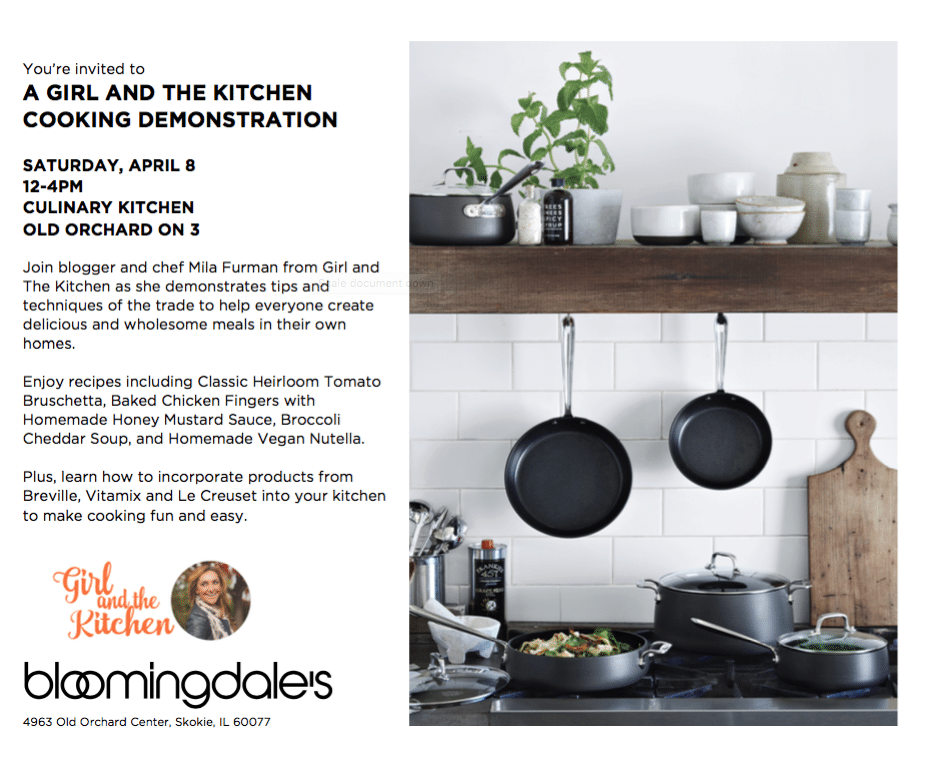 It was essentially a dream come true because I got to play with ALL the best brands. And best of all… they encouraged me to do so because all of my favorite brands asked to be a part of my demo!!!!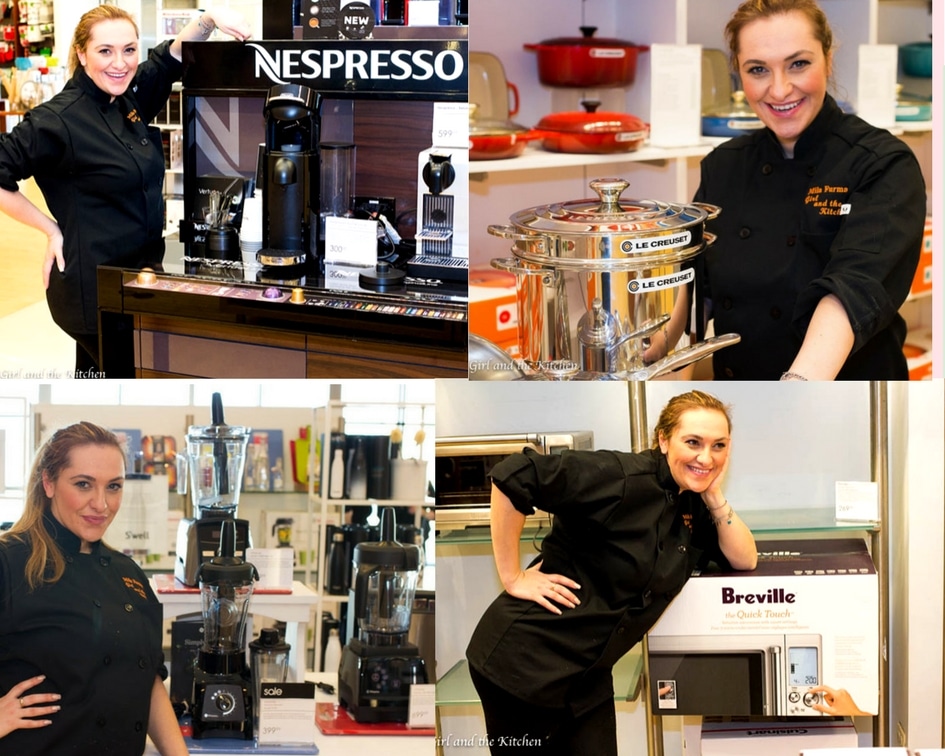 Seriously…how much better does this get?!? Breville, Vitamix, Le Creuset, Nespresso, All-Clad…and so many more.
They wanted me to come up with a menu that a typical shopper would be able to make with all the incredible products provided to me. Naturally I started planning a simple yet impressive menu that would please even the pickiest of foodies…children included!
I was prepared for everything but being 5 months pregnant…preggo brain hit me hard 🙂 And it did not go perfectly…We had a few malfunctions…
I left all the ingredients for the Panera Copycat Broccoli Cheddar Soup at home. Thankfully hubby came to the rescue and brought me all my ingredients from home. right as I was about getting ready to cook it up.
I could not figure out how to use the darn electric stove and almost scorched my soup.
There was no 3 prong electric cord for the Vitamix so I talked up a storm while I searched for another plug and almost electrocuted myself.
I dropped one of these ridiculously delicious Crunchy Baked Chicken Tenders into my chef coat pocket while plating and only discovered it after the demo.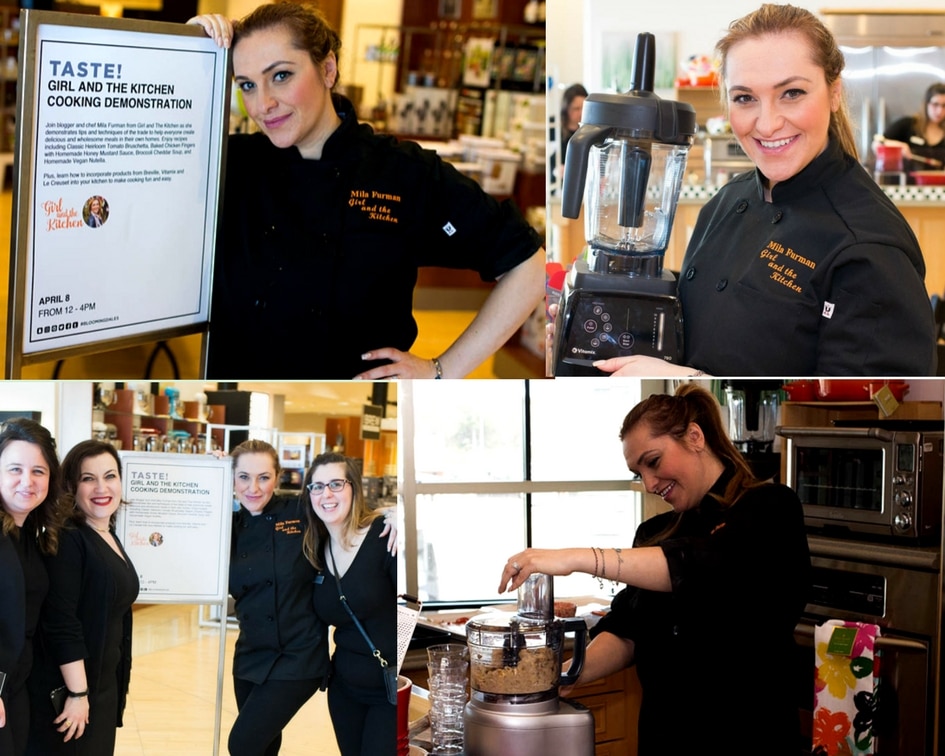 Despite the, ahem, malfunctions it was such an incredible time! I had everyone laughing and learning, which is the best of both worlds. Everyone kept coming back for seconds and sometimes thirds and were really amazed that I had created everything in this tiny little space with only a small yet very powerful Breville Toaster Oven.
Everything was a hit of course…but color me surprised when the adults loved these crunchy chicken tenders more than anything else! The standout was of course the Restaurant Style Honey Mustard Dressing.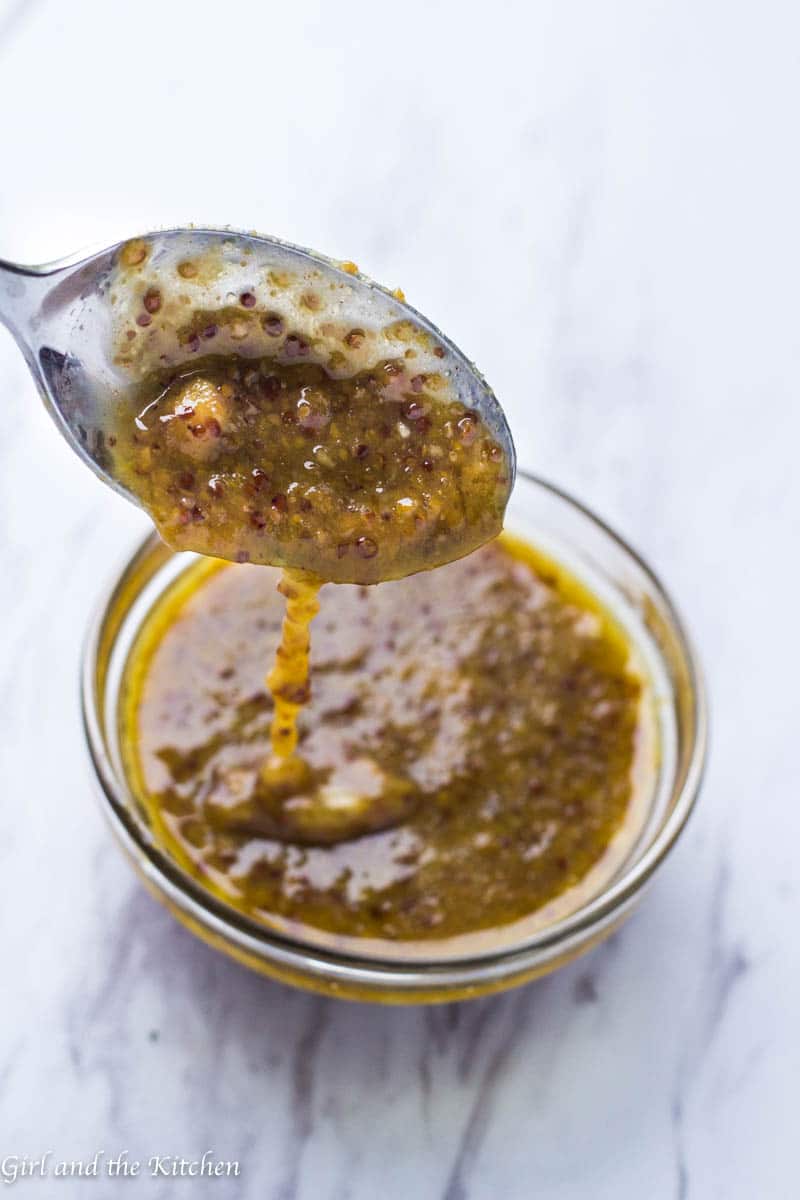 THE TECHNIQUE
The Breading Technique: These Crunchy Baked Chicken Tenders are so darn addictive because of the super flavorful and uber crunchy shell. This is achieved through an extremely important breading process.

The traditional breading method is comprised of flour, egg then breadcrumbs. I only use Panko Breadcrumbs . Panko breadcrumbs are Japanese style breadcrumbs that are baked from a special bread which maximize the crunch factor. This breading technique is classic for one very important reason: IT WORKS. It has been perfected for ages and ages and while everyone has their own opinion on this, I promise you it is the best method which yields the crispiest results.
I ensure to flavor every single part of the breading process so that it packs the biggest flavor punch possible. Just a simple, salt, pepper, garlic powder and dried parsley will do.
When breading it is very easy to achieve something I like to call "mummy fingers". This happens when you essentially end up breading your fingers because all the components of the breading process "mummify" your fingers. The solution to this is to use ONE hand only for the dry ingredients and the other hand for the wet ingredients. Also, I like to grab the chicken tender by the same top spot on the tender so that my hands are exposed to as minimal breading as possible.

The Baking Technique: Typically it is close to impossible to get the same amount of crispiness from the oven as you do in a deep fryer. And while this is not exactly as it is when you deep fry…you can feel a great deal better about these Crunchy Baked Chicken Tenders are still absurdly delicious and satisfying.

It is important to bake these off in an extremely hot oven. Because these are chicken tenders and have practically zero fat on them they do not benefit from slow cooking. We need this to go HOT and FAST. We bake these off for ONLY 12 minutes at 450-degrees F. This needs to happen quickly because nothing is worse than dry chicken.
I preheat the baking sheet in the oven that we use for the Crunchy Baked Chicken Tenders. This way we give the chicken tenders a head start in cooking as soon as they get into the oven.
In order for the chicken tenders to be crispy we need to apply a fat to the pan as well as to the top of the chicken tenders. Prior to baking off the tenders, I brush the pan with some butter and then place it into the preheated oven for about 2 minutes to get it hot and ready. I also brush the top of the chicken tenders with an herb butter so that they can get nice and crispy on top. I brush it on instead of dipping them because I want to minimize the amount of fat that I am adding in and only using enough to get a nice color and crunch to the tenders.

The Blotting Technique: After these glorious chicken tenders are baked off, they need to go onto a paper towel to let ANY access fat blot off. That access fat is not good for our waistlines AND it will prevent our Crunchy Baked Chicken Tenders from becoming…crunchy 🙂 After they hang out for a bit we dive in and EAT.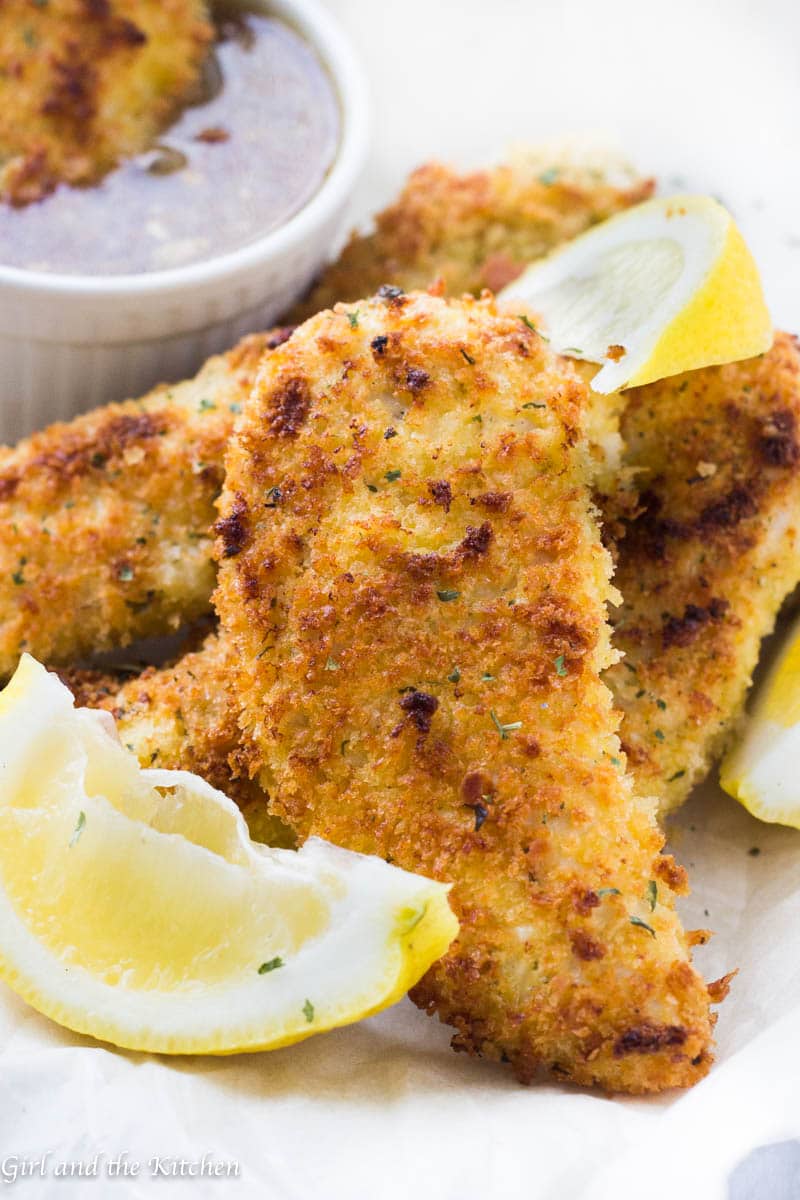 Considering what a hit these Crunchy Baked Chicken Tenders were at my Bloomingdales event, I know that they will be loved by your entire family just the same! The kids will love you for allowing them to eat so called junk food at home and the adults will be amazed at the simple deliciousness that comes from these gorgeously crispy tenders when paired with my Restaurant Style Honey Mustard Dressing.
Crunchy goodness…without much guilt? Now that is the perfect meal!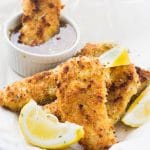 How to Make to Make Crunchy Baked Chicken Tenders
Learn how to make incredibly crunchy baked chicken tenders that are uber flavorful and moist! I serve them with my multi purpose and super delicious Honey Mustard Dressing that makes these chicken tenders irresistible to adults and children!
Print Recipe
Ingredients
Crispy Chicken Tenders
1.5

pounds

Chicken tenders

2

cups

Flour

2

each

Eggs

2

cups

Panko breadcrumbs

1.5

tsp

Kosher Salt

To be split up among the flour, eggs and Panko. Each gets .5 tsp.

1

tsp

Black Pepper

To be split up among the flour, eggs and Panko. Each gets 1/3 tsp.

2

Tbsp

Garlic Powder

To be split up among the flour, eggs and Panko evenly.

2

Tbsp

Dried Parsley

To be split up among the flour, eggs and Panko.
Garlic Butter
1/4

cup

Butter

unsalted

1

tsp

Garlic

minced on the microplane

1

tsp

Parsley

dried

salt and pepper

to taste
Instructions
Garlic Butter
Place all the ingredients into a microwave safe bowl and melt in 15 second increments until it is all melted.
Chicken Tenders
Pre-heat the oven to 450-degrees.

Place the flour, eggs and Panko into 3 separate flat containers. The flat containers (such as casserole pans) make it easier to dip the chicken tenders.

Add in the salt, pepper, garlic powder and dried parsley into each bowl and toss the Panko and the flour with your fingers to combine. Beat the eggs with a fork to make sure they are all combined.

Dip each chicken tender into the flour first with your LEFT hand, then into the eggs with the RIGHT hand and then into the Panko with the LEFT.

Brush the baking sheet with the garlic butter until it is well covered. Place into the oven for 2 minutes NO more as the butter will start to burn without any of the tenders on them.

Place the chicken tenders onto the pan and brush the tops with just enough butter to cover them.

Bake for 12 minutes. NO MORE as you will risk drying them out.

Place onto a plate covered with paper towels and allow to sit for 5 minutes.
Notes
 You can also use regular chicken breast and just slice them into chicken tender-like pieces.  
I use a convection oven.  If using a regular oven, you may need to cook for 15 minutes.
The nutrition facts are to be used for guidance only.  
Nutrition
Serving:
6
oz
|
Calories:
663
kcal
|
Carbohydrates:
73
g
|
Protein:
47
g
|
Fat:
18
g
|
Saturated Fat:
8
g
|
Cholesterol:
141
mg
|
Sodium:
1398
mg
|
Potassium:
834
mg
|
Fiber:
3
g
|
Sugar:
2
g
|
Vitamin A:
8.4
%
|
Vitamin C:
4
%
|
Calcium:
8.9
%
|
Iron:
30.4
%