This Restaurant Style Honey Mustard Dressing is the ultimate go to for any salad, dip or marinade!  Comprise of only 6 ingredients and all made in one bowl (or jar) it is perfectly tangy, sweet and loaded with that can't stop eating it flavor, this dressing will be your one stop shop to use on any salad, chicken or vegetable!
Jump to Recipe
I wasn't always a fan of honey mustard dressings.  To be honest, I was actually more of a ranch dressing girl or when it came to my nuggets and chicken fingers…I was a fan of my BBQ sauce.
One time however…I went to a restaurant and instead of bringing me a salad with their homemade ranch dressing…they brought me honey mustard.
"Ahhhhh gross," I instantly said, scrunching up my nose and instantly pushing my salad away.  It was ruined.  My salad experience was. Ruined.
Hubby stared at the salad and dove in.  "You are crazy, it's delicious.  Taste it, it's so much better than ranch!"  I wasn't entirely convinced but still tasted it.
And OMG…he was totally right. This dressing was not that gross yellow stuff that they slathered on chicken sandwiches in fast food restaurants, it was instead perfectly tangy, sweet and had just the right oomph.
This was a sexy dressing.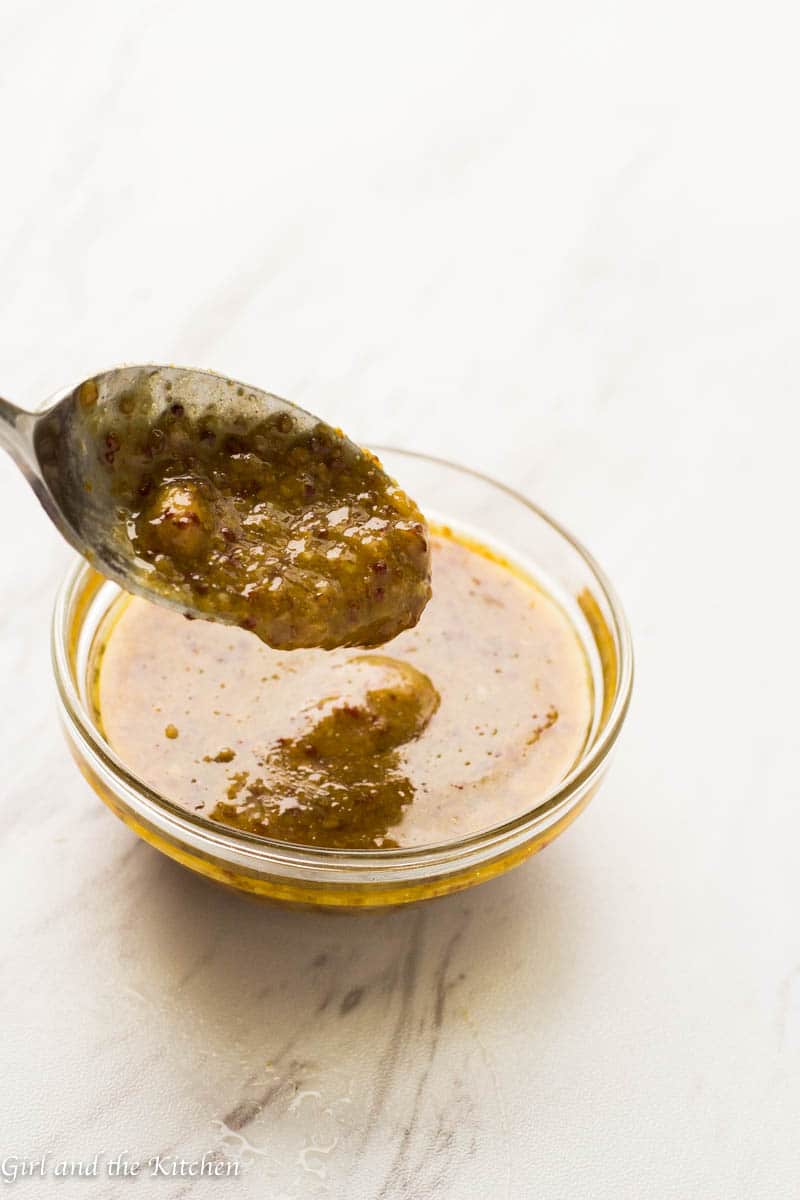 After this experience… I ordered my salads and chicken fingers (I know I sometimes have the palate of 5 year old) with Honey Mustard Dressing.  And then I went home to experiment with this dressing and realized it is SO MUCH MORE.  It is a dip, a marinade, a glaze, a sauce and a dressing all in one!  I had to warm up the honey at one point to to get it liquid enough to squirt and it made my dressing warm.  And this…this revolutionized my life!!!  I could not believe how much the warm dressing changed my LIFE.  I could not imagine that a warmed up dressing would taste so differently..and wake up all the flavors in the sauce!  But alas some of the simplest changes can alter your life 🙂
THE TECHNIQUE
Dressings are never particularly hard to master.  The only issue with dressings is the perfect balance of flavors that needs to happen.  In order do this I highly recommend tasting as you go (duh).  Sure use the recipe as a guide…BUT all dressings are different and while the perfect balance of acidity and sweetness is necessary… not everyone has the same palates when it comes to the balance…so hence taste is crucial.  That being said, there are a few main ingredients that go in here that truly take this from "meh" to "Woah what's happening in my mouth?!"
The Honey:  I have never been a fan of honey.  That being said… I have tasted generic store-bought honey and I have tasted the really good stuff from local farms.  It is CRUCIAL to buy the good stuff.  For starters it is typically raw so it is that much less processed and that much more flavorful.  Also, did you know that if you suffer from allergies and eat local honey it can help you with the allergies.  It's all scientific but I swear it works and there is science to prove it.  Plus it really is much better in food and particularly this dressing.  I always buy mine from the same place I buy most of my meat, from Crestwood Family Farms because they are local and have really terrific honey. But if you are not in the Chicagoland area just look for local farms that carry honey. I promise you, it will change your life!

I warmed up the honey to pour it out because when it is in the raw form it crystalizes very easily.  Long story short… that was how I discovered that warm Honey Mustard Dressing is WAY better than cold.   The honey also adds the sweetness factor to this dressing that is so darn delicious!

The Mustards: For this particular dressing I used two different kind of mustards.  I used a really beautiful gourmet coarsely ground mustard to give it that really strong and intense flavor.  Alongside it, I used a Dijon mustard for it's subtlety and rich Dijon flavor.  The combination of the two proved to be perfection.
The Garlic:  I have made this Honey Mustard dressing with and without garlic.  The one with the garlic is insanely more delicious.  And when the garlic is minced on a microplane  it melts into the dressing and is just super delicious and savory.
The Lemon:  I thought long and hard about which acid to use for this dressing.  I knew that the Dijon mustard already had white wine in it so there was some acidity in it.  However, I also knew that we needed a more flavorful acid and the typical white wine vinegar wasn't going to cut it.  I added the lemon juice to the dressing as an after thought and it literally elevated the flavor profile to another level.  Totally worth it.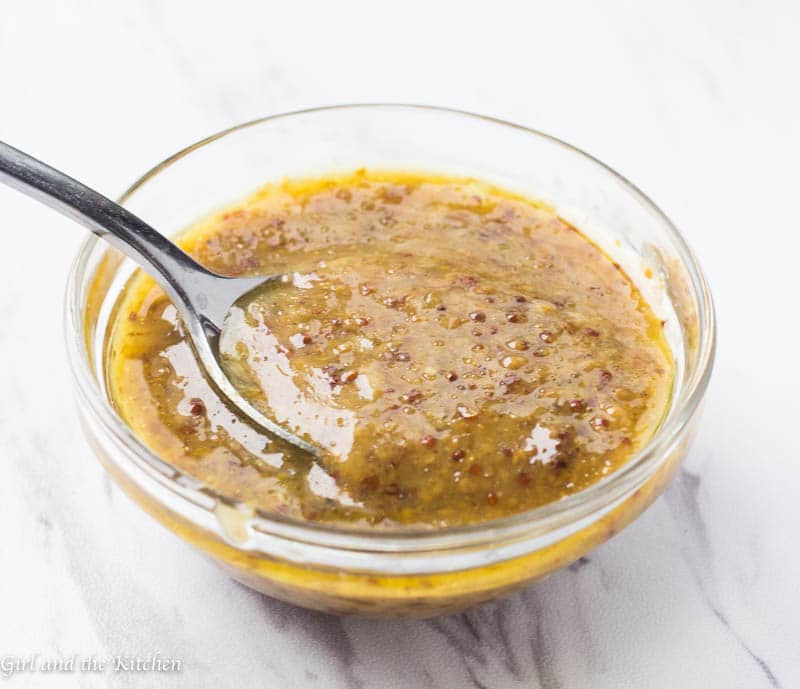 I have used this Honey Mustard recipe in so many dishes already and it ALWAYS proves to be perfection.  This is why i now make this sauce by the jar.  Seriously…by the jar.  It goes on sandwiches, on chicken, on salads and even as a dip.  I served it as part of an adult chicken finger experience recently at a Bloomingdales demo I did and it BLEW EVERYONE's MIND!!!! That recipe is coming soon…
You see those gorgeous flecks of course mustard and garlic?! That is what makes your honey mustard dressing taste just like the good restaurants' do 🙂
And prepare for a SLEW of honey mustard recipes…I ain't done yet!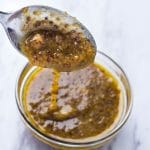 Restaurant Style Honey Mustard Dressing
This Restaurant Style Honey Mustard Dressing is the ultimate go to for any salad, dip or marinade! Comprise of only 6 ingredients and all made in one bowl (or jar) it is perfectly tangy, sweet and loaded with that can't stop eating it flavor, this dressing will be your one stop shop to use on any salad, chicken or vegetable!
Ingredients
1/3

cup

olive oil

1

cup

honey

1/2

cup

whole grain or coarsely ground mustard

1/3

cup

Dijon mustard

3

tsp

garlic

finely minced

3

tsp

lemon juice

freshly squeezed
Instructions
Combine all the ingredients in a jar and shake until perfectly mixed.




Ensure to shake or stir the dressing well before use.
Recipe Notes
Make sure to measure out the olive oil first in the cup so that the honey will not stick to it!  
This will last in the fridge for up to 3 weeks.
If you would like to use the dressing warm, make sure that you JUST warm up the honey.  The mustard will taste too harsh if it is warmed up as well.
Make sure you do NOT use a super fruity olive oil as it will take over the flavor of the dressing.
Nutritional information is only to be used as a guide.
Nutrition Facts
Restaurant Style Honey Mustard Dressing
Amount Per Serving (2 oz)
Calories 182
Calories from Fat 360
% Daily Value*
Total Fat 40g 62%
Sodium 1185mg 49%
Potassium 231mg 7%
Total Carbohydrates 147g 49%
Protein 5g 10%
* Percent Daily Values are based on a 2000 calorie diet.