Creamy Parmesan and Sun-dried Tomato Pasta Bake
Meet the sauce of all sauces!  This delicious and super creamy parmesan and sun-dried tomato pasta is full of savory flavors and loads of cheesy goodness. It is topped with plenty of Parmesan and bread crumbs and baked off until it is golden and cheesy perfection.  
I have a serious affinity for pasta.  I've worked in Italian restaurants all through my 20's and have had my share of incredible and not so incredible pastas.  But this pasta ladies and gentlemen is by far my favorite.  EVER.
What makes this amazing pasta so incredible?  Well it is a serious flavor profile that combines sweet, spicy, tart, savory, crunchy and ridiculously cheesy: all things delicious and frankly the only flavors that ever need to be happening in a pasta.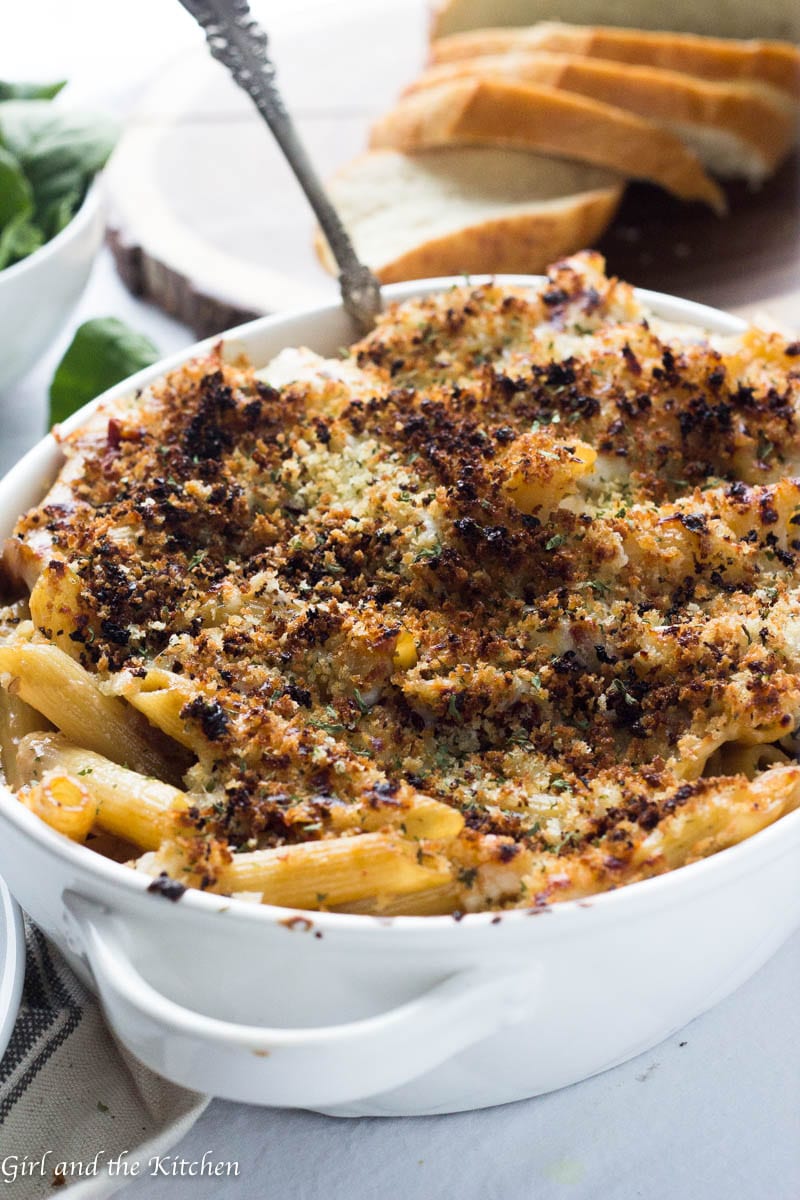 The idea behind this glorious pasta stemmed from an over abundance of sun-dried tomatoes in my pantry.  I had been planning on making loads of different sun-dried tomato dishes and each time I planned to I bought more and more and more.  But…I never actually made anything so before I knew it I had 3 different packets of julienned sun-dried tomatoes and one jar of sun-dried tomatoes in oil.
It was a sun-dried tomatoes surplus catastrophe…so I knew I had to handle this in the best way possible…with clearly as many recipes as possible.  And creamy and delicious sun-dried tomato pasta was the first in my sun-dried tomato arsenal of recipes.  And yes… it was glorious.
While creating this recipe I had a number of different ideas spring into my head:
Bacon
Alfredo
Prosciutto
Sun-dried tomatoes (duh)
Caramelized onions
Basil
Parsley
As I was shopping for ingredients in the grocery store, all I kept thinking about was what flavor combos would really blow this out of the water.  I chose to keep it simple and just go with the sun-dried tomatoes (duh) and caramelized onions.
Caramelized onions over bacon?  I get it… I know what you are thinking.  But the tart flavors of the sun-dried tomatoes are a perfect match for sweet caramelized onions.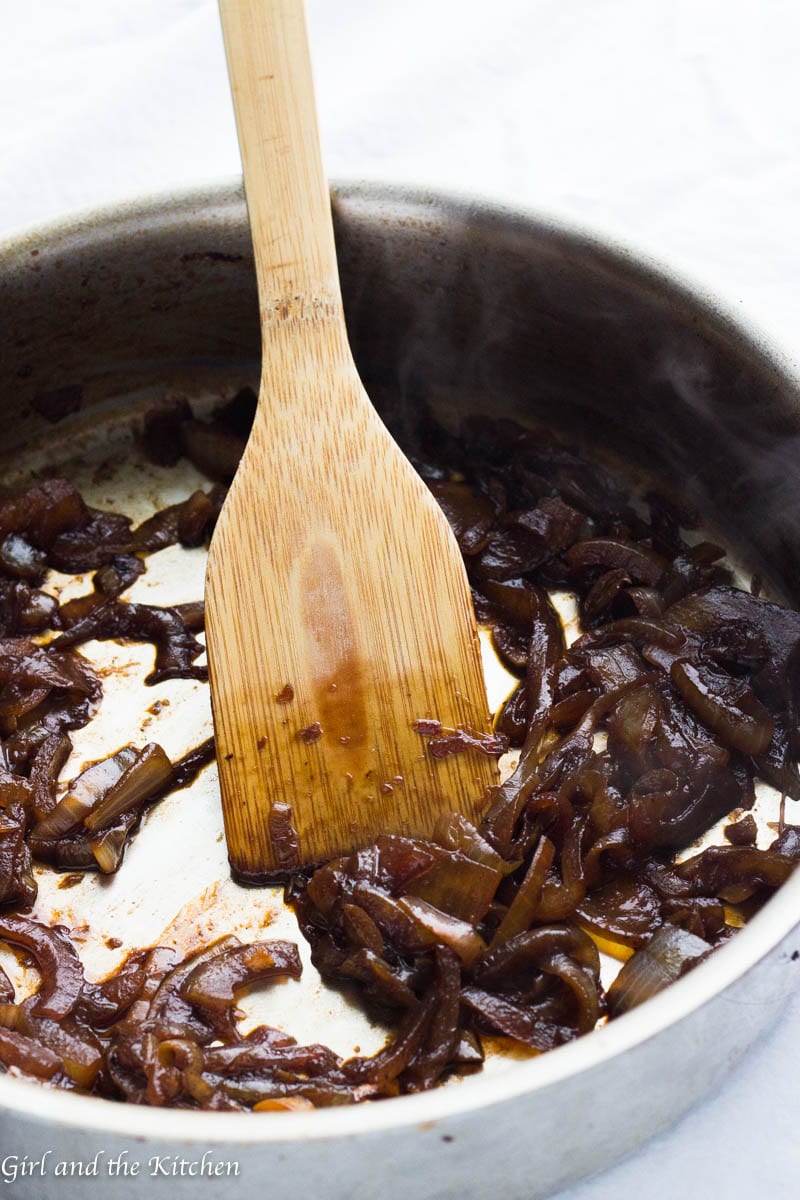 The rest of the pasta came together practically without much thought.  My hands did all the work and my palate did all the confirmations that I indeed was on the right track.
THE TECHNIQUE
The Caramelized Onions: Caramelized onions are delicate and sweet and tend to be a bit of a pain in the butt because of how long it takes them to caramelize.  So I have a neat little shortcut. After I have sautéed the sliced onions with some butter for about 10 minutes, I added in 1 cup of water and let it boil.   This picks up all the delicious bits from the bottom and softens the onions.  I keep doing this until they get right where I want them.  Some call this cheating, I call it working smart.
The Sauce: I kept the sauce ridiculously delicious.  After the onions caramelized, I added in some red pepper flakes, the sun-dried tomatoes and then some white wine.  I deglazed the pan with the white wine (picked up all the browned bits from the bottom of the pan) and then added in some magic: aka heavy cream.  The other magical ingredient was about a cup of the pasta cooking water.  We have talked about this before, this is the trick Italian grandmothers and all the great Italian chefs use to perfectly emulsify sauces.  Once the sauce had come up to a bubbly and delicious goodness I added in a very generous helping of Parmesan cheese.  Cheesy, creamy goodness…I said it was delicious not fat free.
The Topping:  I decided that the topping on this pasta was necessary because this baby was going into the oven to become even more delicious.  Naturally, we needed copious amounts of mozzarella and Parmesan cheese as a topping.  But there needed to be another element and that element was crunch.  A bread crumb herb topping seemed to be the ideal finish to our sun-dried tomato pasta bake.
Now let me explain the little dilemma that I have.  As I have mentioned, I have a serious love for pasta.
SERIOUS.
So it leads to this little equation:
Pasta in my house + A no carb eating husband in the house=Mila eating all the pasta=Mila gaining more pregnancy weight=NOT GOOD.
My pregnancy (I am currently at 18 weeks 🙂 ) has led to me having an even stronger affinity for anything crunchy and creamy and carby.  Which this sun-dried tomato pasta truly is…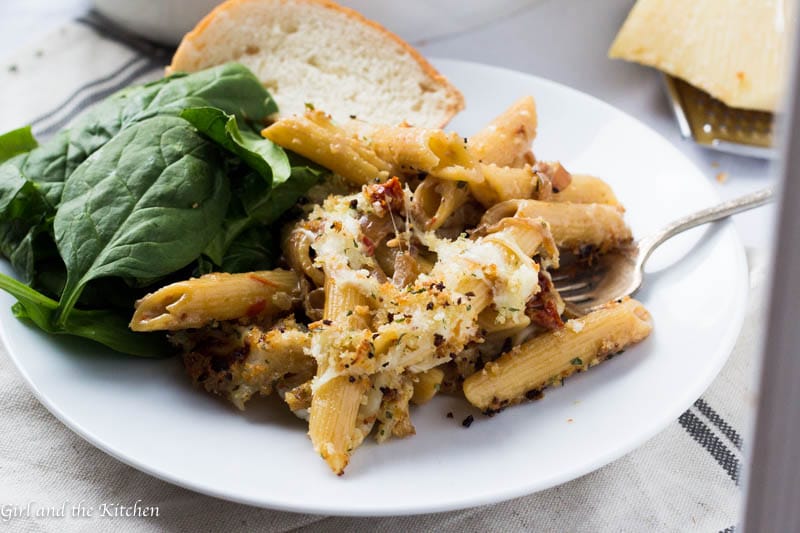 So what's a girl to do?  I'll tell you what I did…I gave it to one of the very deserving mothers at my daycare.  She is sweet, kind and most importantly super tiny.  I figured she could use some pasta.
I received a text message from said mom at 9:30pm that night:
"Mila.  I ate 1/3 of the pasta on my own.  It tasted like magic."  
Magic.  This pasta is magical.  So magical that this tiny and skinny woman had consumed another third of this pasta by 11pm that night…and the rest the very next day for a very early 11am lunch.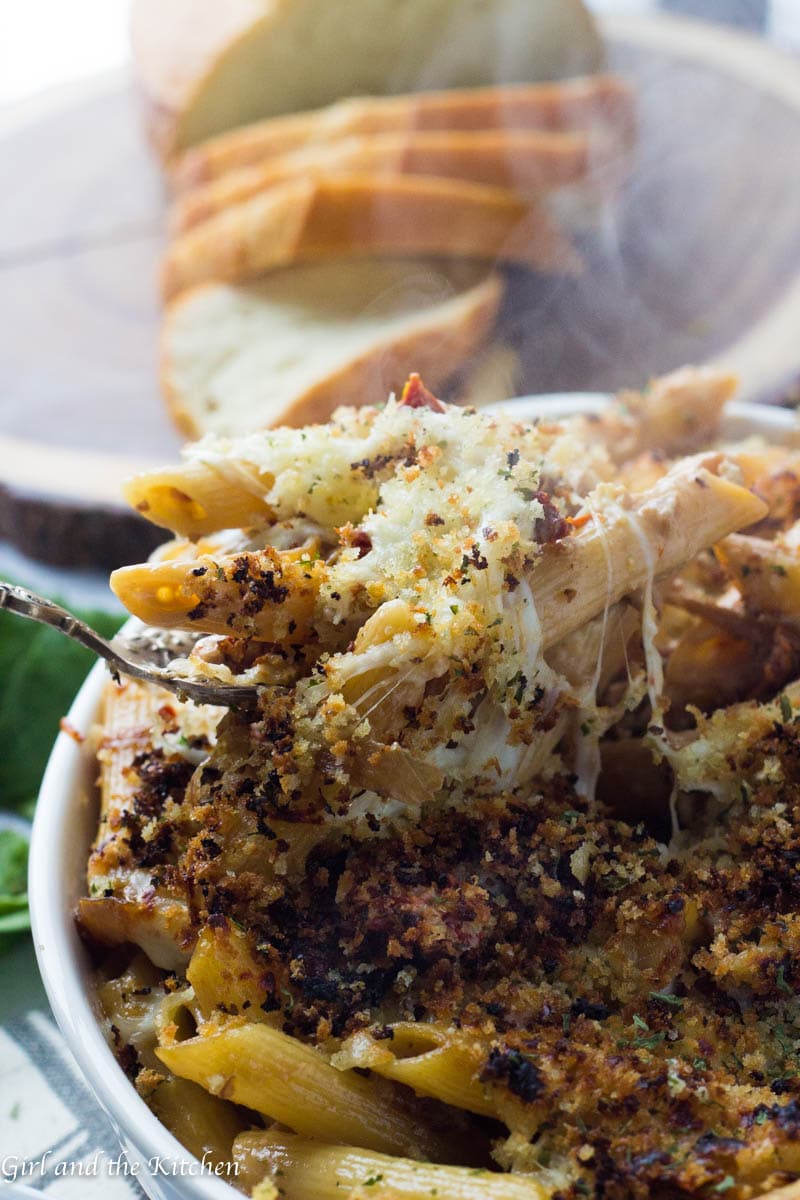 Magical guys.  This pasta is purely magical.
Print
Creamy Parmesan and Sun-dried Tomato Pasta Bake
---
Author:

Total Time:

45 minutes

Yield:

8

ppl

1

x
Description
Meet the sauce of all sauces! This delicious and super creamy parmesan and sun-dried tomato pasta is full of savory flavors and loads of cheesy goodness. It is topped with plenty of Parmesan and bread crumbs and baked off until it is golden and cheesy perfection.
---
Pasta
12 oz

penne pasta (or any other small pasta you would like to use)
Creamy Sun-dried tomato sauce
2 tbsp

unsalted butter

1

medium onion (sliced thinly)
about

1 cup

of water or more for the caramelized onions
pinch of red pepper flakes (optional)

1/4 cup

of sun-dried tomato (sliced thinly)

3

garlic cloves (minced on amicroplane)

1/2

a cup of white wine

1 cup

heavy whipping cream

1.5 cups

reserved pasta water

1/2 cup

shredded Parmesan cheese
salt and pepper to taste
Herb Bread Crumb and Cheese Topping
3/4 cup

Panko bread crumbs

2 tbsp

melted unsalted butter

3/4 cup

shredded mozzarella cheese

1/4 cup

shredded Parmesan cheese

1 tbsp

of finely chopped parsley
---
Instructions
Bring a pot of salted water to a boil. Boil the pasta according to package instructions and drain all the water with the exception of 1.5 cups.
Add in a 2 tbsp of butter to a large oven proof pan. Add in the sliced onion and a sprinkle of salt. The salt helps the juices come out of the onions. After 10 minutes, add in 1/2 a cup of water and increase heat to high.This picks up all the delicious bits from the bottom and softens the onions. Keep doing this until they get to a nice and dark color. This will usually take about 15 minutes.
Once the correct onion color is achieved, turn the heat own to medium and add in red pepper flakes, sun-dried tomatoes and garlic. Sweat for 2 minutes.
Add in white wine and deglaze (get all the brown bits from the bottom) the pan.
Once the alcohol smell has burned off, about 2 minutes, add in the cream and bring to a boil.
Add in the 1/2 cup Parmesan cheese and taste. Season with salt and pepper.
Over medium heat, add in the pasta and 1/2 a cup of the pasta water. Mix to emulsify the sauce and combine. If the sauce is too thick add in a bit more of the pasta water.
Remove from heat.
Combine the melted butter with the bread crumbs. Add in chopped parsley and mix well.
Sprinkle mozzarella cheese on top of the pasta. On top of the mozzarella cheese, add in the bread crumb topping, followed by the Parmesan cheese.
Place into the oven and broil until golden brown and cheese is bubbling.
Garnish with extra parsley if desired.
Notes
1. You can buy already sliced up sun-dried tomatoes. It will say julienned on the package.
2. Do not buy pre shredded cheeses, especially when you need such a small amount. I just use a large microplane to grate the cheese.
3. Feel free to microwave the butter to melt it. Just do so in 10-15 second increments so it does not explode in the microwave.
4. Nutrition values should be used for informational purposes only.
Prep Time:

10 minutes

Cook Time:

35 minutes

Category:

Pasta

Cuisine:

Italian American