Dairy Free Nutella Banana Ice Cream
This super creamy Nutella and banana ice cream is actually healthy!  And with only two ingredients and just a bit of prep this dessert is yours!  Go ahead have a scoop or four, it's practically guilt free!!!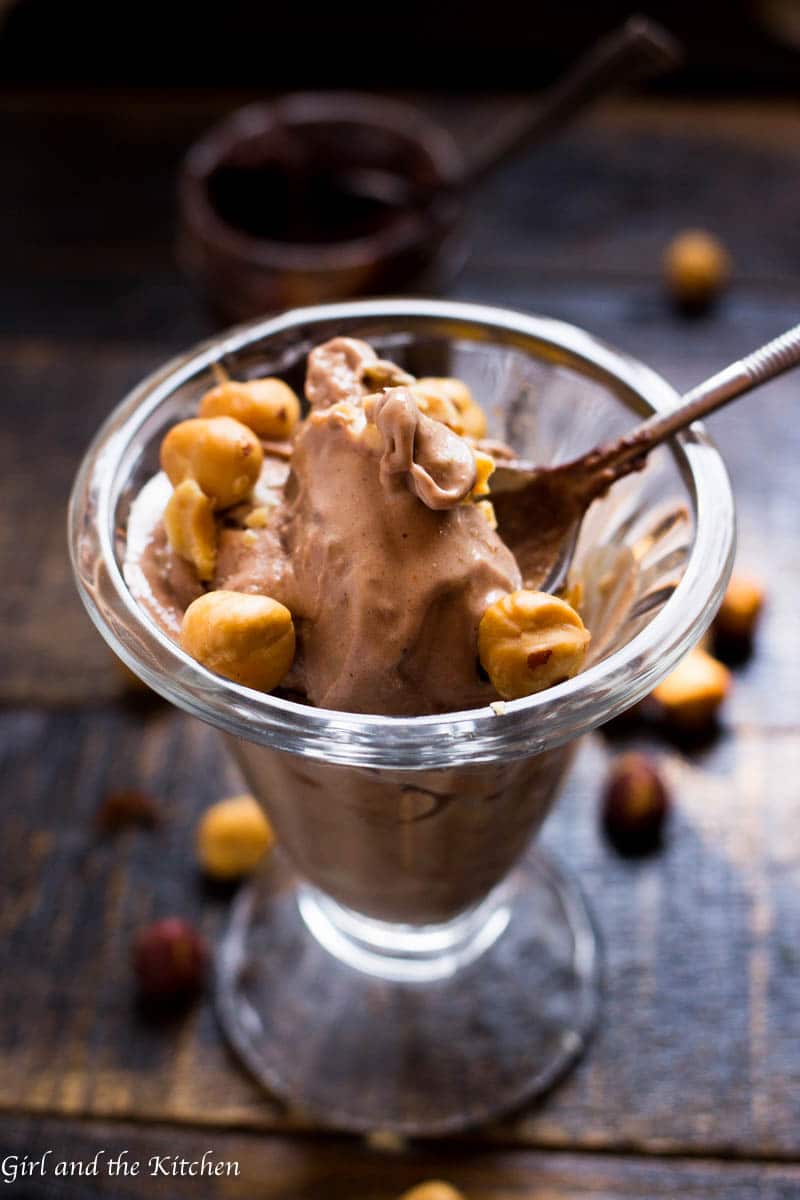 [wprm-recipe-jump] One of my favorite moments of the week are Sunday mornings.  It is usually the only day of the week that I am allowed to be a sloth.  Now that munchkin is older she wakes me up just to ask me for my iPad, whispers "I love you," kisses me on the forehead and dashes off with loud pitter patters back into her room to let me sleep for another hour or two.  Look who's tucking who in now 🙂
Two months ago I had a Sunday just like this.  The hubs was traveling so I invited my babushka to come stay with me for the weekend.  She had not been feeling well and since munchkin and I were on our own for the weekends I decided what better way than for 3 generations of women to hang out together and share a weekend of cooking, Russian television and laughter.
She was sitting at the kitchen table reading a Russian newspaper, full of gossip and over exaggerative headlines, when she said "Mila do you have anything sweet? " Babushka loved dessert, particularly ice cream.  But over the years she had developed a slight diabetes and limited her sugar intake.  I looked through my freezer but was unable to find any ice cream at all.  I try to keep dessert out o the house at all costs possible just in case I get the sudden urge to have a midnight snack of a pint of ice cream.  So it's my own personal security.  While searching through the freezer, I did however find a mystery bag full of a beige substance.
    The random bag happened to be frozen bananas.  I had been dying to try out all these vegan ice creams made with bananas.  And when I had noticed that my bananas started going bad, I had decided to slice them up into coins and freeze them for a day when I was inclined to make this so called vegan ice cream.
Well I was inclined.  If babushka wanted ice cream, she would get ice cream gosh darn it!
I still had some vegan nutella that I had made only a few days prior to that and I knew babushka was a fan so it only seemed natural to swirl it into my newfound banana ice cream recipe.
It took minutes until I had an insanely creamy and delicious ice cream.  Babushka, stood next to me, completely enthralled and watched the contents of the food processor get pulsed into luscious creaminess.  She smiled shocked that I had just turned bananas into ice cream.  But even after watching me pulse my way into decadent perfection, babushka was still skeptical of this so called ice cream.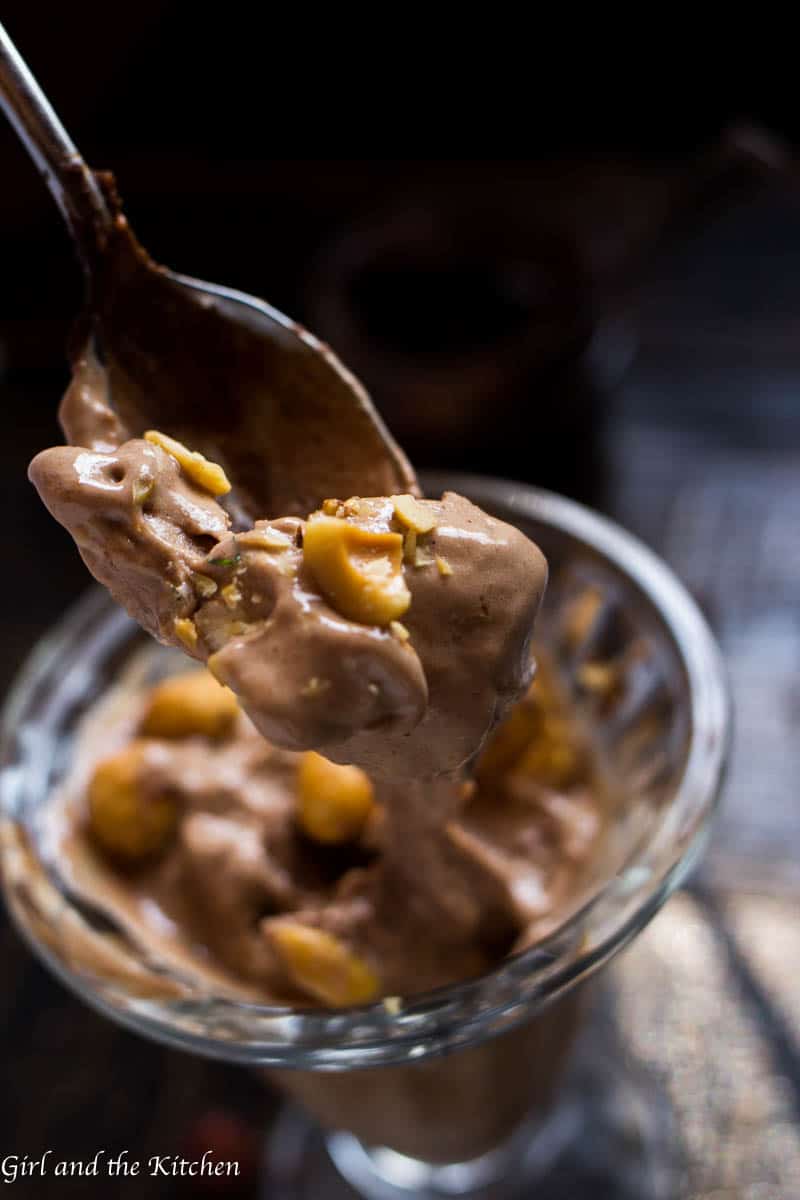 Until I made her taste it.  She placed a spoonful in her mouth and judging by the expression on her face I knew she was expecting to dislike it.  But instead she said, "Mmmmmm it's good.  It's really good.  Can you put a little bit in a plate for me?"  Of course I obliged gladly and as soon as I did I heard the tiny pitter patter across the living room and had the little munchkin saying, "How about me?  How about me?"  I of course filled up a plate for her as well but she wasn't having it…the munchkin needed this in a fancy ice cream glass.
And so as babushka and munchkin sat next to each other licking away and laughing and joking with each other, I leaned back and thought…this is what weekends are made for.
Print
Dairy Free Nutella Banana Ice Cream
---
Author:

Total Time:

5 minutes

Yield:

2

servings

1

x
Description
This super creamy Nutella and banana ice cream is actually healthy! And with only two ingredients and just a bit of prep this dessert is yours! Go ahead have a scoop or four, it's practically guilt free!!!
---
3

very ripe and spotty bananas (sliced into round coins.)

3 tablespoons

of my vegan nutella + more if you wanted it to have a stronger flavor of hazelnuts
roasted hazelnuts for garnish (optional)
---
Instructions
Place the sliced bananas into a ziplock bag and freeze for at least 4 hours or until completely solid.
Place the bananas into a food processor and start pulsing. At first it will be very loud and will sound like little rocks. Keep pulsing until it starts becoming smooth. *
Open the food processor and check on the consistency, it should resemble son serve ice cream.
At this point add in the vegan nutella an pulse just to combine.
Garnish with hazelnuts and deserve immediately.
Notes
As much as I love my Vitamix, it just did not work as well for this. I really preferred the food processor for this much better. It got me the consistency significantly faster than I had expected. You can try to use a blender but I believe you will have much better luck with the food processor.
If you over pulse it and it becomes too soft, just stick it back in the freezer for 20-30 minutes and it will come back to the correct texture.
Prep Time:

5 minutes

Category:

Vegan

Cuisine:

American