Creamy Roasted Tomato Soup with Chive Oil
This creamy roasted tomato soup is ready in 30 minutes and is everything that comfort food needs to be!  Roasting the vegetables cuts down on time but amps up the flavor!  The soup is creamy without being overly heavy and the incredible chive oil adds a dimension of flavor that makes this better than restaurant soups!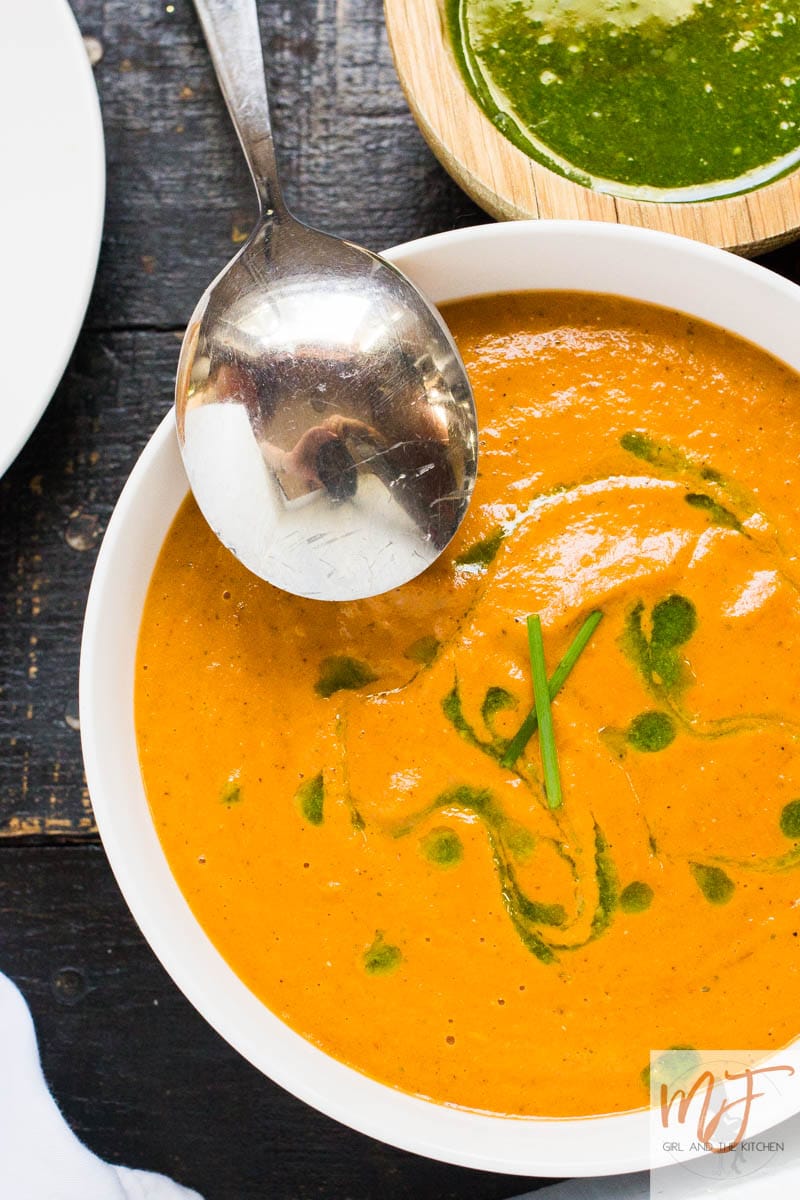 So I was not a fan of tomato soup.  There I said it.  They were either:
Bland
Sour
Thin
Overly Heavy
Just generally not my cup of tea.  If there was a tomato soup on the menu…I frequently bypassed it.  Even the very popular restaurants that rhyme with…Canara…I never took their tomato soup…I preferred the others…
In fact…I liked the others so much I recreated them below 🙂
But that's neither here nor there.  I truly believed I needed to create a tomato soup that was full of flavors but not acidic and that did not require a long time to cook.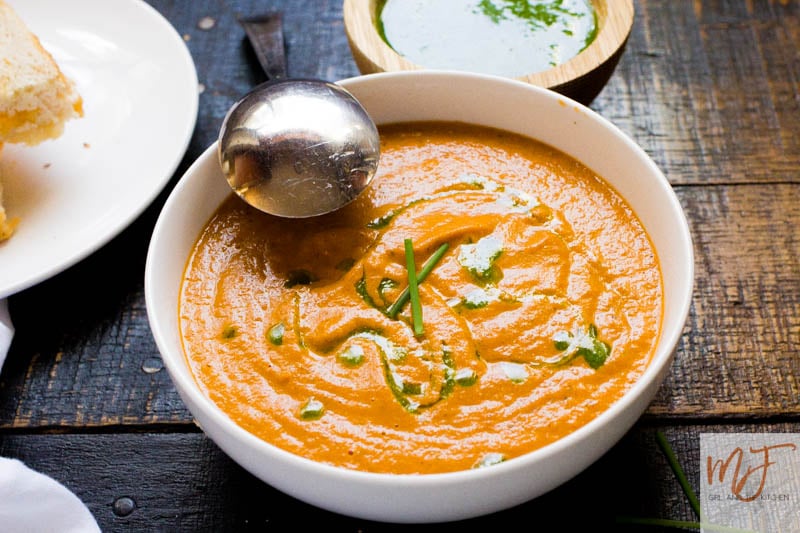 For Halloween last year, my girlfriends and I decided to go trick or treating together with our hoard of children and we decided to make it a pot luck.  I figured that one of the most comforting and warming things to make was a tomato soup and plenty of gooey grilled cheese sandwiches for both the adults and kids to chew on.  My friends naturally agreed…because they usually are excited about any food that I make…let alone a warm and creamy roasted tomato soup such as this.
I wanted to create a tomato soup that was not like the others.  One that stood out in a crowd of soups and one that was not just the side kick to a perfect grilled cheese but one that stood tall next to that grilled cheese as its very own identity.
I know…I may be really getting away with myself here…but I truly do believe that the subpar tomato soup everyone is used to has a serious self esteem problem when being placed next to the glorious grilled cheese.  Because not too many soups can stand up the magic that is Bread and Cheese.
But this roasted tomato soup can…oh it so can.
And here's why.
The Technique
Roasting:

 

My creamy roasted tomato soup is roasted.  All the tomatoes and the aromatics are gloriously roasted together, briefly. This accomplishes the glorious caramelization which leads to a sweeter and much more balanced soup.  This is how we get rid of the acidity of the tomatoes. Sadly, we do not live in the land of delicious tomatoes, even when they are in season, so if they are just cooked on the stove stop they will taste like an overly glammed tomato sauce…not at all what we are going for.
Aromatics:

 

The aromatics are crucial for the success and the complexity in this creamy roasted tomato soup.  There are no complex aromatics here.  They are simply: garlic, shallots and onions.  Nothing fancy but all the while perfect.  When they all roast with the tomatoes bathing in [easyazon_link identifier="B07B5KJQ4Y" locale="US" tag="ne0fc6-20″]extra virgin olive oil[/easyazon_link]and s&p magic happens.  Everything becomes beautifully blistered and caramelized.  Only adding to the flavor of the soup.  At the very end I like to add fresh basil torn by my hands (as the true Italians enjoy).
Pureeing:  This soup does not need ANY stove top time.  Once the vegetables are roasted to our liking, we throw them in a [easyazon_link identifier="B0758JHZM3″ locale="US" tag="ne0fc6-20″]blender[/easyazon_link] or a food processor and blend it all up until it is super creamy.  At this point we season ensuring that we do not OVER season because the next step will give us some very delicious saltiness as well.
Creaminess:

 

Surprisingly there is not a lot of heavy cream in our lovely creamy roasted tomato soup.  Sure there is some…because it only makes everything more lovely and fat is good 🙂  But a lot of the creaminess and savory-ness comes from the addition of Parmesan.  The cheese adds a very rich element without needing a ton of it.
Finishing Touches:

 

The chive oil that I serve with this soup is seriously heaven ladies and gentlemen.  Not only does it look absolutely divine on the soup but it truly adds an incredible complexity to the soup.  THIS and the Parmesan is what truly takes this soup from delicious to gourmet! 
The best part about my creamy roasted tomato soup is that there are so few ingredients that each one of them truly makes a difference.   And it comes together in absolutely no time!  It's fast and delicious which naturally is the best part!
I brought my soup and grilled cheeses to my friends' house and I was able to please both adults and kids alike.
SIDE NOTE: I brought the creamy roasted tomato soup over in my trusty Instant Pot because it is the ultimate carrier and when I got on location I just plugged it in and turned it onto the "warm" setting.  Totally saved me from having a potentially dangerous soup spill in the car 🙂
I served the soup to the kids without the chive oil but with the buttery and cheesy grilled cheeses.  And the adults had the soup with the chive oil.  My friends took it up a notch and decided to dip the grilled cheese INTO the chive oil!  BRILLIANT!
This chive oil is really something else guys.  It's garlicky and lemony without being over powering… I mean you can put that $hit on everything!
But when you put it on top of my creamy roasted tomato soup…it takes it from delicious to ABSOLUTELY OUTSTANDING!
Go ahead…try and it and just tell me this isn't the easiest, most delicious roasted tomato soup you have ever had!!!!!
Trying this recipe out?! Make sure you post on Instagram and
tag us @girlandthekitchen!!! We always share your creations! 
Print
Creamy Roasted Tomato Soup
---
Total Time:

30 minutes

Yield:

8

1

x
The Soup
4

pounds roma tomatoes (cut into wedges)

3

shallots (roughly chopped)

10

garlic cloves (whole)

2 tbsp

extra virgin olive oil

10

fresh basil leaves (torn by hand)
salt and pepper (to taste)

1/4

–

1/2

cup heavy whipping cream

1/2

–

3/4

cup fresh Parmesan (grated )
Chive Oil
2

bunches chives (cut into

1

inch lengths)

6

garlic cloves (whole)

1/2 cup

extra virgin olive oil

1/2

lemon (zested)
salt and pepper (to taste)
---
Instructions
The Soup
Pre-heat your oven to 425 degrees. 
Place cup up tomatoes, shallots and garlic a sheet pan.  Drizzle with the olive oil and salt and pepper.  Toss with your hands.
Roast for 20-25 minutes or until slightly charred and tender.  Make sure to mix half way through cooking process and rotate sheet pan if necessary.
Place the cooked veggies into a blender or a food processor.  You may have to do so in batches.  Have a pot or a bowl ready on the side to pour into once done.  
Add in basil leaves, and continue processing until smooth. 
Add in heavy cream and continue processing until smooth.  
Pour out into a bowl or a pot.  Add in Parmesan and mix it in with a spatula or a wooden spoon until combined.  Taste and adjust seasoning as needed.  Feel free to add in more cream or heavy cream…or both!  Fat is good! 
After labeling the soup into bowls, drizzle each soup with the chive oil prior to serving.
Chive Oil
Combine chives, garlic, lemon zest and olive oil in a blender or food processor.  Process until smooth.  Taste and adjust seasoning.  
Use on soups, as a dip, as a dressing or as a shmear on sandwiches! 
Prep Time:

10 minutes

Cook Time:

20 minutes

Category:

Soup

Cuisine:

American Classic
Want more delicious soups?!?  Click below for a plethora of deliciousness and comfort!