Baked Tequila Lime Chicken
Forget the over dry and tasteless Mexican style chicken, my Baked Tequila Lime Chicken is not only super easy but is loaded with flavor and bursting with juices!  Plus while it is marinade recommended it is not necessary making this chicken the perfect quick dinner meal!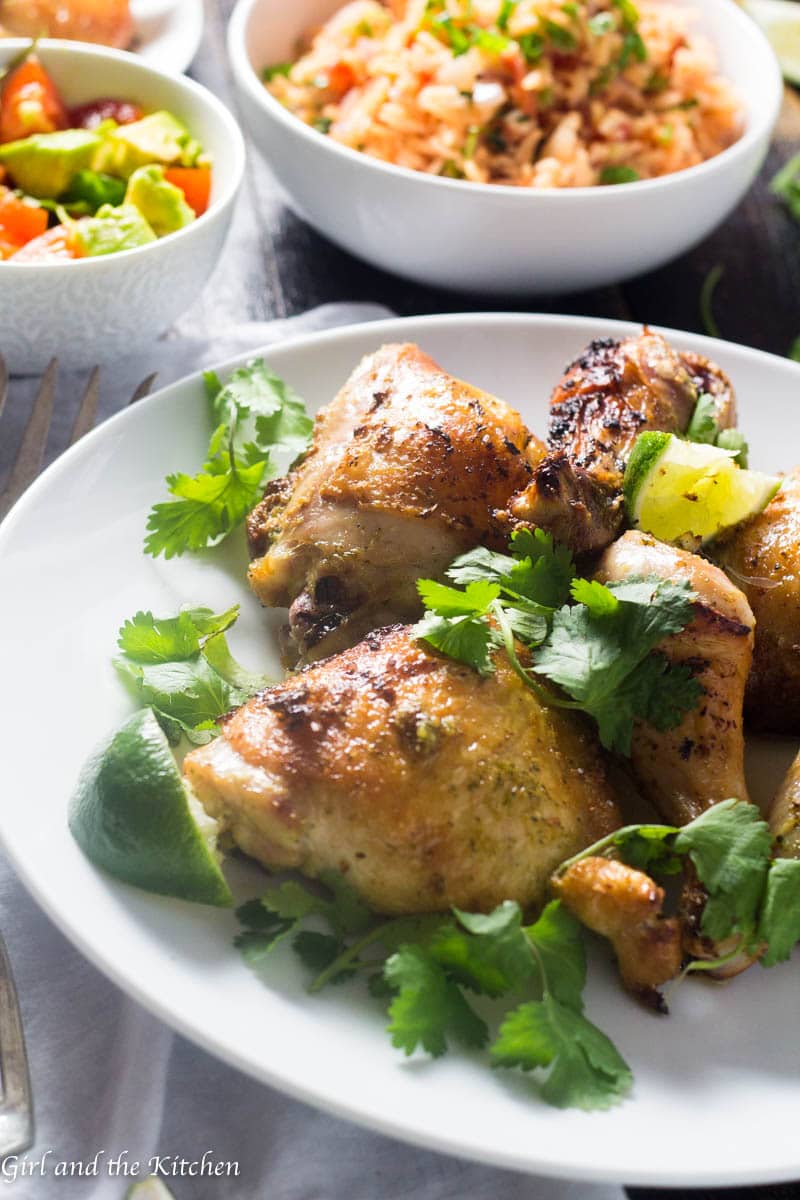 [wprm-recipe-jump]
For some unknown reason after the New Year, my appetite has been less than usual.  Nothing has been peeking my food interests lately and for a food blogger that is mucho bad news.
But my lovely hubs decided to take another trip to Costco and bought a lifetime supply of all things chicken.  He has been prone to taking surprising trips to Costco with my shopping list on hand and buying none of which belonged on that list.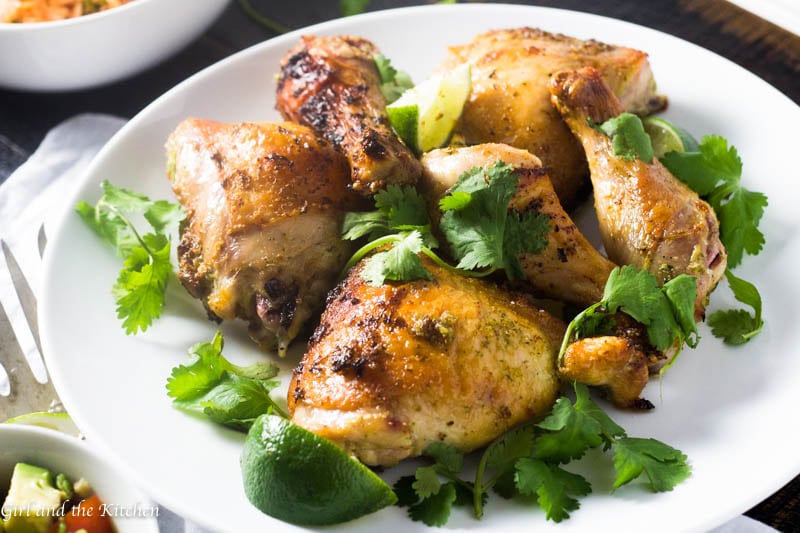 He bought all things chicken.  Thighs, drumsticks, breasts, smoked, rotisserie.  All of the chicken that was moderately healthy that Costco had to offer he put in his cart.
"It's organic babe," he said to me.  Apparently all that time I spent telling him that we only eat Amish chicken has fallen on deaf ears.  Whatever.  I had a fridge and freezer full of chicken to prepare and I had better create an appetite.
I had already planned to make my Quick and Easy Mexican Style Rice  so I decided to do a nice Mexican twist on some thighs and drumsticks.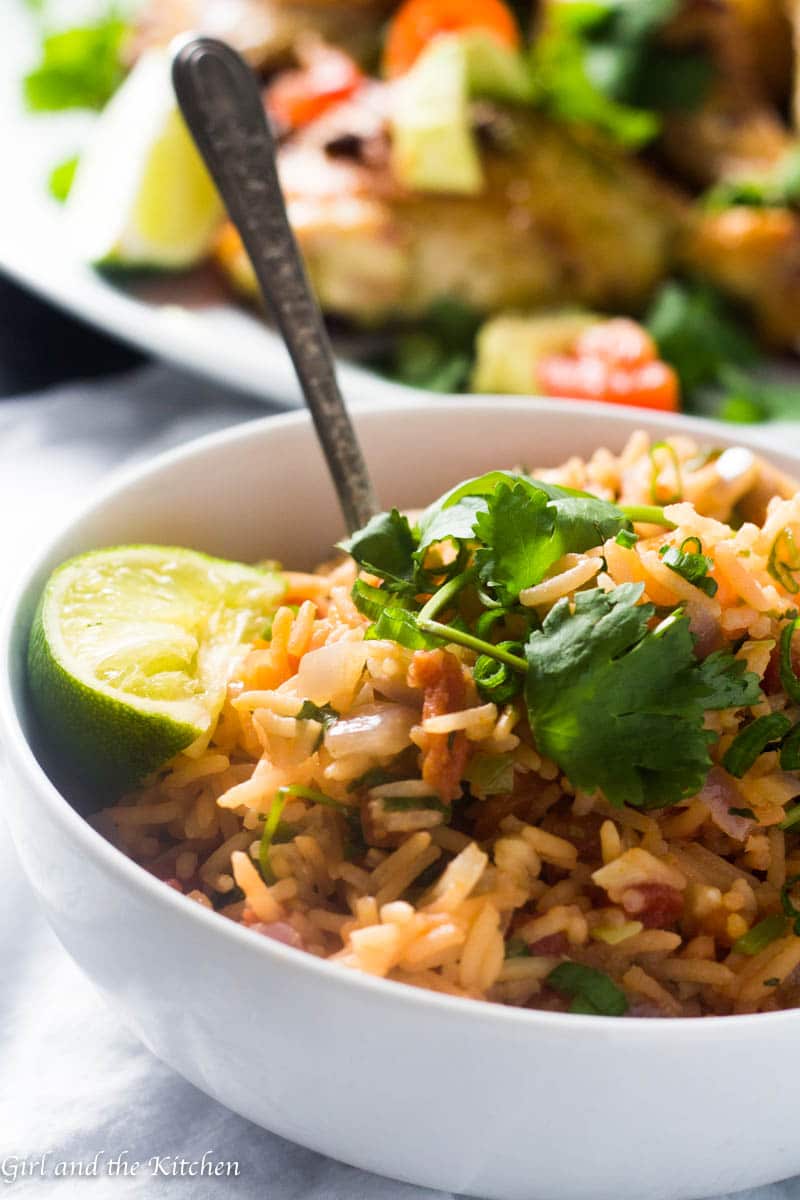 The Technique 
I wanted to infuse as much flavor as possible in this Baked Tequila Lime Chicken so I threw it in a quick 15 minute marinade to increase the flavor profile.  I kept the flavors classic and simple:
Fresh lime juice and lime zest.  The zest gives the chicken a pop of freshness and the tartness cuts through the fat in the chicken.
Jalapeno:  The jalapeño was perfect to add a pop of flavor and heat to entice the taste buds.
Cilantro:  Cilantro makes everything better for me and it adds a ton of flavor and freshness to the chicken.
Garlic:  Duh…because garlic goes in everything.
Scallions:  Scallions add the perfect amount of savory onion flavor without the harshness that onions can sometimes give.
Tequila: Naturally tequila is so quintessential Mexican. However it also acts as a tenderizer which is much needed when we only have 15 minutes to marinade.
Honey: Balances out the tartness of the lime and the tequila.
While I placed the chicken in a screaming hot 450 degree oven, I created our perfectly flaky Mexican Restaurant Style Rice out of a pack of frozen rice I had in the freezer (yea…it's that easy 10 min to perfect rice!!!)  And I decided that my chicken needed an additional pop of freshness alongside it.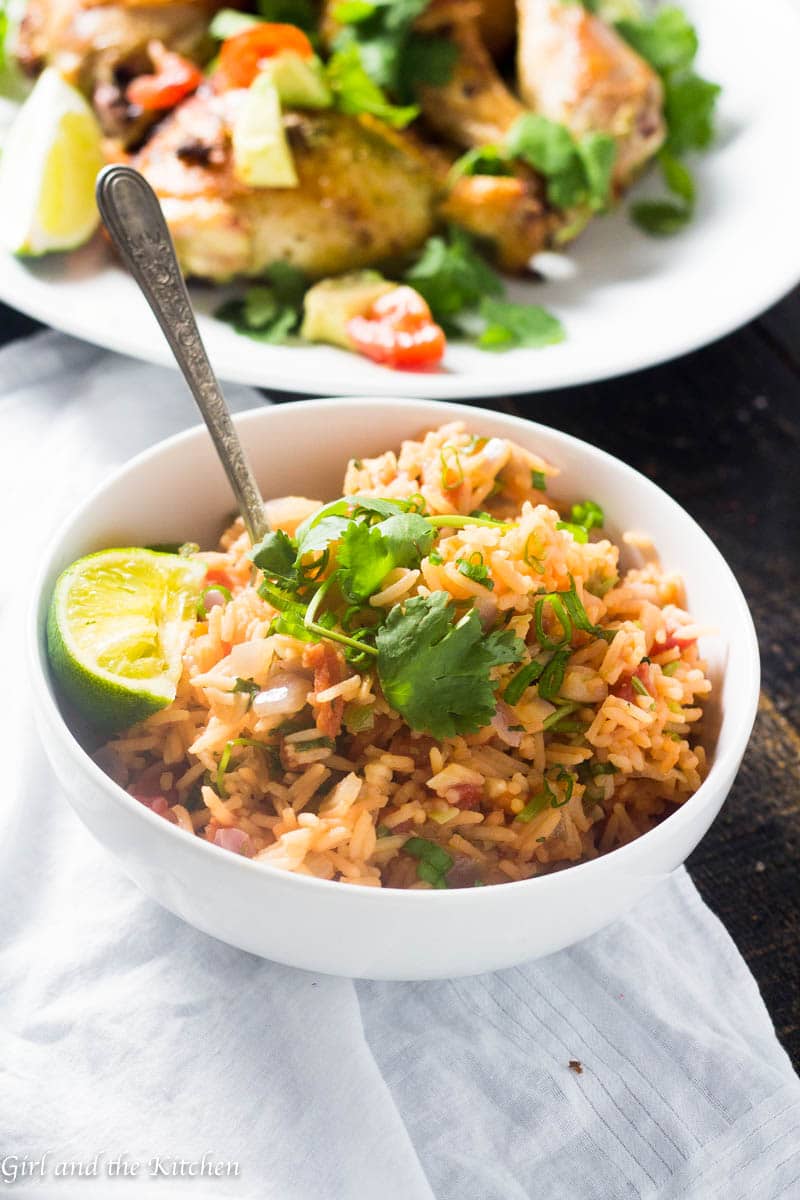 I created a super fresh and delicious avocado and tomato relish to serve on top of the chicken or alongside it.  Either way it is the perfect accompaniment.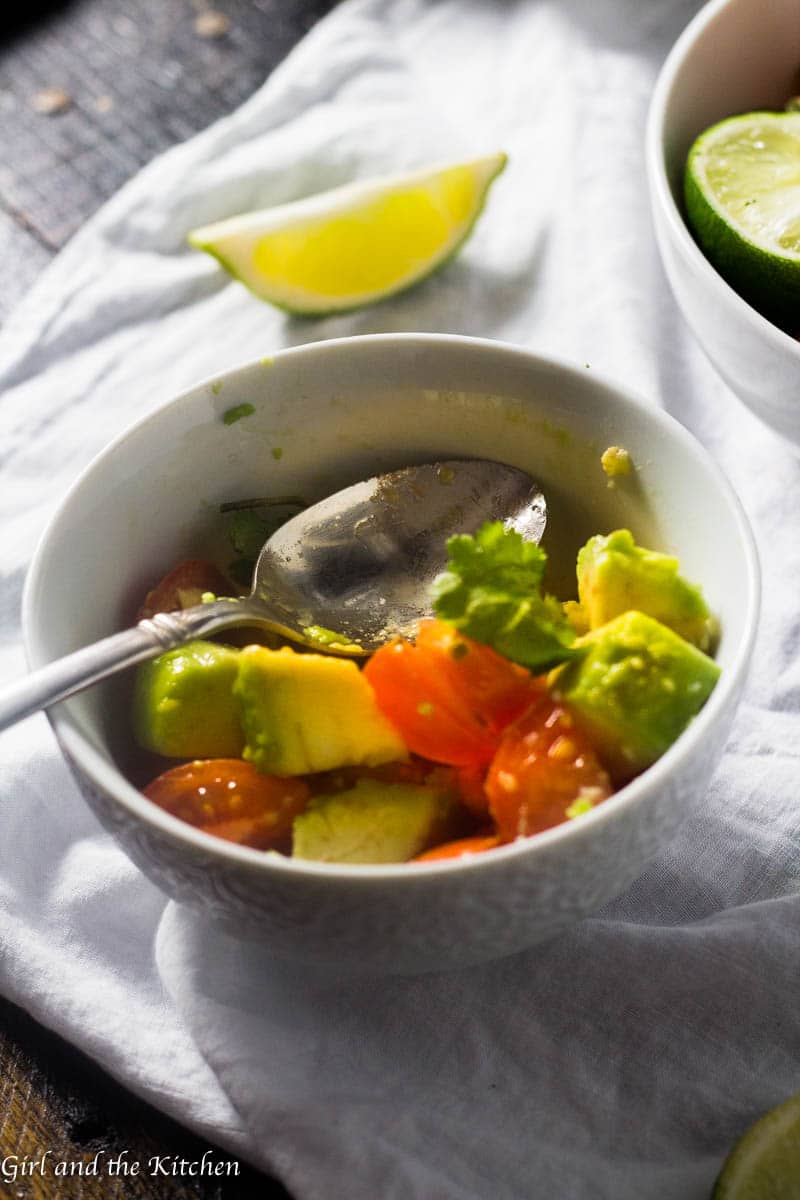 While the chicken rested and I fought off my husband and munchkin from tearing into the crispy skin on the chicken, I toasted up some fresh tortillas, sliced up a ton of limes and tore of a nice fresh handful of cilantro.
The munchkin adores avocado and immediately ordered me to pour out all of the avocado relish onto her plate.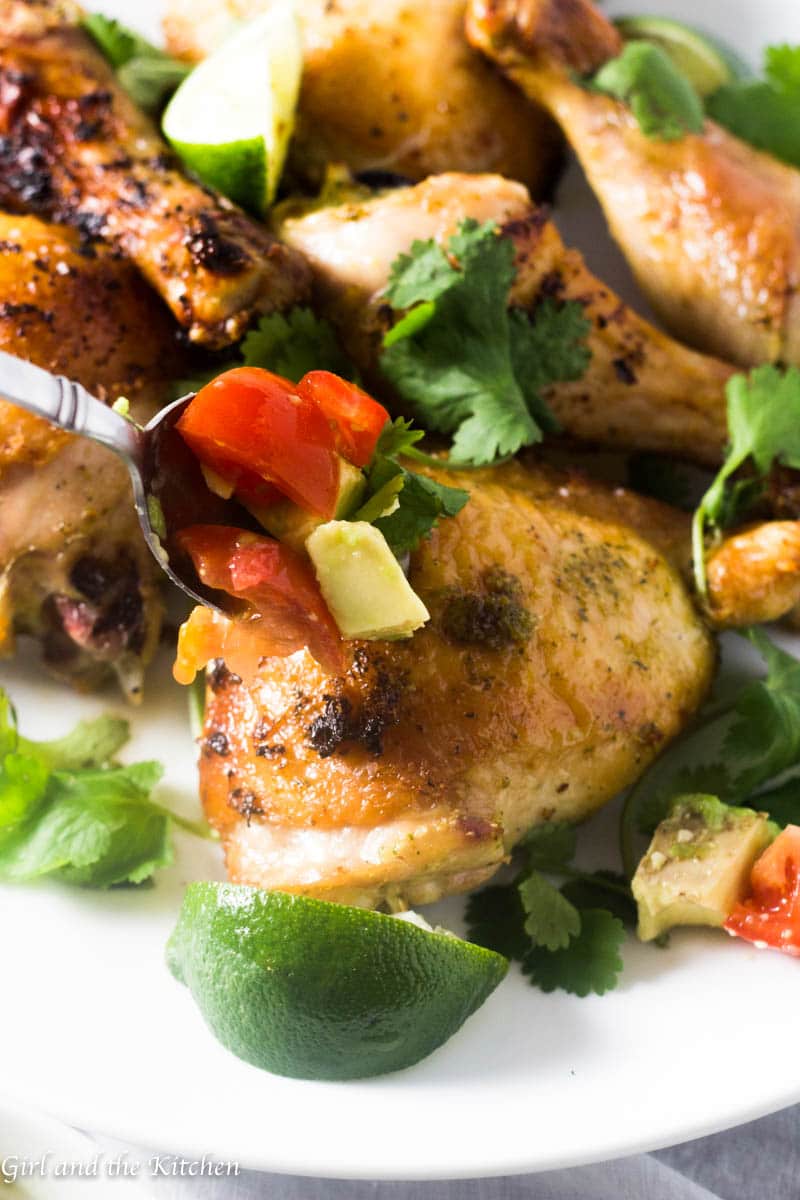 Our dinner came together in under an hour and I barely broke a sweat.  But thankfully I did make a dent in the Costco collection of chicken courtesy of the hubs.
Print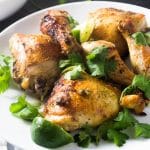 Baked Tequila Lime Chicken
---
Author:

Total Time:

55 minutes

Yield:

4

ppl

1

x
Description
My Baked Tequila Lime Chicken is not only super easy but is loaded with flavor and bursting with juices! Plus while it is marinade recommended it is not necessary making this chicken the perfect quick dinner meal!
---
Super Juicy Tequila Lime Chicken
1/2 cup

tequila

1 cup

freshly squeezed lime juice (

5

to

6

limes)
zest of

3

limes

3 tbsp

honey

1

jalapeno pepper

4

cloves of garlic

1

handful of cilantro

4

scallions

2 teaspoons

kosher salt

1 teaspoon

freshly ground black pepper

2

,5 pounds chicken thighs and or drumsticks
Avocado Relish
2

avocados (diced *)

2

tomatoes diced

2 tbsp

of cilantro chopped
juice of

one

lime
salt and pepper to taste
---
Instructions
Chicken
In a blender, combine all the ingredients except the chicken.
Blend until completely smooth. Taste for seasoning.
Place chicken into a large ziplock bagged pour marinade on top. Seal the bag and shake to ensure the chicken is completely covered. Allow to marinade for 15 minutes or up to overnight.
Preheat oven to 450-degrees F.
Spray down a rimmed sheet pan with oil or pan spray.
Lay chicken on the sheet pan. If using chicken thighs ensure that the skin side is up.
Use some of the access marinade to baste the chicken with before placing into the oven.
Allow the chicken to rest under a foil tent for 10 minutes before serving.
Roast for 30 minutes or until thermometer reads 160 degrees and the juices run clear.
Avocado Relish
Combine all the ingredients and serve alongside the chicken.
Notes
1. For an incredible tutorial on how to cube an avocado perfectly, check out my ultimate tutorial.
2. If you need to learn how to dice a tomato, I have a great tomato dicing tutorial as well.
3. If the you want the chicken less spicy, just remove the seeds from the jalapeño and the heat will be eliminated, but the flavor will still remain.
Prep Time:

15 minutes

Cook Time:

40 minutes

Category:

Main Entree

Cuisine:

Mexican