Tuscan steamed Mussels and Shrimp
 An elegant dinner that is made in less than 10 minutes has never tasted this good!  An incredibly simple steamed mussels and shrimp recipe  full of garlic, saffron and white wine.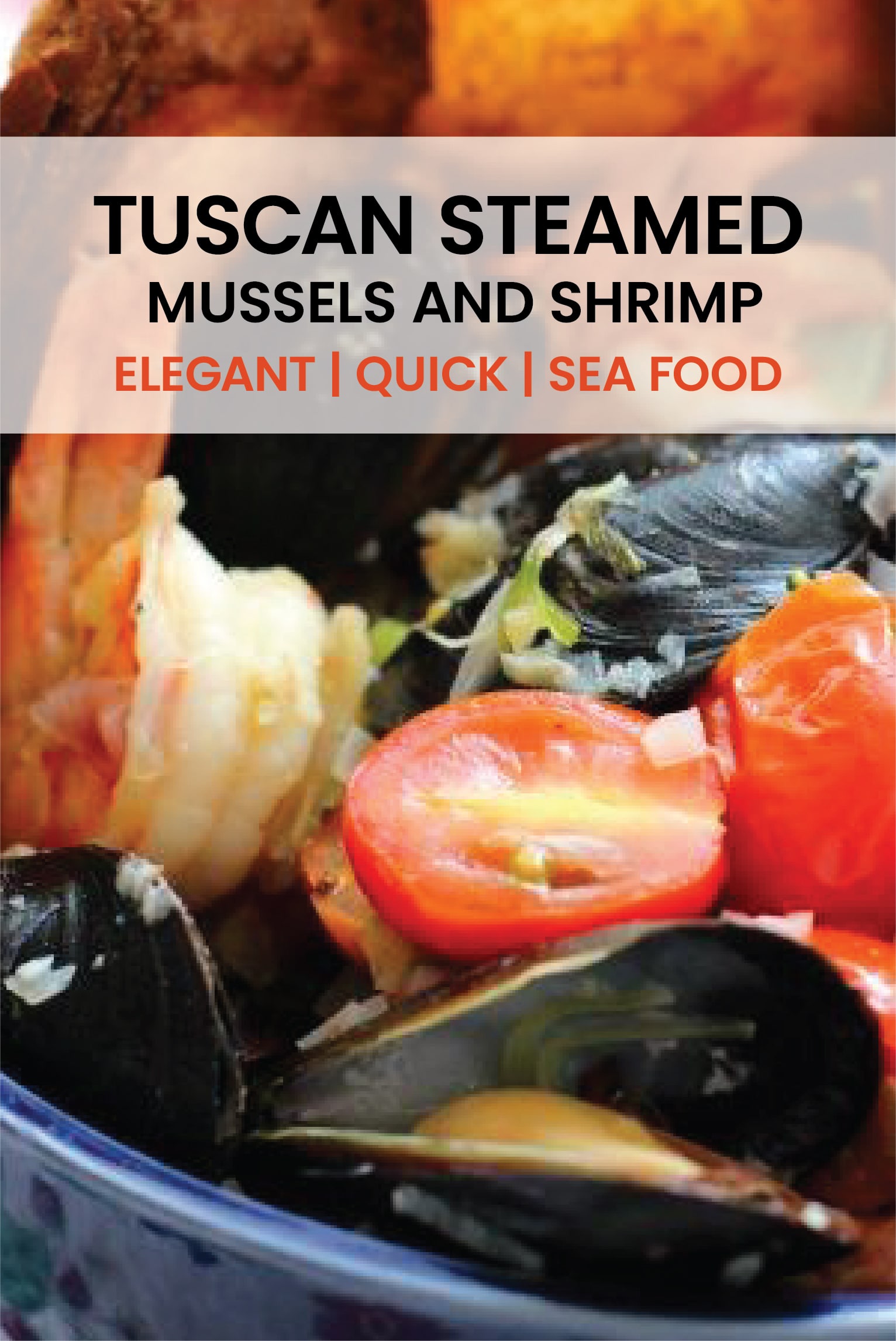 [wprm-recipe-jump]
Very few things in life give me as much pleasure as putting a smile on people's faces with my food. Particularly, my husband's face 🙂 Those days that he is down and out and needs a pick me up…I know the shortest distance is through his stomach.
And 90% of the time this remedy calls for seafood; the hub's favorite food of all time.
On a random Tuesday when I was doing my weekly grocery shopping, I had the hubs on the phone asking him what he wanted to eat this week.  He was not in a particularly pleasant mood to say the least…
I knew this called for an arsenal of seafood.
So I decided to make him something healthy yet still allow him to feel like he indulged. This dishes' simple flavors combine and form an incredible broth perfect for dipping a whole wheat crostini into.
I use a rather unusual ingredient in this dish: saffron.  Saffron is the stigmas of the saffron crocus flower.  It is considered one of the most expensive foods in the world and the most expensive spice.  Why?  Because each of this stigmas is hand picked.  You will find that saffron is used in seafood dishes frequently particularly due to its earthy fragrance.  It also gives dishes a signature bright yellow color (think Paella).  You only need 4-5 little stigmas for this dish steeped in hot water.  Just place them to steep when you start prepping everything for your dish.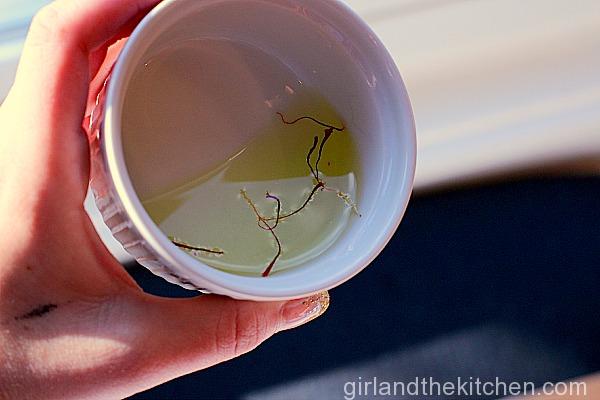 I had my students make this dish in my Under the Sea cooking class and it was a raging success!  The simplicity of it does not over shadow the uber flavorful broth and succulent seafood.
I will do a how to step by step quite soon… but I needed to get this recipe up per some of my students' requests 🙂
* Like all seafood mussels can be extremely dangerous if they are not fresh. Sorting through them is crucial. Stick them under cold running water and pick through, discarding any shells that refuse to close. If they are open then they are already dead. Scrub the remaining ones with a sponge to remove any access dirt. They all have a grassy looking "beard" attached to their shells, tear that off or cut of with scissors as well.*
Print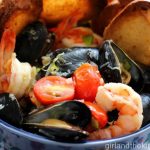 Tuscan Mussels and Shrimp
---
Total Time:

16 minutes

Yield:

2

people

1

x
Description
An elegant dinner that is made in less than 10 minutes has never tasted this good! An incredibly simple steamed mussels and shrimp recipe full of garlic, saffron and white wine.
---
1

Pound of Mussels (Washed and Sorted)

6

Large Shrimp; Shells and Veins Removed

4

Large Garlic Cloves; Minced

1

Shallot Diced Finely
Juice of Half a Lemon

3

Scallions Sliced on the Bias

2 Tablespoons

Chopped Parsley

1 Cup

of Wine

1/2 Cup

Grape or Cherry Tomatoes (cut in half)

1

Pinch Red Pepper Flakes

2 Tablespoons

Olive Oil
A few petals of saffron steaped in about a 1/4 cup of hot water (this is your saffron broth)

2

Pieces crostini
Salt and Pepper to Taste
---
Instructions
In a wide and deep pot add olive oil and shrimp and allow to sautee for 2 minutes.
Add shallots, garlic and red pepper flakes. Allow to sweat for a couple of minutes until fragrant and transparent, but not brown.
Add in mussels, saffron broth, white wine, tomatoes, lemon juice and scallions; toss everything to combine. Cover with tight fitting lid and allow to cook for 4 minutes untouched.
Remove lid and move everything around, if all the mussels are opened, poor into a deep bowl, sprinkle with parsley and serve with toasted bread! ***If there are some mussels that have not opened discard of them.***
Dip, slurp and enjoy!
Prep Time:

10 minutes

Cook Time:

6 minutes

Category:

Appetizer or Side, Fish and Seafood

Cuisine:

Italian
tuscan-steamed-mussels-and-shrimp/
Pin For Later