Melt in Your Mouth Oven Cooked Brisket
A simple and mouthwatering oven cooked brisket that is truly fuss free! Delicious, tender and freezer encouraged!!! This is the ULITMATE crowd pleaser! This is part of my perfect high holiday meal! With plenty of make ahead and freeze options…your dinner table this year will be a breeze!
As we speak, Jewish housewives all over the globe are getting out their finest china, their crispest table cloths and their oldest recipes; all in preparation for the Jewish high holidays. And this year I have a super easy dinner plan for you. Loaded with tons of freezer friendly dishes that are ridiculously delicious and incredibly easy to just heat up and plate!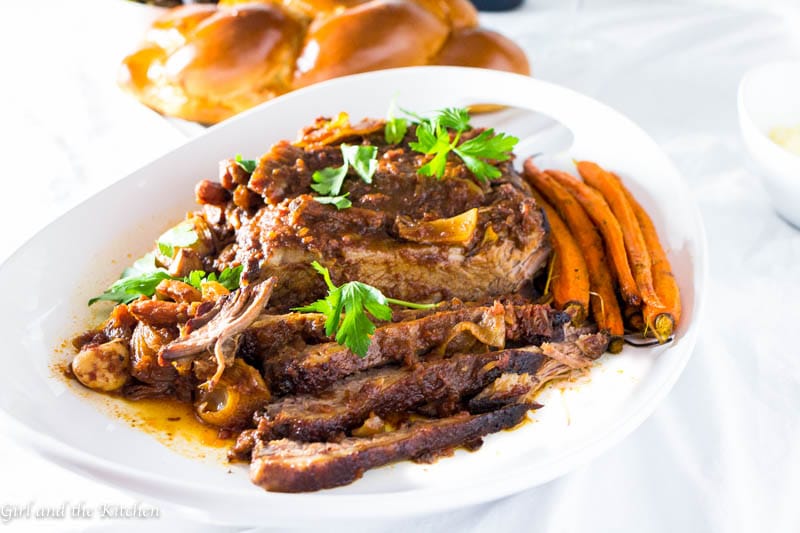 It's these holidays that bring me some of my fondest memories with my family. Golden chicken soup with fluffy matzo balls, tart apples with sweet honey and the star of the dinner : the oh so magical, dreamy, melt in your mouth brisket. Like many Jewish recipes, brisket gets its roots from the need to use up some of the least expensive pieces of meat and transform it into tender deliciousness. As the brisket cooks low and slow, connective tissue breaks down, leaving a tender piece of smothered meat.
Growing up, my aunt always made the brisket in our family. Every year she tried a different recipe and every year her malnourished – looking niece (me) licked her plate clean… much to everyone's surprise, oven cooked brisket was this picky eaters' favorite dish. It had become a ritual, I always came into the kitchen and tore off a piece of the sacred meat and my aunt always asked me,
" So Mila is it good?" And every year I nodded in agreement as I sloppily licked off the remains of the sauce off my lips. My aunt's brisket may not have been perfect, but it was hers and it was always good.
As an adult and a graduate of culinary school my love for oven cooked brisket remained the same. I made hundreds of briskets throughout my career and I was constantly searching for my recipe. I wanted a recipe of my very own. And I tried… I made smoked briskets, crock pot briskets, oven cooked briskets, French style briskets and the very worst, dry brisket. I took an idea or two from each recipe and moved on to create my brisket. This has become my no fuss no muss brisket recipe that I go to year after year.
The Brisket Technique
If there is anything I have learned from the hundreds of briskets I have made over the years, the technique is one of the most important aspects. Go slow. Lower temperature, slower cooking. This will allow the connective tissue to break down and the fat to melt slowly, leaving you with that ultimate melt in your mouth brisket.
There must also always be an acidic component. I use both tomato acid (ketchup) and wine to allow for a deeper and richer flavor in the meat and the sauce.
The best thing about this brisket is that it is one pan and FREEZER ENCOURAGED. Make it ahead of time. Freeze it. And let it warm up in a 350-degree oven the day of service. It will be perfection. Something magical happens when you freeze foods like brisket or my amazeballs this to happen to food. It just works! And it could not be easier!
You can also do it in the Instant Pot, if you have a smaller brisket. The recipe could not be easier and it is always a hit!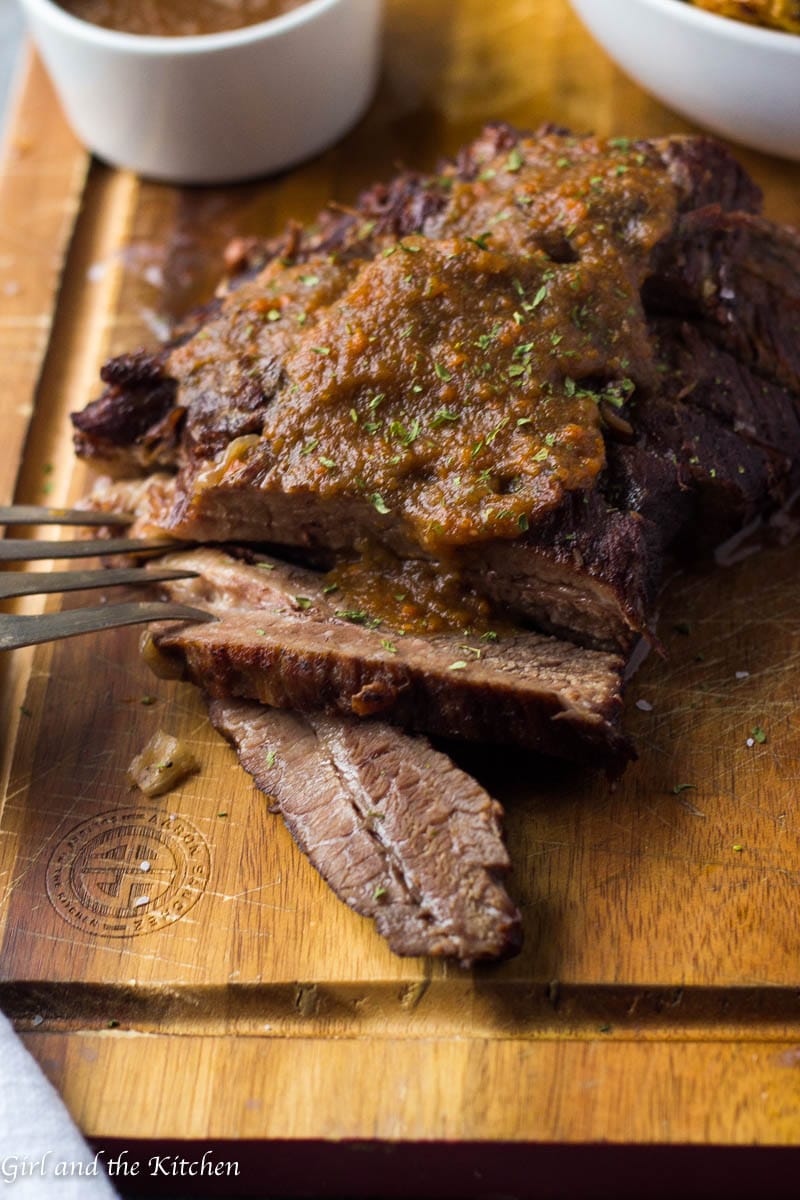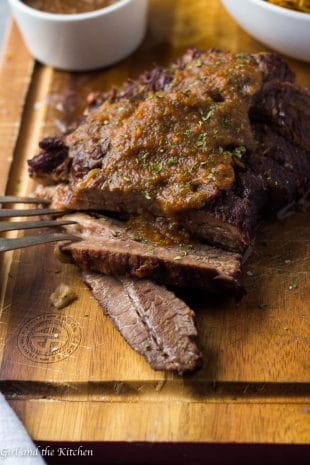 This is a brisket. A HUGE one. I have 16 people coming over. I always get my brisket from my favorite meat guys Second City Prime. It is always clean and they have my very favorite.. WAYGU! I like to use foil pans for this because I hate cleaning roasting pans…as do you I am sure. Plus since I end up freezing it anyhow, it makes more sense to just do it in ONE PAN.
When you purchase your brisket. Do not purchase it cleaned. Purchase it whole with the fat still on it. And place the fat side UP when roasting. NOT DOWN.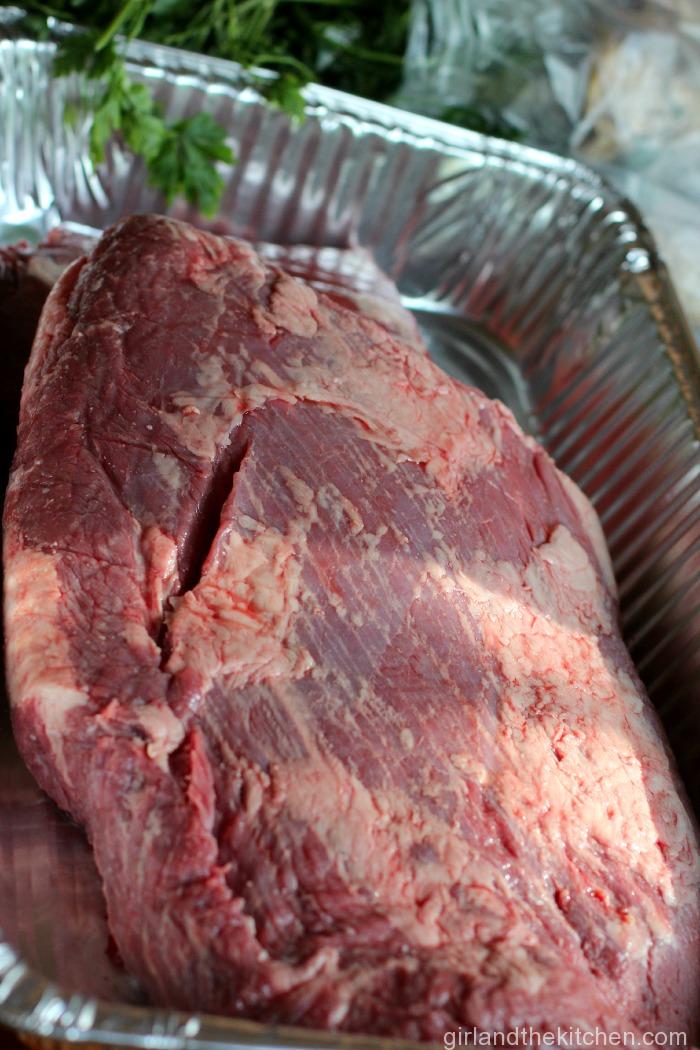 Now combine your ketchup, dehydrated onion, garlic, chicken base, wine and water in a bowl. Mix it all up to combine.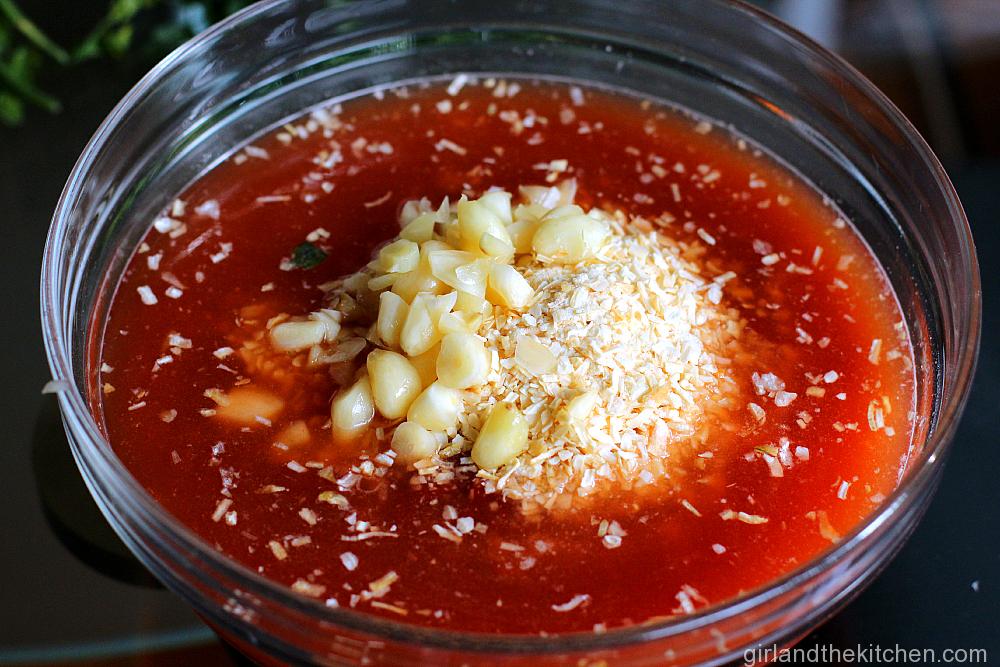 Now slather it onto EVERY nook and cranny. Massage your brisket. Making sure to cover it all over. Now you have two options, if you have time to marinade for 24 hours…please do so! Just cover it and place in the fridge for 24 hours or at the very least overnight. But if do not, you can throw your carrots and onions right over it and cook it as is!
Before roasting, roughly chop your carrots and onions. You want nice, large chunks. I had some gorgeous multicolored carrots leftover so I used that. Throw the veggies on top and also nestle them in between for good measure. You want the liquid to cover almost all the way to the top.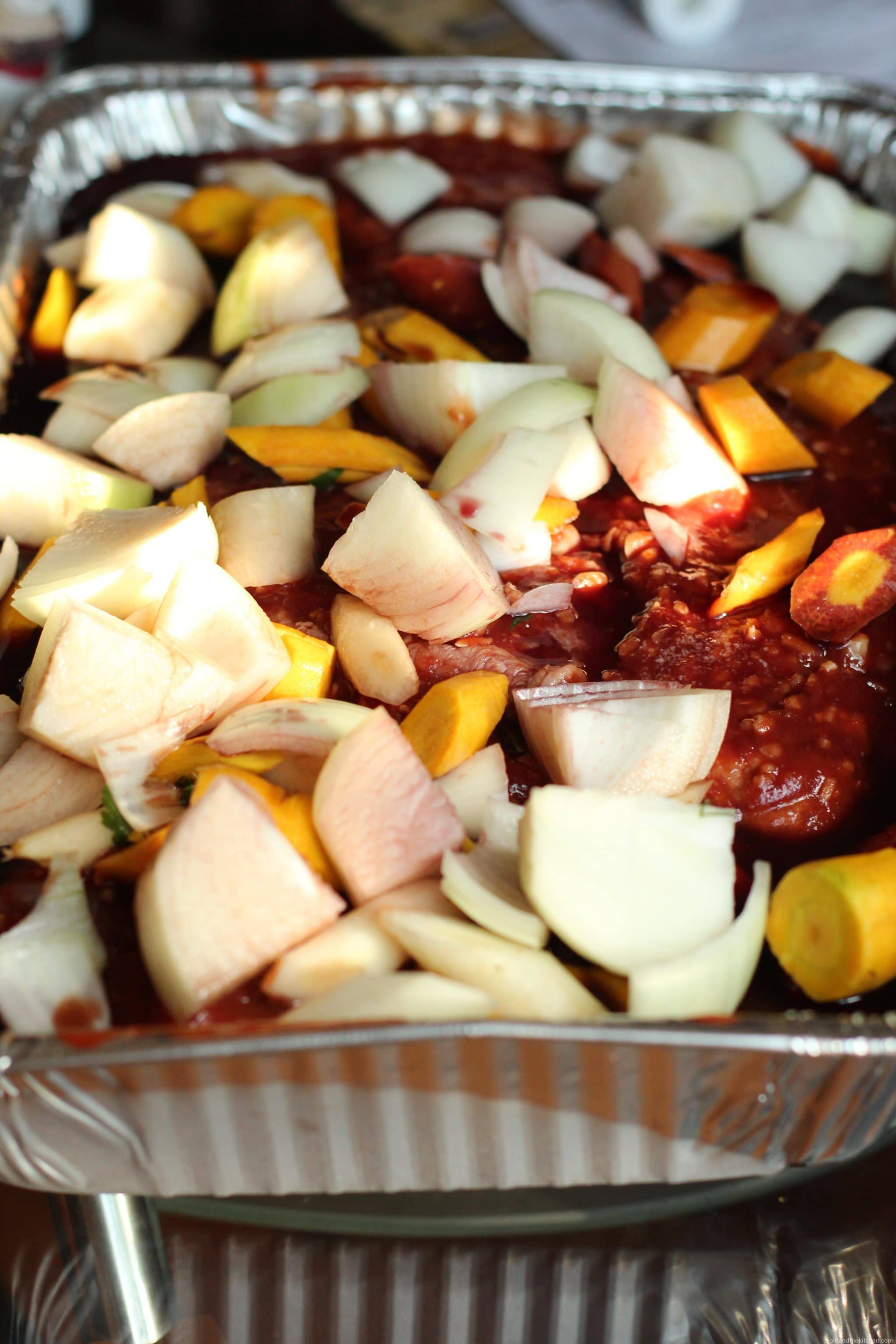 Cover with foil tightly and place into a 350-degree oven for the next 3-4 hours or so. I like to flip my brisket half way into the cooking time that way both sides cook evenly. The ultimate test of course is the fork test. You want it to be nice and tender. For our family…I know it is perfect when the ends are easily falling off. That means the center has a more meaty texture. But again, that's how my family rolls 🙂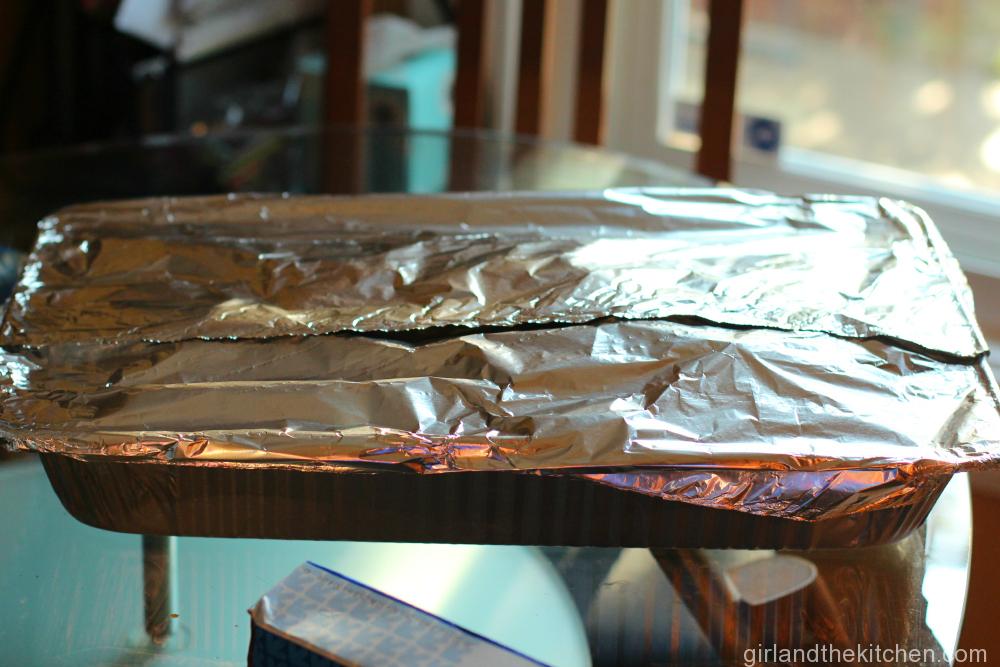 I always make mine weeks ahead of time. So these next few steps are crucial. Take the whole pan and place it into the fridge over night or for a few hours until it cools completely and fat solidifies.
(Ignore the little yellow specs, I was making some rice and a few sprinkles made their way into the pan. )
See all that orangy looking goup around the meat? That's fat. And you do not need it. It will make your sauce greasy.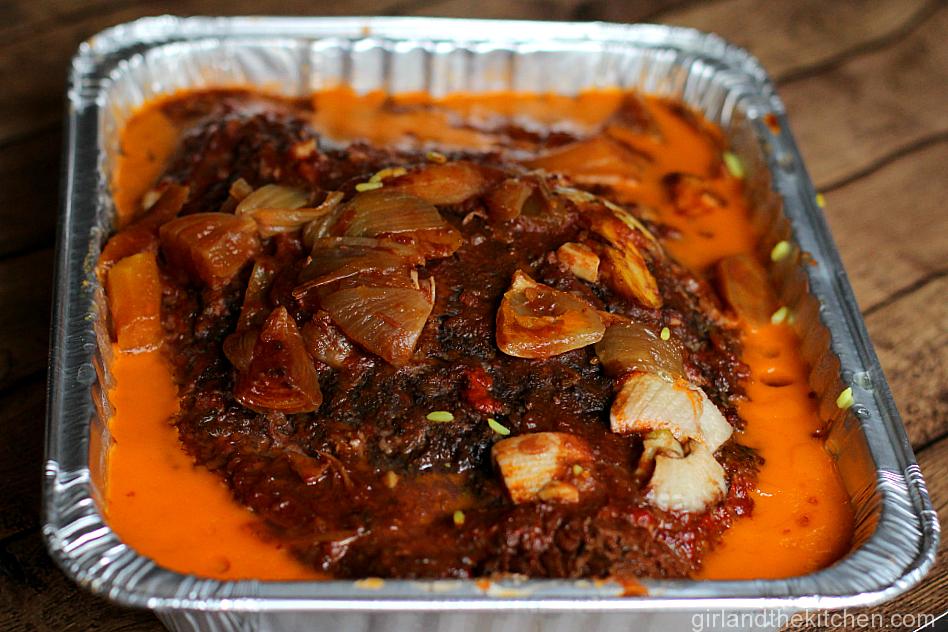 Just take a spoon and lift up the fat. It will come off easily. And it's kind of fun.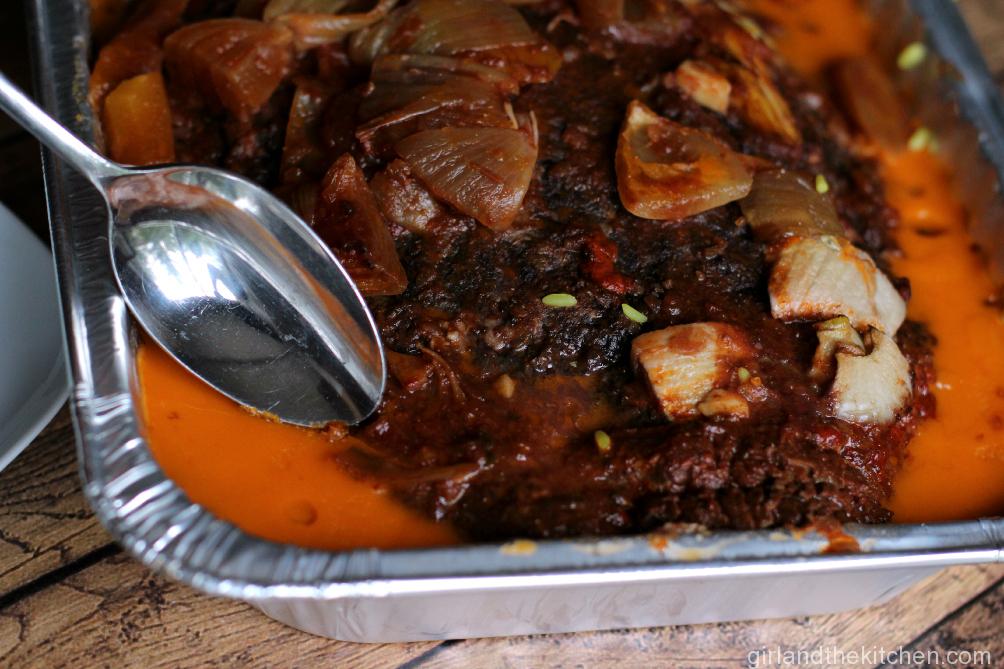 Now we slice. This is a VERY important step. If you slice the brisket with the grain, you can forget about that gorgeous melt in your mouth brisket. You need to cut AGAINST the grain, just like with my flank steak. That way you will get perfectly beautiful slices. This is also why we chilled it first. Not only is it easier to remove the fat, but it is much easier to cut the meat when it is cold.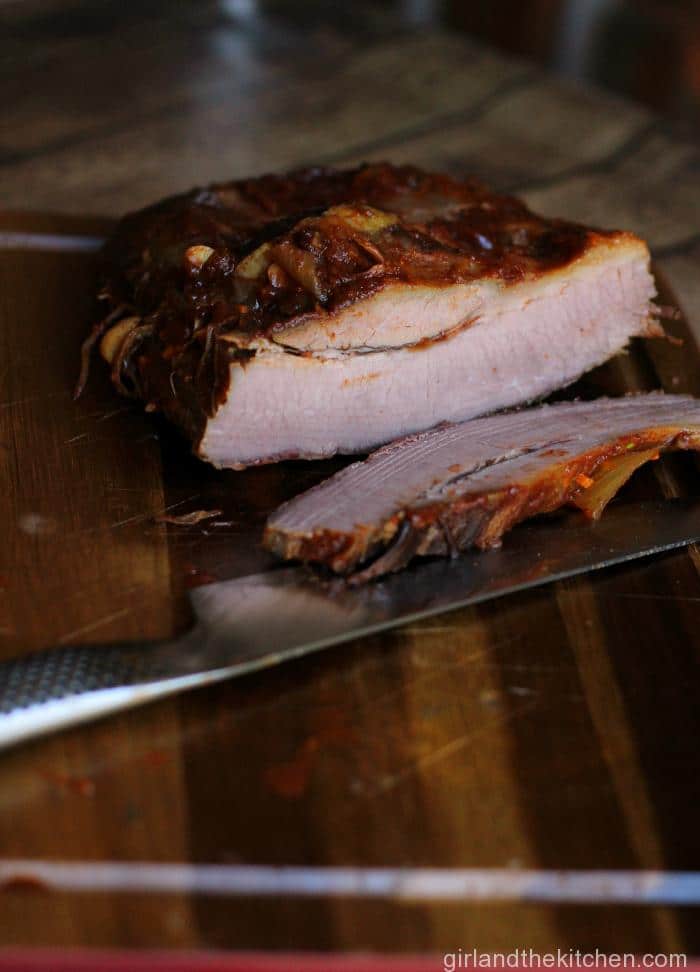 Using a sharp knife we are going to be cutting AGAINST the grain. Make you use the length of the knife instead of sawing through the meat with short motions.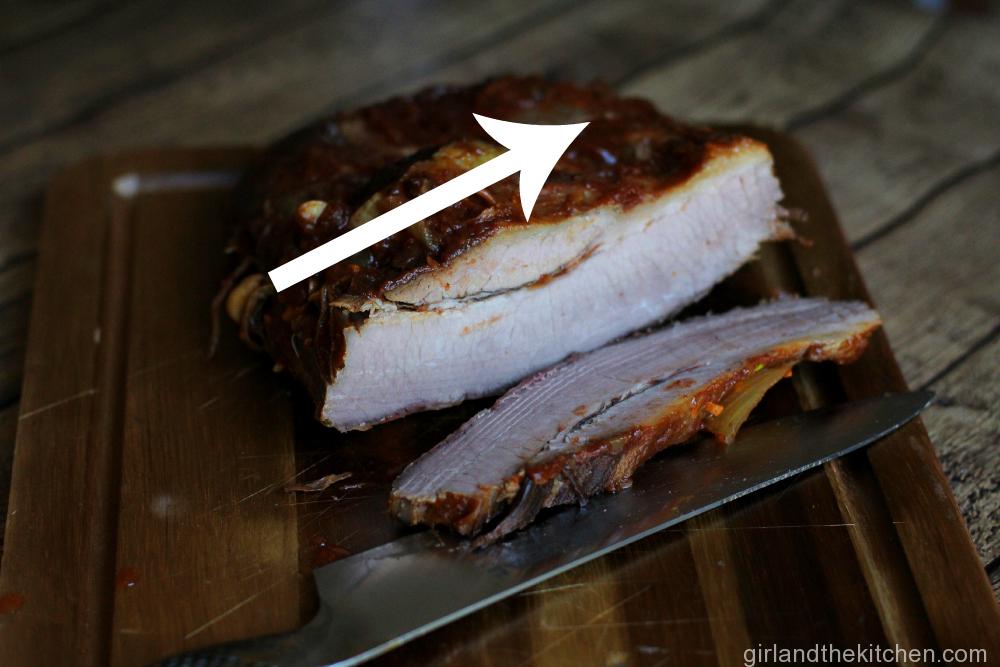 And now we place it into the pan…FAT SIDE DOWN. Because when you reheat your brisket…it is better fat side down.
At this point, I cover my brisket back up…and stick it in the freezer until it's time to cook it!
This year I made it 2 weeks in advance. Again…16 hungry Russians and a Russian style dinner is not an easy task. I take all the precooking help I can get 🙂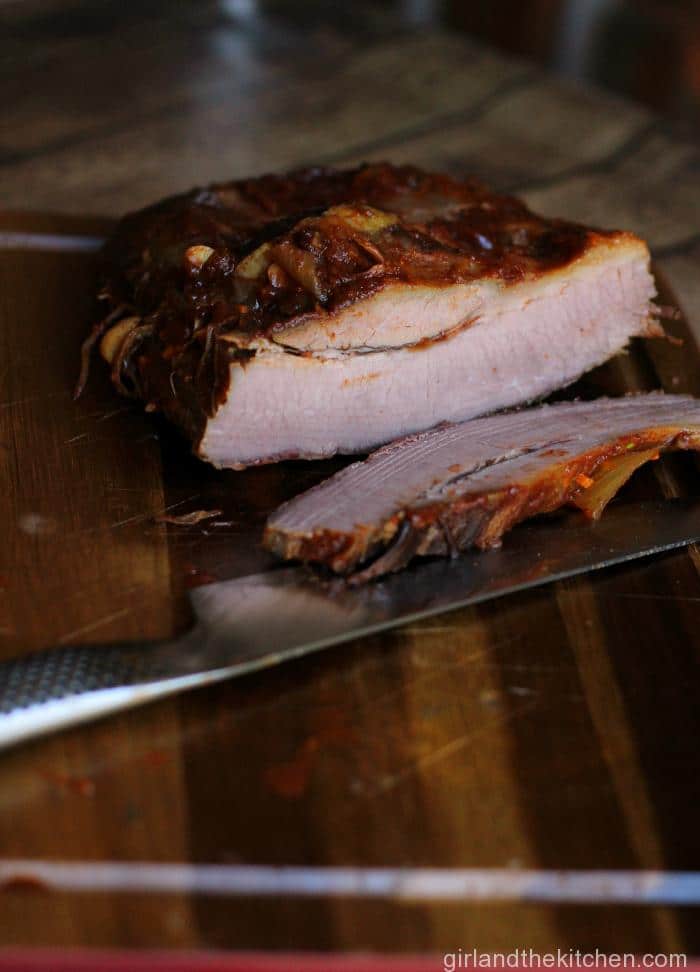 Reheat it in a 350-degree oven, covered for about 40-45 minutes. And serve.
Plates will be licked clean…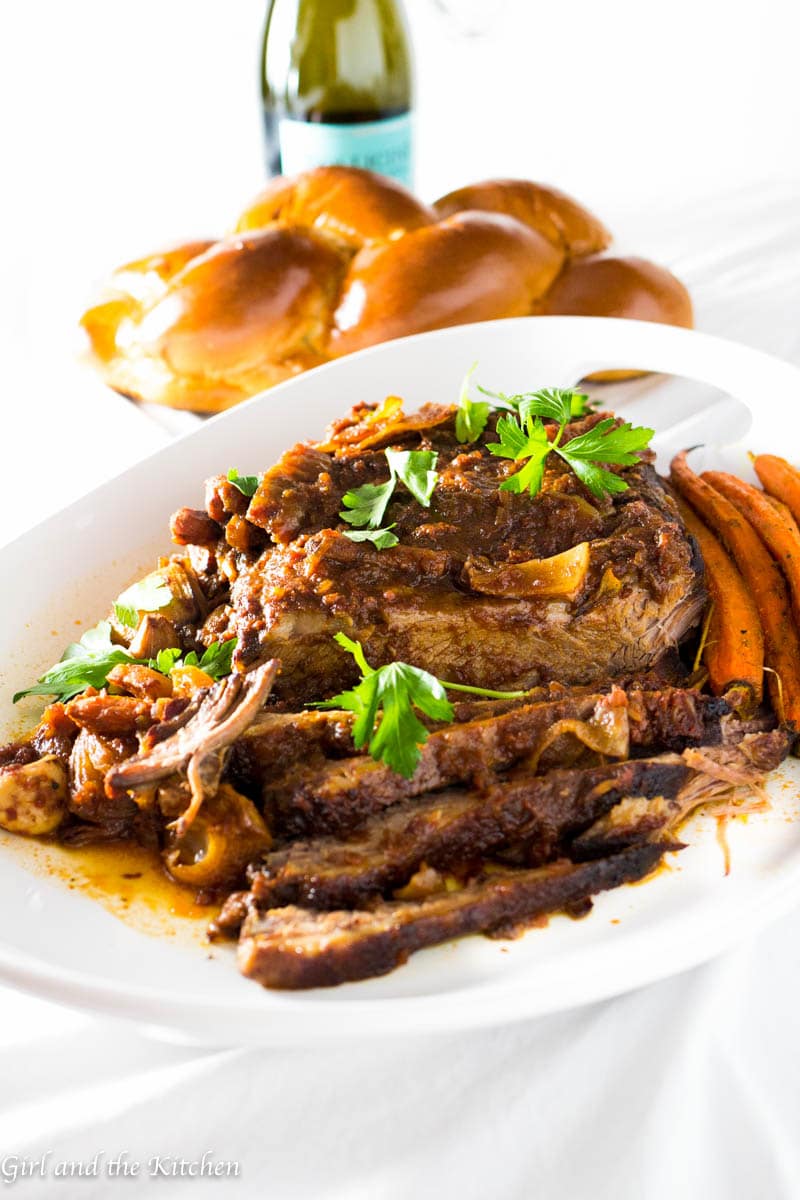 And eager fingers will try and get a slice in before you do 🙂
That's hubby's finger…trying to finagle its way in…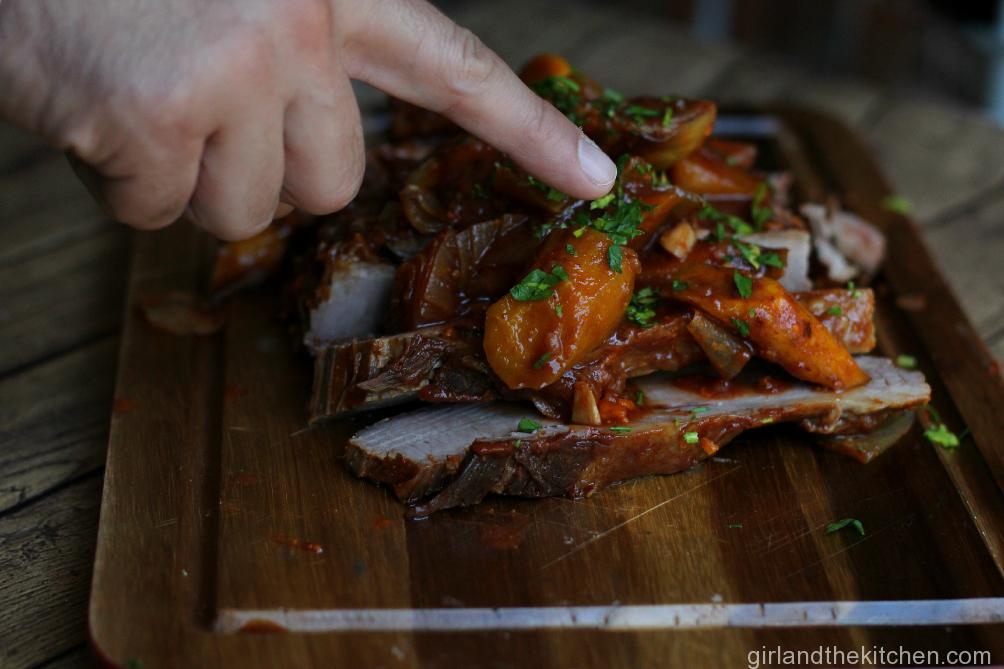 And you will be the ultimate host 🙂 With a few less dishes to clean.
Perhaps this time.. I will even get a chance to sit down and have a slice 🙂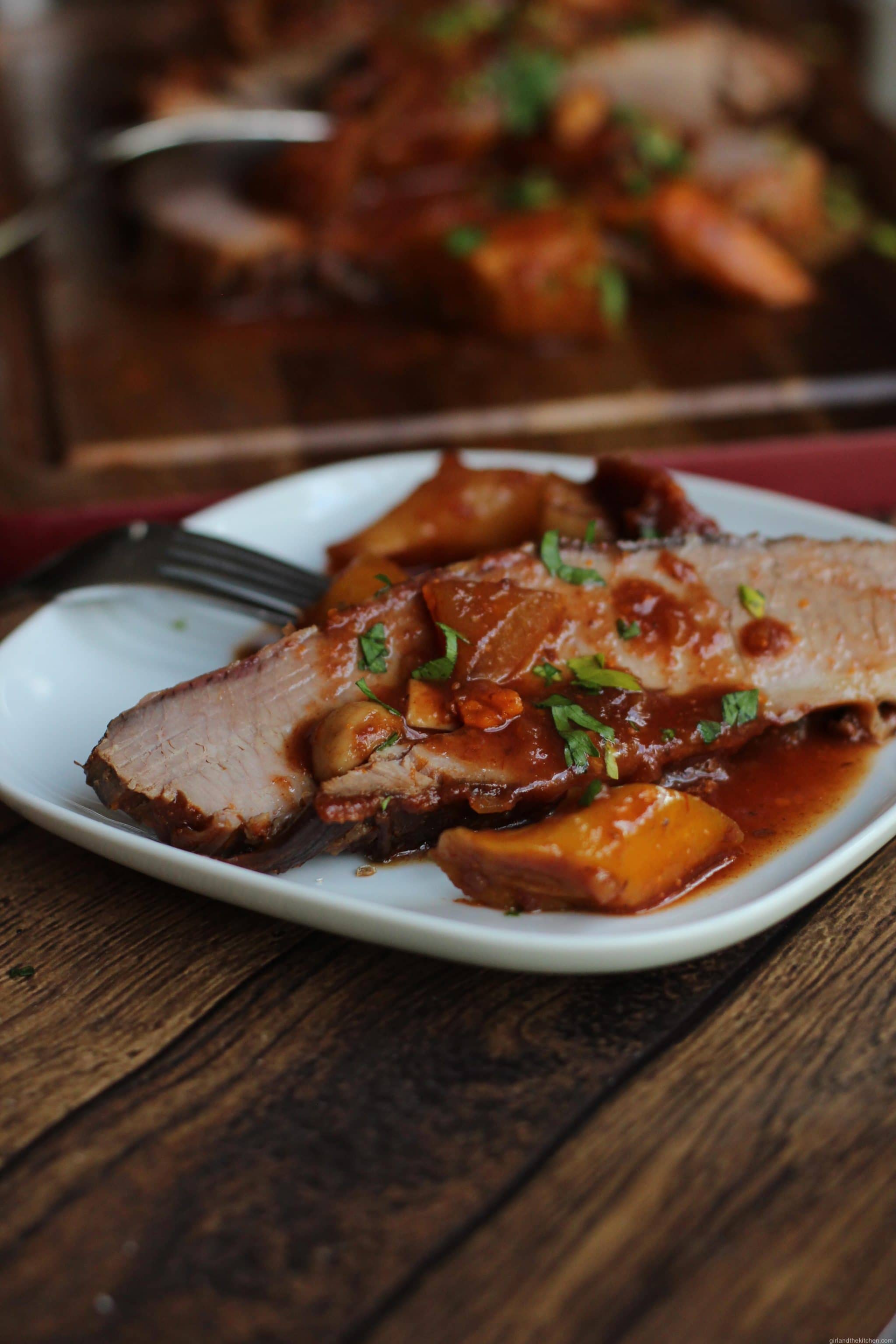 Print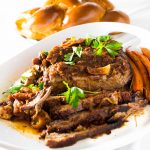 Melt in Your Mouth Oven Cooked Brisket
---
Author:

Total Time:

490 minutes

Yield:

10

ppl

1

x
Description
A simple and mouthwatering oven cooked brisket that is truly fuss free! Delicious, tender and freezer encouraged!!! This is the ULITMATE crowd pleaser! This is part of my perfect high holiday meal! With plenty of make ahead and freeze options…your dinner table this year will be a breeze! : Meat, Entree Cuisine: Ashkenazi Author: Mila Furman
---
7

–

8

pounds of brisket

1

bottle of ketchup

1 1/2 cups

of dry red wine

1 1/2 cups

water

1.5 tbsp

chicken base (I find it milder than beef base)

1/4 cup

dehydrated onion flakes

6

cloves of garlic (roughly chopped)

2

onions (roughly chopped)

6

large carrots (cut into large chunks)
Salt and pepper to taste
---
Instructions
Combine ketchup, water, dehydrated onion, garlic, wine and chicken base and mix to combine.
Slather this beautiful mixture onto the brisket sneaking it into each nook and cranny.
If you have time let stand in refrigerator for 24 hours.
Preheat oven to 350-degrees and place remaining ingredients over brisket in a tightly sealed roasting pan into the oven.
Cook for 3-4 hours. Typically the rule of thumb is an hour a pound. But the true test is when it pulls apart with two forks..
Place in refrigerator over night to cool.
Remove fat and cut against the grain NOT with the grain.
Place sauce over sliced meat and put into 350- degree oven to warm the meat and sauce.
Notes
The nutritional information is to be used for information purposes only.
Prep Time:

10 minutes

Cook Time:

480 minutes

Category:

brisket, dinner, freezer friendly, One pan

Cuisine:

Ashkenazi, Jewish, Russian