Vegan Chocolate Peanut Butter Banana Protein Smoothie
Meet a protein smoothie that tastes like a dessert indulgence!  Loaded with dark chocolate, bananas, peanut butter and good for you protein this smoothie will make your muscles and your belly happy!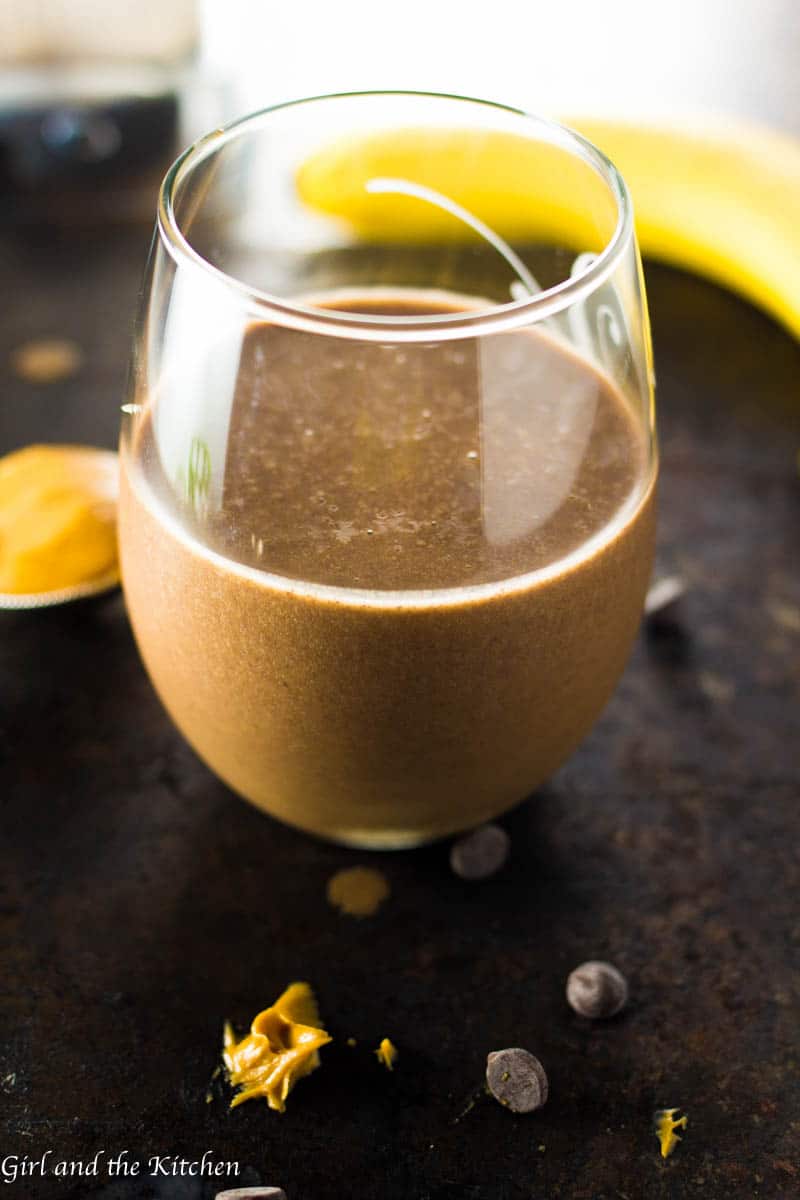 I want to quit my gym.  I have been a member of this gym for 8 years and they are not giving this member any love.  It seems like they are prejudice to everyone except an elite few.  You see this is one of those gigantic gyms that has vein-bulging body builders grunting in the free weight area and quad bulging power lifters squatting more than my body weight.  It's every Instagrammers #instafit dream.
And don't get me wrong, I like that gym a great deal.  They have tons of new equipment, a tanning booth, swimming pool, the works: but lately I have not been loving it.
For starters, this busy member does not diddle daddle in the gym. I like to get in, do my workout for 45 minutes and get out ASAP.  But this whole powerlift/instagram craze is driving me ape crazy!!! They are ALL over the gym doing insane maneuvers.  I am unsure if they are attempting to audition for America Ninja Warrior or perhaps they are all just trying to dislocate their shoulders; because these guys and girls are hanging, swinging and powerlifting all over the gym and they are all up in my space!  Can a girl just get some room to lift some free weights?!? I am NOT powerlifting and I would also like some mirror time to correct my form…because unlike some of them, this #fitmom is not looking to dislocate or tear any muscles due to poor form.
Look I am all about the new crossfit phase…in fact if I can find a gym I really trust, I would love to try this out.  But do me favor fellow gym goers.  If you have no idea what you are doing and want to make an impression on the few girls or guys in the gym…can you isolate yourself to the designated area of the gym for such activities?  Thank you.
There is however another reason I have had it with my gym…they refuse to make my smoothies with my plant based protein powder.  See, I discovered plant based protein powder WAYYYYYY long ago.  My stomach nor my head could handle whey protein.  I always got nauseous and lethargic after drinking it.  No bueno.  But then…I discovered plant based protein and my world was forever changed.  Especially chocolate flavored protein. Done and done.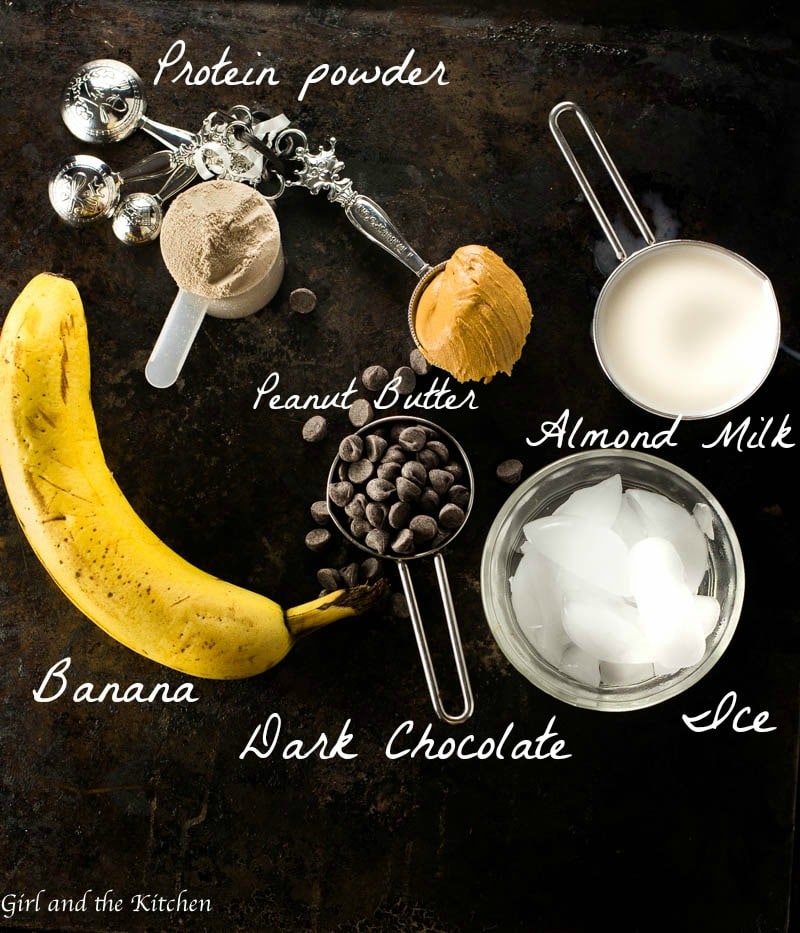 Back at my old corporate job, I had a gym right downstairs.  So I would go work out for 35 minutes, shower change and rush up and make my post workout smoothie.  I had a little blender at the office, so I would whip up this epic protein smoothie that tasted like heaven after a hard workout.  Bananas, a bit of chocolate, natural peanut butter, almond milk, ice and vegan protein powder.  It was a heavenly, silky protein smoothie that tasted like dessert.
After leaving corporate America I had to start going to my #fitlife gym and as aforementioned I have been faced with a few annoyances.  But none as frustrating as what I faced last week.  I was running late for a meeting after my workout and would not have time to eat…so I decided to buy a smoothie at my #fitlife gym smoothie bar.  But when I asked them for a protein smoothie with plant based protein, they stared at me like I was cyclops.  
"Do you have soy protein, pea protein?  Anything on it that says plant based protein?" I asked the blond and very clueless 20 something behind the smoothie bar.
"Ummmmmm ma'am we do not have anything like that," she replied in her most Kim Kardashian like voice, raising her overly stenciled eyebrows as she spoke.
So this #hungryfitmom was not having that and I approached the manager and explained everything to him.  But he had a useless answer: "Ma'am just bring your own."
"Number one, I am only a few years older than you and this isn't the south…so DO NOT CALL ME MA'AM.  Number two, what's the point of bringing my own if you sell it in bulk to your customers and all you have to do is put it behind the smoothie bar and then charge me an extra $1 for the darn protein smoothie and have that blond over there whip me one up!"  I was practically yelling at this point because I was getting a tad hangry.
He stared at me and gave me some load of poop about why corporate was against it and blah blah blah giving me attitude throughout.  Halfway through his speech I turned my back and was out the door.
So this week, I came up with a solution.  I DID bring my own.  Except I am NOT paying them for my protein smoothie.  Instead, I got this awesome new Thermos cup.  I make the smoothie at my office in my little blender before I head out to the #fitlife gym and I pour it into the cup.  It has this cool little thingamajig at the top that acts as a mini whip when shaking the bottle up.  So even IF the protein separates you can shake it right up and it's perfection again.  Bam.

Problem solved.  This #fitlife gym isn't messing with this girl 🙂  Watch out cross fitters, you're next.  Just kidding… you guys will take care of the problem yourself and just leave the gym and head over to the next #gymtrend once #Instagam creates it.
Print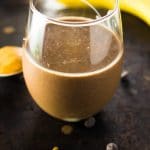 Vegan Chocolate Peanut Butter Banana Protein Smoothie
---
Author:

Total Time:

7 minutes

Yield:

1

serving

1

x
Description
Meet a protein smoothie that tastes like a dessert indulgence! Loaded with dark chocolate, bananas, peanut butter and good for you protein this smoothie will make your muscles and your belly happy!
---
1 cup

almond milk

1 tbsp

. creamy all natural peanut butter (Feel free to add in

2

if you like it uber peanut buttery)

1

ripe banana

1

scoop chocolate protein powder

1/2 cup

dark chocolate chips

5

–

10

ice cubes (depending on the consistency you like)
---
Instructions
Combine all the ingredients in a blender and blend until nice and smooth.
Notes
1. Feel free to use frozen bananas instead of the ice cubes. This will give you the same flavor and texture without adding in all that ice.
Prep Time:

5 minutes

Cook Time:

2 minutes

Category:

Smoothie

Cuisine:

American
[wprm-nutrition-label]