A classic creme brûlée is the perfect dessert for ANY occasion.  The creamy custard inside pairs beautifully with the crispy caramel outside.  Plus it naturally comes with the best party trick around: torching. Prepare to blow away all your guests with this delicious and simple classic French dessert!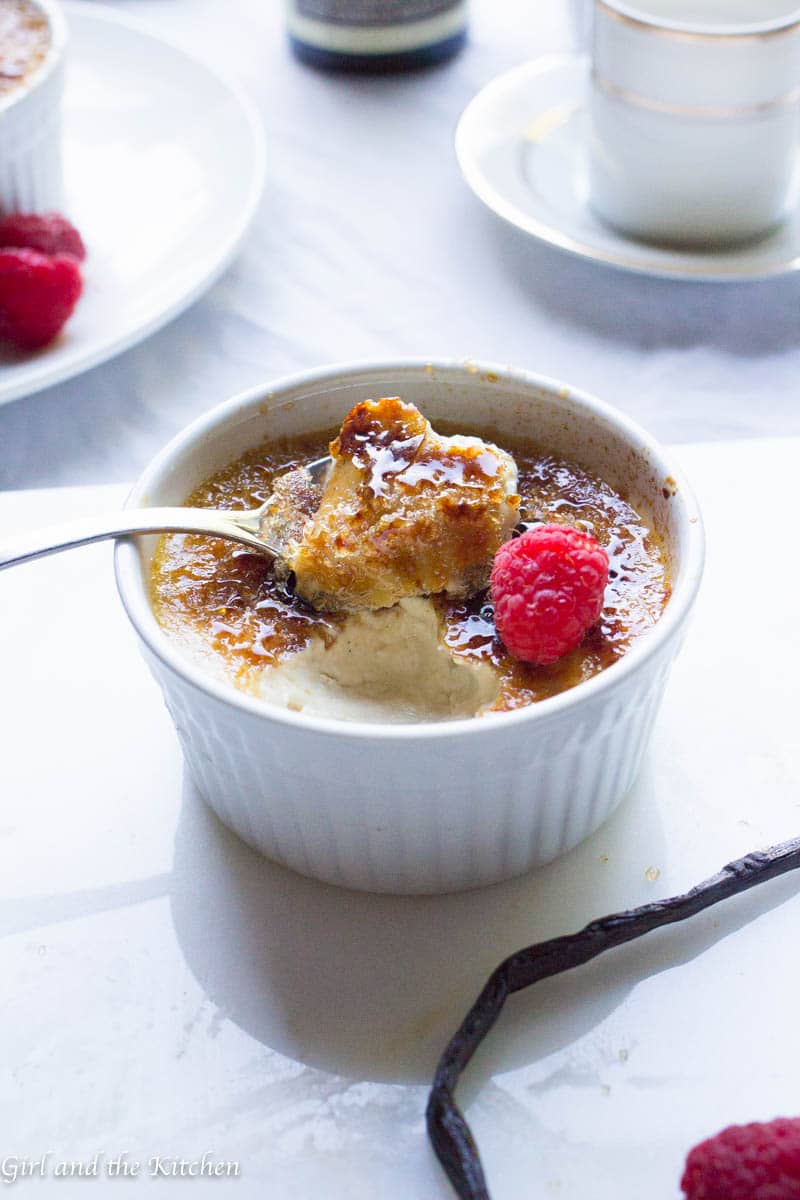 My husband's favorite foods all have a few things in common:
So when he called me one morning and told me he was having a particularly awful, horribly, bad day I knew that he needed some love.  And creme brûlée came to mind as the love language.
Because…how can it not be?

While it may sound fancy, creme brûlée is one of the easiest desserts and will always get a standing ovation if done right. At least at my dinner parties I do 🙂
Creme brûlée is rich, smooth and extremely versatile. In its most basic form it is a simple creme anglaise, the base of any vanilla ice cream.  What I love about it is how easy it is to change the flavors of a creme brûlée.
Add fresh berries to the bottom of a ramekin before filling it for a raspberry creme brûlée.
Add some dark chocolate to the custard and make a dark chocolate creme brûlée.
Add some espresso for an espresso creme brûlée.
Add any fruit puree at all (high quality ones like this) and create THAT fruit creme brûlée.
And naturally…add NUTELLA and create a nutella creme brûlée!
The possibilities are truly endless. And part of this complete brunch 🙂
Making the creme brûlée does not take much skill in the least bit.  It does however take a bit of time AFTER it has been baked.  It needs at least 6 hours to set into the perfect custard after it has been cooked.  And THIS is the perfect reason why it is also a great make ahead dessert.
(Psst, this is precisely the reason that it is included in my Rosh Hashanah and Yom Kippur Dinner Menu Plan)

One of the crucial parts of this dessert is the vanilla bean.  A vanilla bean packs loads and loads of flavor. It also packs a hefty price tag.  Usually I get ONE for about $11.  Pretty steep I think.  So I found this incredible product that has changed my life.  It is a paste!  And it is delicious and a great deal more affordable.  Plus you get those incredible little black specs in your creme brûlée that ordinarily you can only get with the bean pods.  #winning.

The Process
While making this dessert is simple there is just one extremely important factor: water. Creme brûlée is actually baked in a water bath this ensures that it cooks evenly and delicately.
The problem occurs when just a drop of water gets into your creme brûlée. This results in the creme brûlée not seizing and it remains runny. Definitely not a good look. In order to prevent this from happening there are a couple of tips that I follow.
1. While creme brûlée looks all cute in those small shallow boat containers it is much easier to get water into them because they are so shallow. Plus they are a lot more expensive. I bought these at World Market. They are very inexpensive and have lasted me 4 years already!
2. You need a torch. You can get them almost anywhere now. Including your husband's garage. If he gives you lip about using his tools, just tell him it's for creme brûlée. He will back off quickly.  Mine did 🙂
3. Let your creme COOL OFF BEFORE pouring into the egg and sugar mixture.  Otherwise you will have this incredible dish called: scrambled eggs.  What you do is a technique called TEMPERING.  You pour in the cream mixture into the eggs ONE ladle at a time then whisk whisk whisk.  Keep doing this until you have incorporated all the mixture in.  This will ensure NO scrambled eggs and a smooth finish!
4. Use a glass measuring cup or anything with a pour spout to pour mixture into your ramekins.  It is just so much easier to gauge that way.
The rest is a piece of cake.  Or err… custard.
Pour. Bake. Cool. Sprinkle and TORCH!!!!
When torching I like to show this part off to my guests.  Once they see how much fun it is they want to do it themselves!
The one thing to remember about torching: move fast.  The sugar continues to cook even after the flame is gone because it burns so hot.  So move the the torch around quickly ensuring even covering.  And be rewarded with this gorgeous crust.
Bon Appetite my friends!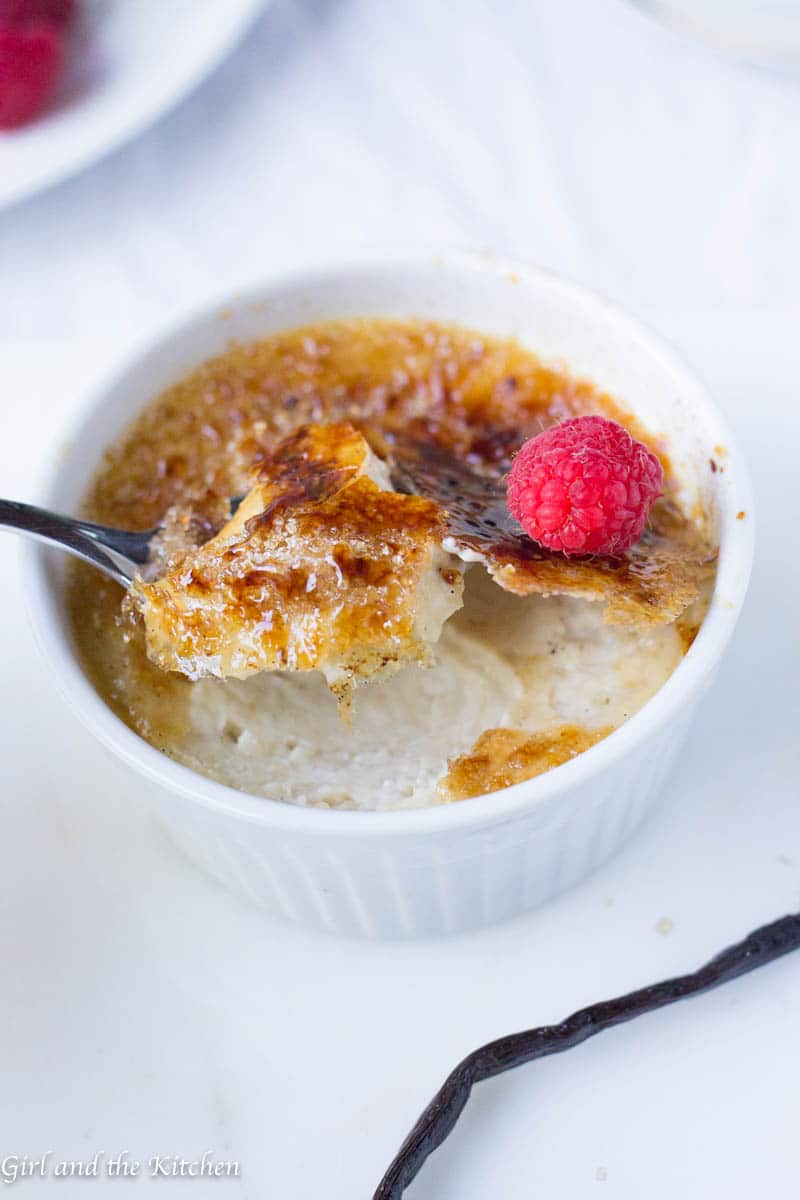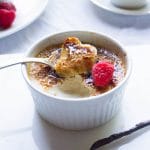 Classic Creme Brulee
A classic creme brûlée is the perfect dessert for ANY occasion. The creamy custard inside pairs beautifully with the crispy caramel outside. Plus it naturally comes with the best party trick around: torching. Prepare to blow away all your guests with this delicious and simple classic French dessert!
Ingredients
1

quart

heavy cream

1

vanilla bean

Or 2 TBSPvanilla paste, split and scraped

1

cup

vanilla sugar

divided

6

large egg yolks

2

quarts

hot water
Instructions
Preheat the oven to 325 degrees F.

Place the cream, vanilla bean and its caviar (OR

VANILLA PASTE

) into a medium saucepan set over medium-high heat and bring to a boil.

Remove from the heat, cover and allow to sit for 15 minutes.

In a medium bowl, whisk together 1/2 cup sugar and the egg yolks until well blended and it just starts to lighten in color.

Add the cream a little at a time, stirring continually.

Pour the liquid into 8 (7 to 8-ounce) ramekins.

Place the ramekins into a large cake pan or roasting pan and place on the oven rack.

Pour enough hot water into the pan to come halfway up the sides of the ramekins. Careful not to get any water in the ramekins!

Bake just until the creme brulee is set, but still trembling in the center, approximately 40 to 45 minutes.

Remove the ramekins from the roasting pan and refrigerate for at least 6 hours and up to 3 days.

Divide the remaining 1/2 cup vanilla sugar equally among the 6 dishes and spread evenly on top.

Using a torch, melt the sugar and form a crispy top. Allow the creme brulee to sit for at least 5 minutes before serving.
Recipe Notes
1. This time around I baked mine in a brand new oven and it was a bit hotter than I expected so it got a tad brown. No biggies, the caramelized sugar will cover it all up anyhow.
2. The nutritional information is to be used for information purposes only.
Nutrition Facts
Classic Creme Brulee
Amount Per Serving
Calories 548
Calories from Fat 423
% Daily Value*
Total Fat 47g 72%
Cholesterol 308mg 103%
Sodium 51mg 2%
Potassium 103mg 3%
Total Carbohydrates 28g 9%
Protein 4g 8%
* Percent Daily Values are based on a 2000 calorie diet.