Panera Copycat Vegan Butternut Squash Soup
Panera's butternut squash soup is a fall favorite that is loaded with flavor and cream.  My vegan butternut squash soup is the healthy alternative!!!  Full of warm spices and a creamy spicy coconut cream, this soup is irresistible and guilt free!  
Have you ever had one of those insane days where you run around all day and then somewhere around 6pm the hunger pains in your stomach start to creep up on you and you realize you have not eaten all day.
I never thought I could be one of those people that would actually forget to eat, but alas I was and I did.
So knowing that I could easily read emails while scarfing down some food, I decided to swing by my favorite place to nosh and work.  Panera.
You know, I always feel so grown up when I go to Panera to eat and work.  I remember my college days, when I would go to Panera to study because no other place would make me concentrate and make me feel as studious as Panera did.  I would have a soup and then for the next 5-6 hours I would consume cup after cup after cup of peach and ginger tea.  I always felt the staff had a bet of how many times I went to the bathroom during my "stay" at the restaurant.
Even though I have been an adult for quite some time now… I still sometimes feel as if I am just "playing" one.  Typically I am rudely awakened from those thoughts by a giggling toddler who screams "mommy! mommy!" at me and flies at me like a torpedo full of wet kisses and tight hugs.
Anyhow…moving on.  I approached the Panera counter and contemplated my options.  I am a fan of soups.  A big one.  And this particular night it was drizzling and miserable.  The kind of fall weather that screams soup and couch time.  Luckily, Panera had a few couches by the fireplace I was eyeing.  Now just to decided on a soup.
Sadly their soup options for vegans are limiting.  Typically only allowing for the black bean soup option.  Which is delicious, but has gotten a bit boring.
"Would you like to try our new Autumn Butternut Squash soup?"  I was asked by an overly cheery cashier who had perfectly drawn on eyebrows.
"Well I don't eat meat or dairy.  Does it have any cream or milk in it?"  I asked, all the while studying and trying to decipher which product she was using to indeed get such perfect eyebrows.
"Nope, no cream.  And it's delicious!  It's my personal favorite."
Well it was set then.  I decided to order the soup and quickly ran over to my favorite spot on the couch next to the fireplace.
They brought my soup and as I skimmed through my emails, carefully answering each one, I started eating my soup, only to pause when I needed to dip a piece of bread into the hot pool or orangy looking goodness.
A few spoonfulls in…I suddenly paused and realized something felt…off.  Like my stomach felt off.  And then I took another taste of the soup,this time actually stopping to taste it instead of just inhaling it in between my speed typing.
OMG…THIS HAS CREAM IN IT.  I knew it.  And my stomach knew it too.  You see, with the exception of one or two tastes on occasion when I was cooking with dairy, I have not had dairy products since June, when I went plant based.  So I felt the disagreement of dairy withing my belly only a few minutes after ingesting it.  And I was…PISSED.  Because I knew a night of stomach pains and bloating lay ahead of me.
So I marched over to the cashier counter, soup in hand and there stood my perfectly eyebrowed cashier with her co-worker, giggling away, most likely discussing other people's not so perfect eyebrows.
"Excuse me, does this have milk, cream, butter or cheese in it?"  I asked again.
"No it doesn't." Answered Perfect Eyebrows.
"Really?  Cuz it tastes like it does and my stomach sure as hell thinks it does too."
"It doesn't have milk but it has half and half in it," said Perfect Eyebrow's friend.
"Half and half is dairy!  Therefore this soup is not dairy free!"  I said in a ridiculously annoyed voice.  Perfect Eyebrows and her friends just stared at, like deer in head lights…as if I was speaking in tongues.
I was that lady now.  The one with dietary restrictions holding up the line.
So… I got them to replace my soup with the darn black bean soup…which unfortunately seemed to annoy my stomach a bit more.  And after a few spoonfuls, I decided I must leave this place to preserve my sanity and my digestion.
As I drove home, I thought about that perfect soup with its really great balance of flavors and decided I needed to recreate the vegan version of this dish.  I drove by Costco on the way home to pick up my favorite fall product there: peeled and cubed butternut squash.
Have you ever tried peeling and chopping a butternut squash?  It's a monster to cut through. And for $4 I have an entire box of peeled and cut up butternut squash that I do not have to worry about.
I made the soup at midnight on a whim.  (I have some of my biggest cooking successes this late at night.)  Gave it to my husband…spoon feeding him:
"This is good…It tastes like that brown stuff." pause another spoon "Mmmm it's creamy…feels fatty."  another spoon "What is it?" another spoonful. "It's sweet.  Oddly delicious.  Is it healthy, I just worked out…is there protein in there?"
So I was a success and so was the soup.  Mission accomplished.  Now I can sleep.
Print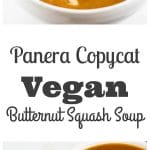 Panera Copycat Vegan Butternut Squash Soup
---
Author:

Total Time:

45 minutes

Yield:

4

bowls

1

x
Description
Panera's butternut squash soup is a fall favorite that is loaded with flavor and cream. My vegan butternut squash soup is the healthy alternative!!! Full of warm spices and a creamy spicy coconut cream, this soup is irresistible and guilt free!
---
5 cups

of butternut squash (cleaned and cubed. *)

2

Honey crisp apples (peeled, cored and cubed)

3

carrots (peeled and cut into large pieces)

2 tbsp

honey

1

–

2

tsp curry powder

1

–

2

tsp red chili flakes plus more for garnish

1 tsp

cinnamon

1/4 cup

freshly squeezed orange juice*

4

–

5

cups vegetable broth

1 tbsp

olive oil

1/2 cup

coconut milk (the

one

from the can)
salt and pepper
pumpkin seeds for garnish
---
Instructions
Add squash, carrots and apples to a pot with coconut oil or olive oil. Allow to sweat for 5-10 minutes until softened lightly. 
Pour in vegetable broth, enough to cover all the veggies.
Add curry, cinnamon, honey and orange juice. Simmer for 20 minutes.
Taste for seasoning.
Add contents to a food processor or vitamix. Puree until completely smooth. Feel free to add more vegetable broth or a bit of water to thin it out.
Pour into bowls and take a spoon and add a bit of coconut cream. Swirl it in with the back of the spoon to create an abstract design.
Garnish with pumpkin seeds and red chili flakes.
Notes
Note 1: These is about the size of 1 container from Costco. Otherwise for this recipe you will need about 2 nicely sized butternut squash that equals roughly 5 cups.
Note 2: Curry powder is very powerful so be light handed with it at first. You want a hint of it not to over power the whole dish.
Note 3: Most stores have freshly squeezed orange juice in the produce aisle you can buy instead of squeezing your own out.
Note 4: If you notice, the soup does not a super bright orange color but instead it has more of a deeper color. This is due to the caramelizing of the vegetables before cooking the soup. I would take that flavor over the color any day!
Note 5: Stir up the coconut milk in the can to combine the liquid and the cream.
Prep Time:

5 minutes

Cook Time:

40 minutes

Category:

Vegan

Cuisine:

Fusion